There's an old piece of wisdom often given to young couples: If you want your love to last, start with a friendship. It's a path to true romance that Jennifer and Aaron know well.
When the couple first met, they were both working at a home improvement store and concentrating on developing their career paths and goals. Jennifer was already in a long-term relationship and expecting her first child.
"That's actually how we first became friends," she explains. "I was pregnant so I'd go walking around for hours to exercise and try and get comfortable, and he'd go with me…We ended up talking a lot and becoming best friends. He even came to my baby shower."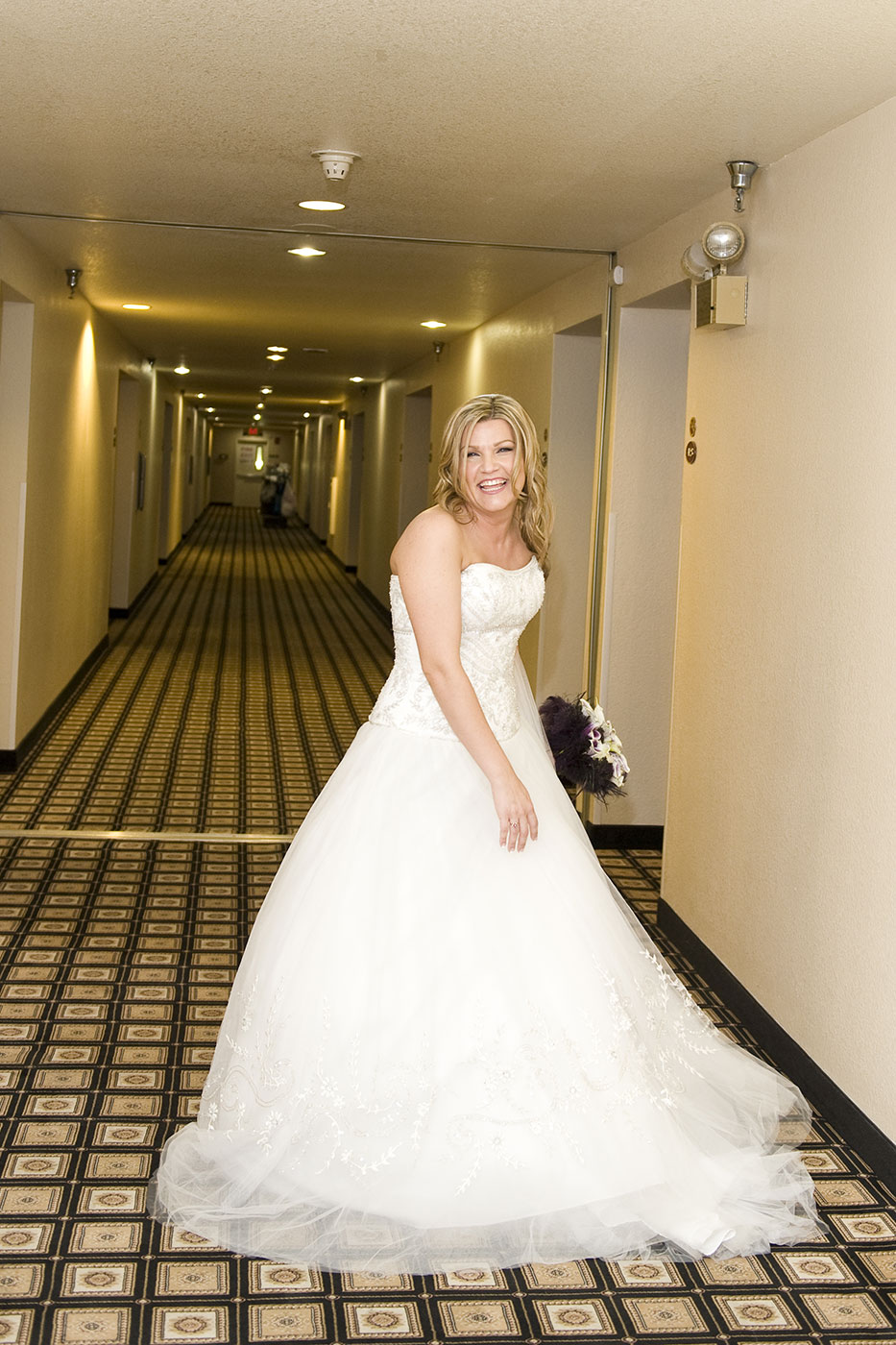 Once Jennifer's son was born, the bonding didn't stop. Jennifer and her boyfriend only had one car, which he used to go to work – leaving the new mother home alone a lot. Jennifer recalls, "He was a big support to me and strangely enough, he gave me a lot of relationship advice. He was a great friend."
And while Aaron thought Jennifer was a wonderful woman, he never expected to find anything more than friendship with her. But when her relationship ended three years later, Aaron suddenly saw things differently.
"We had grown really close by this point; we were best friends," says Aaron. "As a friend, I thought very highly of her and I always knew that I wanted to date and eventually marry someone I was friends with. I knew there wouldn't be a big window of opportunity with someone like Jen; I needed to seize the day and make sure no one else took her before I did."
So, about a month or two after Jen's breakup, Aaron approached her about dating. He told her that he respected her and didn't want to lose her friendship, but that he was interested in something more and would like her to consider a relationship.
Jennifer was surprised but impressed by Aaron's mature and thoughtful approach. His quiet confidence and assurance that, no matter what, they'd remain friends was a stark contrast to relationships she'd experienced in the past. But despite Jennifer's positive feelings for Aaron, she was hesitant to take the next step.
"I didn't want to lose our friendship," she explains. "I thought about it for a month or so and he was really patient."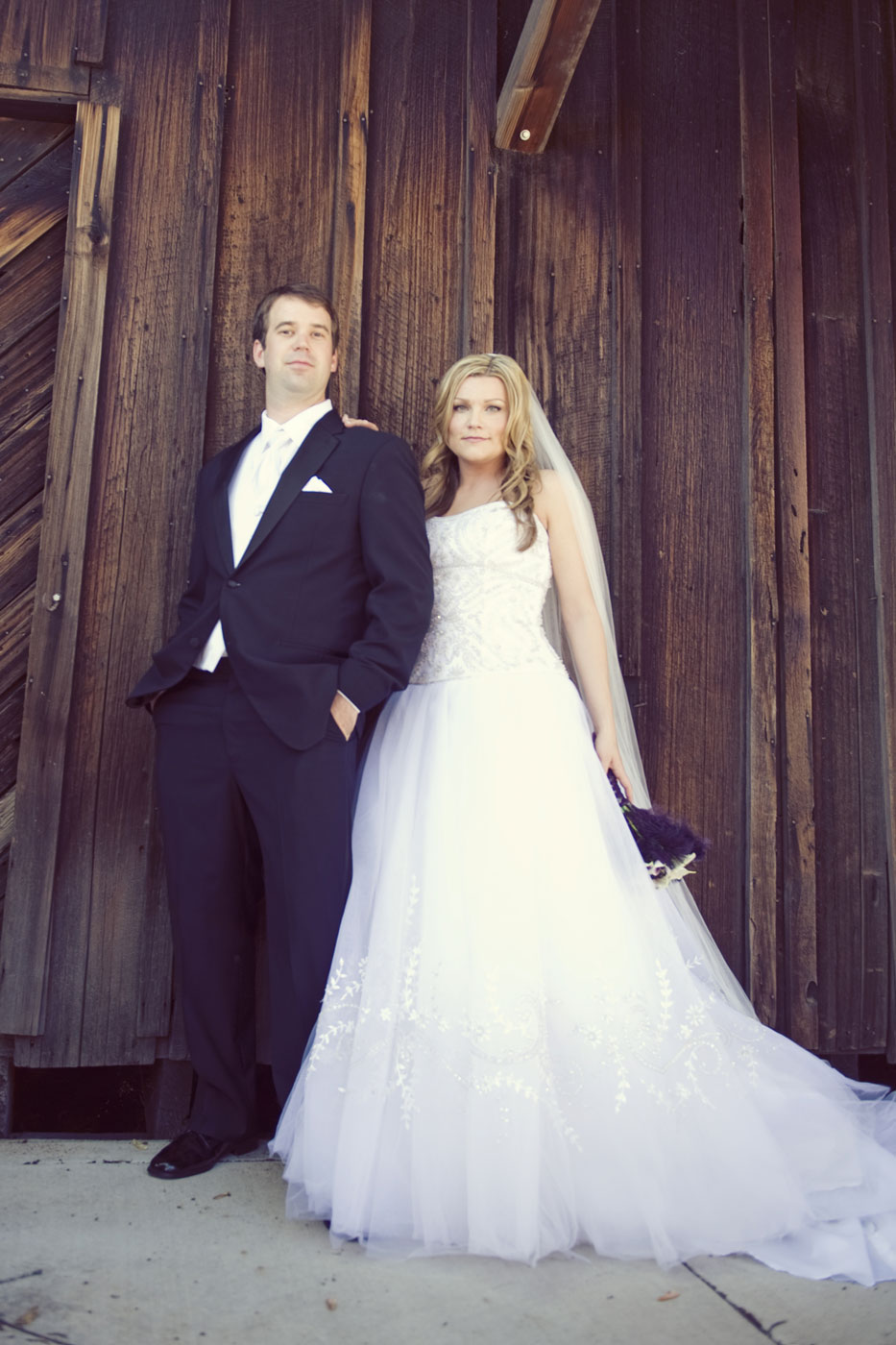 Finally, Jennifer agreed to begin a relationship with Aaron. The two began dating exclusively right away, but were careful not to rush things.
For some couples, testing out romance after such a lengthy friendship might be awkward or rocky. But for Jennifer and Aaron, it was anything but.
"It was a smooth transition," she says. "We knew each other so well…. Normally when you first date someone you have to learn them and that can be awkward; there wasn't any of that at all. It just came so naturally, like it was supposed to be this way."
And the more time they spent together, the more they fell in love. They enjoyed spending time with their family, hanging out with Jennifer's son, cooking, and entertaining friends. The couple talked about the future, where they'd like to see their lives go, and what type of family they hoped to have.
Jennifer and Aaron were also pleased to discover that what they didn't have in common was just as important as what they did. Jennifer was more logical, down-to-earth, and no nonsense. Aaron, on the other hand, was a dreamer and an idealist.
"We're very yin and yang," Jennifer says. "But that's what makes us work…I love that he's a daydreamer and he can float in the clouds; he has the ability to pull me out of being so serious and make things lighter…He lets me daydream, and I never got to do that before."
Aaron agrees. "Jennifer balances me out," he says. "Without her I'd be emotion with no logic. She brings logic and reason to my ideas, which gives them the potential of coming true."
It wasn't long before the couple began talking marriage. Yet, while there was no doubt that they were the perfect match, Jennifer wasn't so sure about taking the plunge. "I never wanted to get married; I was never that little girl who dreamed of a wedding…that was Aaron!" she laughs. "I would have been happy to live together and build a life without the wedding, but he wanted to get married."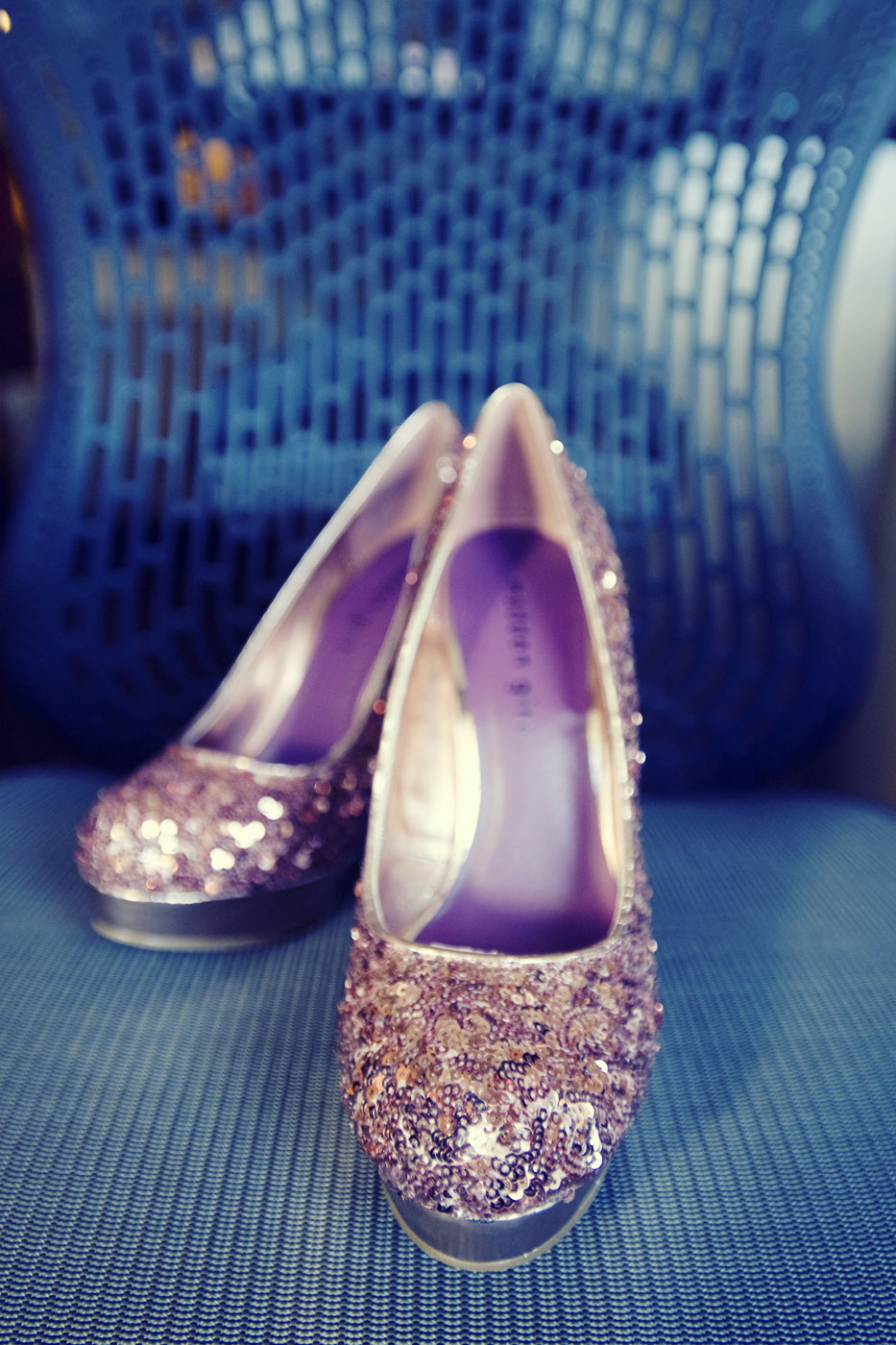 One day, Jennifer had a change of heart. "I was just thinking about the other men I've dated and how there was no way I'd ever consider marrying them, but with Aaron it was just right," Jennifer explains. "I just thought 'what's stopping me?' It was like a switch turned on."
The couple didn't waste any time moving forward with engagement plans. They began looking at rings and Jennifer eventually found one that she liked.
Just a few months later, on a surprise getaway to Fort Bragg, Aaron popped the question on a sparkling glass beach. Jennifer was totally surprised, but instantly said yes.
While the couple took the remainder of their weekend at the beach to just enjoy their engagement, it didn't take long for celebration mode to shift into planning mode. Family commitments, work schedules, and seasonal considerations meant that an April wedding would be best for Jennifer and Aaron.
The only problem was April was just a few months away.
"We had to plan fast; I didn't even have time to be stressed out. I couldn't waste the time!" Jennifer jokes.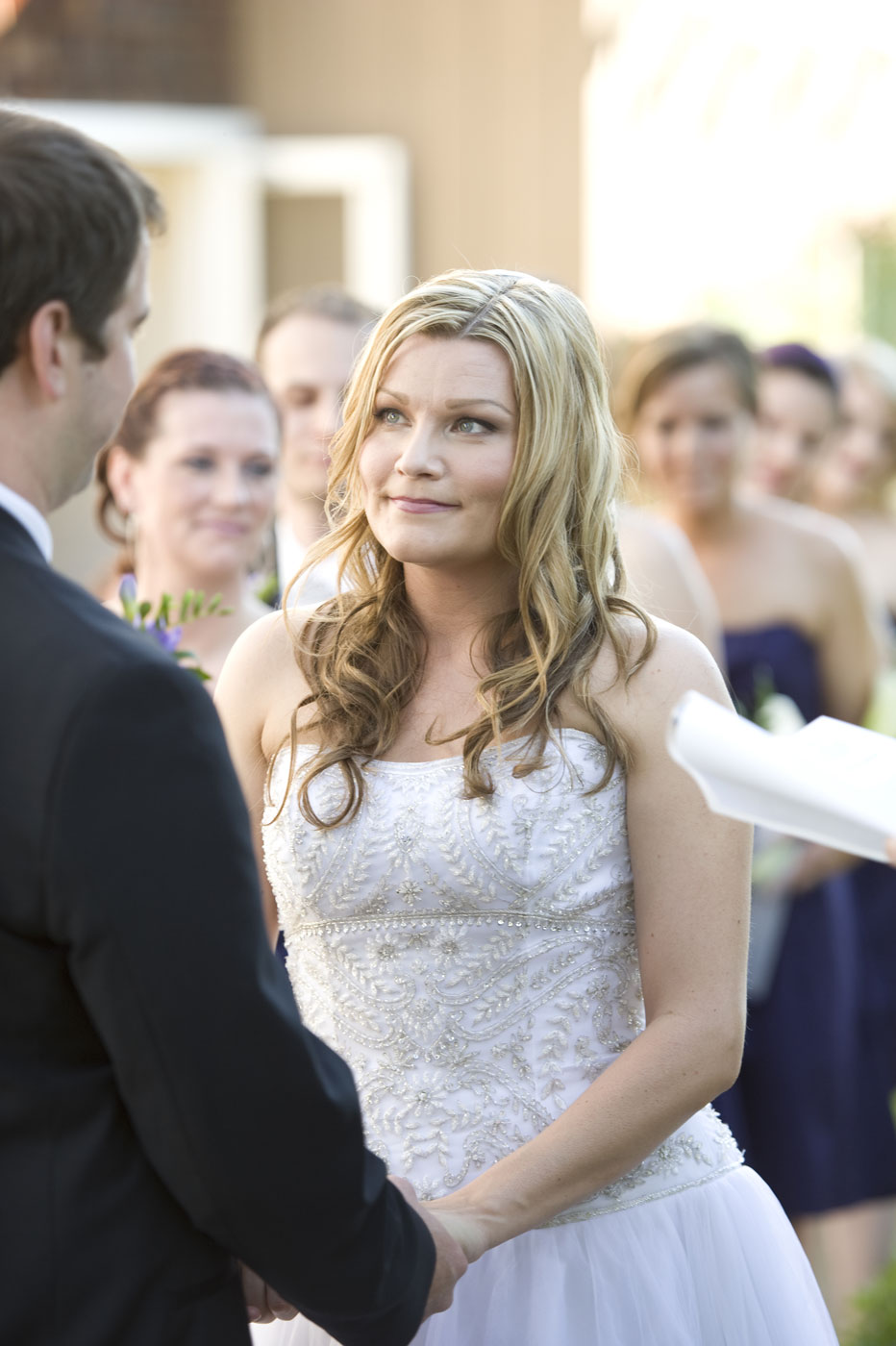 The couple began by booking their wedding date at the lovely Lake Natoma Inn. Jennifer had attended an event there in college and remembered the quiet beauty of the grounds, the excellent service, and the amazing catering.
With their venue booked, the rest of the wedding planning started to fall into place. Jennifer decided on a color scheme of deep purple and white. For her flowers, she worked with a friend to design simple but stunning bouquets of eggplant and white calla lilies, paired with feathers for texture.
For their reception décor, Jennifer and Aaron wanted a theme of fun, fun, and more fun. The couple knew they'd be celebrating with their best friends and family, including a lot of children, and they didn't want anything too fancy or formal.
To lighten the mood, Jennifer and Aaron hired a balloon artist to make hats and animals for the kids (and fun-loving adults, too). For centerpieces, jars filled with candy and games atop an LED light provided a delightful burst of color. Black linens and purple napkins, plus a wedding cake with joyful purple flowers carried the wedding colors throughout the reception area.
At sunset, Jennifer and Aaron took their trip down the aisle. It was a simple ceremony with personal touches from friends and family alike. A family friend played the bagpipes for music; Aaron's father read a love poem; and the officiant – a longtime family friend – led the bride and groom though their personally written vows.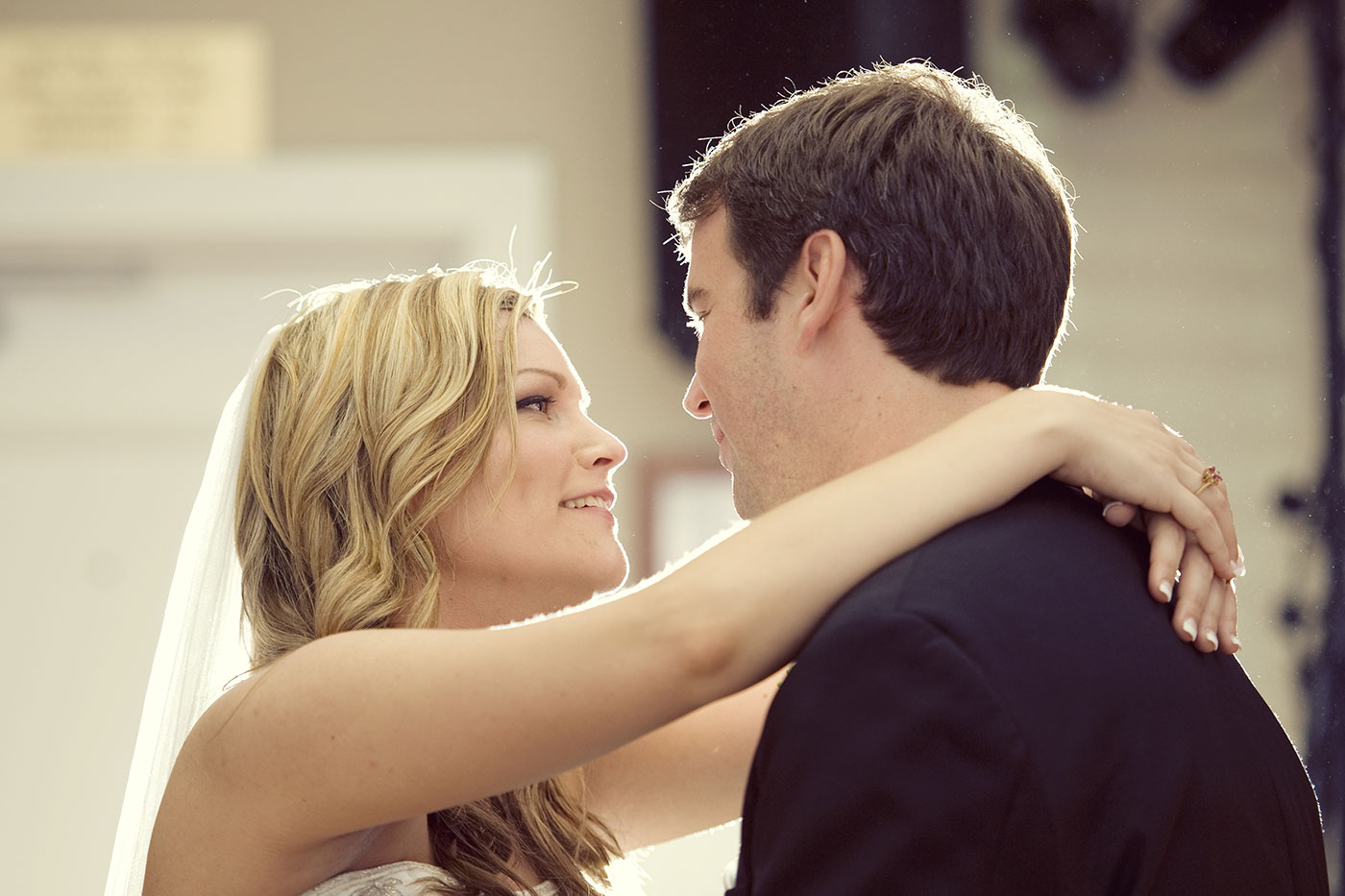 After the couple was pronounced husband and wife, everyone was ready to party. Music, dancing, laughter, and many memorable toasts awaited the guests. A photo booth in the back of the reception provided constant entertainment for adults and kids alike.
"Everyone was having so much fun; there was just a lot of fun, which was what we wanted," Aaron says.
With their whirlwind wedding behind them, Jennifer and Aaron couldn't be more pleased with their Big Day.
"It was perfect," says Jennifer. "You have to just let the little things go and enjoy the moment and have fun. We did that."
And it's easy to be pleased with your wedding when you have the ultimate souvenir. Not long after returning from their honeymoon, the newlyweds were thrilled to find out they were expecting a baby. A few short months later, they moved into a new home.
"We can't wait to add to our family," says Aaron. "We're just looking forward to setting up our house and filling it with family and friends…this is what we've always wanted."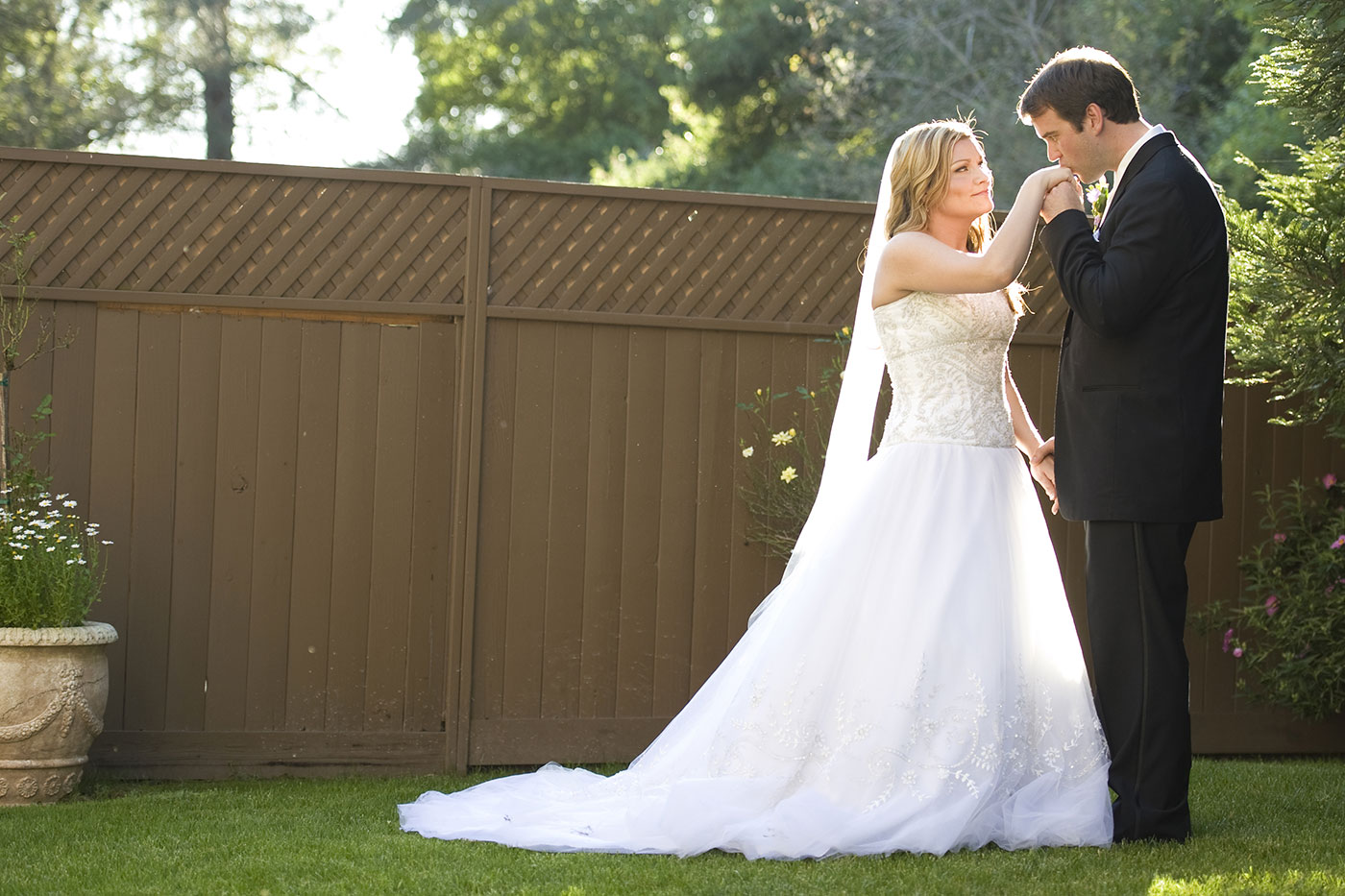 PHOTOS: True Love Photo