The love story of Toni and Eddie began in Miami in the summer of 2014 at an event in the Art Deco District. But their relationship had to survive much time spent apart, as Toni's job as a chemical engineer took her to Venezuela while her true love, Eddie, stayed in the US.
As Toni puts it, "Being in love while living on two different continents was a challenge that we both knew would be difficult, but we firmly believed that this challenge could be overcome. Though our love was strong, we believed that our promise to always keep God in the center of our relationship would get us through to the finish line."
Putting faith in the center of their relationship was a choice that would keep them bound through time and the distance of two continents. They were drawn to each other by intellect, strong ties to community and family, and a firm spiritual bond. Their relationship reflects a sincere optimism evident in both Toni and Eddie.
Toni said she was attracted to Eddie's presence as a leader who "leads at work, with his family, in church, and the community". His positivity, born of faith, "makes him a very generous man and allows him to see the best in people," said Toni admiringly. Eddie reflects that same attraction to Toni's compassionate nature, "She has a way of looking at the positive in all situations and always sees the best in all people". "Toni's smile is amazing and she has a natural way of always making me smile, even when I resist," Eddie mused.
While work kept the couple apart, they got together when they could at the home of Eddie's family in Mexico. Their trip In the Summer of 2016 was one to remember. Under the guise of a celebration for Eddie's mother, the family went to the most iconic hotel in the city for a dinner celebration. There was singing and dancing to the mariachi music, and at one point, Eddie led Toni away to a terrace that offered a breathtaking view of the city. While Eddie held Toni in his arms, he said to her, "It seems like the whole world can see us from here." "Yes, it does, this is very beautiful. Your mom looks so happy." Toni replied. Eddie asked Toni, "Baby, do you know why we are all here today?" Toni replied, "Yes, to celebrate your mom." The music stopped, and suddenly the room became really quiet, with Eddie's family in the background witnessing the moment. Eddie said, "we are here to celebrate us." He took Toni by the hand and said, "Baby, I don't want you to ever leave me again. Will you marry me?" Overwhelmed by the moment, with a big smile and tears in her eyes, Toni responded, "Yes baby, I will marry you. I will never leave you again." All of the family cheered, and the moment was commemorated with Eddie and Toni dancing to their favorite mariachi song, surrounded by family.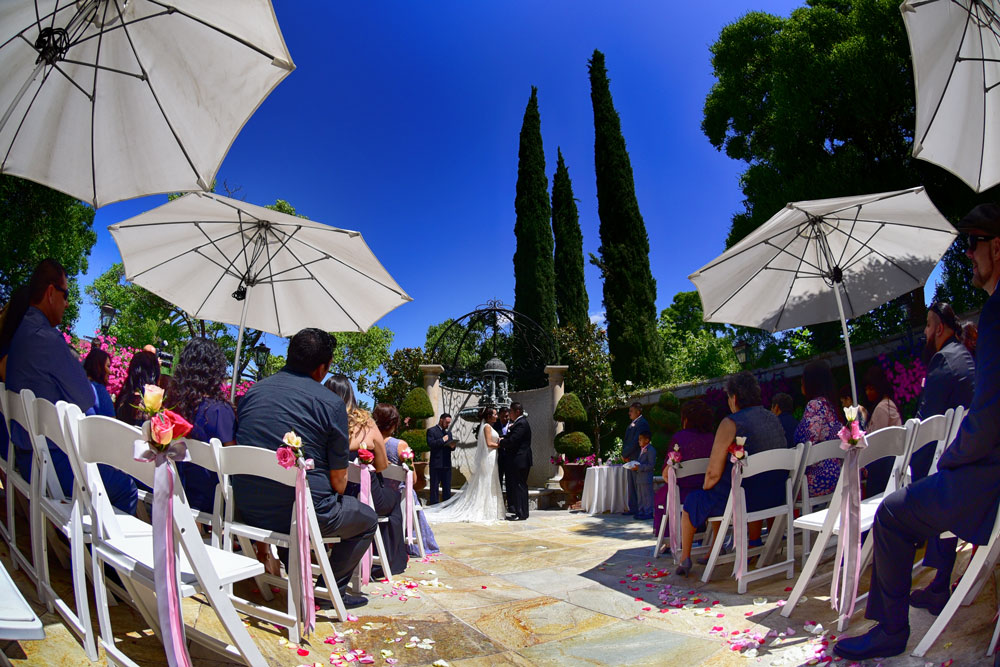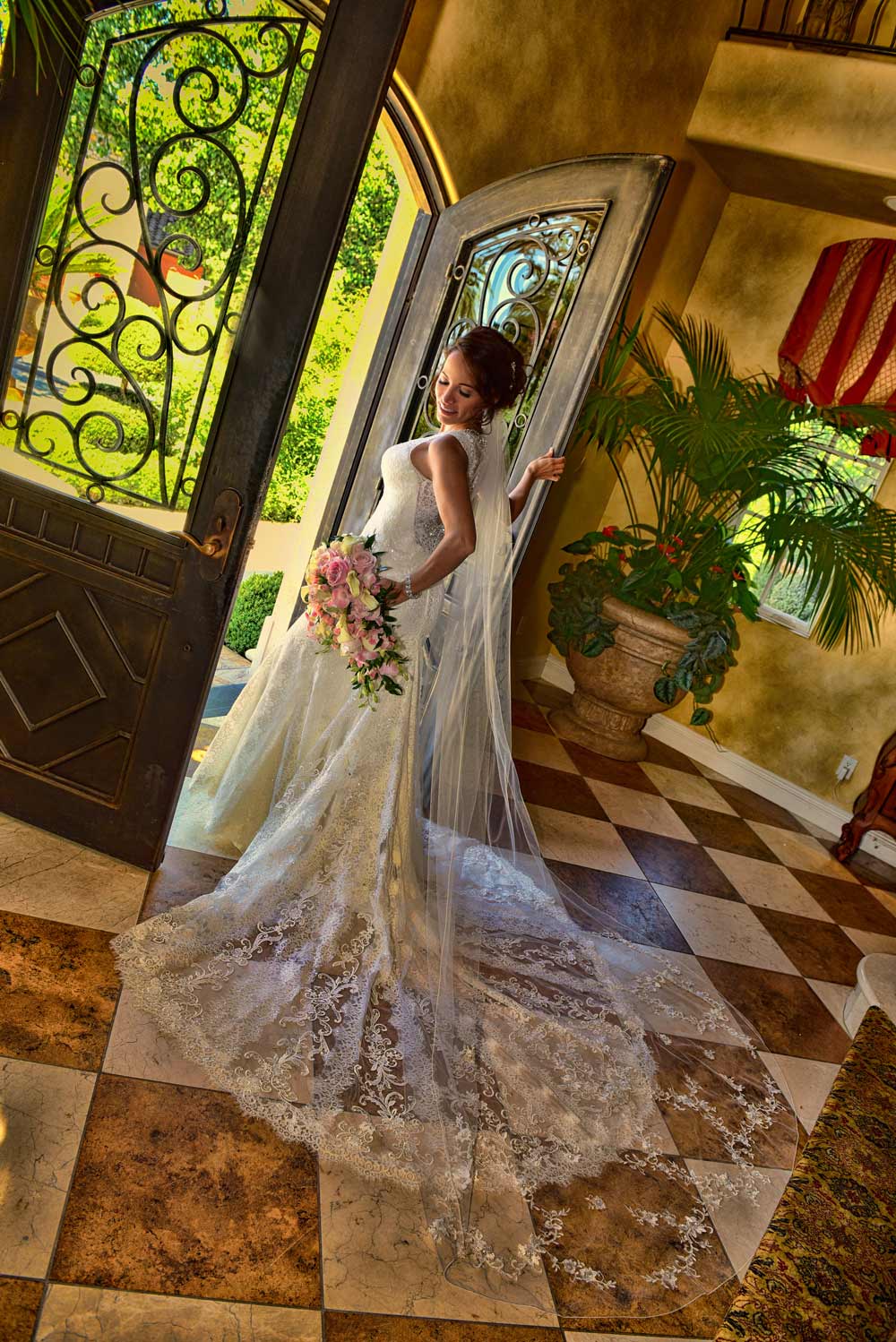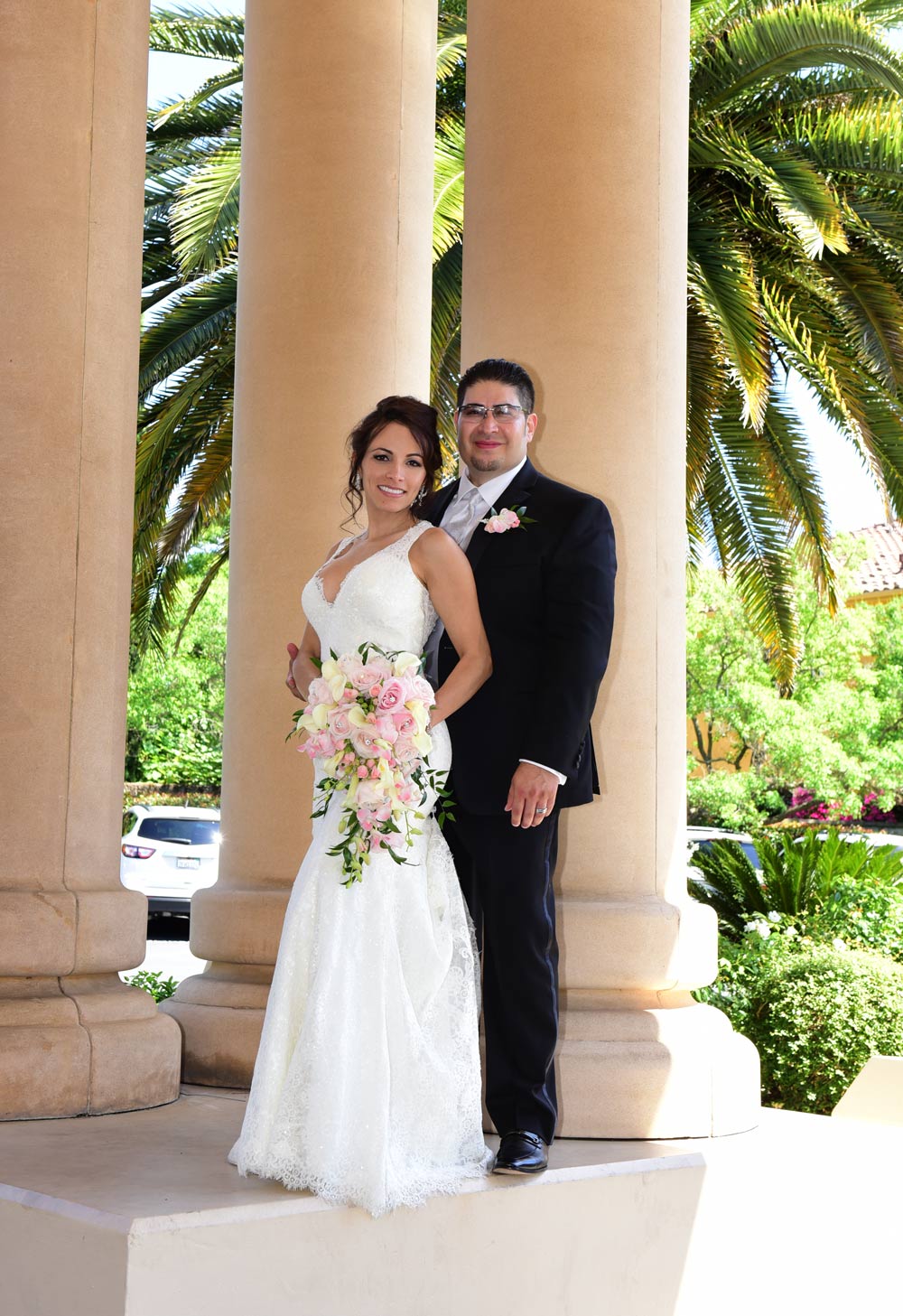 A year later, their families gathered to witness the couple wed at an intimate and elegant affair that took advantage of the strengths of the venue chosen: "The venue was beautiful, we didn't want to take away from it," the couple recounted. For accents, ivory, pink and silver were used and were reflected in the florals as well.
ViAnna from Amore Fine Art Photography captured the vibrant images that commemorate their union and reception. Her shots of Toni's wedding gown, a lace mermaid gown with a v-neck and a low back framed by Swarovski crystal details and lace edging, convey the refined and traditional elements along with a celebration of the train-length veil. The figure-hugging gown showed off her shape while being elegant and modest.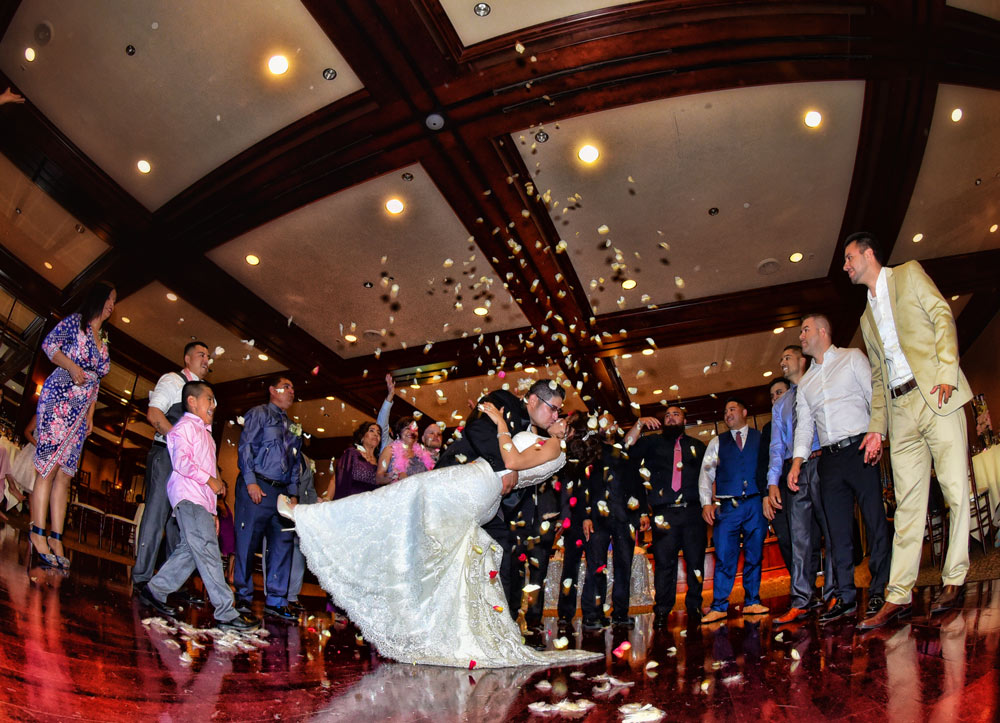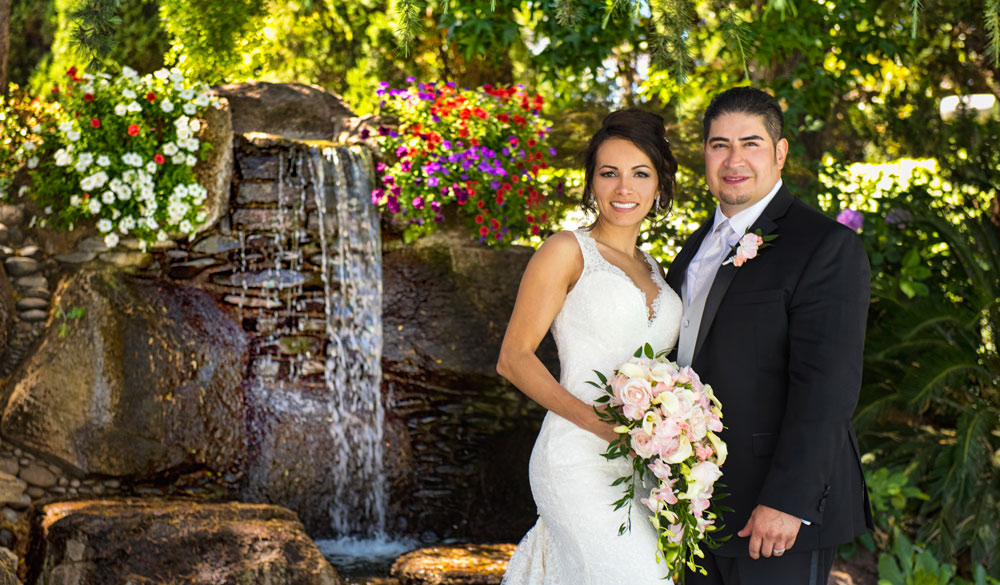 After Toni and Eddie made their vows with Pastors Sergio Limon and Alfredo Rosado, they were introduced at the reception to much fanfare. Cocktail hour delighted guests with hosted beverages, Korean BBQ Skewers and Chicken Satay. The dinner menu included tri-tip and champagne chicken, rice pilaf, Caesar salad, seasoned vegetables, and fresh fruit. The DJ orchestrated the reception seamlessly, introducing the couple to Toni and Eddie's song, All of Me by John Legend.
Later, guests were treated to a wonderful wedding cake from Above and Beyond Cakes, a local artisan baker known for their high standards of quality and artistic design. Cake was served with chocolates to sweeten the evening.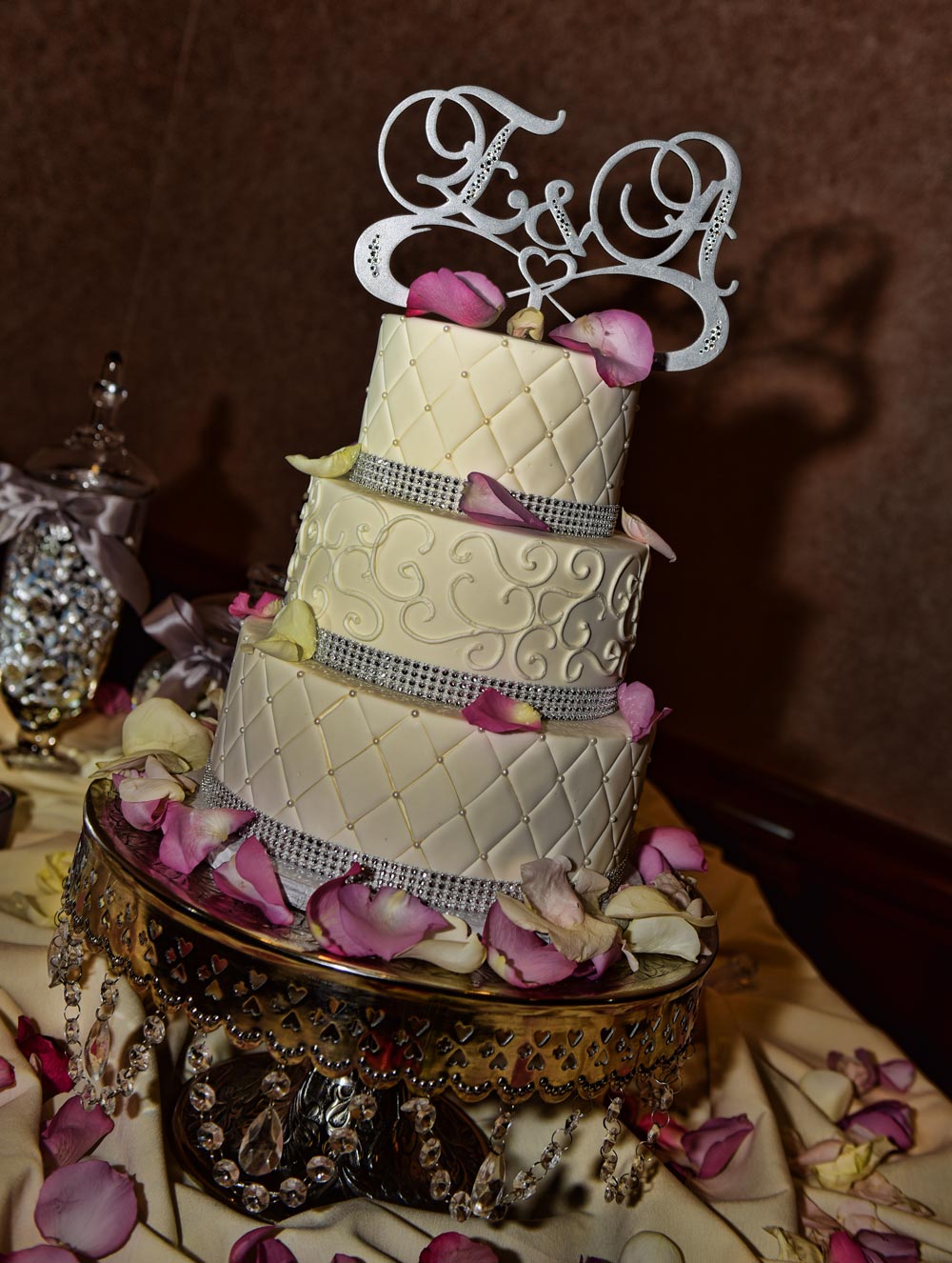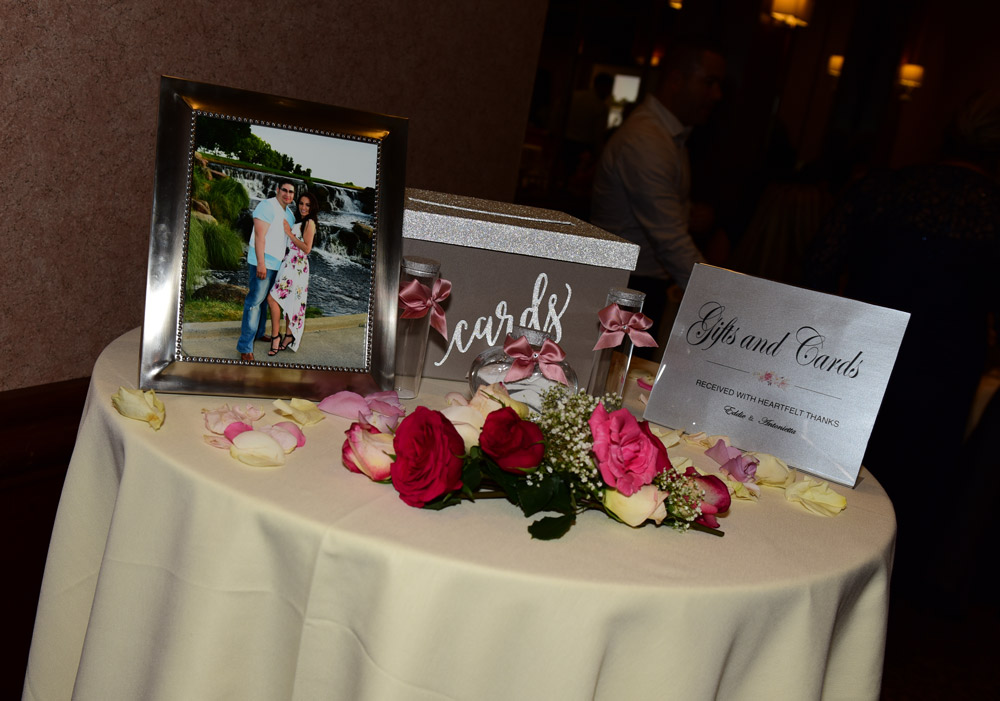 The couple described the evening as romantic, blessed, and unforgettable. Toni's most memorable moment was when Eddie serenaded her. They enjoyed their wedding celebration and suggest letting go of the details and, "cherish every moment to the fullest!"
PHOTOS: Amore Fine Art Photography
CAKE: Above & Beyond Cakes
ENTERTAINMENT: The Wedding Suite / Music on the Move DJs & MCs
[VENUE/CATERING] Arden Hills [TUX] Hugo Boss [FLOWERS] Ma's Flowers [RINGS] Sharif Jewelers [MAKEUP/HAIR] Cre8ive Xpressions Salon [INVITES] David's Bridal