Kayla is a woman who knows what she wants. Young, outgoing, and spirited, once she sets her sights on something – it's all but hers. And from the moment she laid eyes on Ryan, she knew it was all but a done deal.
The only problem was, Ryan wasn't making it easy.
"It's not that I wasn't interested in her specifically, I just wasn't interested in having a girlfriend at all," Ryan explains. "I was working two jobs, going to school – focused on other things."
Luckily, Kayla wasn't easily deterred.
"Yeah, he basically pretended he didn't like me for months," she says with a smile. "But I knew he'd come around."
Playful kidding aside, Kayla's careful to clarify that it wasn't just a silly game of cat and mouse for her. On the contrary, she knew that Ryan was someone truly special – someone worth the wait. "We worked together and there was a lot of drama. But Ryan wasn't into any of that," Kayla remembers. "He was really mature for his age and he was just really, really nice to everyone…just the kind of person I wanted to be with."
Finally, after a few months, Ryan surprised Kayla by asking her out. Immediately, she accepted.
"I was so busy that I'd been forcing myself not to think about her," Ryan says. "But when I stopped for a second, I wanted to give her a chance."
And one chance was all it took. After a first date of mini-golf and go-carts, Ryan was hooked. The couple began dating exclusively immediately, spending as much time together as possible.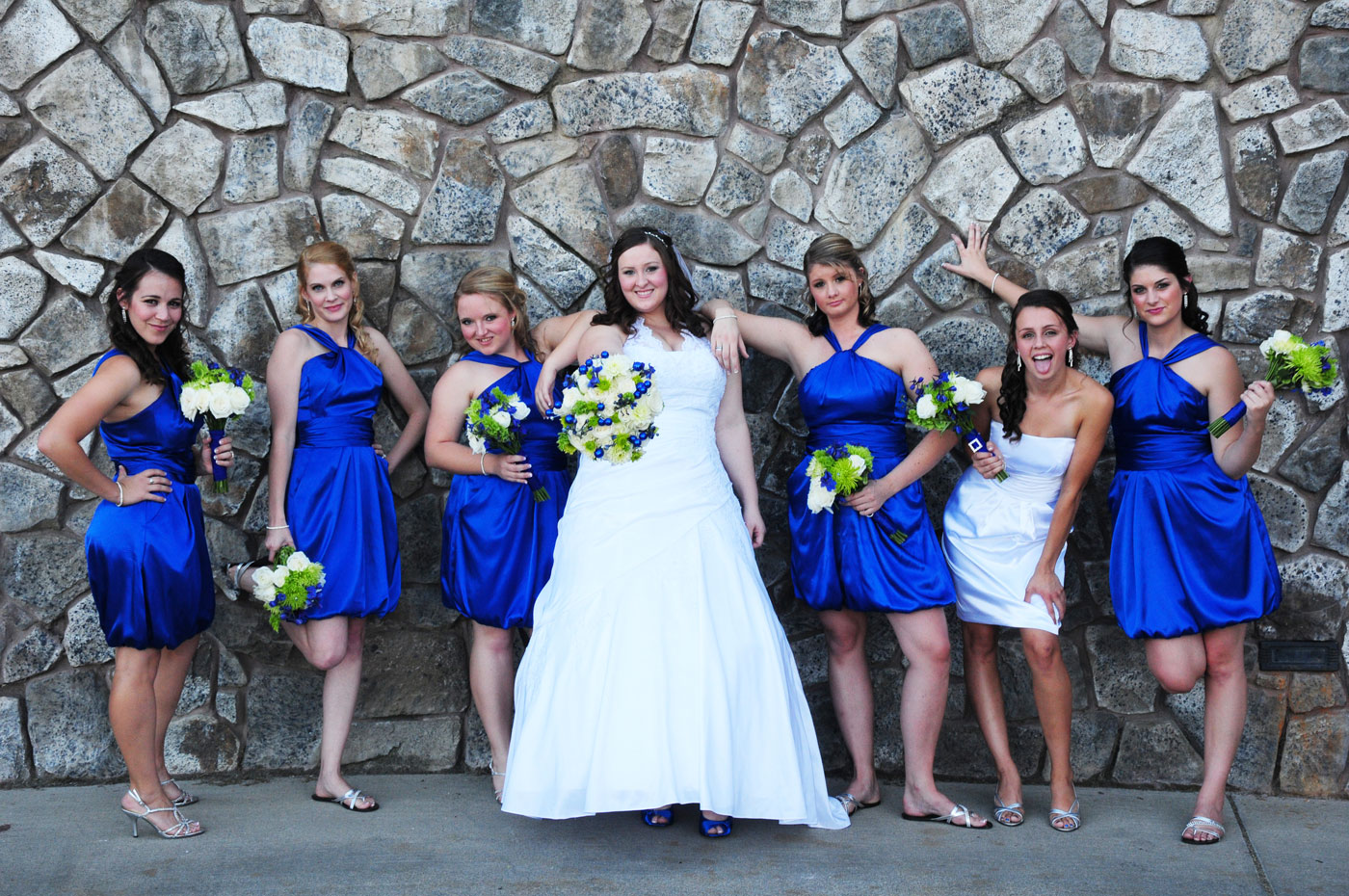 Kayla and Ryan may have been young, but they were serious about building a future. They each knew what they wanted from life – family, career, faith, and home. And they weren't afraid to discuss their hopes and beliefs, as well as the possibility of pursuing them together. "That was one of the things that initially attracted me to Ryan; I could tell him anything," says Kayla. "Even before we were dating we had that connection."
The more they talked, the closer they grew. It wasn't long before they were talking about marriage. "The way I was raised…I have some very deep set morals and beliefs about what I want out of life," Ryan says. "The person I marry is going to be the one, and I was going to be sure of that. That's why we talked so much. I just put it all out there: here's who I am; here's what I want. If that isn't who you are, let's just save each other a lot of time."
Ryan's strong sense of self and convictions were something that Kayla knew she wanted in a husband. So, the couple decided to take a bold step. Well before becoming formally engaged, they made a commitment to stay together – no matter what. "We made each other a promise that this is it," Kayla says. "Whatever happens, we'll just work through it."
But despite a strong commitment, things weren't easy for the young couple. Kayla didn't have the best relationship with her family and had moved out of her parents' home to stay with a friend. When that living situation fell apart, she suddenly found herself in need of a place to stay. The couple had only been dating a few months, but Ryan's parents generously took Kayla into their home. The experience of living together solidified what the couple already knew – they were meant to be together.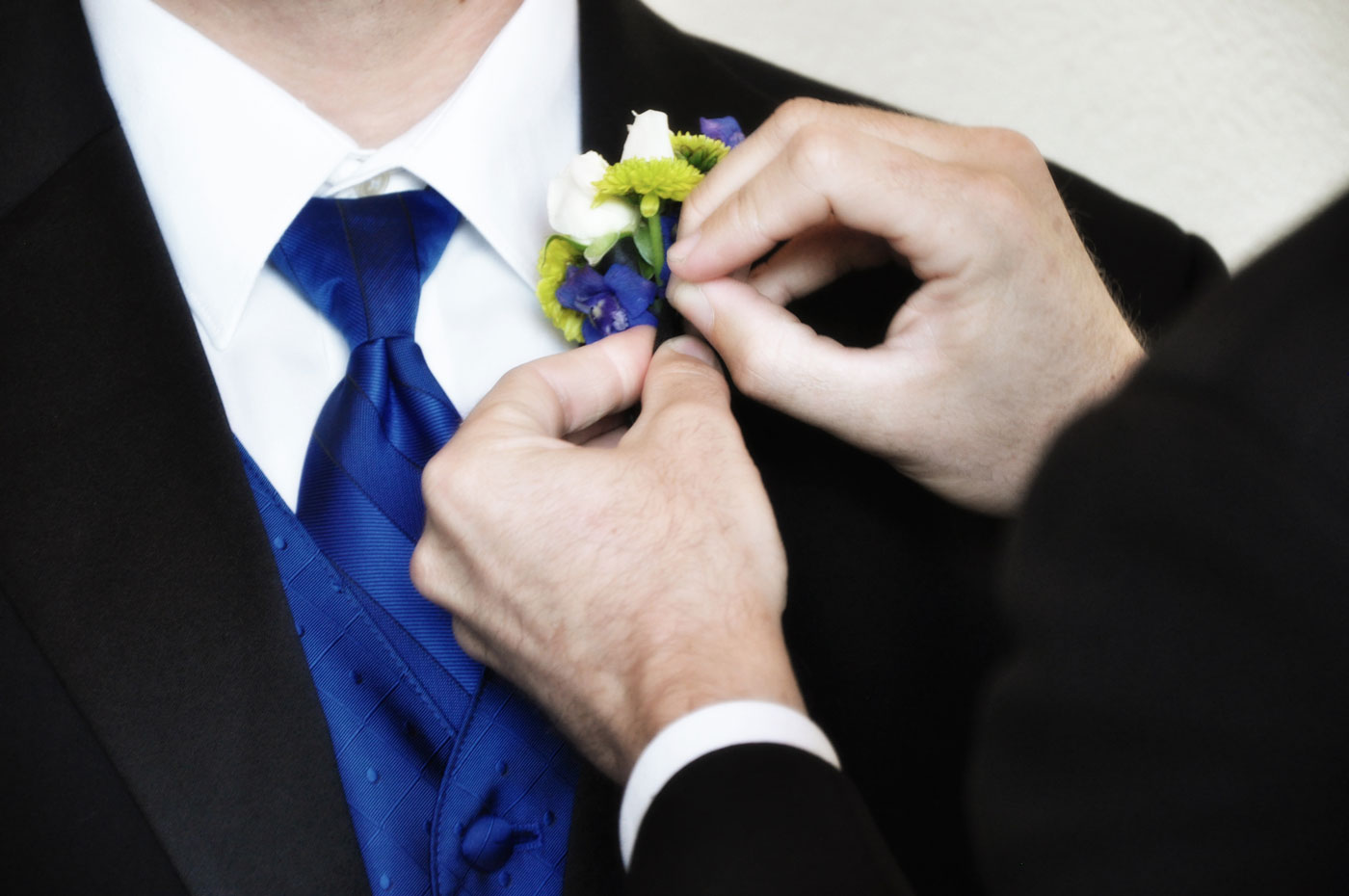 Just a year later, the couple decided it was time to take that step. They began discussing engagement in earnest and soon, Ryan had the perfect ring. Then, one day, the moment that Kayla had been waiting for arrived. "Kayla gets a lot of mail from the DMV; it's turned into a joke for us," Ryan says. "So, I printed up a fake letter from the DMV and put it in the mailbox."
But when Kayla opened the letter, it appeared to be blank.
"We were standing in the kitchen and she kept turning this piece of paper over and saying, 'why would they send me a blank letter?'" Ryan recalls. Finally, Ryan's mother encouraged Kayla to examine the sheet more closely. On the backside of the paper, printed in tiny font, was a simple message: Will you marry me?
Kayla instantly began crying, looking up to find Ryan on one knee holding an engagement ring. As she tearfully accepted his proposal, Ryan's mother snapped photographs.
Once the couple moved from just talking about getting married to actually planning their wedding, they quickly zeroed in on their top priority: fun. They hoped to create a celebration that was personal and sentimental, while also entertaining and inviting for everyone.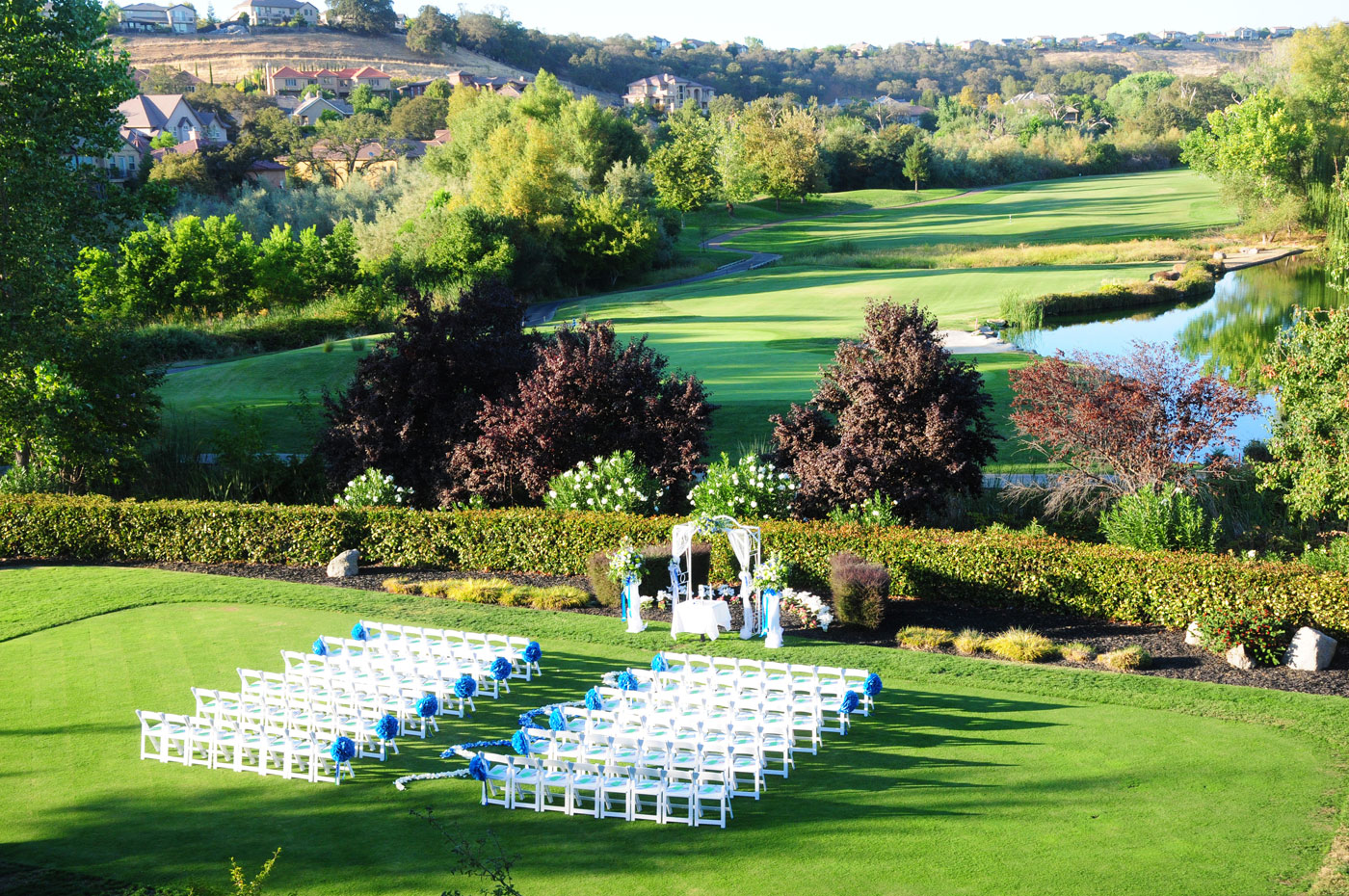 And, for the couple, a big part of treating their guests right was offering an excellent meal. "That's why we chose Whitney Oaks; the food was incredible," Ryan recalls. "And it was different. They could do buffet stations with options like a salad bar or a taco bar – fun and unique, just what we wanted."
With the venue booked, Kayla began designing the details. She knew she wanted to incorporate green, not only because it was Ryan's favorite color but also as a nod to his Irish heritage. And, while the bride initially planned to pair the apple green with her favorite hue, purple, Ryan's mother suggested something more unexpected – a bright and eye catching royal blue.
For her bouquet and ceremony flowers, Kayla wanted something simple that would play off the natural beauty that Whitney Oaks offered. She had her florist incorporate her favorite bloom, white roses, along with bright green spider mums and royal blue glass bulbs for a pop of color.
In the reception area, Kayla continued the look with crisp white tablecloths and chair covers, topped with alternating blue and green chair sashes. Centerpieces bursting with blooms in shades of blue and green set aside handmade table numbers that told the story of the couple's courtship and proposal.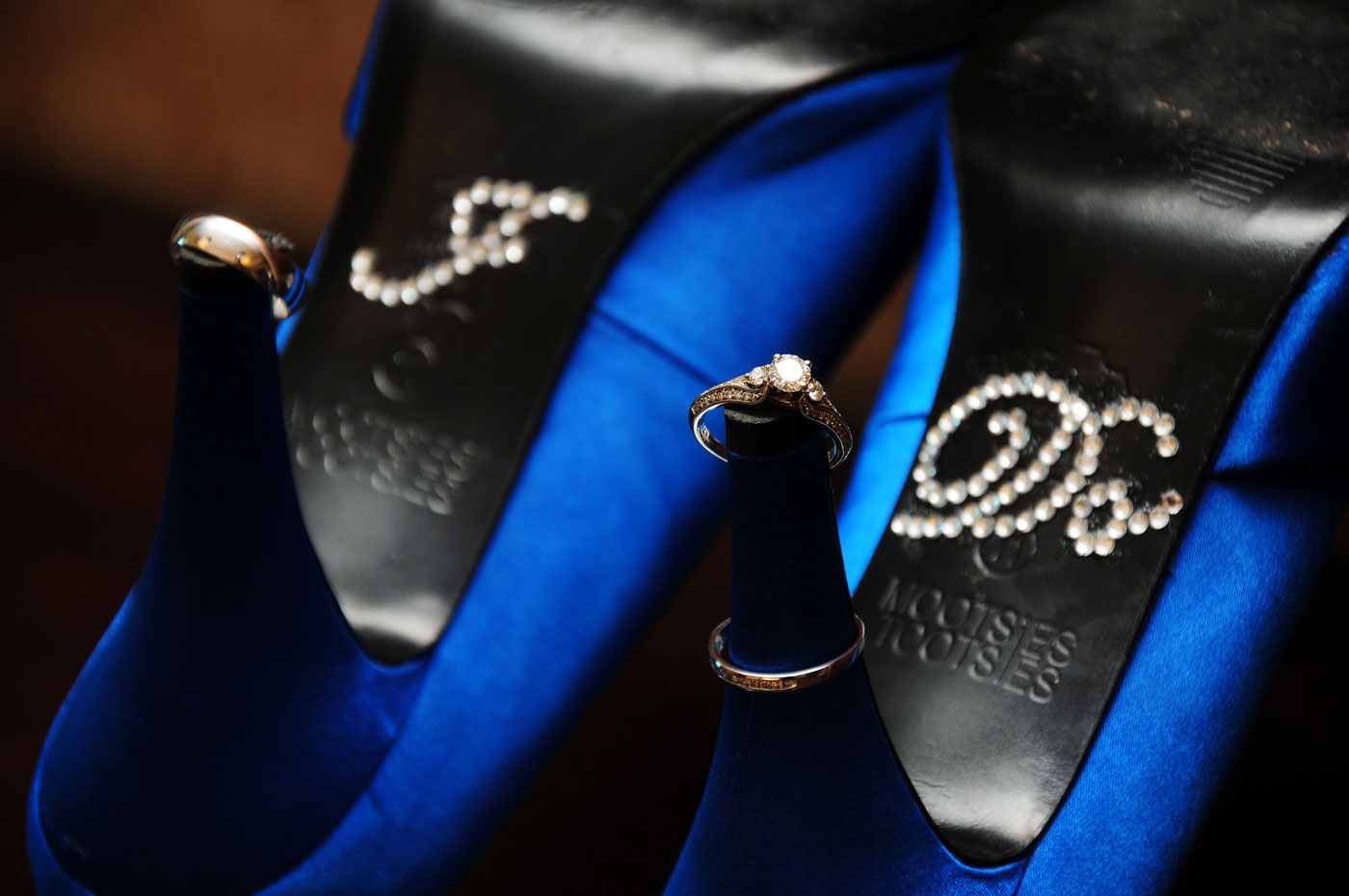 On a beautiful fall afternoon in late September, Kayla and Ryan took their vows. The touching ceremony included the Irish vow of unity, the lighting of a unity candle, and the tradition of the Irish wedding bell.
"The bell is engraved with the couple's name and wedding date and presented at their wedding," Kayla explains. "It's meant to remind you of the love and joy you felt on your wedding day. In the future if you fight, you ring the bell and it reminds you of your wedding day."

Once the ceremony was complete, Kayla and Ryan took pictures with their bridal party while their guests enjoyed appetizers and drinks. For dinner, guests enjoyed three buffet stations with a variety of delicious fare. A photo booth, complete with props, was a lively and popular attraction for all.
After dinner and their first dance, Kayla and Ryan cut their wedding cake. The three-tier masterpiece boasted several Celtic designs, including the Irish knot, a Celtic ribbon accent, and a Claddagh symbol topper.
For the rest of the evening, the newlyweds danced and celebrated with their family and friends. When it was time for the wedding to end and the honeymoon to begin, guests gave Kayla and Ryan a glow stick farewell as they drove away in one of Ryan's favorite classic cars.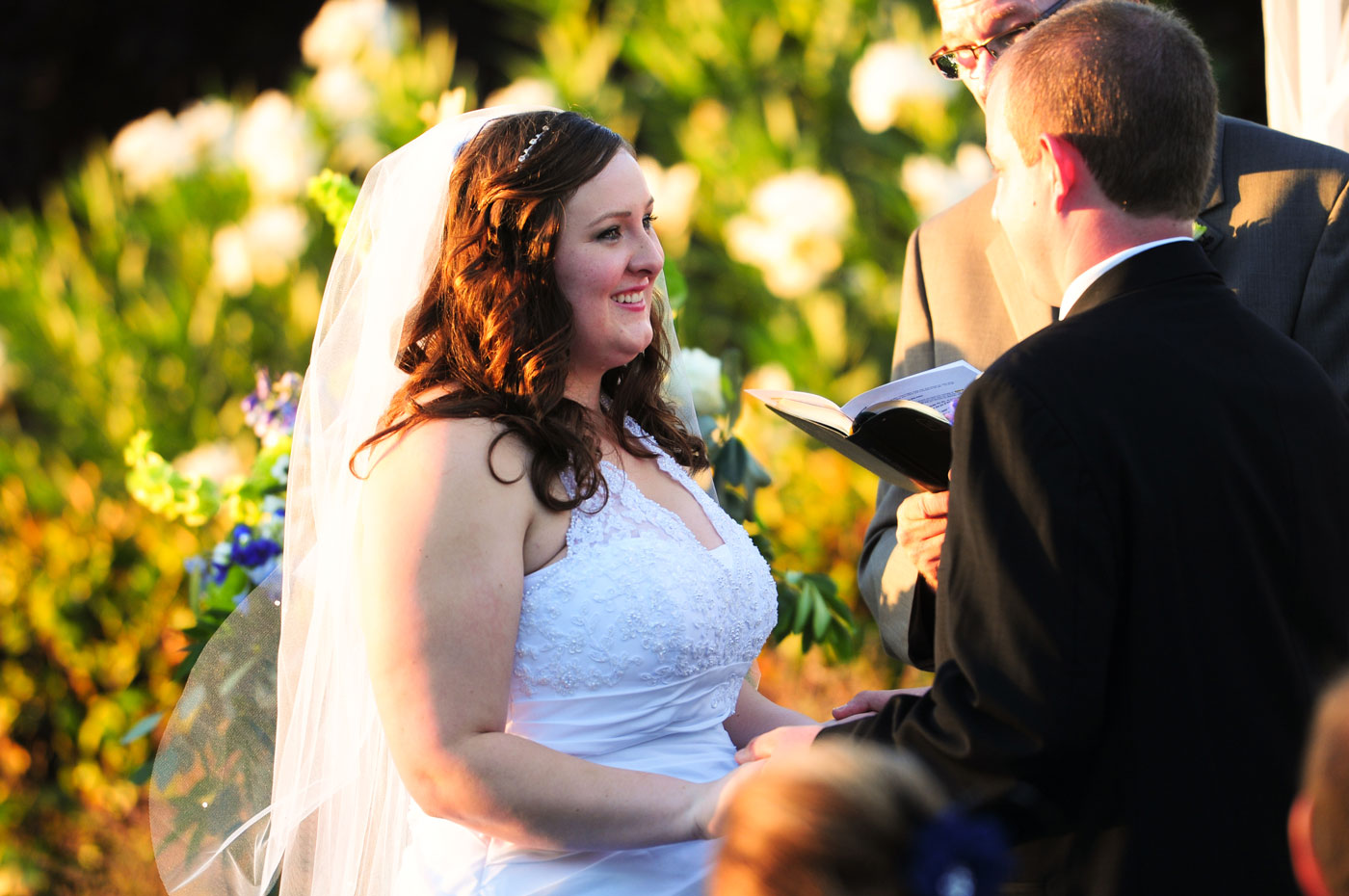 And while the wedding exceeded their wildest dreams, it's the marriage itself that excites Kayla and Ryan most.
"We're just excited to live the life we've been talking about for so long," Ryan says. "Honestly, I just love being with her. There isn't one thing about Kayla that rubs me the wrong way…we're a great team."
And while there is no disputing that they make a winning pair – Kayla's playful nature is a perfect balance to Ryan's more stress-prone demeanor – there is more to their teamwork than simply being strong where the other is weak. They manage a rare and enviable balance of loving support, while still pushing each other to be something greater.
"Ryan actually makes me want to be a better person," Kayla says. "It's the way he embraced me when we first met. I was in a weird situation in life and I hadn't grown into who I wanted to be yet. He was able to talk me through it and help me become the person I am."
"I saw how hard Kayla was working on making changes," Ryan adds. "When you see someone be that committed and driven, it makes you want to be someone worthy of that."
Regardless of what life holds for the newlyweds, they're certain they'll meet it with a smile.
"It's been a fun ride," Ryan says, in a moment of levity. "And it's going to be a fun ride."