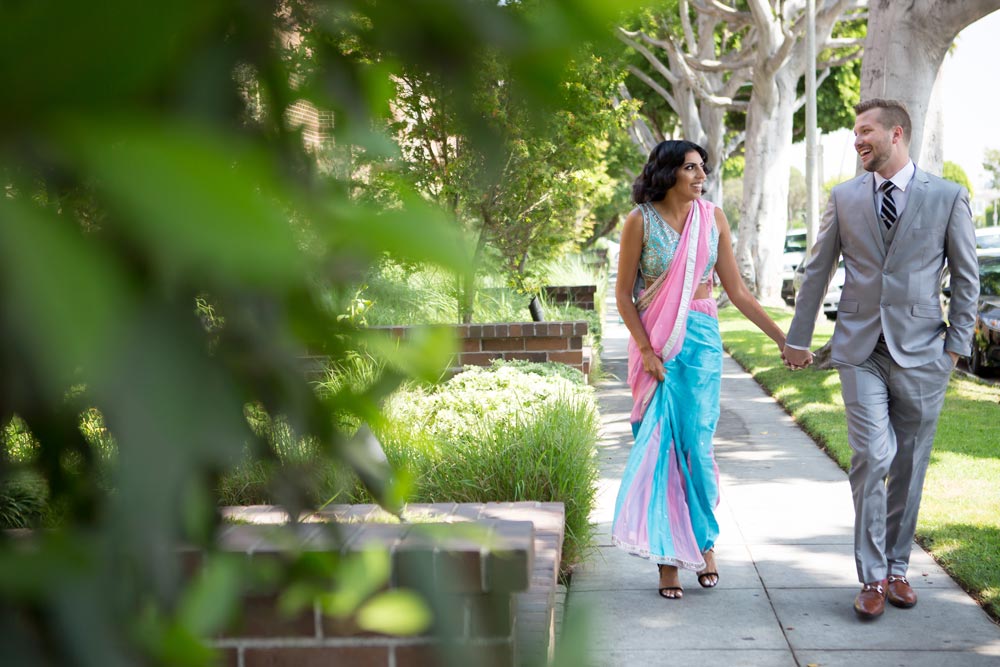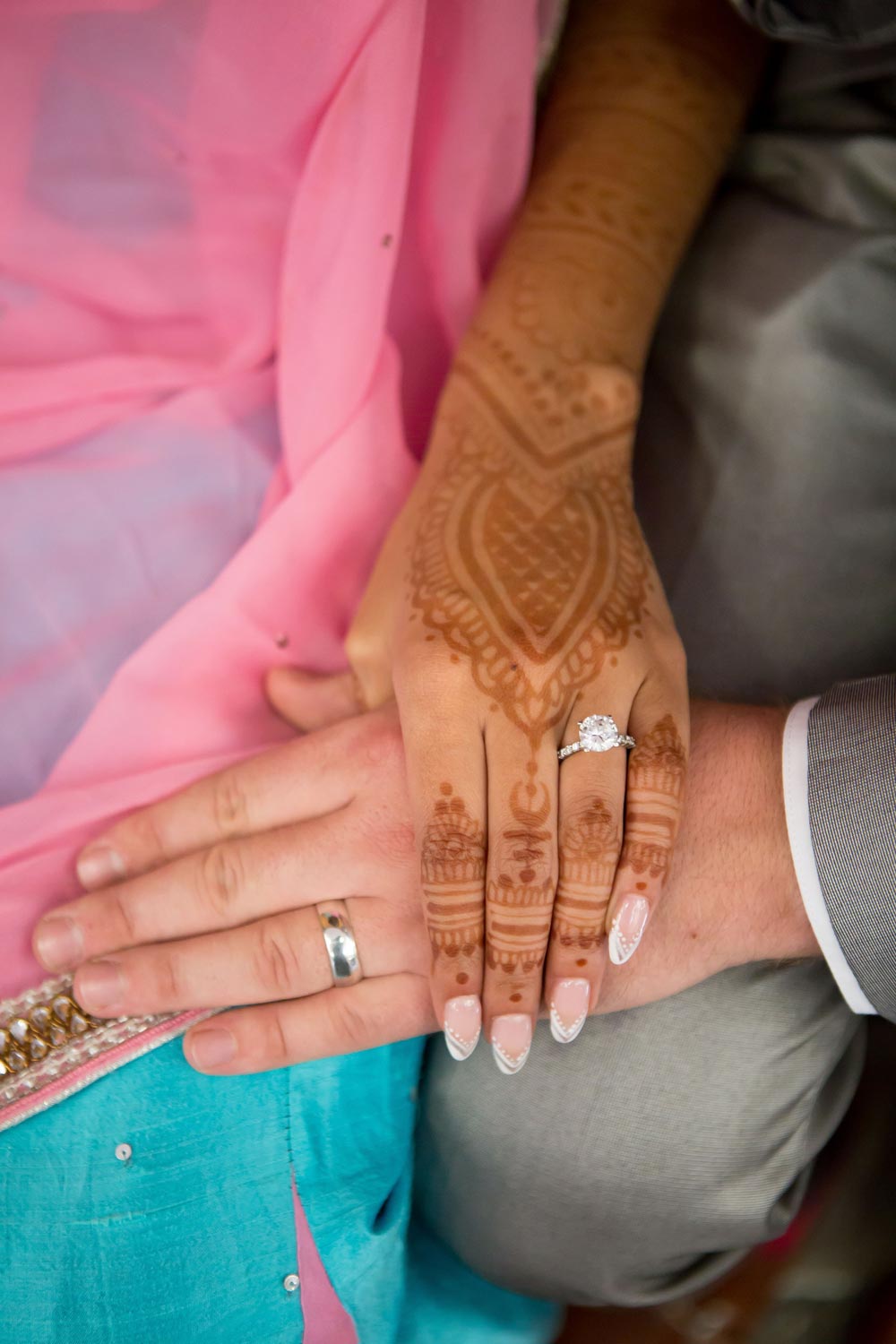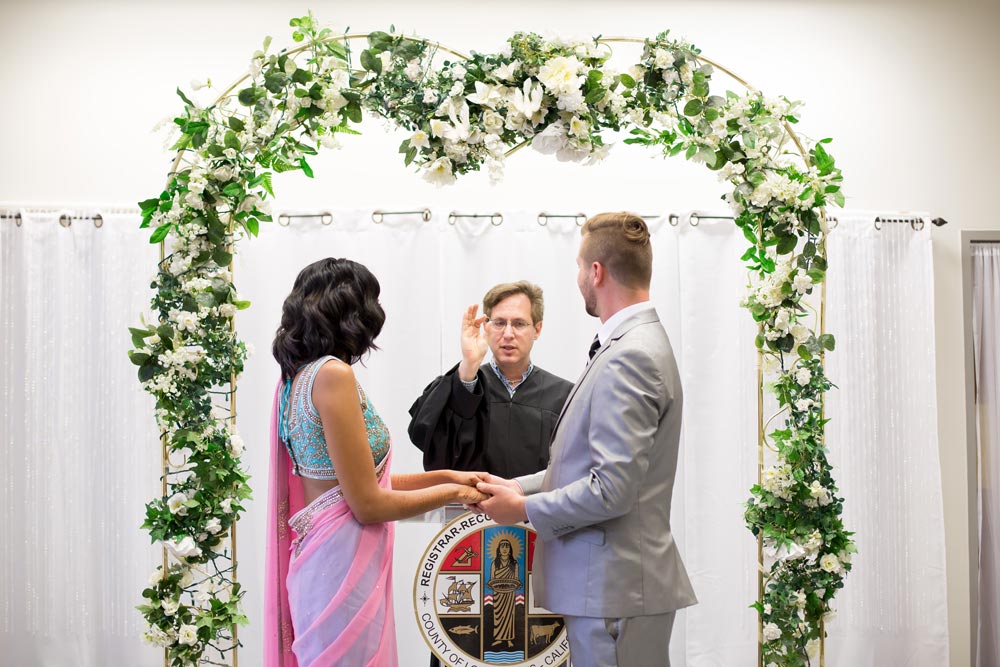 When you think of weddings, what comes to mind? Beautiful brides, handsome grooms, happy families and friends, emotional moments? Well, sure. But what about hot tubs, Bollywood and lots of pot?
Well, this story has all of that. But mostly lots of pot.
Serena & Jeff met at a music festival. On halloween, no less. Upon seeing Serena wearing the same galaxy top he had on, Jeff made his move. Her eyes and her laugh were so infectious he needed to know her straight away. "I guess the stars have aligned!" was his opening line. Cheesy, but it worked. He was tall, polite and made her giggle with just a few words and she was hooked. They exchanged numbers through a mutual friend and after a dinner date, they've been inseparable ever since.
Jeff proposed to Serena at Los Angeles' famed Griffith Observatory during a visit to the area. He suggested they do a fun photo shoot so they got all dressed up and made the drive. They were playing around with poses and shooting photos, when unexpectedly he pulled out a ring and proposed right there in front of everybody. Serena wasn't sure if he was serious or not, but why take a chance? She said yes right away, as onlookers cheered. They were getting married!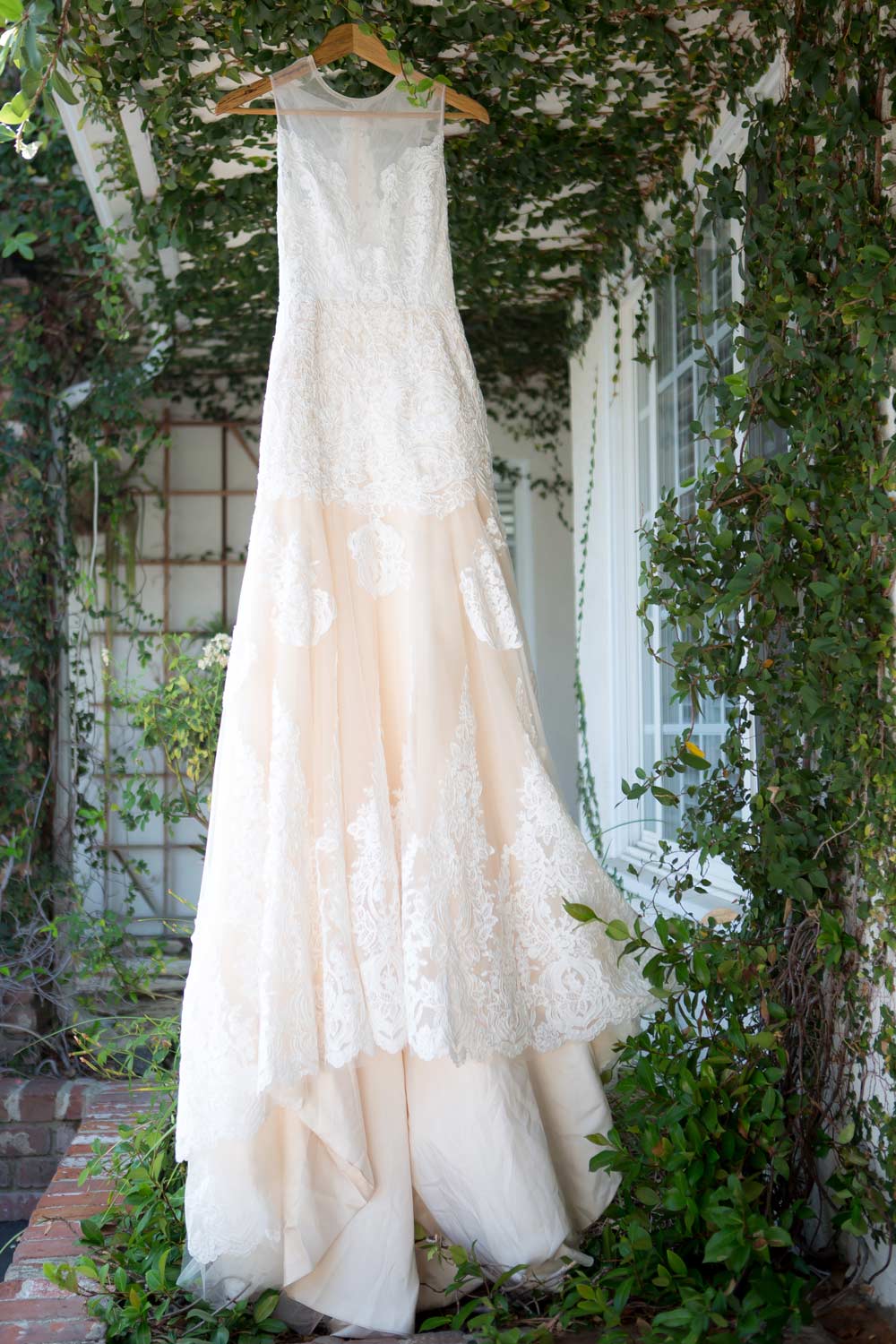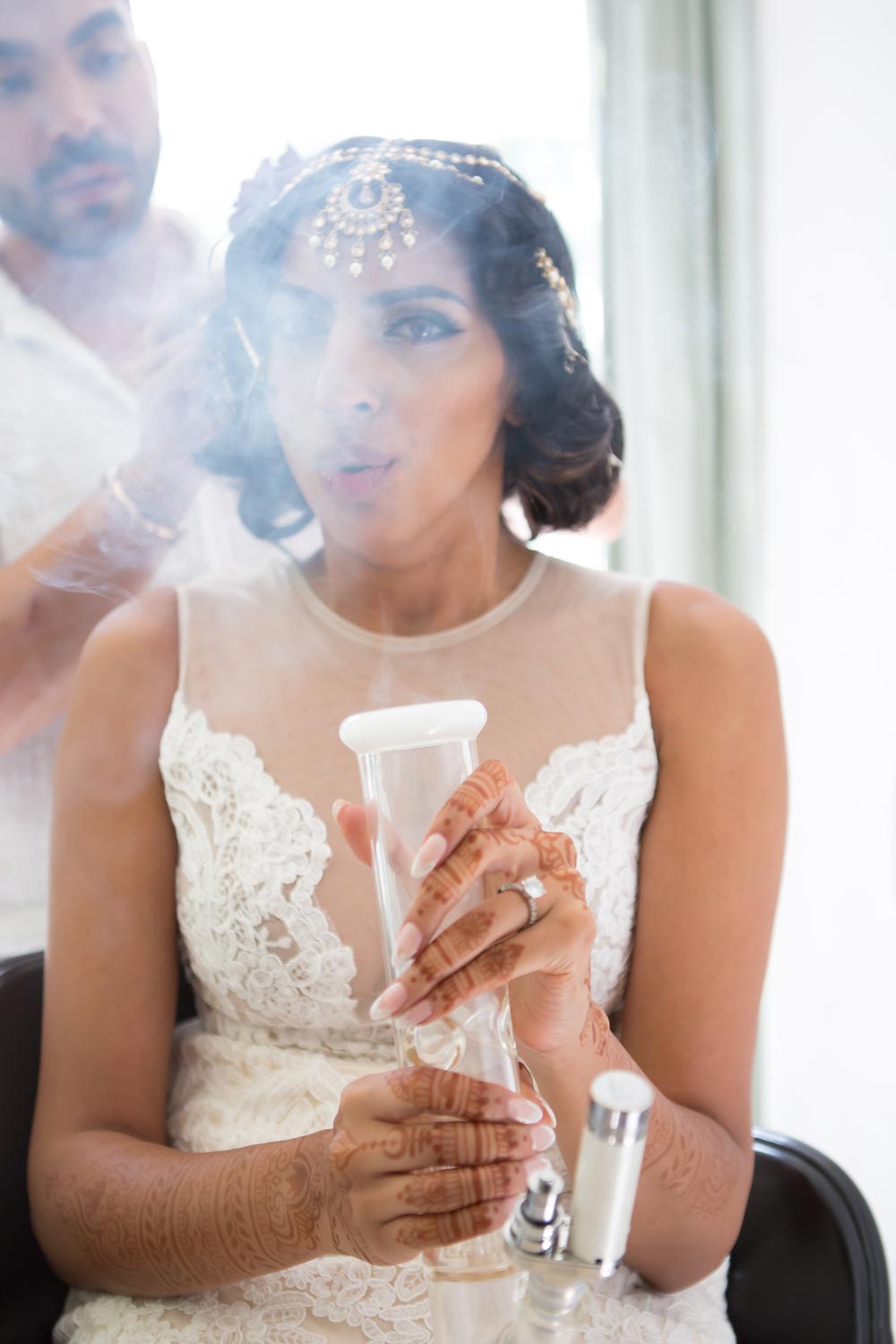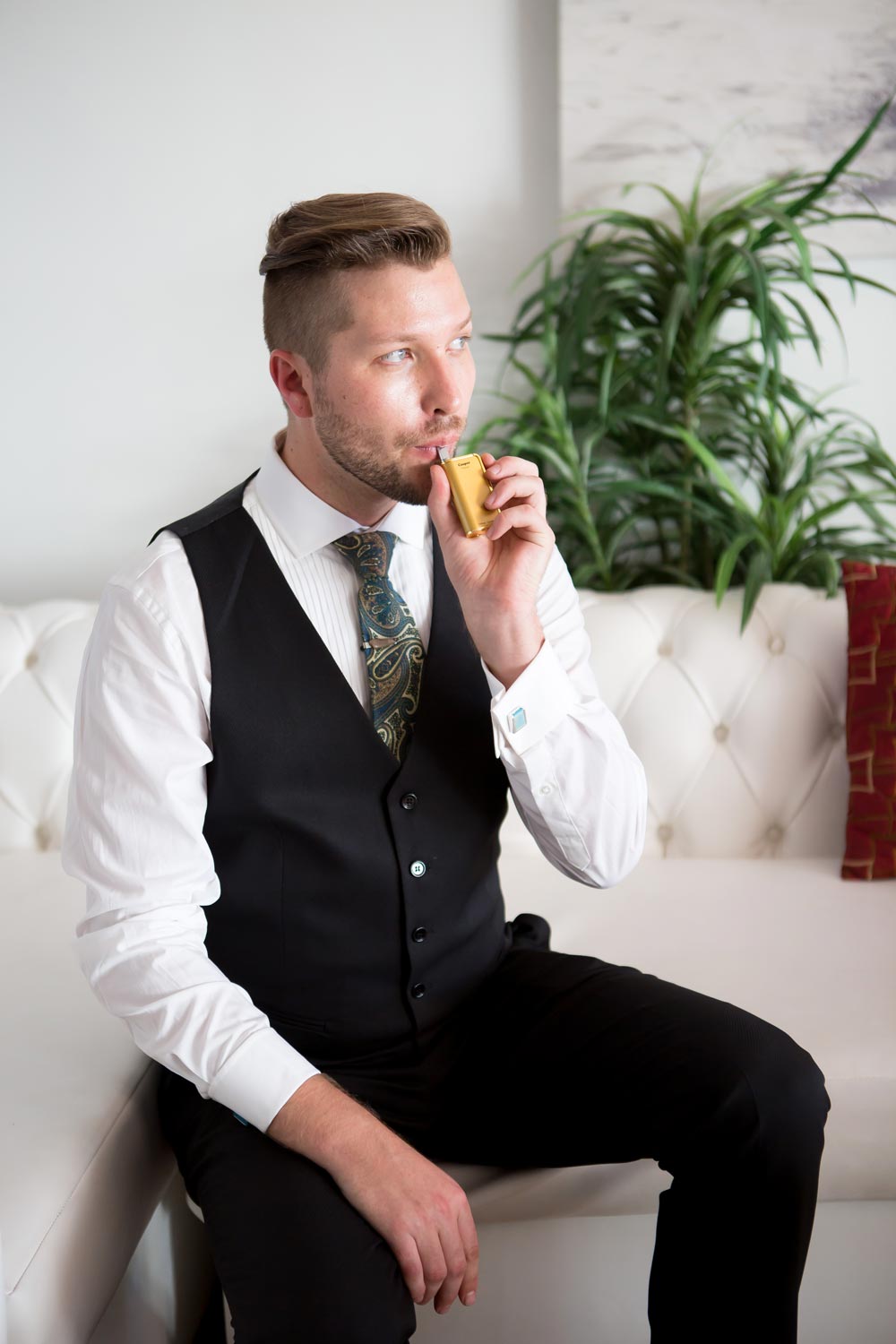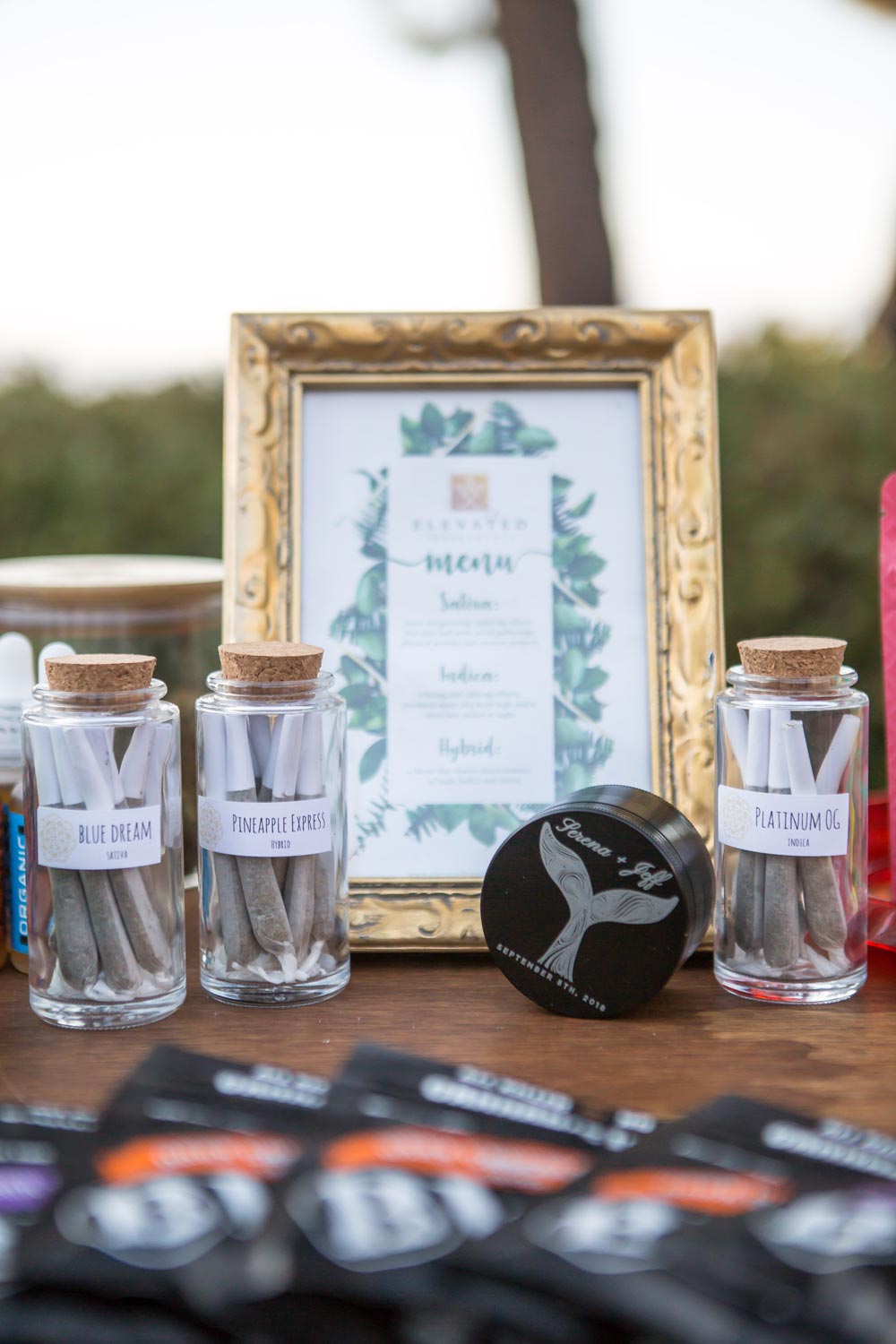 Vintage Bollywood was to be the theme of this wedding, and with the legality of Marijuana now a reality, it was to be featured throughout the celebration, from favors to the menu and beyond. Frank Sinatra's Mansion in Woodland Hills provided a perfectly elegant and secluded spot for this unique event, offering spectacular views and a remarkable combination of luxury, convenience and privacy.
According to Serena, her planner/florist was the real star of the day. Jamie, "The Flower Daddy" as he is known, made the day go perfectly, and Serena says she can't emphasize enough the value of a good planner. "We did nothing, literally. It was a breeze!" she says.
After preparing for the ceremony in a beautiful gown with paisley lace and a sheer back and family jewelry, she was ready for that walk down the aisle. Serena's mother gave her jewelry which belonged to her mother, telling the bride that she would be giving it to her own daughter or daughter in law one day. It was deep meaningful and traditional in a way Serena didn't expect, and she says that was a moment that will stay with her forever.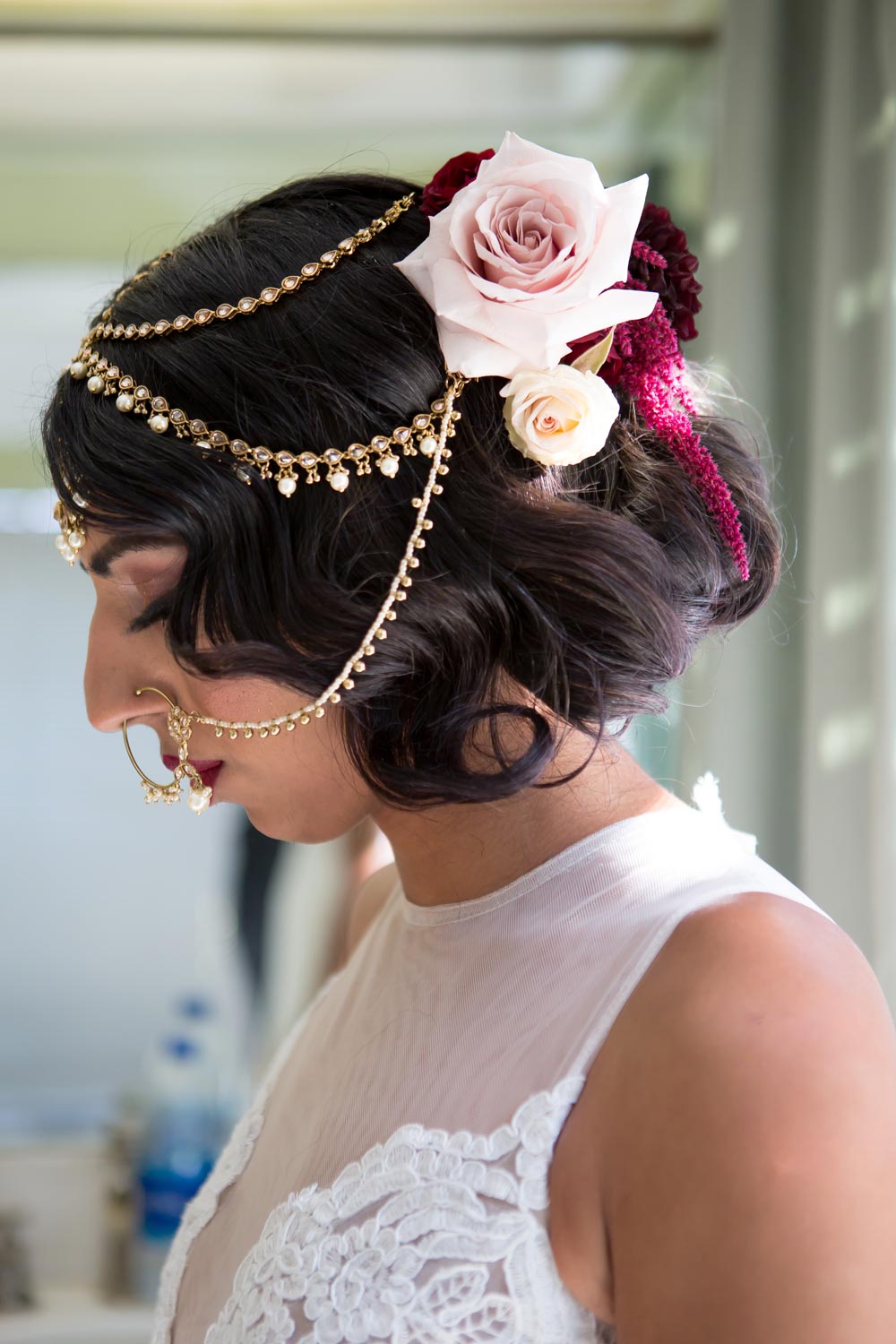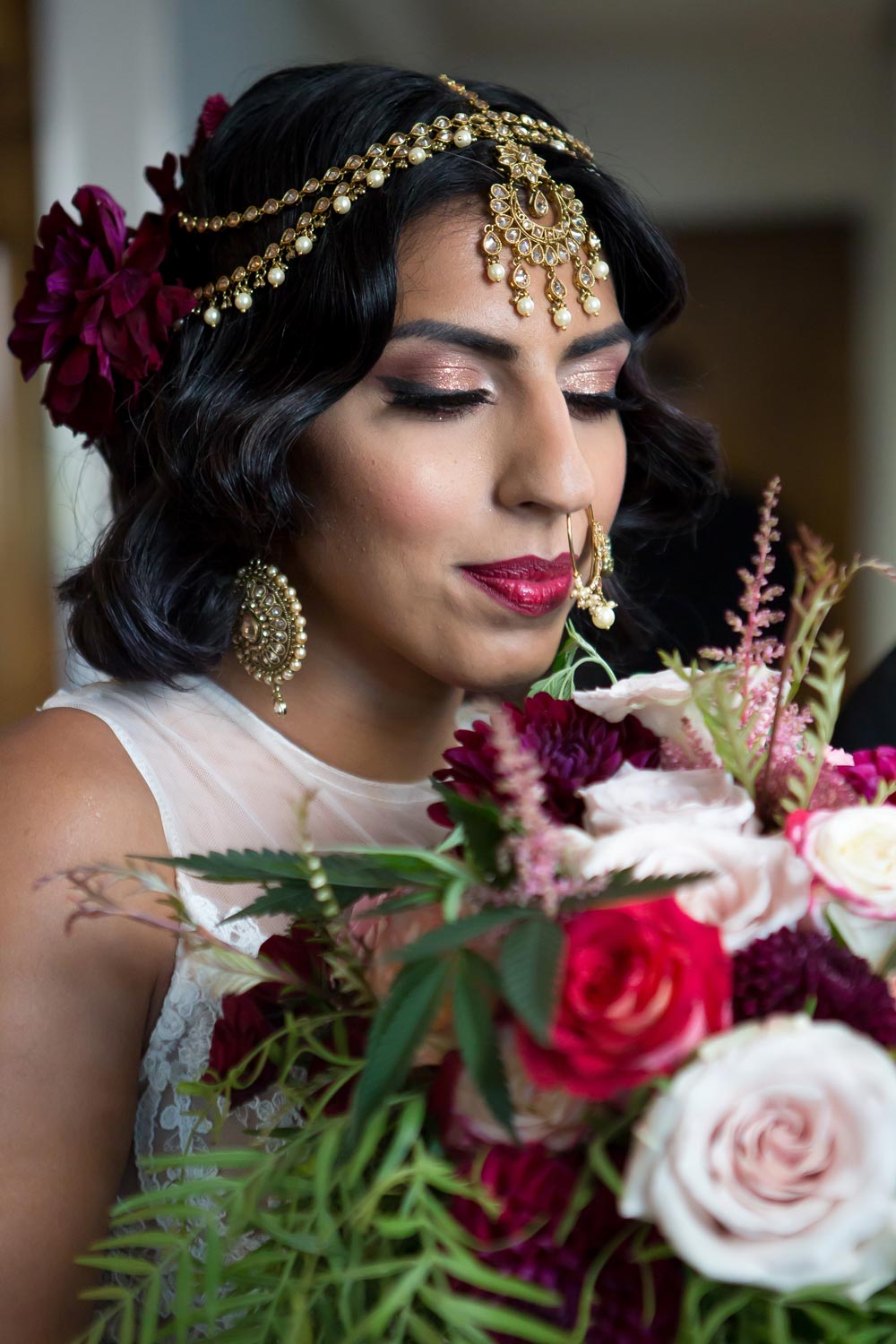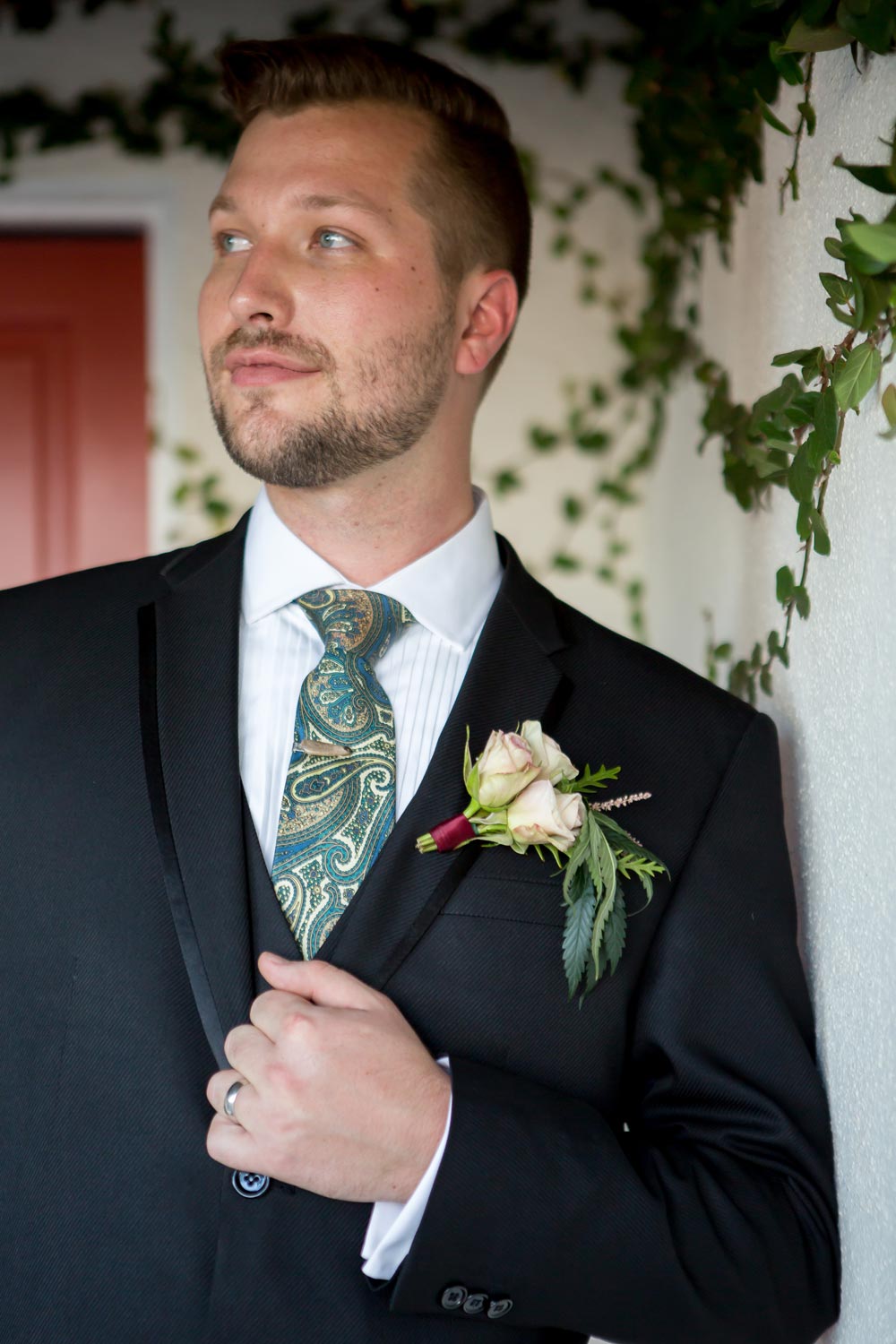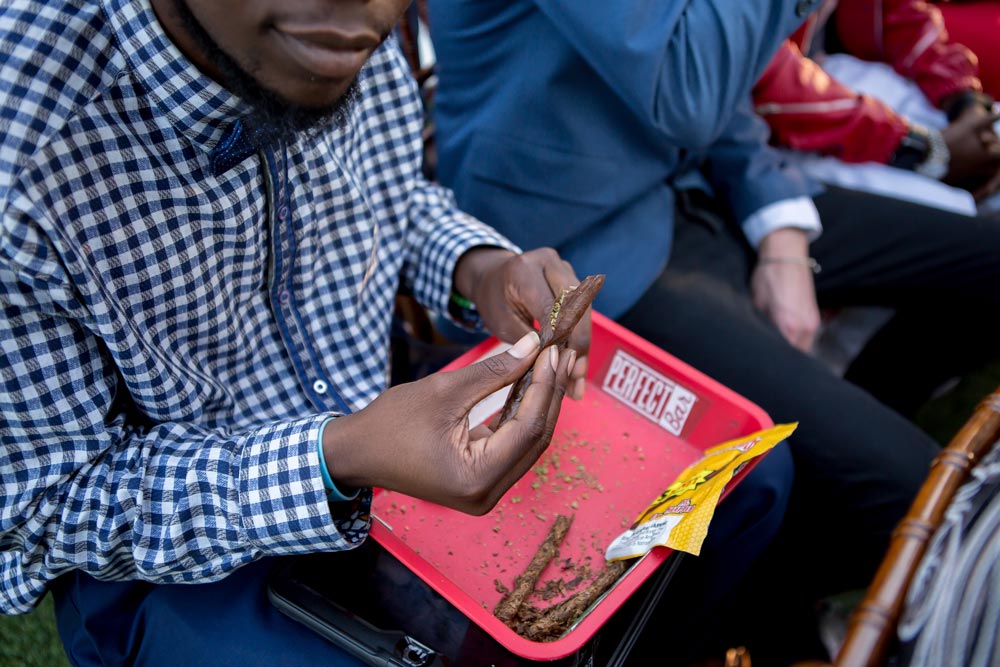 When Serena revealed herself to Jeff, she got "a kiss and a cheeky spliff," which she recalls as her most romantic moment of the day. Jeff had been trying to spy on her the entire time she had been getting ready. Not a good idea, apparently, as he now advises grooms, "Stop trying to spy on your wife while she's getting ready." Maybe he was just ready to party!
The ceremony was officiated by the friend that had facilitated Serena and Jeff getting together. She had become an ordained minister just to marry the couple. After the "I do's" she started off the newlywed's married life by lighting their first spliff as husband and wife.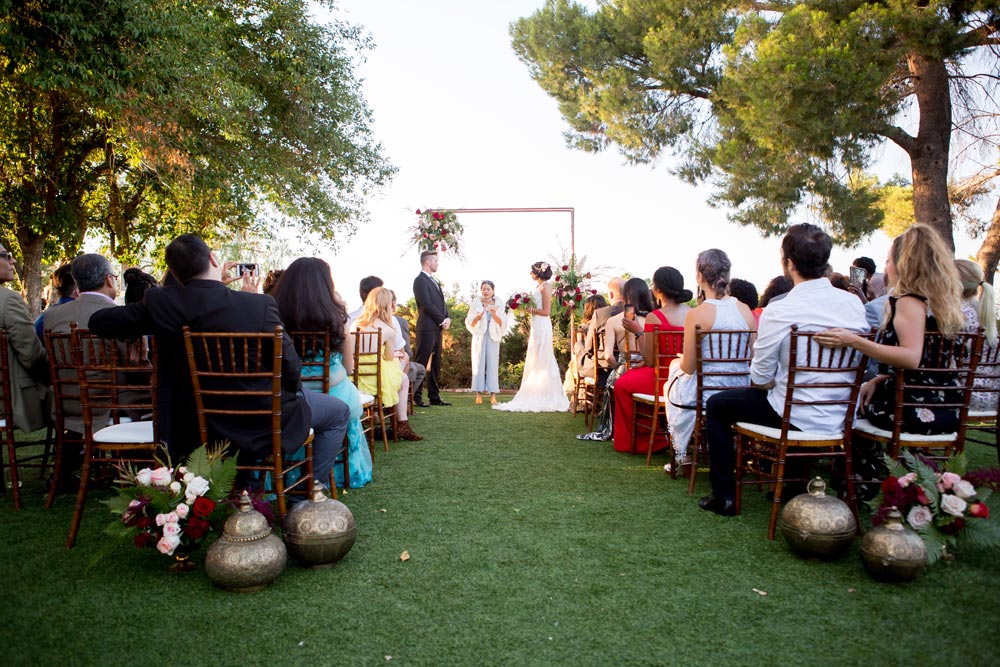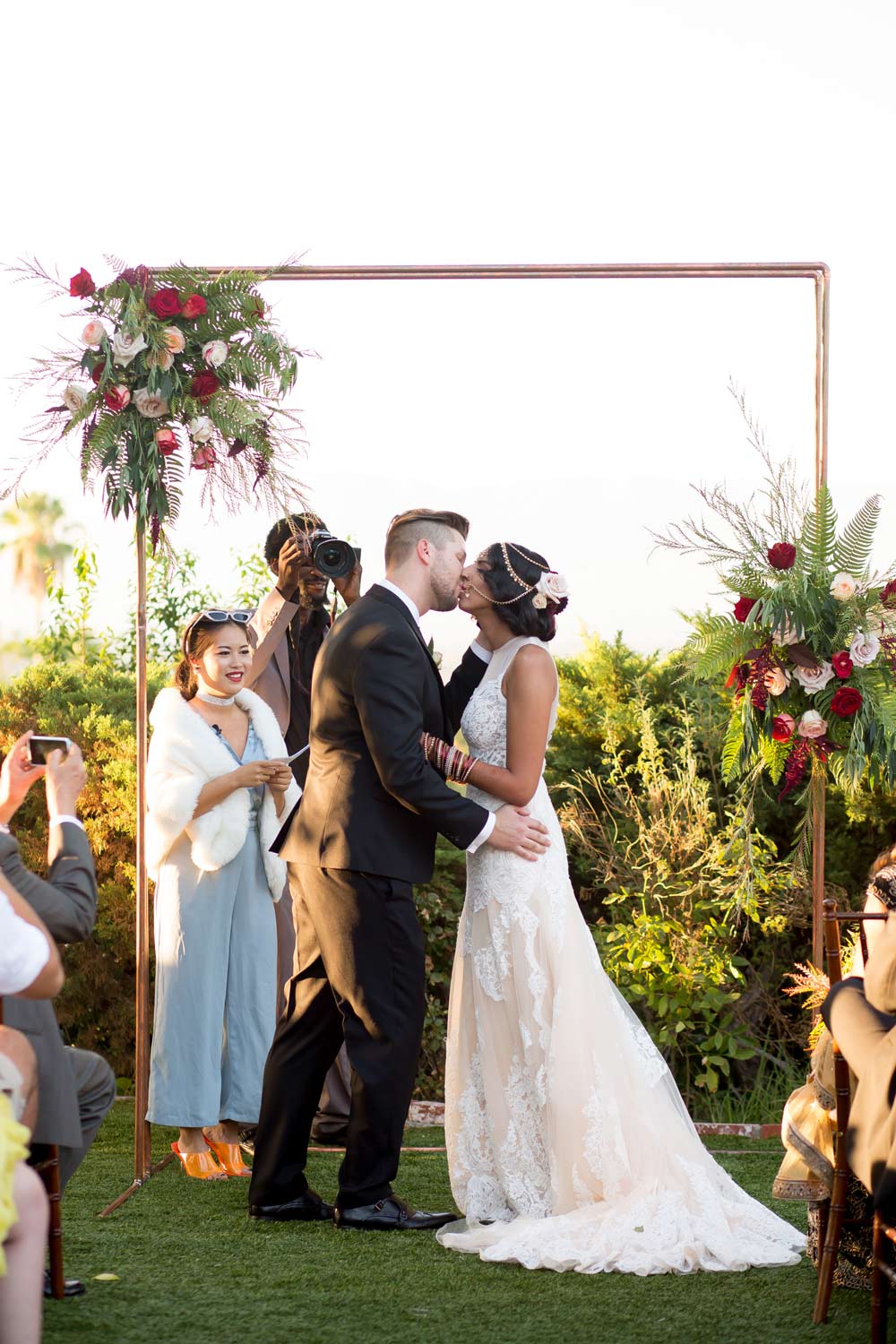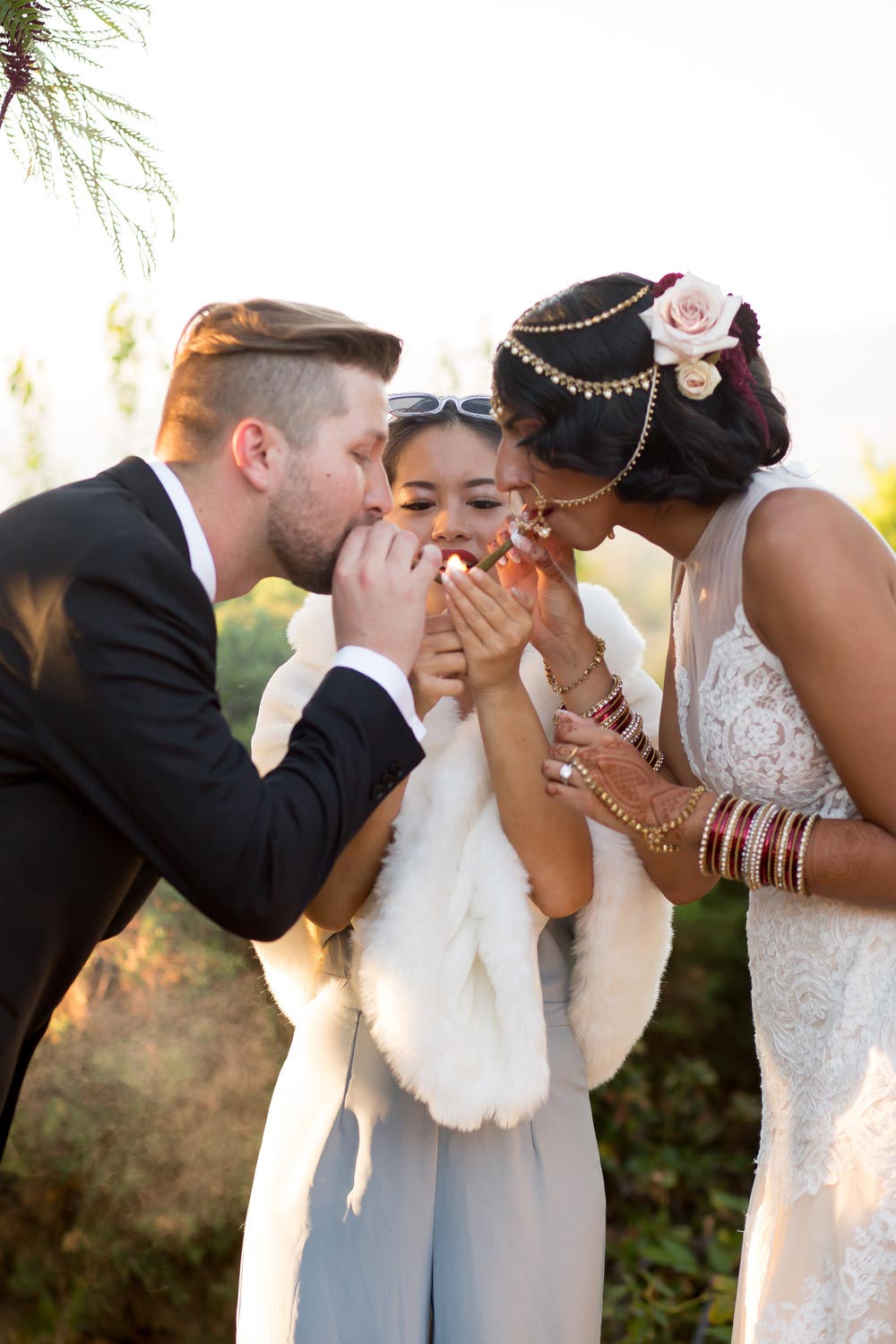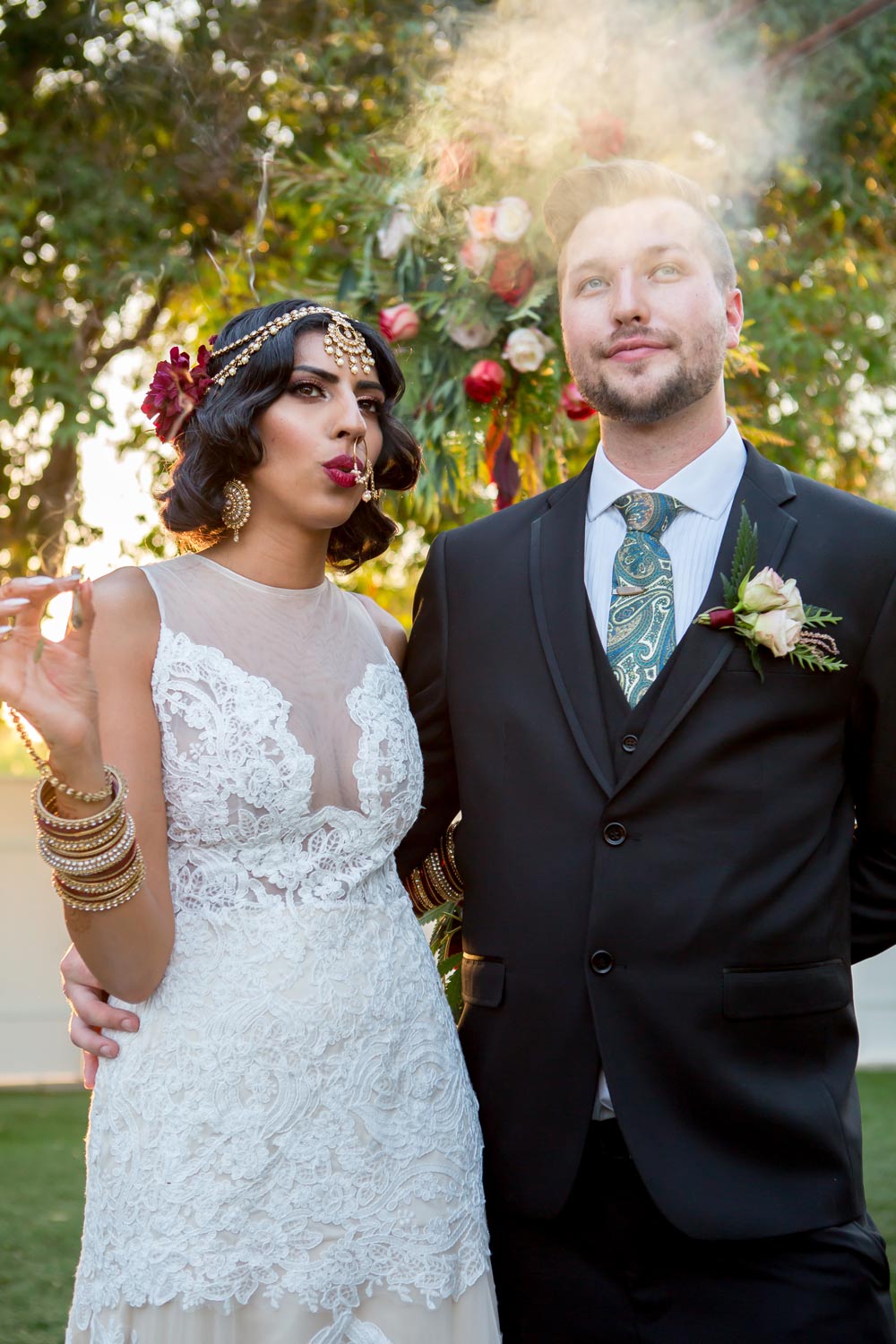 Then it was time to mingle, with "Infused" Chicken and Mushroom & Thyme Mini Tarts in Phyllo appetizers. For those looking for more, wedding favors were all Marijuana based products, mostly CBD goodies, and there was plenty to smoke.
By the time everyone sat down to dinner, the sun had set and the property was lit up and sparkling. Red, green and gold table decorations glittered as everyone celebrated with a family-style dinner, starting with Watermelon Salad. Guests defeated with the munchies by feasting on Grilled Flat Iron Steak, Oven Roasted Citrus Salmon, Grilled Veggies in Vinaigrette, Roasted Potatoes, Pickled Red Onion and Salsa Verde, Housemade Bread and more.
More partying was in store when desserts were passed around, with single serving "infused" desserts baked in individual mason jars. There was Fresh Farmers' Market Peach Crumble with Oat & Brown Sugar Crumble Topping & Fresh Whipped Cream and Chocolate Buckwheat Cake with Fresh Whipped Cream & Blueberry Compote. And even a CBD chocolate fountain!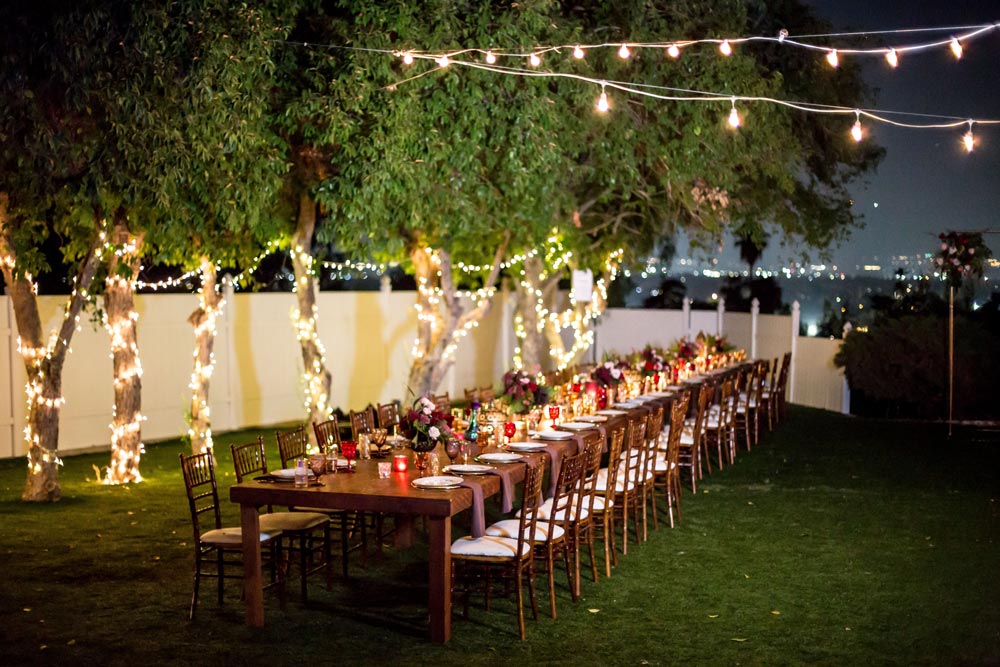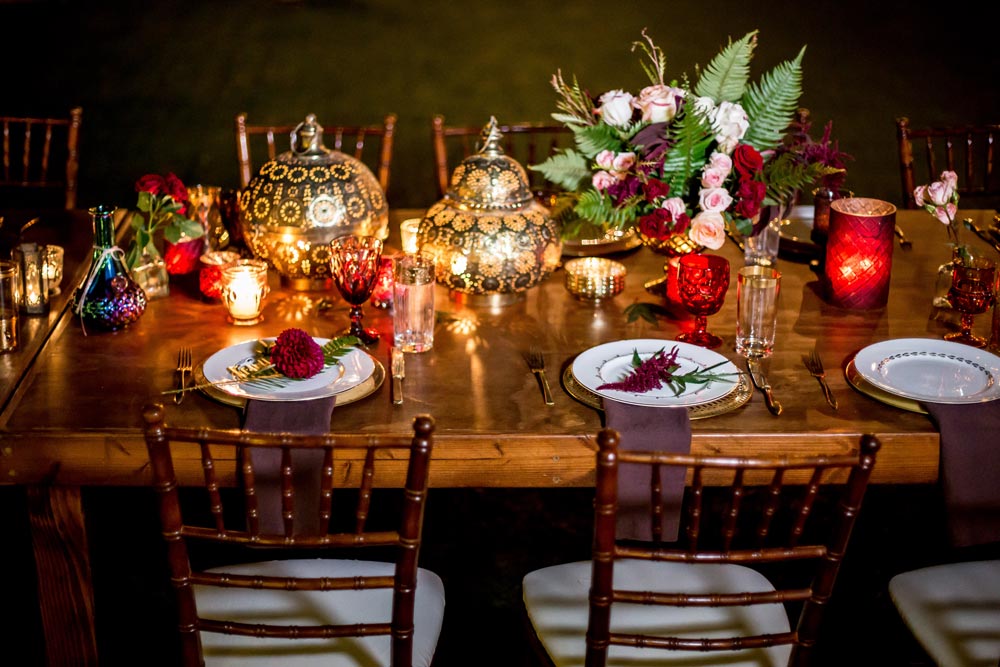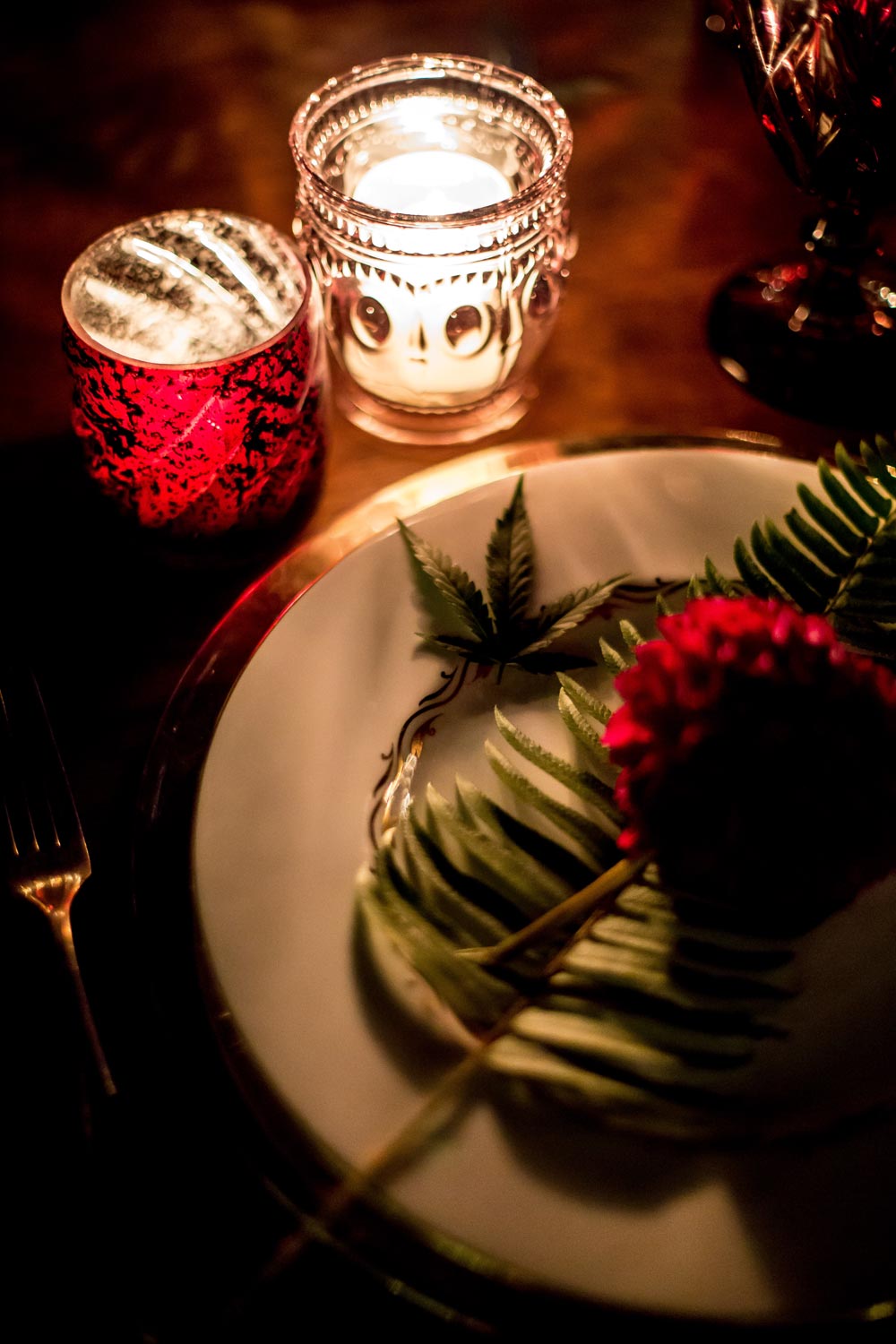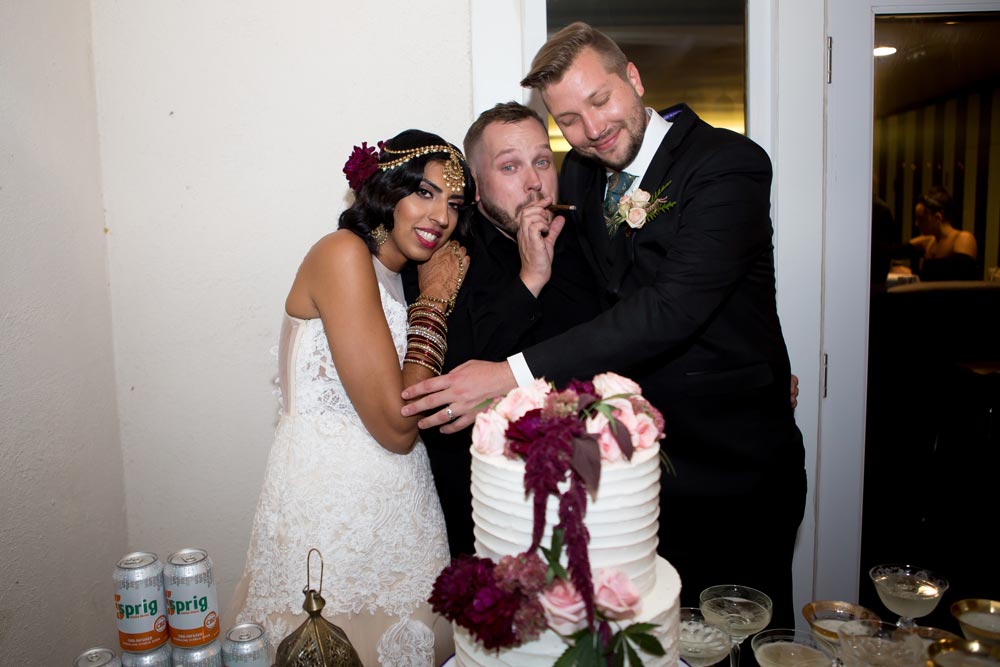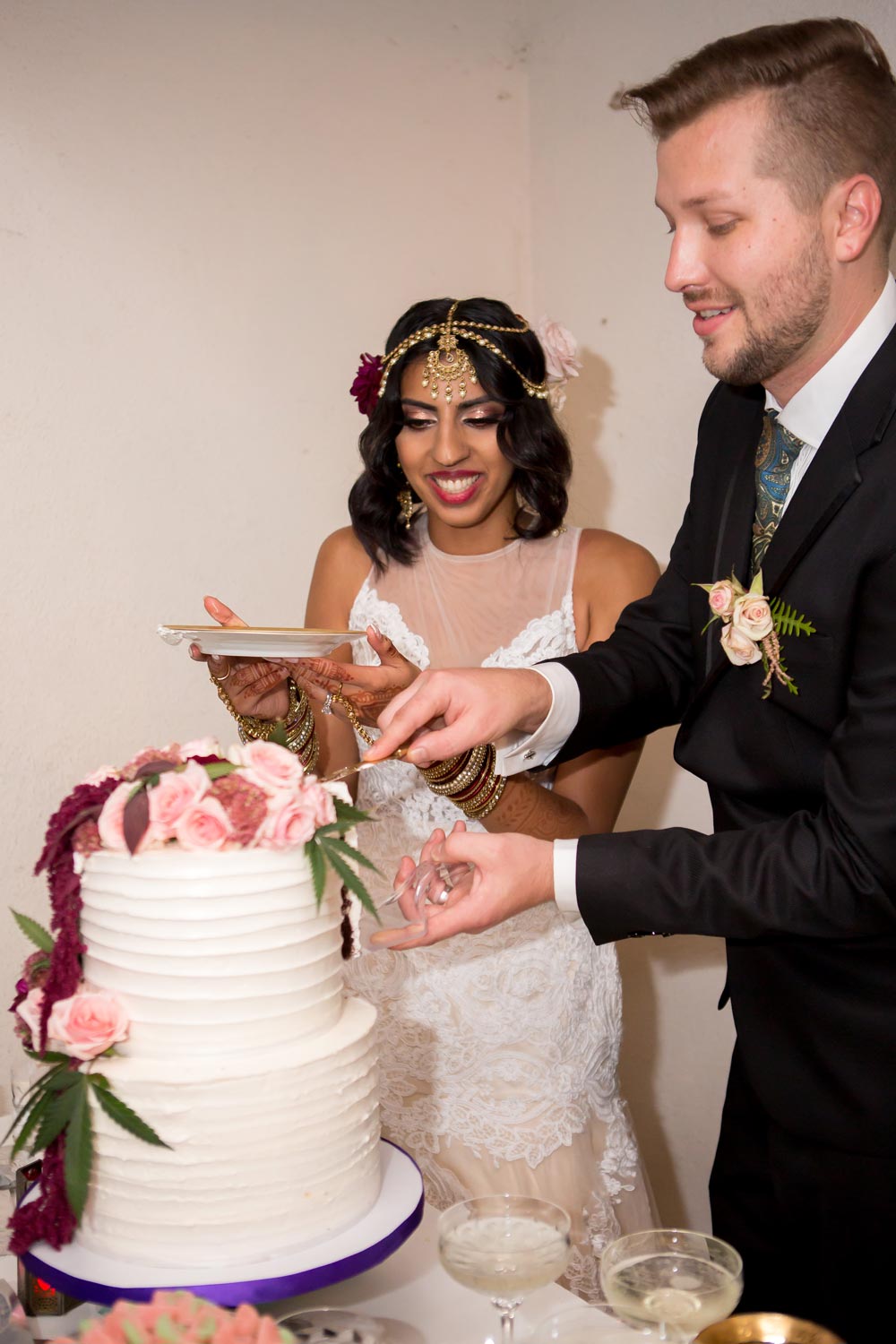 As the evening wound down, climbing into the hot tub to relax with "all of my baked friends" gave Serena a chance to savor the day. And what a day! There had even been a TV crew on hand to cover the event. You can be sure that when they started planning their wedding, they never expected to be smoking on national television!
Serena now offers this interesting bit of advice: "A weed bar at your wedding will mean people drink less and will save you money!" We're going to need to see the proof on that one. But party on, newlyweds!
CANNABIS VENDORS: Henry's Original, La Vida Verde, Blank Brand, Cannabis Quencher, Elevated Engagements, Puff Co.
[PHOTOGRAPHY] interstellarimage [VENUE] Frank Sinatra's Mansion [PLANNER / FLORALS] The Flower Daddy [CATERING / DESSERT] Fraiche Kitchen [HAIR/MAKEUP] Kalyd from Chanel