They say nothing shines like a woman in love – her eyes are brighter than diamonds and her smile sparkles like gemstones. One look at our stunning bride, Lindsay, and it's easy to see it's true. As for the groom smiling back at her, his expression of love and joy is pure gold.
So when crazy-in-love couple Lindsay and Tanner decided to plan their dream day, they didn't need to look far for inspiration. After all, a love this dazzling could only be celebrated with one theme – bling.
The couple first met when they worked together at a local restaurant. From the moment Tanner saw Lindsay, he was struck by her blonde beauty. "She was also so upbeat and positive. I couldn't not notice her." he says. But despite the fireworks between them, there was no rush to romance. Lindsay was happy being single, and she had more to think about than just herself when it came to matters of the heart. She had a daughter from a previous relationship, and Lindsay admits she was more than a little cautious about entering into new relationships.
Ever patient, Tanner was content to build a friendship first. "Before we were dating he was always doing sweet things for me," she recalls. "One time, I had a bad day at work and he called me at home and told me to come outside; he was standing there with red roses and ice cream."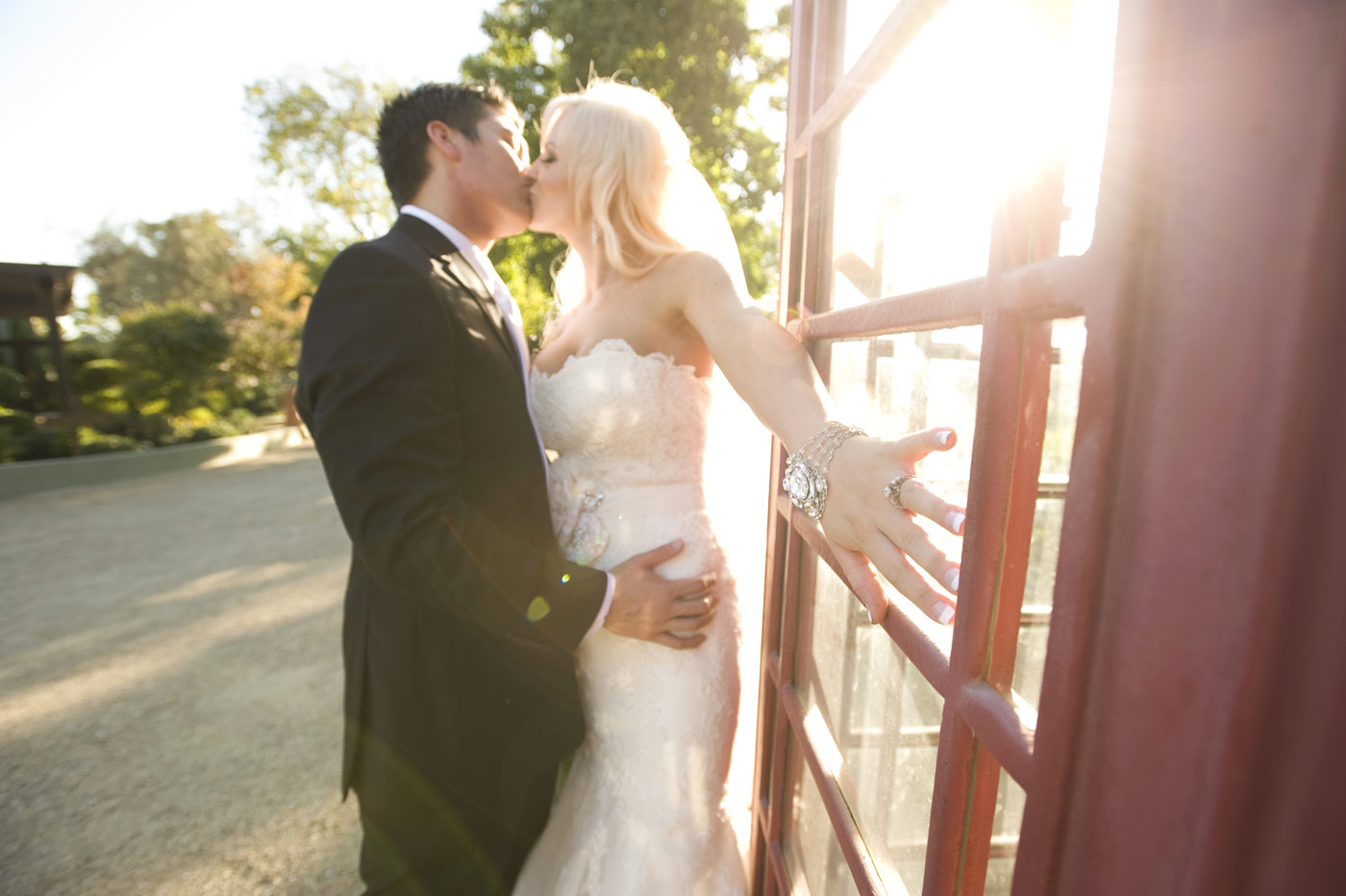 Red roses and ice cream would likely scream romance to most girls, but Lindsay initially wasn't so sure.
"My sister kept telling me, 'Lindsay, he gave you red roses – he likes you!' But I kept saying it wasn't like that…I guess it's true that when you're not looking for love it just comes out of nowhere because things just sort of happened for us."
In a style typical to their easy-going relationship, a simple conversation was all it took to take them from friends to much more. The couple fell in love, decided to move in together, and after a few shorts months, they decided to take another big step and have a baby.
"We knew we were getting married and since I already have a daughter, I didn't want our kids to be too far apart. So we went for it," Lindsay says.
Starting a family together sealed the deal for Lindsay and Tanner. They had been confident in their love and their future before, but raising a child added a new level of intimacy and respect to their relationship. But Lindsay and Tanner had yet to take the plunge into wedded-bliss. They'd discussed marriage and knew it was their future, but no timeline was established. Then, with Lindsay's high school reunion on the horizon, she mentioned she'd like to be engaged.
"Even with a deadline looming a bit, I still really wanted to surprise her," says Tanner. So Tanner arranged for the proposal to take place at a small concert featuring the couple's favorite local band. Tanner arranged for the band to play a song they both loved, and call him up on stage to pop the question.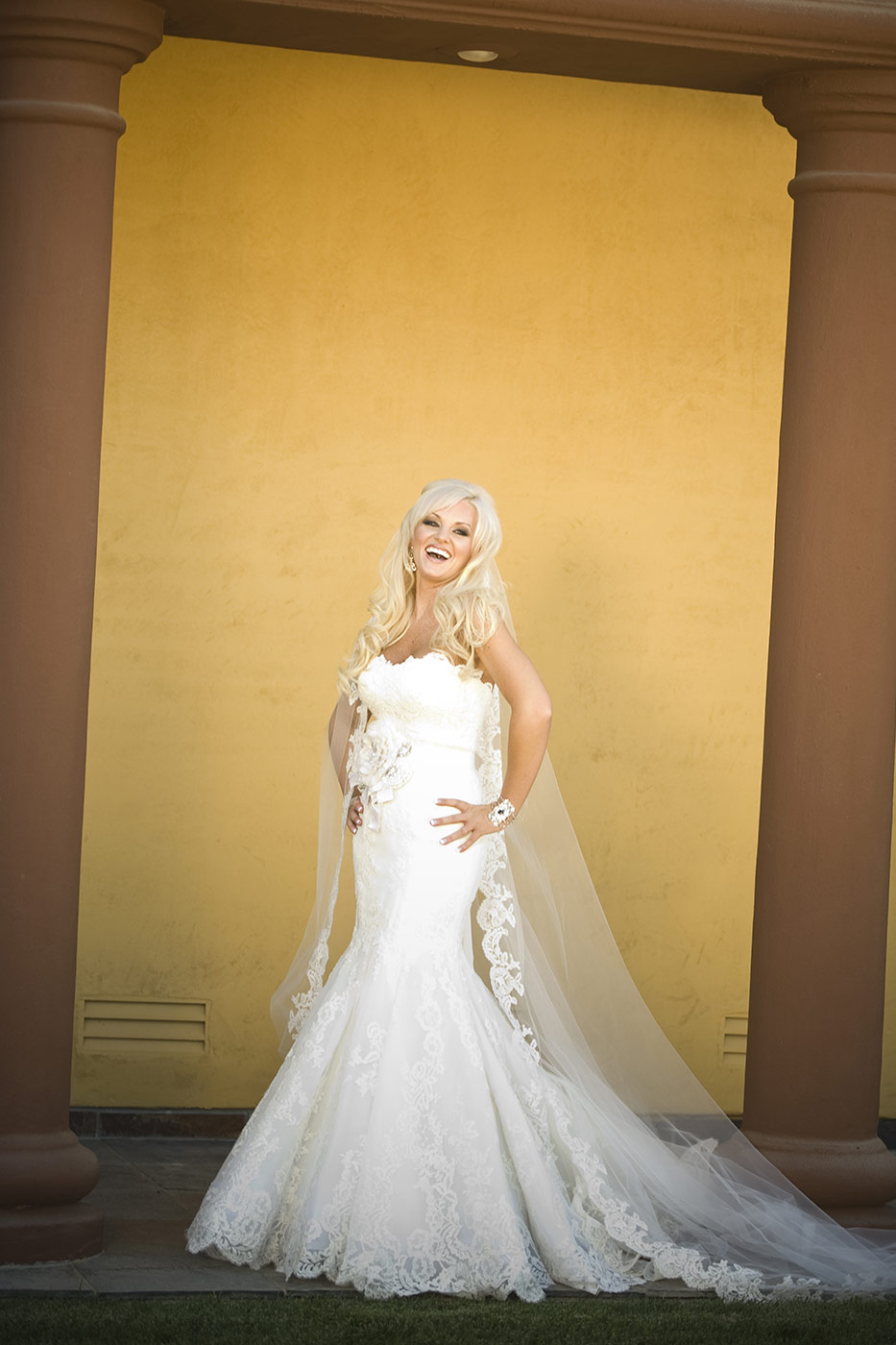 "I was super nervous. I didn't even have a drink, which was unusual and probably tipped her off," says Tanner. "But I didn't know when they'd play the song; so every song that started I would jump and be ready."
Finally, Tanner heard the beginning notes of the agreed upon song. The band's lead singer called them up on stage and Tanner took a knee, sliding a sparkling diamond ring on Lindsay's finger. The brand new bride-to-be was ecstatic, and says "I thought something was up but I didn't suspect that. I was so excited I woke up everyone I knew calling to tell them I was engaged."
Lindsay and Tanner went into planning mode right away. They knew they wanted an outdoor ceremony and a venue with an elegant, sophisticated feel. For a color scheme, Lindsay selected a classic look: black and white. With the beautiful greenery and the warm, Tuscan palette of the venue, the effect was dramatic.
Lindsay and Tanner wanted their wedding reception to have a fun, social atmosphere – like a classy nightclub. So, rather than weigh down the party with a seated dinner, the couple opted to create a roving feast with action stations. Lindsay's dad built a series of tall, square cocktail tables to provide a rest stop between dancing and eating and the couple covered them with shiny, black linens. Then, on the top level of the reception room, the couple created a fun lounge area with black and white ottomans and a photo booth for guests. Specialty lighting in shades of pink, blue, and green added a warmth and energy to the room.
Next, working with her mother, Lindsay added a healthy dose of bling to her décor scheme. A massive crystal tree with sparkling garlands hanging from each branch was the centerpiece of the reception room. Lindsay's parents also made 12 miniature decorative trees out of Manzanita branches, to which jewels, white carnations and hydrangea, and lights were added. Jewels and feathers were also added to the white floral arrangements that Lindsay's mom designed. Additional touches of sparkle were scattered about the room, from diamond paperweights on the cocktail napkins to glittered candy favor boxes. Scores of strategically placed candles provided the final, glowing touch.
"It was amazing. My Mom thinks of everything – she's so creative!" Lindsay gushes.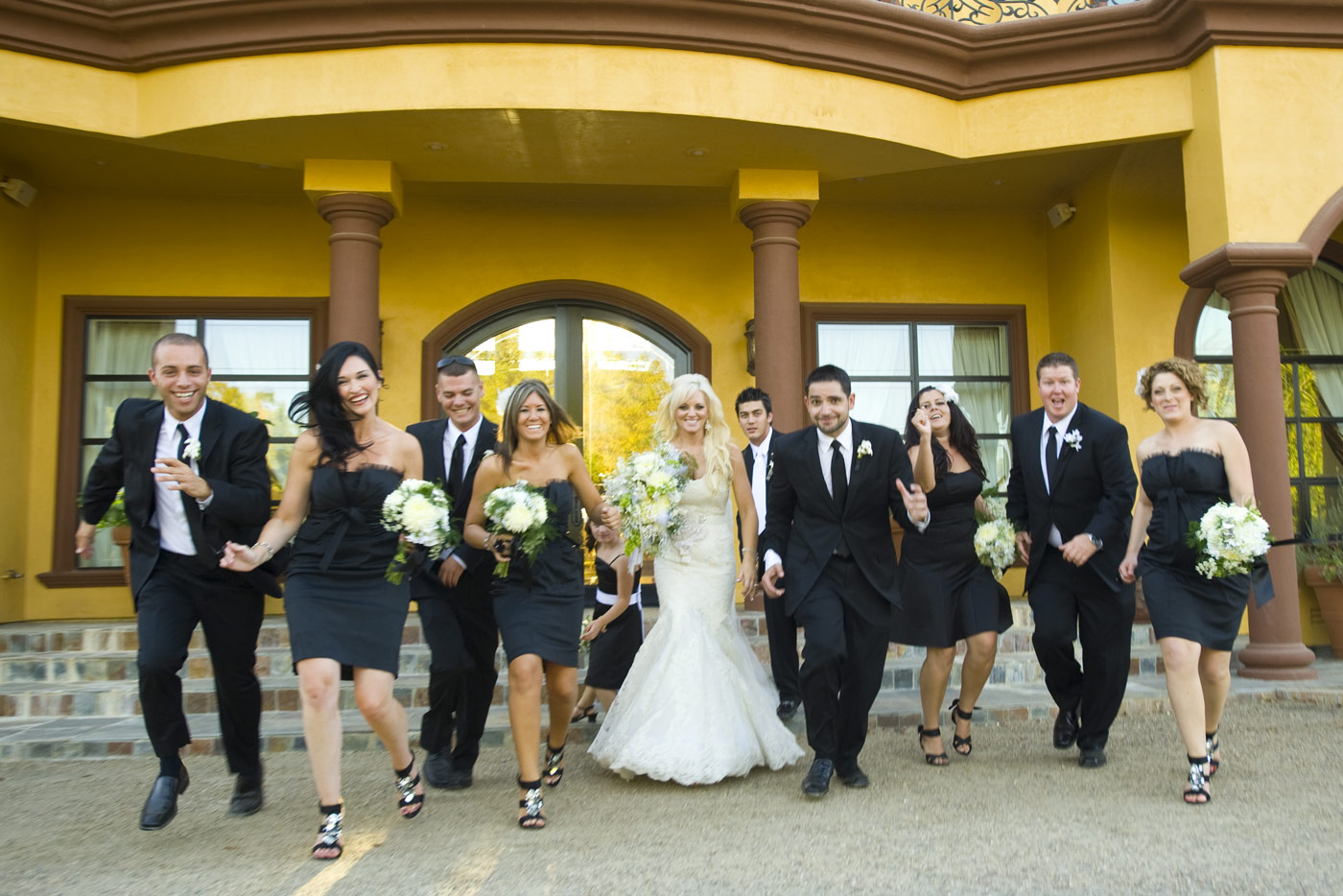 When the sparkling wedding day finally arrived, the bride spent the morning primping with her bridesmaids. She wore her hair in long, blonde curls flowing over her shoulders. Her dress was a lace mermaid-style gown, with a flowing train and a lace floral broach at the waist. True to her theme, the bride added some beautiful bling to her look: jewels in her wedding gown's floral broach, diamond earrings, and a jaw-dropping, vintage-style bracelet cuff. A long, lace veil completed her fairytale ensemble.
The bride's mother designed special bouquets for her daughter and the wedding party. Each of Lindsay's bridesmaids carried a clutched bouquet of white flowers with feathers and jewels. As for Lindsay's bouquet, it was a true showstopper! Her father built a ring base, to which massive amounts of flowers could be attached. Lilies, hydrangea, and roses in crisp white were set off by copious amounts of pearls, gemstones, and crystals. Sprigs of greenery provided contrast and added texture to the amazing arrangement.
In the afternoon, with a light breeze blowing, Lindsay and Tanner exchanged wedding vows outdoors by the river at the Viaggio. Holding hands, the bride and groom were framed at their outdoor alter by two large pillar arrangements topped with white flower balls and crystals that hung down into the large vase below. The look was chic, sparkling, and classic. White flower petals strewn down the aisle provided romantic carpeting for the wedding party, and white spheres topped with black ribbons hanging from shepherd's hooks lined the aisle.
The ceremony was performed by a family friend while, and Lindsay's daughter served as Maid of Honor. Then, after sealing their union with a kiss, they headed back down the aisle as guests tossed flower petals in celebration.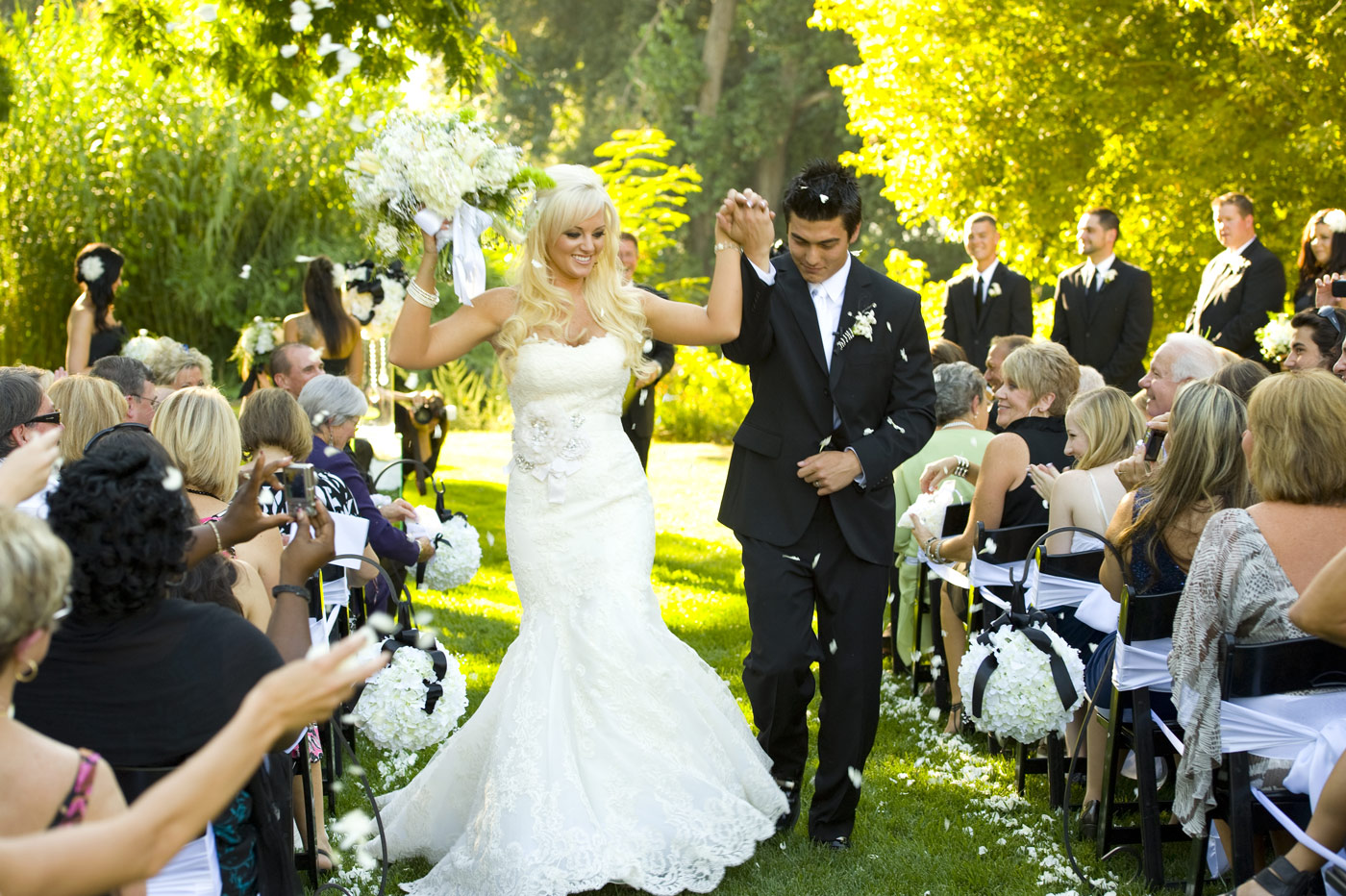 While guests enjoyed a cocktail hour outdoors in the orchard, the bridal party stole away for photographs. Then, it was party time. The DJ got the crowd energized by reading funny introductions for each of their bridal party members written by the bride and groom. After making their grand entrance into the stunning reception room, Lindsay and Tanner shared their first dance, followed by Lindsay and her Dad.
As the evening progressed, guests enjoyed sampling from the action stations, and in between bites, guests sipped cocktails and danced. "We really wanted everyone to have fun and interact at our wedding, because we're such social people," Tanner says. "It worked out great – everyone was mingling, laughing, and dancing."
At one point, the crowd took a break to watch Lindsay and Tanner play the "Newlywed Game", to see how well they knew one another. "That was a lot of fun!" Lindsay recalls. "It was really interactive and it helped everyone get to know us even better." After tossing the bouquet and garter, the evening came to a close just before midnight.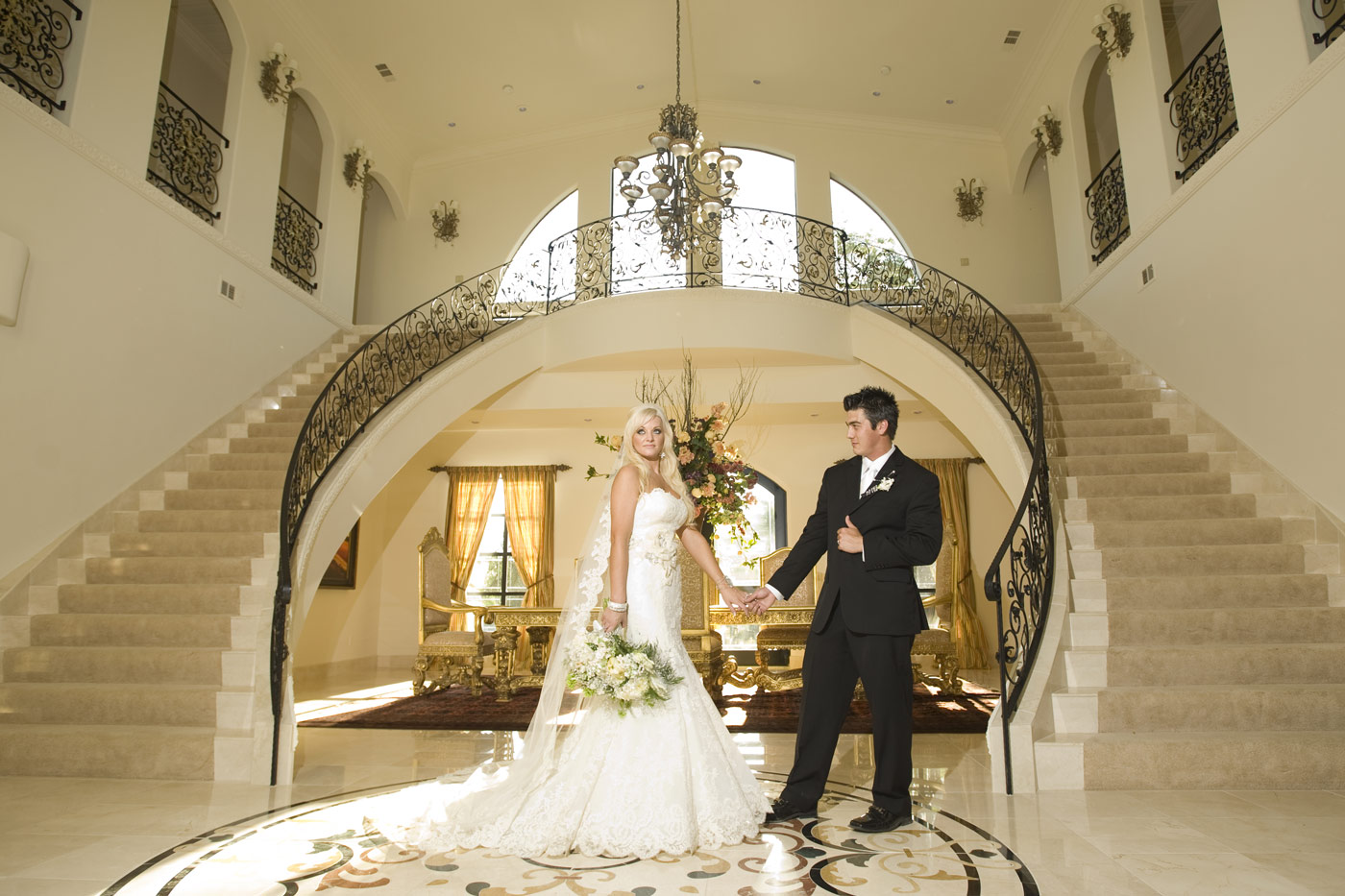 With their wedding day behind them, Lindsay and Tanner headed to Las Vegas for a honeymoon.
As they look back on their once-in-a-lifetime celebration, Lindsay and Tanner can both say they wouldn't change a thing. Sticking to their vision, letting their personalities shine through, and thinking outside the box helped them create a wedding that was sassy, chic, and oh-so-dazzling. But perhaps best of all, Lindsay and Tanner's day was a unique reflection of their love and lifestyle.
"That's the key to a good wedding is doing what you want," says Lindsay. "A wedding is a representation of the couple and we wanted people to see us through our wedding. That really came across." Her groom agrees. "We didn't worry about rules. We set up our reception as a place we'd like to be…someplace fun and social that we'd like to hang out. As it turns out, everyone else liked that, too!"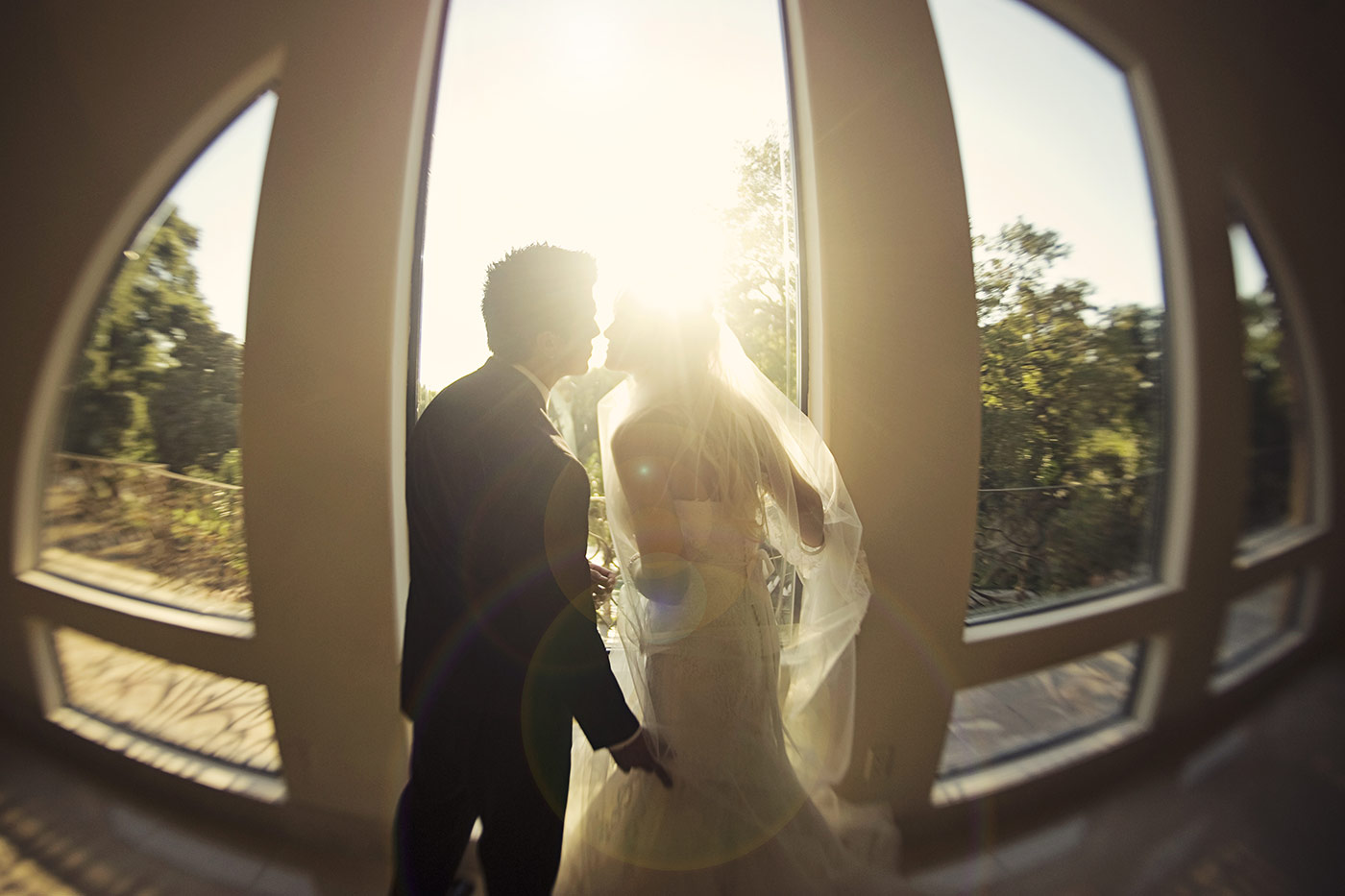 Photos by True Love Photography