With a wedding that combines their love for music with their love for each other, one bride and groom find everything in perfect tune.
When Stephanie and Christopher were planning their wedding, it only seemed natural to select a musical theme. After all, it was related to how they first met – through a mutual friend on their way to a concert. Chris was seated next to Stephanie and the two struck up a conversation. "The funny thing was our friend had been trying to get Chris to come out to meet someone else," Stephanie recalls. "When he said to me later, 'I think Susan might dig Chris, my response was, 'Um, I might like Chris.'"
The two had a great time at the concert and ended up spending the better part of the next three days together. Despite having just met, Stephanie and Chris couldn't get enough of each other.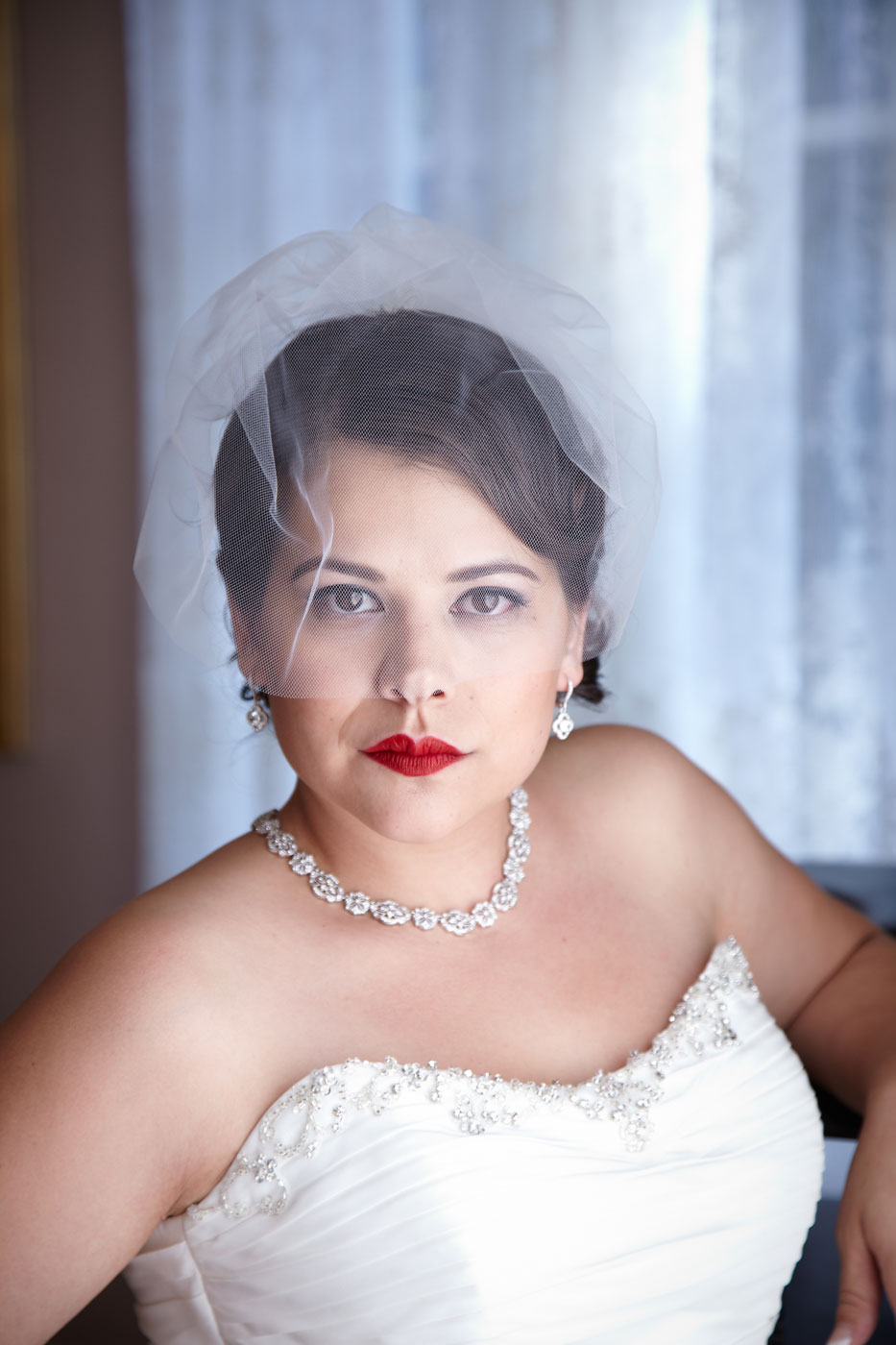 At the time, Chris wasn't looking for love. He had recently moved to Sacramento and wanted to focus on work. Still, there was something special about Stephanie that he couldn't ignore. And the more time they spent together, the more the couple quickly realized they had found something special."When you meet such a like-minded person, it's like they're your best friend. You can't not be with them," Chris explains. "We never hesitated; we just dove right in."
They may have moved quickly, but Stephanie and Chris are quick to point out that it wasn't reckless infatuation. They were careful to build their fledgling relationship on honesty, communication, and trust. In fact, things went so well that the couple moved in together just three months after they began dating. Looking back, they acknowledge that there was a brief moment of awkwardness amidst all of the excitement.
"When we moved in, we weren't nervous. But then the first night after all his stuff was in and the reality hit us, we got all quiet and awkward," Stephanie says. "I broke the ice by saying, 'This is weird, isn't it?' That's just how we are; we talk things out…and we're always up front about what we want."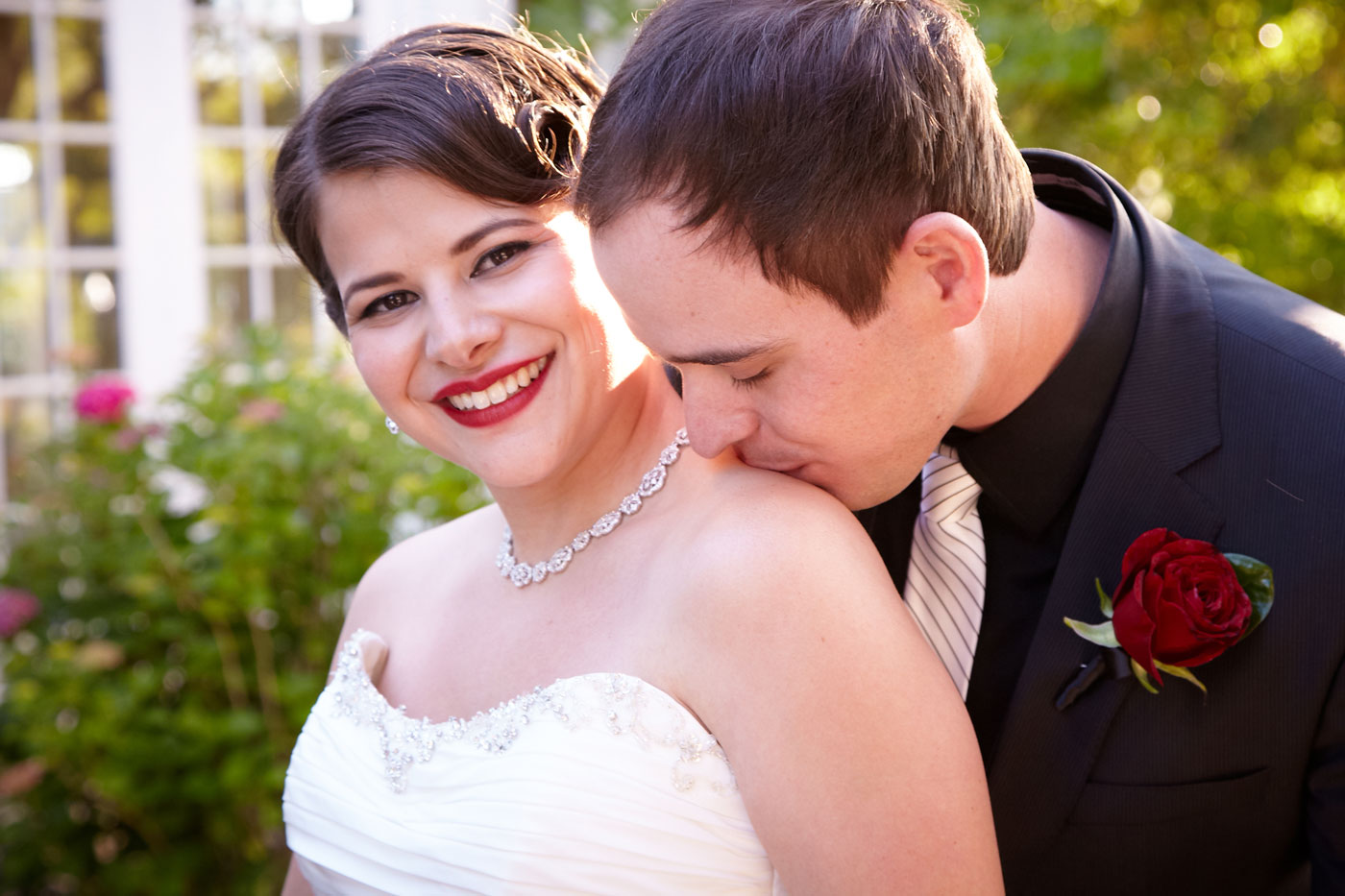 It wasn't long before those conversations turned to marriage. "We started looking at rings at six months. It's crazy. I can't explain it…I don't want to say it was love at first sight, because that's not real. This was real," Stephanie says.
For some couples, the fast pace may have been a red flag for their families and friends. But everyone around Stephanie and Chris was supportive, seeing how well they meshed together. In fact, the day after Stephanie introduced Chris to her parents, they called to say how much they liked him and hoped he would stick around – something they'd never done before.
But as much as Stephanie's parents adored Chris, she knew not to push her luck with a rushed wedding or an elopement.
"I remember one morning Chris woke up and looked at me and said, 'You wanna go to Reno and get married?' I was like, 'Are you serious? My parents would kill me!'" she recalls.
"I was half joking, but I wanted to feel her out about getting married," Chris explains. A few minutes later, with the levity of the moment behind them, Stephanie told Chris, "I could be with you forever."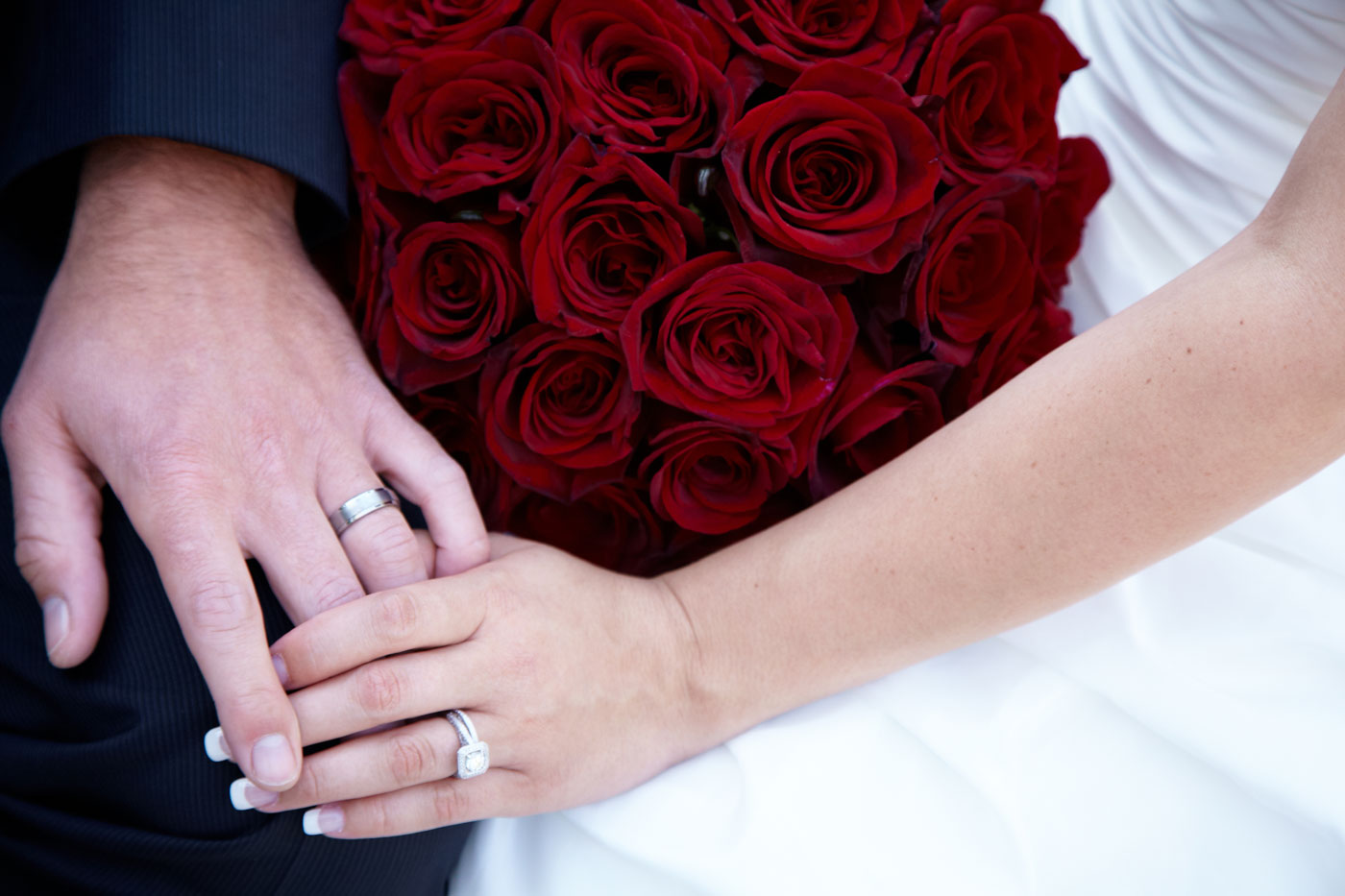 Immediately, the couple went shopping and found an engagement ring. But even with a ring selected, the couple didn't get engaged right away. Chris had wanted to surprise Stephanie with a proposal and he wanted to wait until after they hit their year milestone of dating. So, when the couple planned a trip to Las Vegas for his birthday just after their anniversary, Chris began planning. "I wanted to throw her off, so I just kept telling her how expensive the ring was and I wasn't sure when we'd be able to afford it. But I'd already bought it," Chris says.
Ironically, the first day of the trip, an impatient Stephanie gave Chris an ultimatum – unaware of his impending plans. "I'd started to go to wedding shows and I was starting to feel uncomfortable not being engaged. So, I told him, 'Christopher, I will give you five years and if you haven't proposed in five years, I will propose to you or I will leave you.' He actually had the ring in his pocket," Stephanie laughs.
That night, Chris arranged to take Stephanie to dinner at the Eiffel Tower restaurant on the Vegas strip where he gave her a gift – a photo album full of memories from their relationship together. Next, Chris led Stephanie to a special spot at the top of the tower. "He said, 'Hopefully next year we'll be standing on top of the real Eiffel Tower on our honeymoon. But that will only happen if you marry me.' We were surrounded by people, but I felt like there was no one else around; I was so in the moment," Stephanie remembers. "I was speechless and then I screamed the word 'yes' and jumped on him."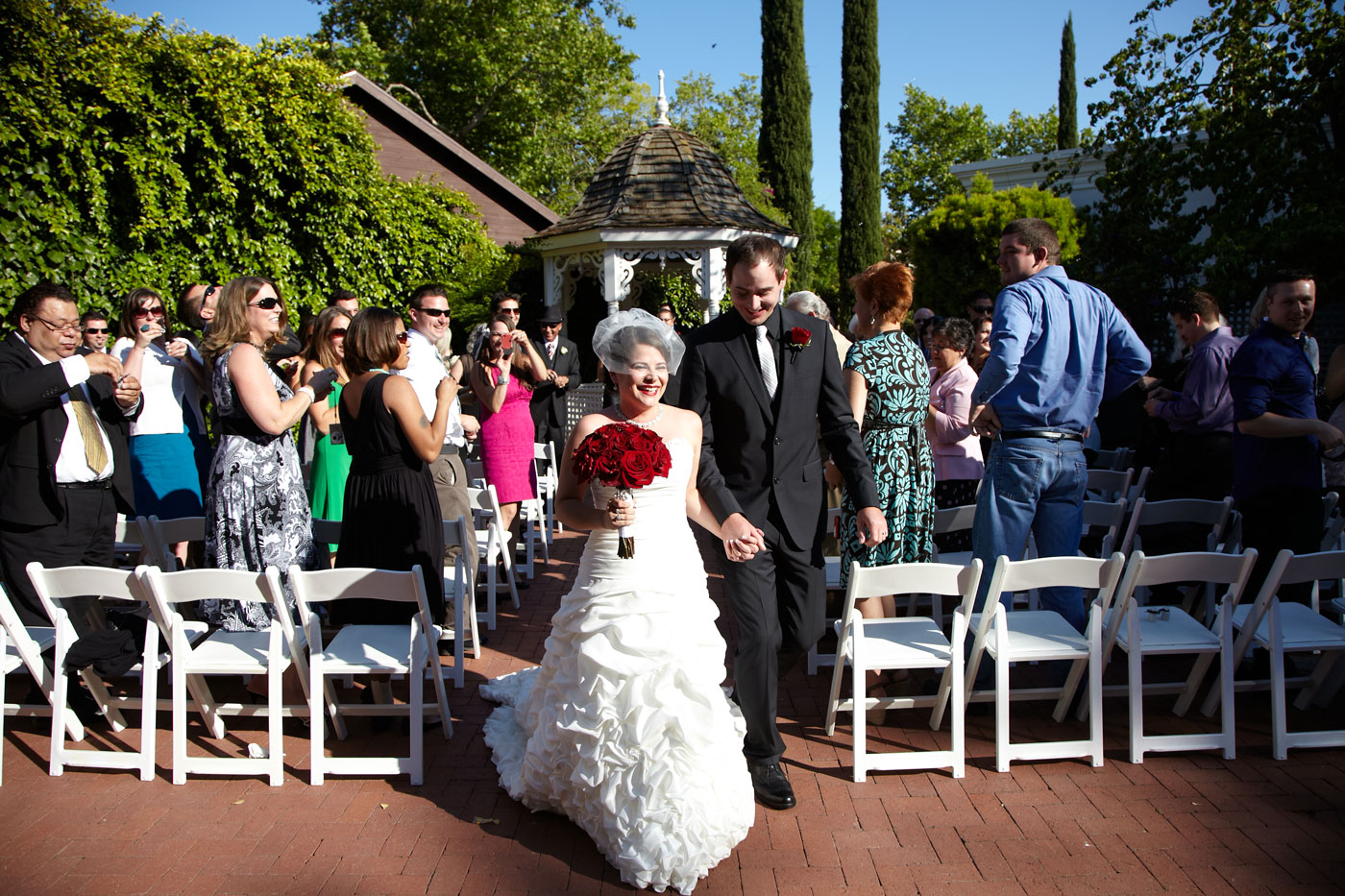 Chris slipped the ring onto her finger, only to find it didn't fit. The newly engaged couple spent the next hour looking for a ring "snuggie" to make it smaller. When they couldn't find one, they opted to make their own with a small piece of cardboard and tape.
"I just didn't want to take it off!" giggles Stephanie.
Despite the excitement, the couple kept the moment to themselves. They walked along the strip, visited the famous Bellagio fountains, and toasted with Champagne. Stephanie and Chris stayed up all night, not wanting the celebration to end. When morning came, they began to call their families with the good news.
Immediately they began planning their wedding. They selected Memorial Day for a date – the same day that they'd first met. Next, they booked the Vizcaya, which Stephanie had eyed since her college days.
But the couple's vision really came to life when they settled on a musical theme. "We wanted the day to reflect us and be unique," Stephanie says. "Music was how we met and we really bonded over music even after that – going to concerts and introducing each other to new styles. It was a perfect fit."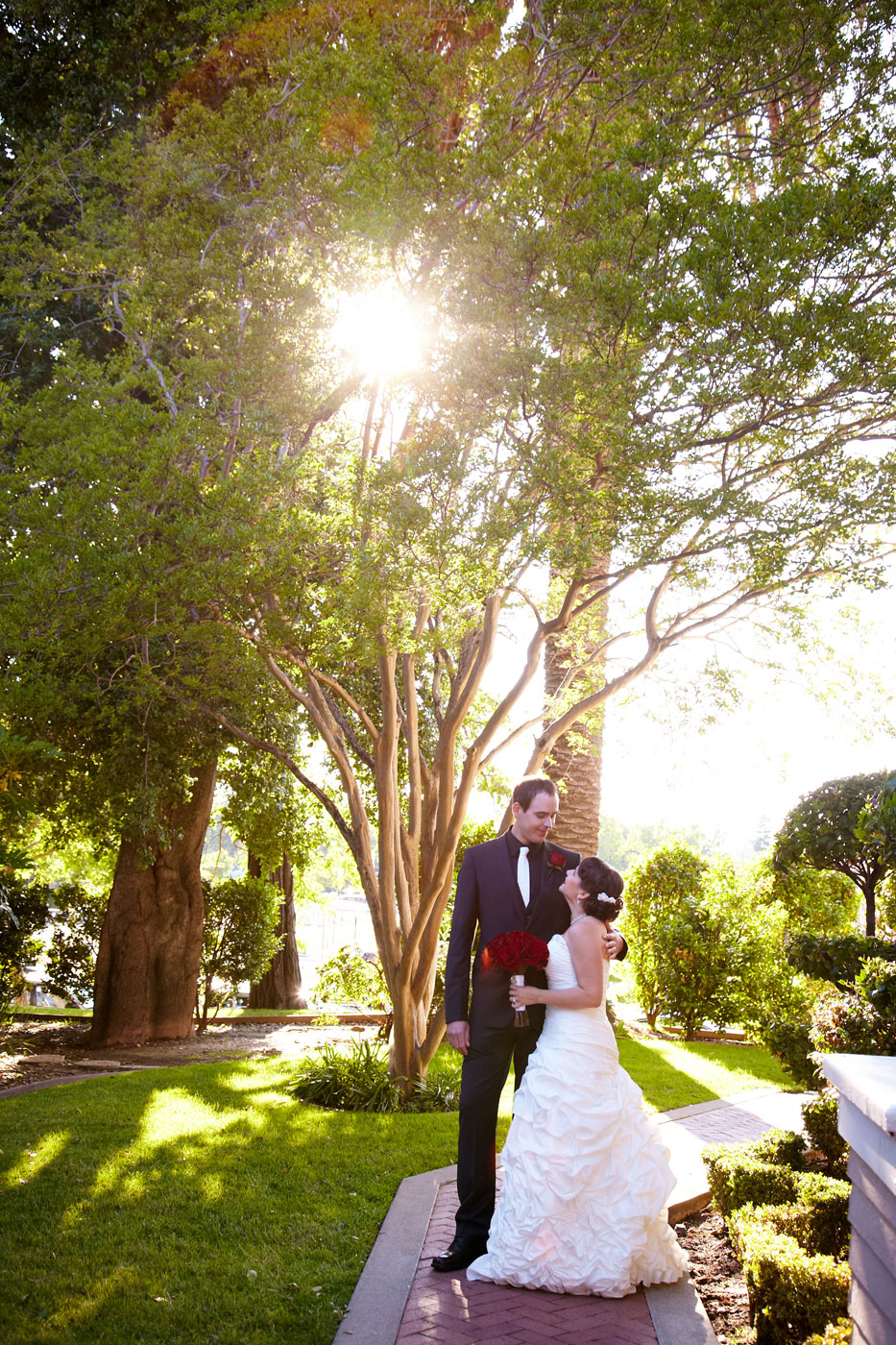 With an inspiration in mind, Stephanie and Chris began designing their dream day. They first decided on a classic, but slightly edgy, color scheme of red, black, and white. Chris ordered guitar picks for favors, which Stephanie combined with shot glasses wrapped in tulle. Vinyl records and sharpie pens made for an eclectic and fun guest book. But the highlight of the unique décor was a show-stopping lighting effect.
"Our DJ was telling us about monogram lighting and Chris said, 'What about a record?'" Stephanie recalls.
Chris designed a record label, with special milestones as the song tracks and the dates on which they occurred filling in as the running lengths. The image was translated into a custom monogram gobo for the dance floor. Using a special effect, it even appeared as if the vinyl was spinning on the wall.
On the day of the wedding, Stephanie and Chris exchanged vows in a short but deeply personal ceremony in front of a small gathering of family and friends. A mutual friend conducted the ceremony, which was written especially for their day.
After cocktails and dinner, the newlyweds danced the night away. The day was just as Stephanie and Chris had hoped it would be – fun, unique, and modern.
"It really was the best wedding ever, because we just had fun." Chris said. "We had an idea and we let our vendors run with it. We chose them carefully and then put all of our trust in them. That's why things turned out so well."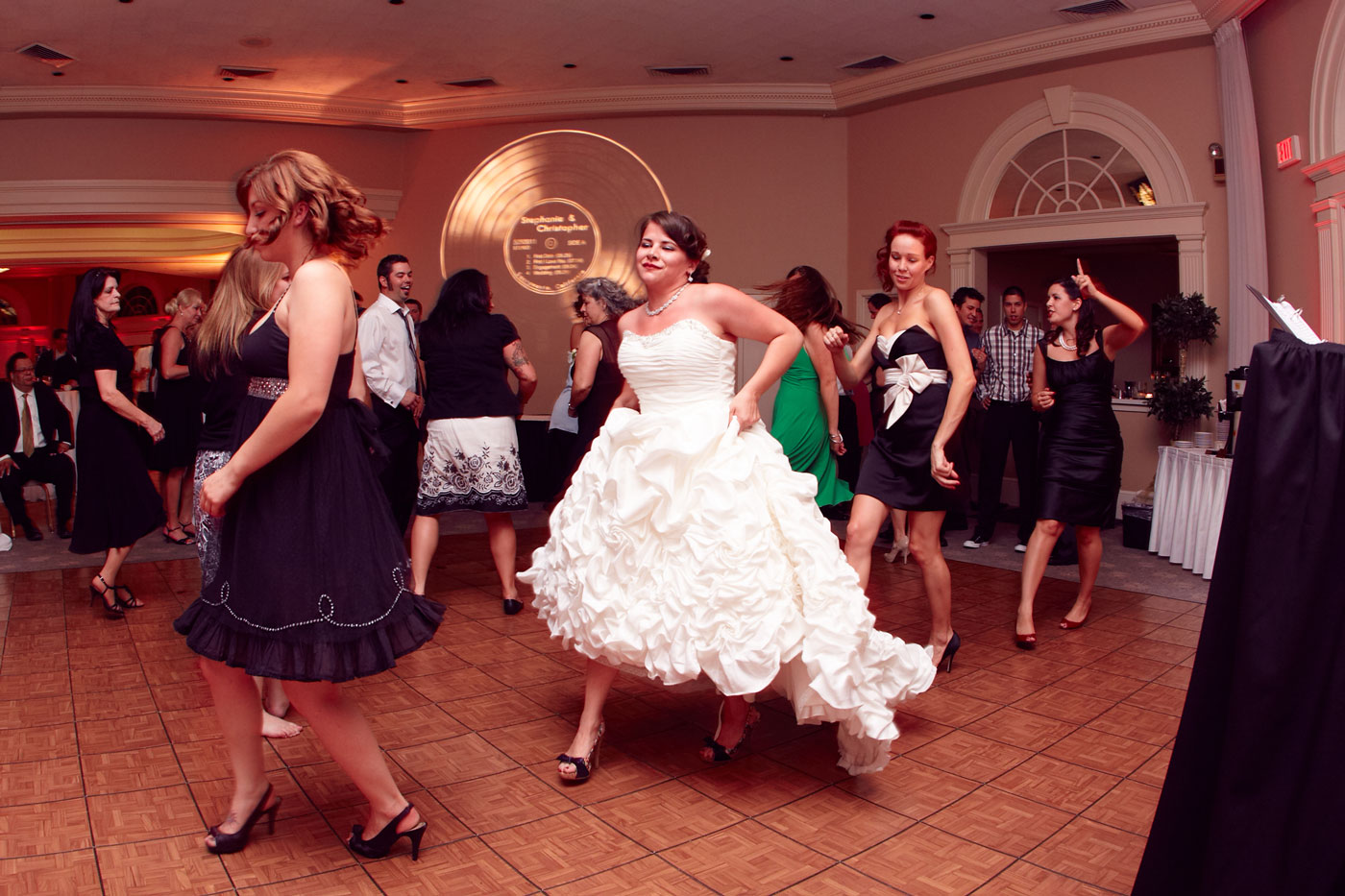 But the best part of the day?
"Getting to marry my best friend," Stephanie says without hesitation. "I'm so lucky. We literally spend every moment together that we can…I like to say I'm a better Stephanie when I'm with Chris. Plus things are just more fun."
"That's true," Chris agrees. "We're a great team. We have so much in common, but we also balance each other out. And I just love her…I love Stephanie's face; I love how she randomly says the most funny things; I love that she's smart. I could go on…"
Luckily, Stephanie and Chris have the rest of their lives to discover all of the reasons why they're a perfect match. And something tells us with a love so in tune, they won't run out of reasons anytime soon.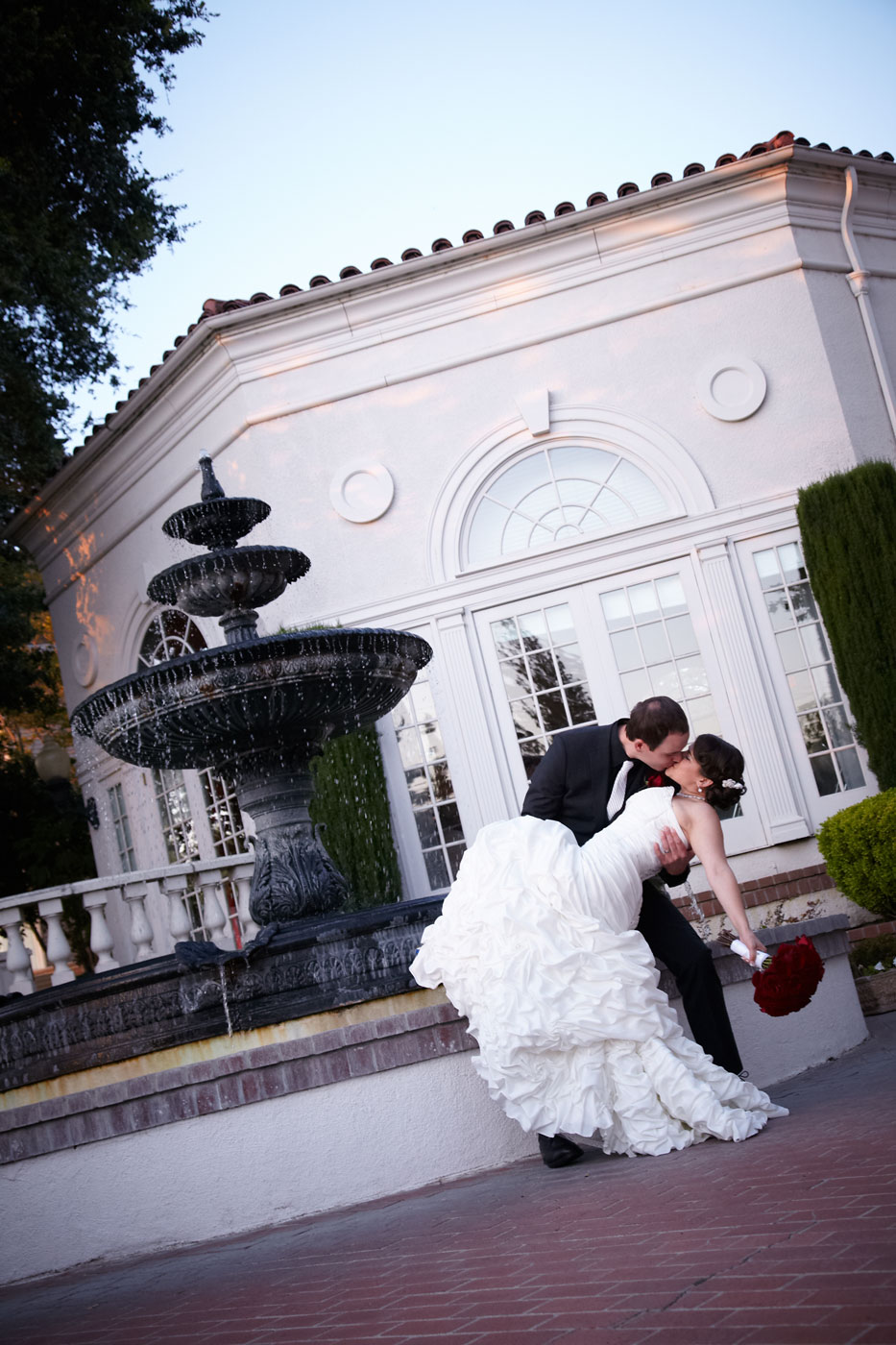 Photos by Meagan Lucy, Christopher Kight Photographers