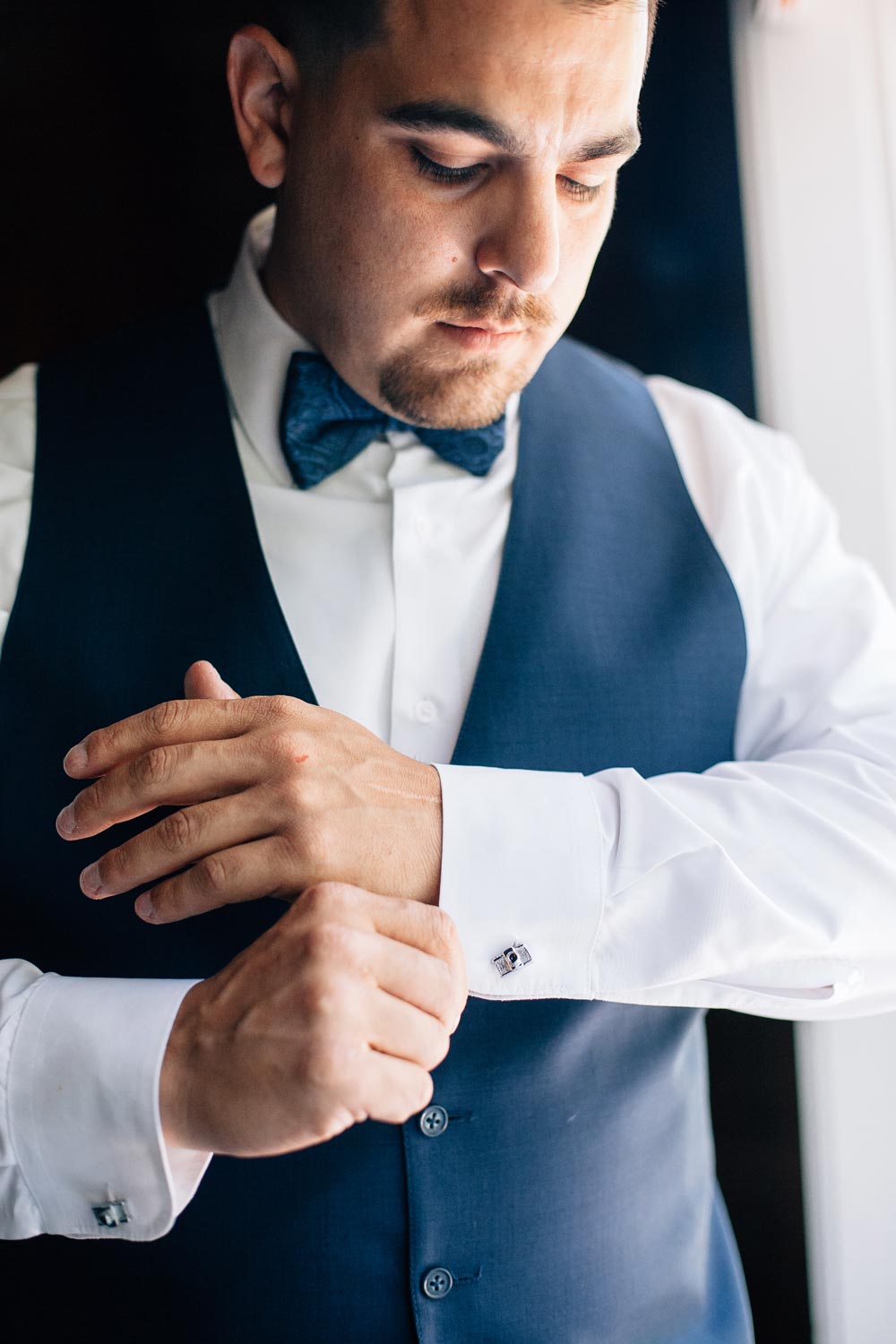 People decide to study martial arts for a variety of reasons. They typically involve physical fitness, mental self-discipline, even spiritual development. But falling in love is even a possibility! Jessica, a Korean martial arts instructor had a confidence, strength, and dedication to excellence that her student Nate could not help but be attracted to. They became good friends through their interactions as student and instructor and a mutual love of martial arts. Jessica found herself attracted to Nate because he showed an intensity and motivation to succeed. And Nate saw that Jessica was passionate about her goals and her life. And, he says, she was the most beautiful martial artist he had ever seen!
Pretty soon they were dating, and being involved with one another was pushing them to new personal heights. Nate was actively pursuing goals in college and in life in general, which Jessica says inspired her be a better person. "He encouraged me to go back to school and graduate from college, which was a challenge to say the least!" In addition, she has earned a second degree black belt.
Time flew by and eventually Nate knew it was time to ask Jessica to be his wife. The previous year, the two had designed an engagement ring together. Jessica would drop questions and hints about tying the knot, but was beginning to think it might not happen. Unknown to her, Nate had picked up the ring and was struggling to come up with the right time and place to propose. It had to be special. Epic, even.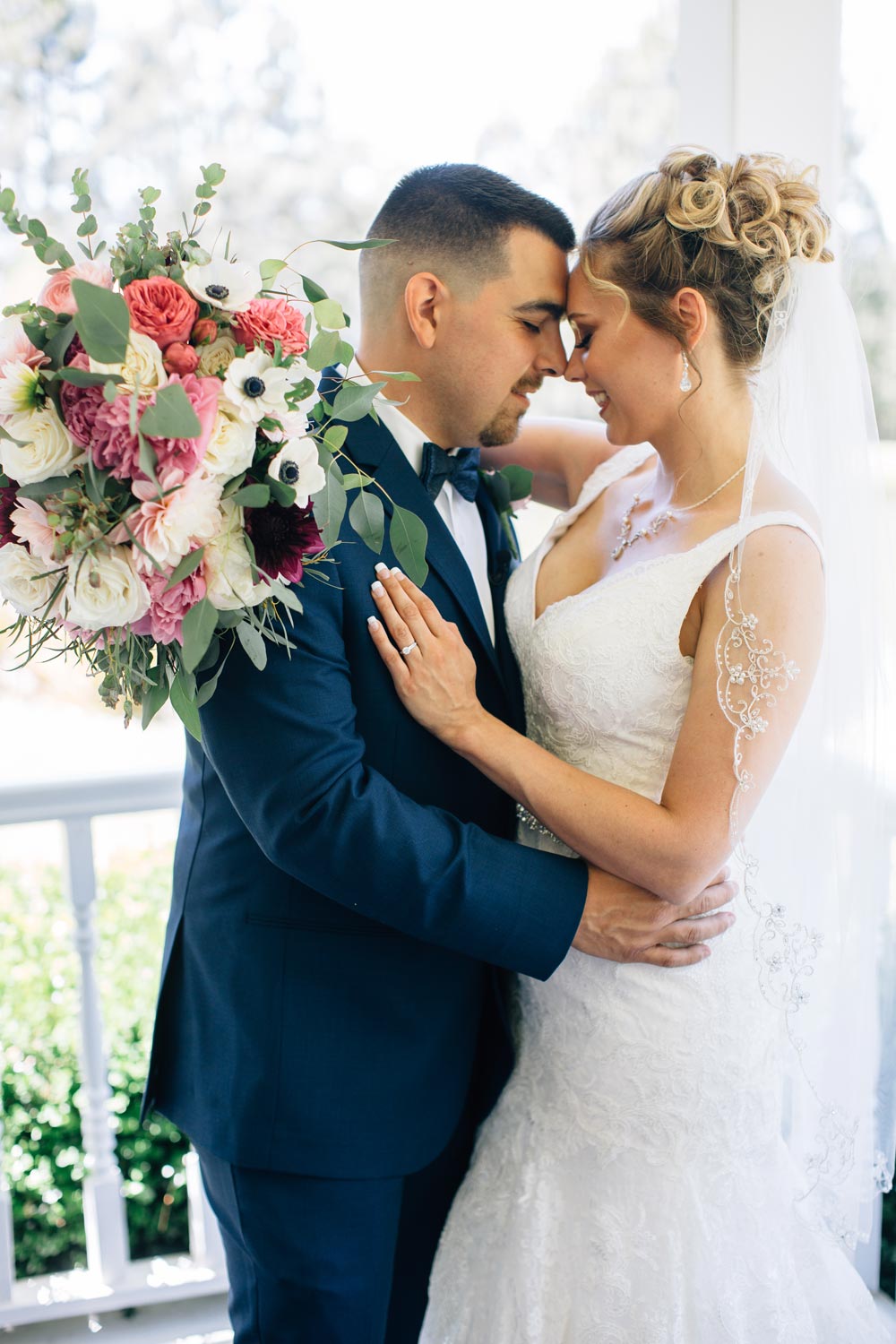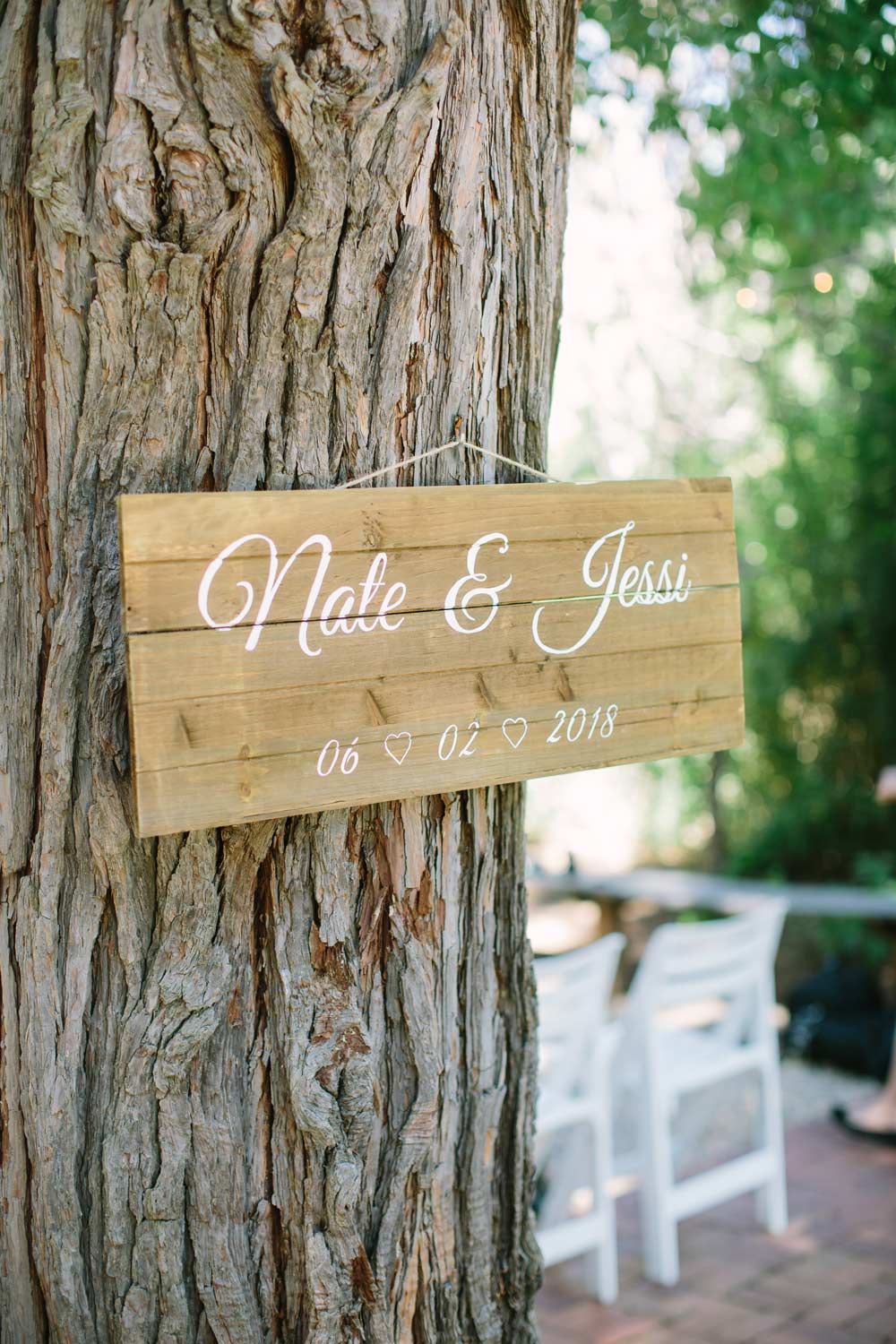 Finally, as summer was drawing to a close, Nate came up with the idea of a hike in Lake Tahoe area. The search for a location that would be truly epic led him to choose the top of Mt. Tallac, a good ten mile trek. He planned on proposing at the summit of the mountain, and he sold the trip as one last getaway before summer ended.
They are both "outdoorsy" people and had enjoyed hiking together, Nate says. "We hit the trail in the morning and we were in good spirits. I kept rehearsing in my mind what I was going to say, and how everything was going to happen. The ring was burning a hole in my pocket!" The hike was long, and it was hot and about 3/4 of the way up, Jessica's waning enthusiasm had her asking Nate what the heck he was thinking, dragging her along on this brutal hike!
Nate, always full of encouragement to rise to a challenge, told her it was going to be worth it when we got to the top. But when they finally arrived at the summit, he found himself fumbling with his words due to nerves. He had thought ahead and brought a GoPro to record the event, so he took the time to set it up, and then there was no turning back. It was go time.
"I think I kinda rambled for a bit; I totally forgot what I was supposed to say. Finally I got down on one knee, popped the question, and she said "YES!" A friendly stranger who happened to be on the scene shot a few photos for them, and then it was back down the trail as fiancés, to meet their families in South Lake Tahoe for a pre-arranged celebration. The next day they kayaked in Sand Harbor on Tahoe's North Shore. Epic weekend achieved! Now it was on to planning an equally epic wedding.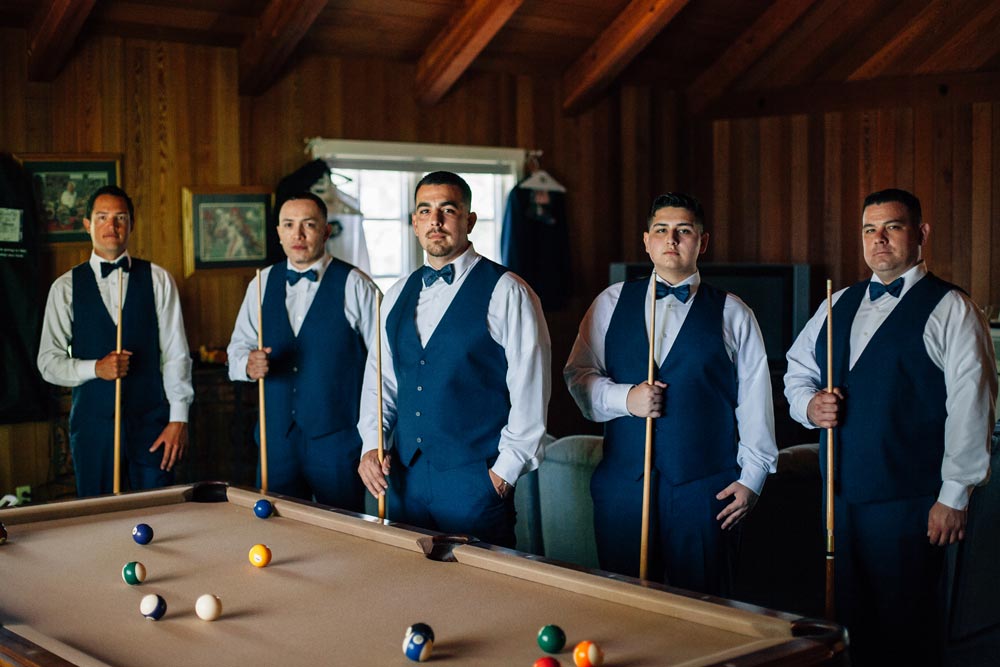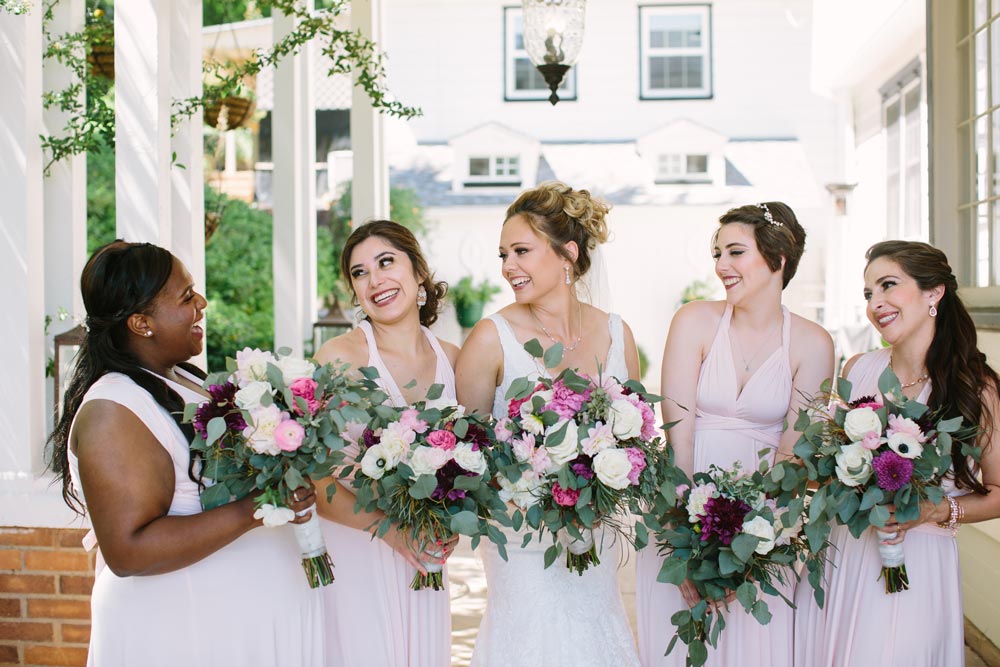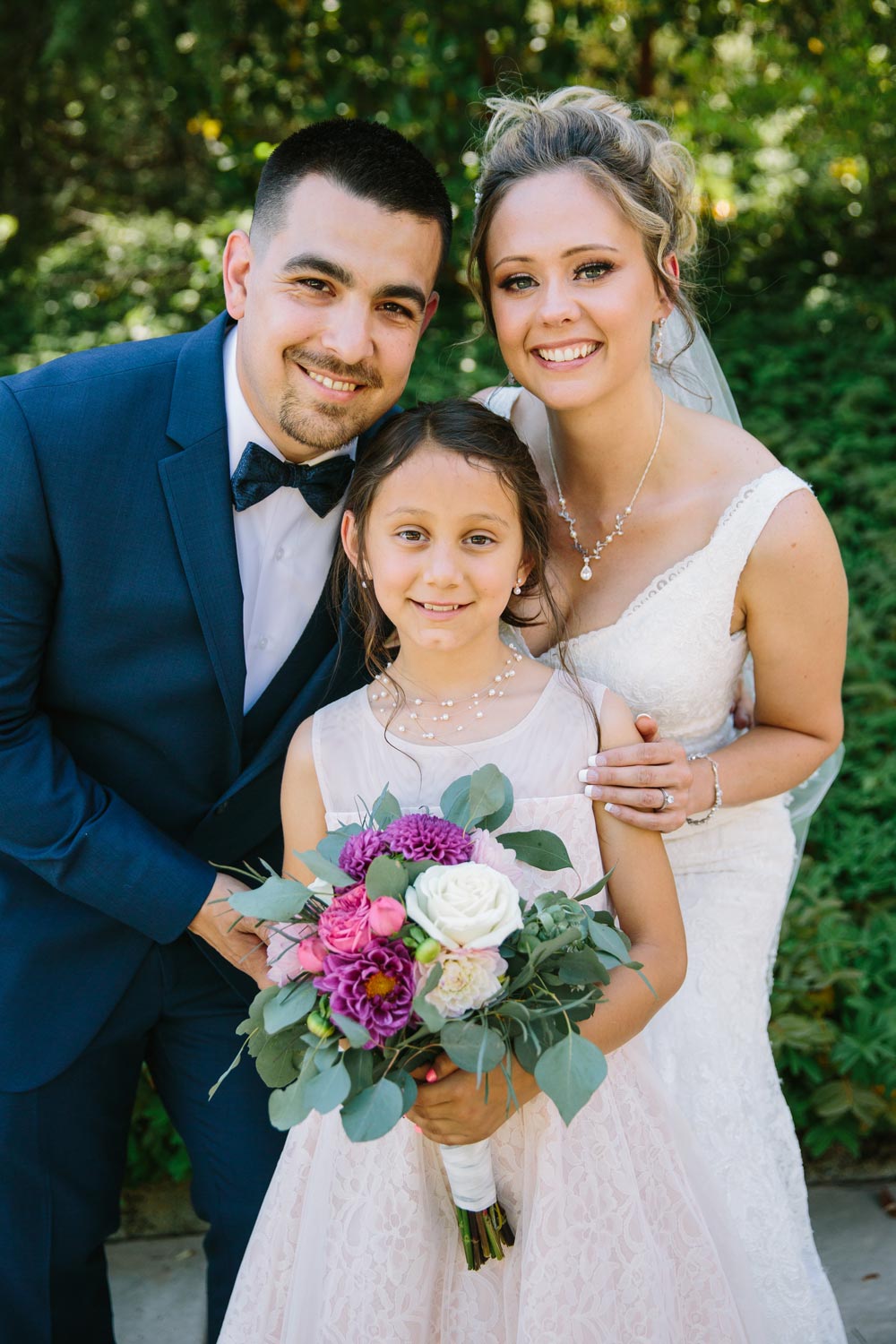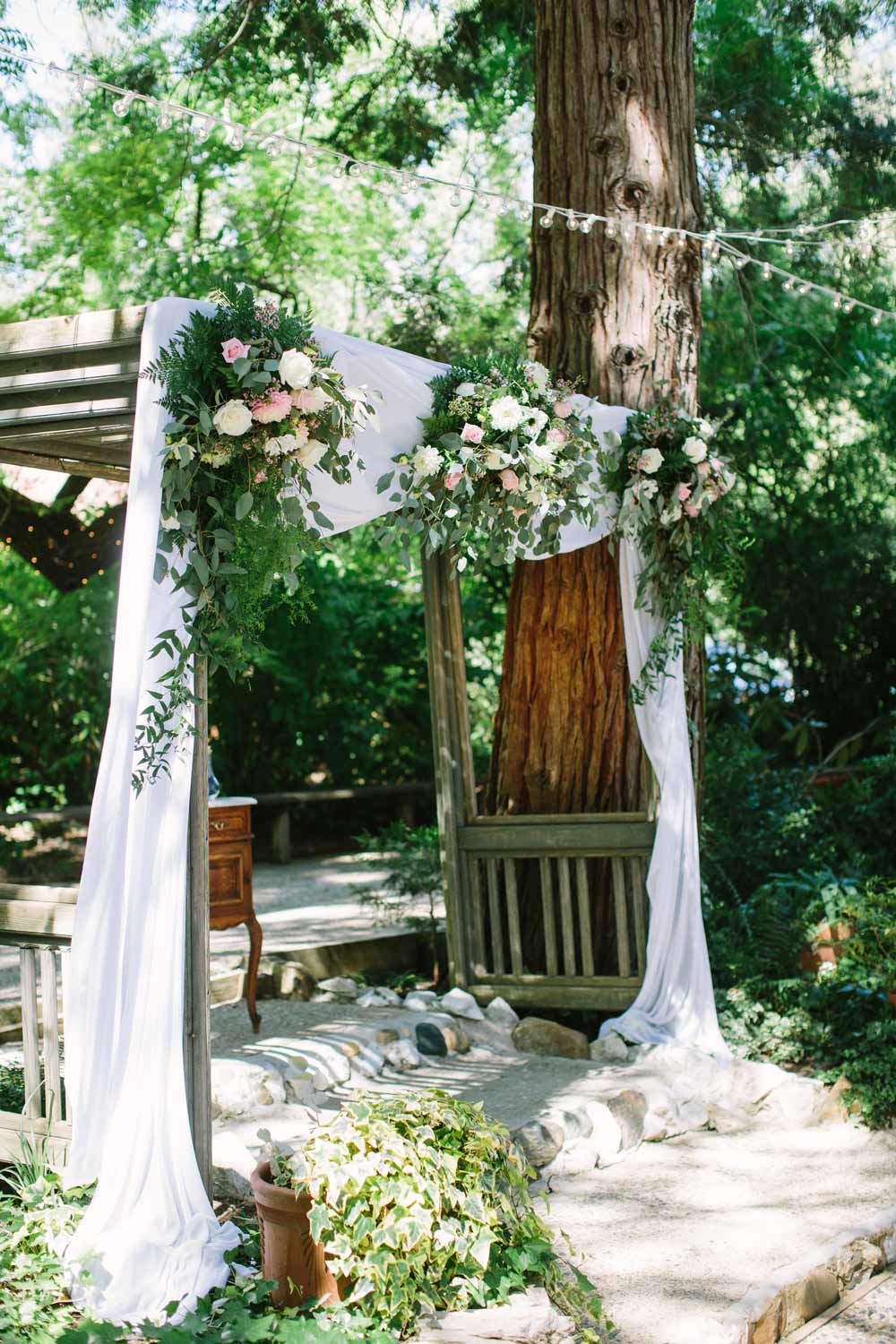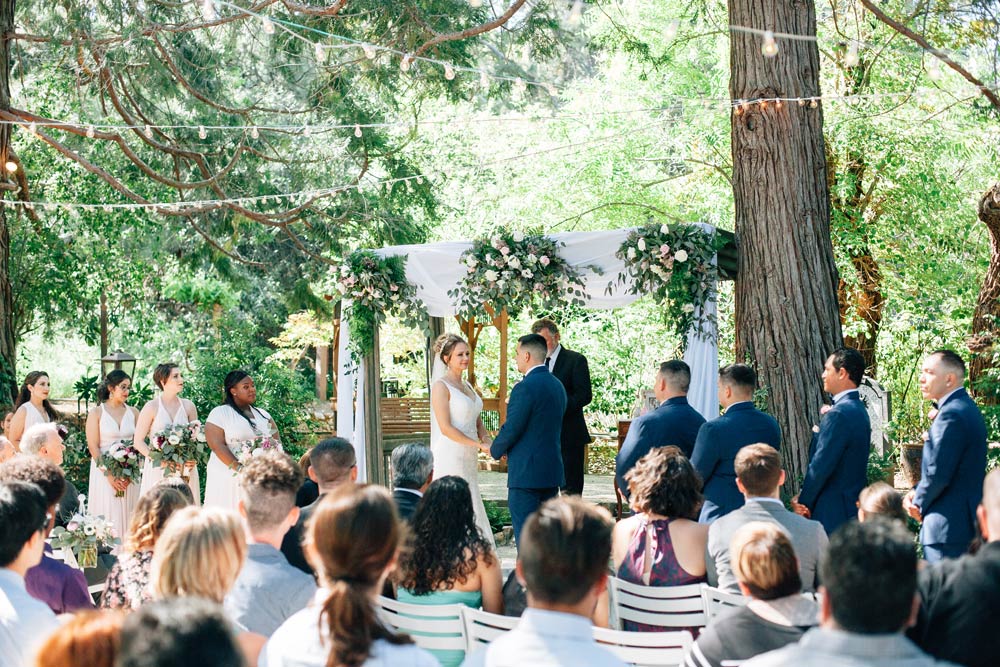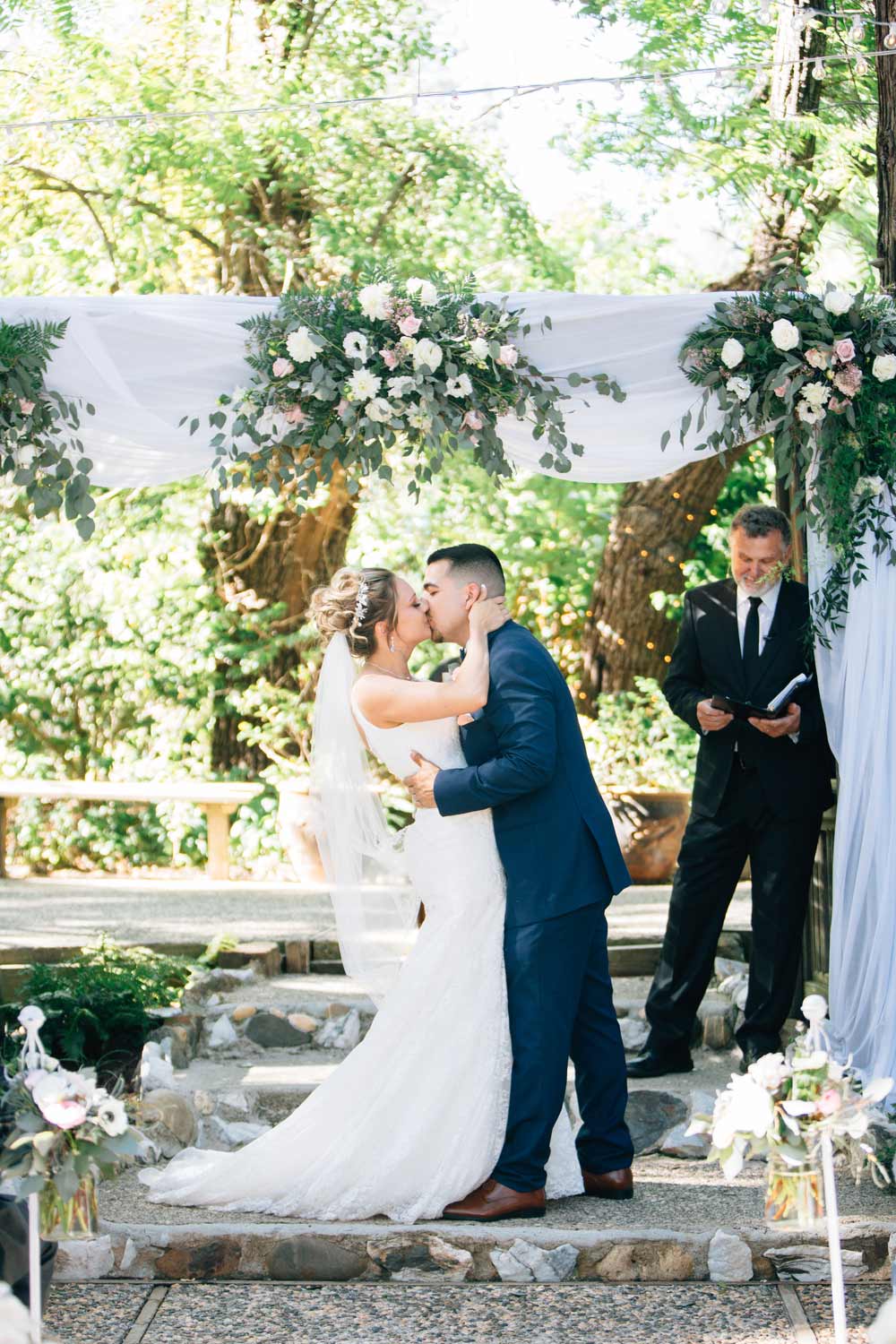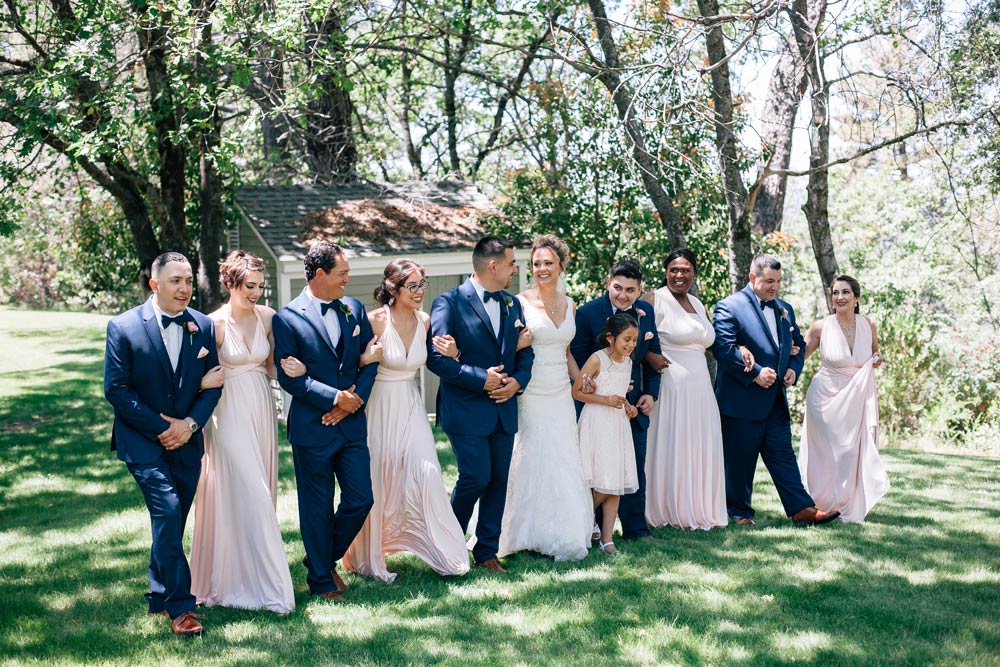 Nate was very involved in the planning decisions and made it a point to be a part of things, big and small. He recommends that other grooms do the same. "I know it's tough, but this is an important way of showing your future wife how much you love her," he advises.
They decided that the Monte Verde Inn was the perfect spot. Its unique combination of remote location and classic ambiance was perfect for their vision of an elegant outdoor garden wedding with rustic country elements.
The place was decked out with flowers in a loose garden style. Silver dollar eucalyptus, jasmine vine, café au lait dahlias, black eyed anemones, ranunculus, garden and regular roses, and peonies in a mix of creams, blush and a splash of hot pink.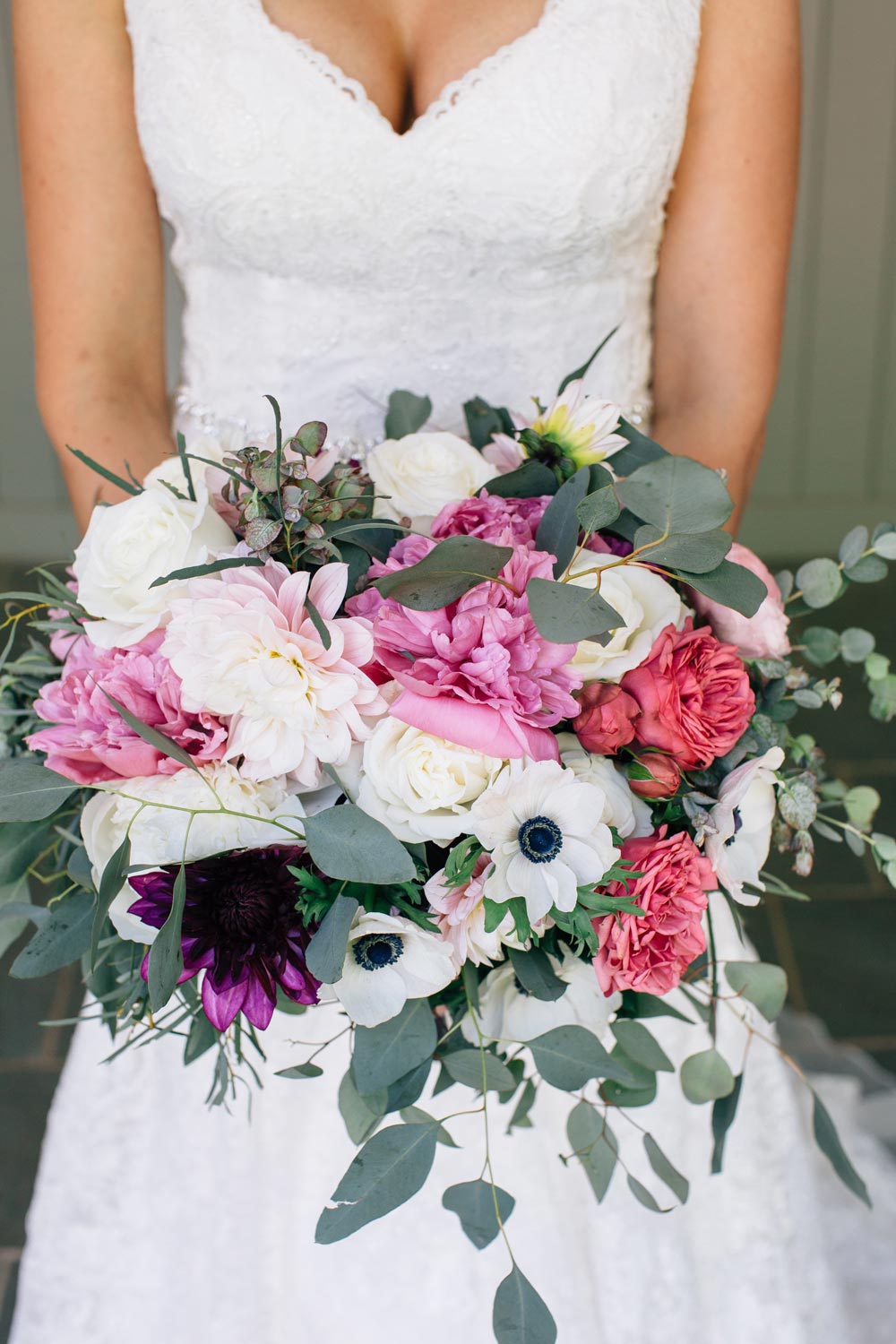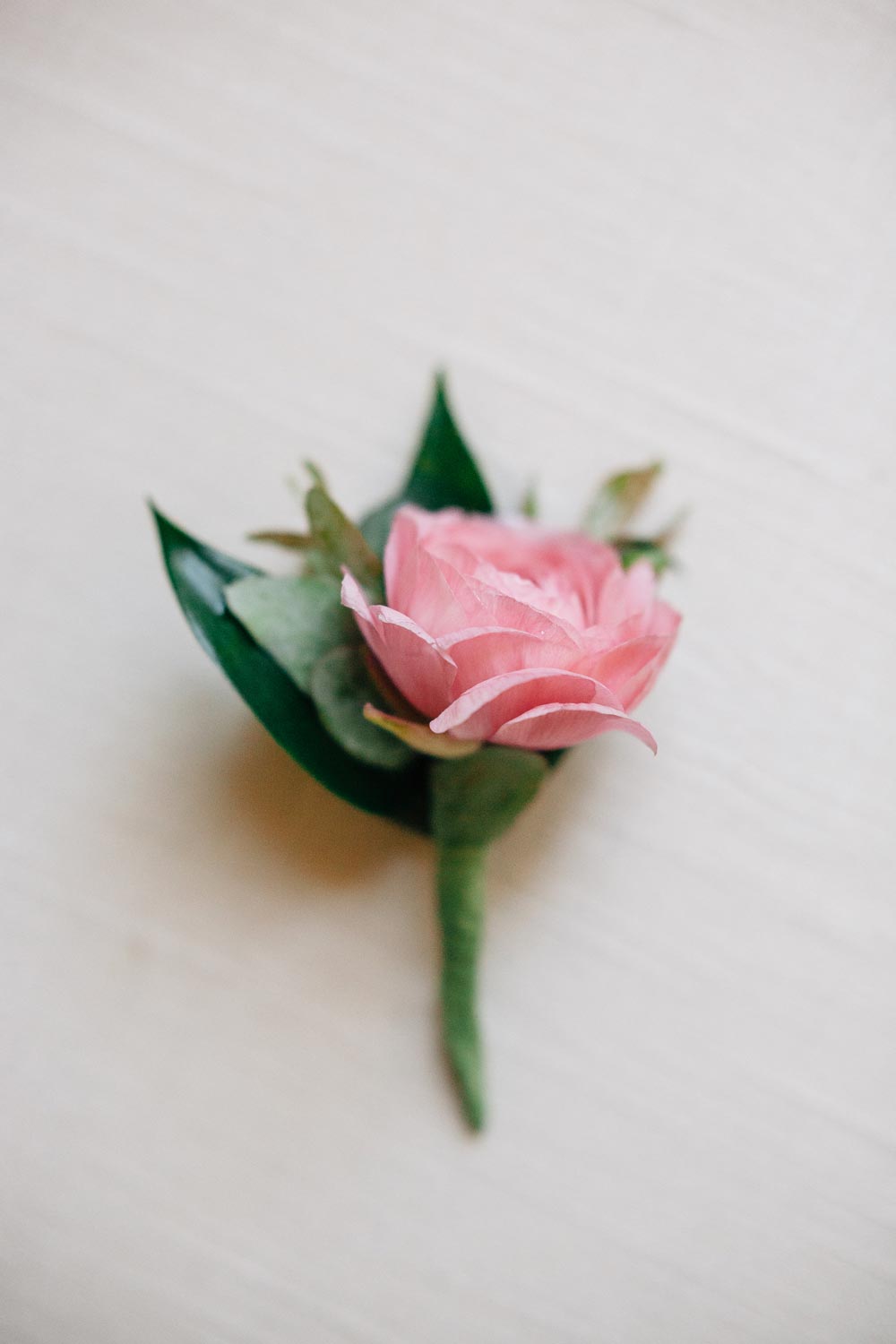 Jessica's gown was a lace trumpet style dress with a low back, which she bought after buying another gown, then having second thoughts a couple of weeks before the wedding and exchanging it for her final choice. That's cutting it close!
They started off the big day with some excitement when they realized that they had lost their marriage license certificate. It was nowhere to be found! You've heard it before, but it needs to be said again: realize that something unexpected will happen on your wedding day and you can't let it fluster you. Deal with setbacks, be happy and enjoy yourself no matter what. Things will work out, and at the end of the day, you get to marry the love of your life, and that is what truly matters.
Once that crisis was dealt with, they could get on with their ceremony. Being surrounded by friends and family there and the realization that this is really happening, and being pronounced husband and wife was wonderful!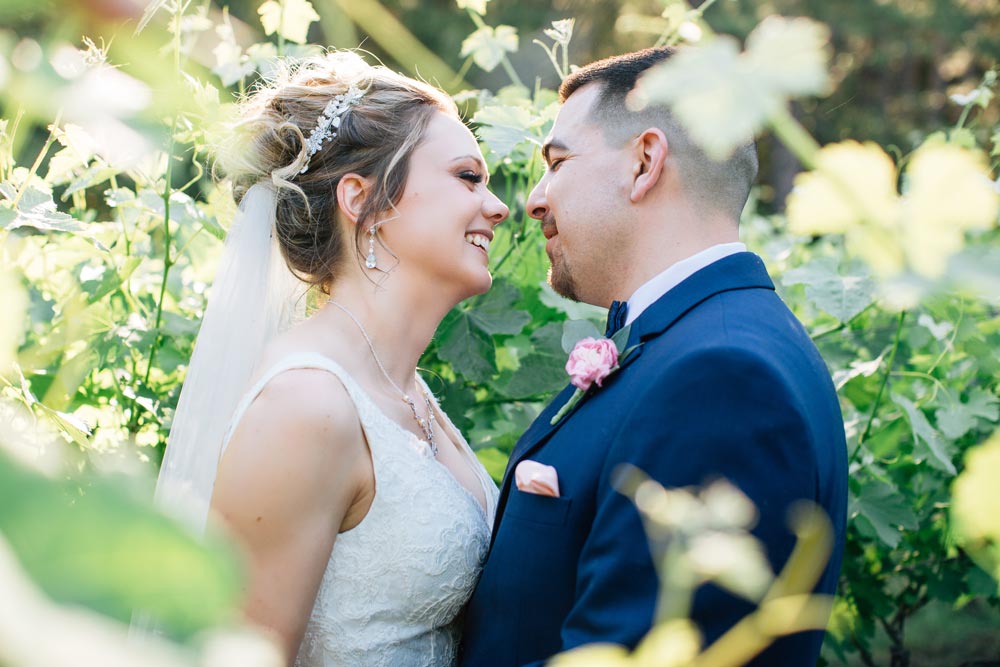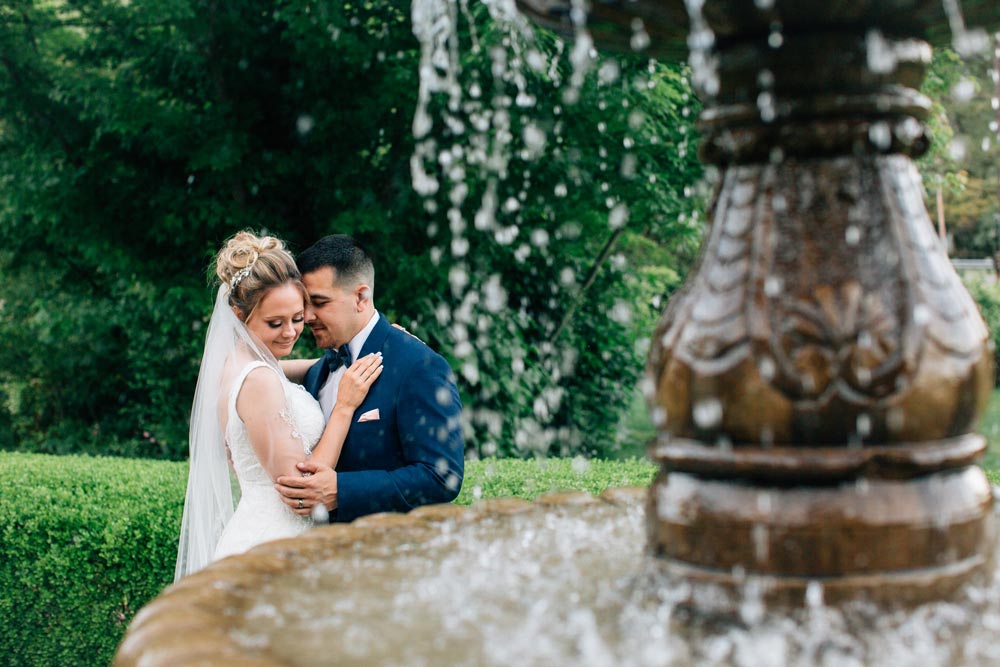 Then, "The most romantic part of the day was taking photos with our photographer in the small vineyard behind the Inn. We got a little lovey in the leaves!" However, Nate says, "We should have taken less time for photographs, surprisingly. We thought we needed so much time for photos, and our photography team took all the photos we requested plus some, but we ended up missing out on family/friend time because we were so preoccupied with pictures. It's only one day and it goes by so fast!"
While the lovebirds were off in the vineyards, the Monte Verde Inn catering staff treated guests to fabulous appetizers, with Smoked Salmon, Pizzettas with Spicy Italian sausage, and warm Foccacia Bread with Brie, Fig Compote, Caramelized Onions and Prosciutto.
Then, for dinner, there was a feast of Santa Fe Style Grilled Tri-Tip with Chipotle & Lingonberry BBQ Sauce, Lemon-Rosemary Grilled Chicken Breast with Mushrooms, Shallots & Garlic, Mixed Spring Greens with Raspberry Vinaigrette, and Crumbled Blue Cheese and Toasted Pecans. Plus Warm Penne Pasta with Sun Dried Tomato Cream Sauce, Garlic and Herb Roasted Red Creamer Potatoes and Seasonal Vegetables. It must have been hard to save room for cake!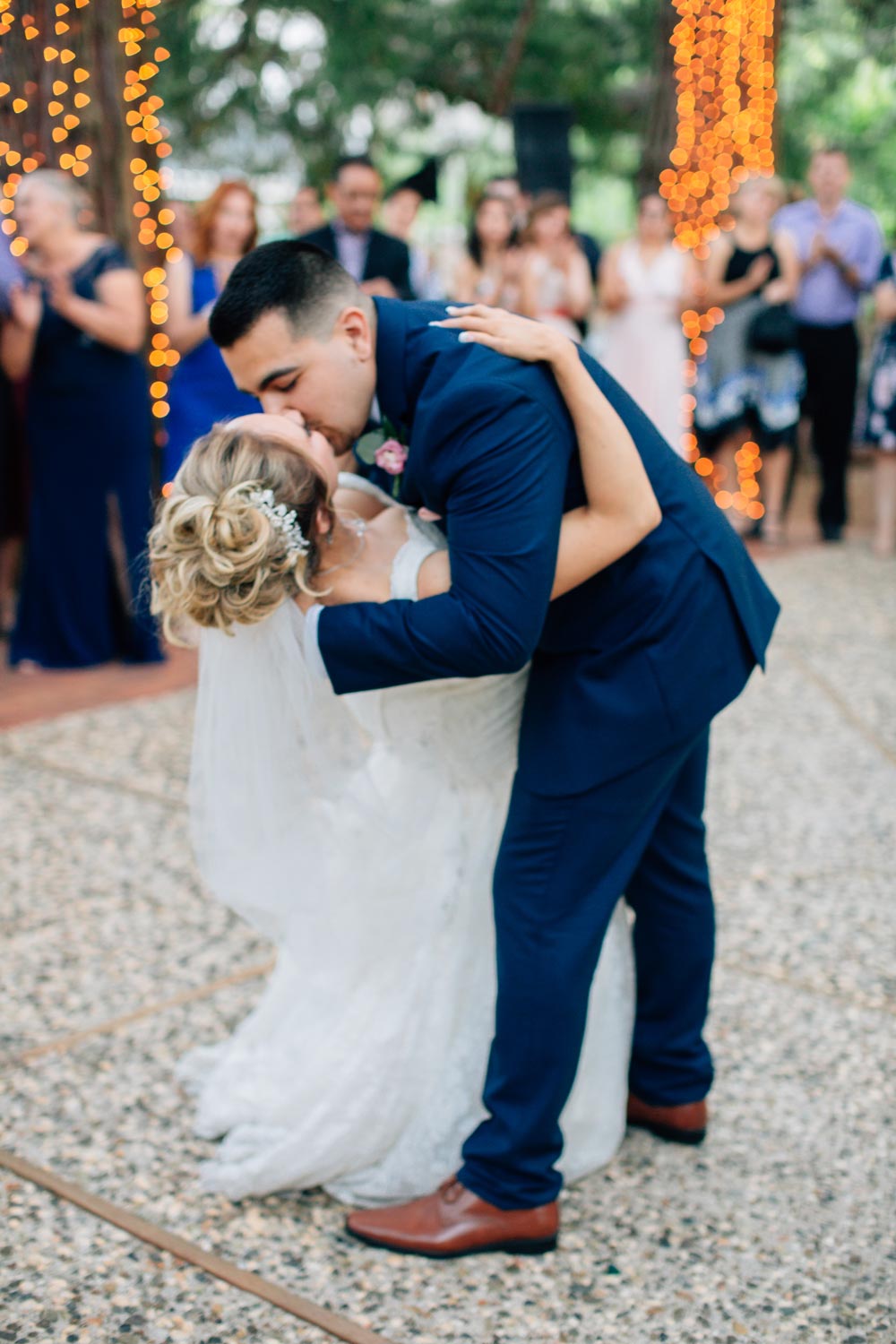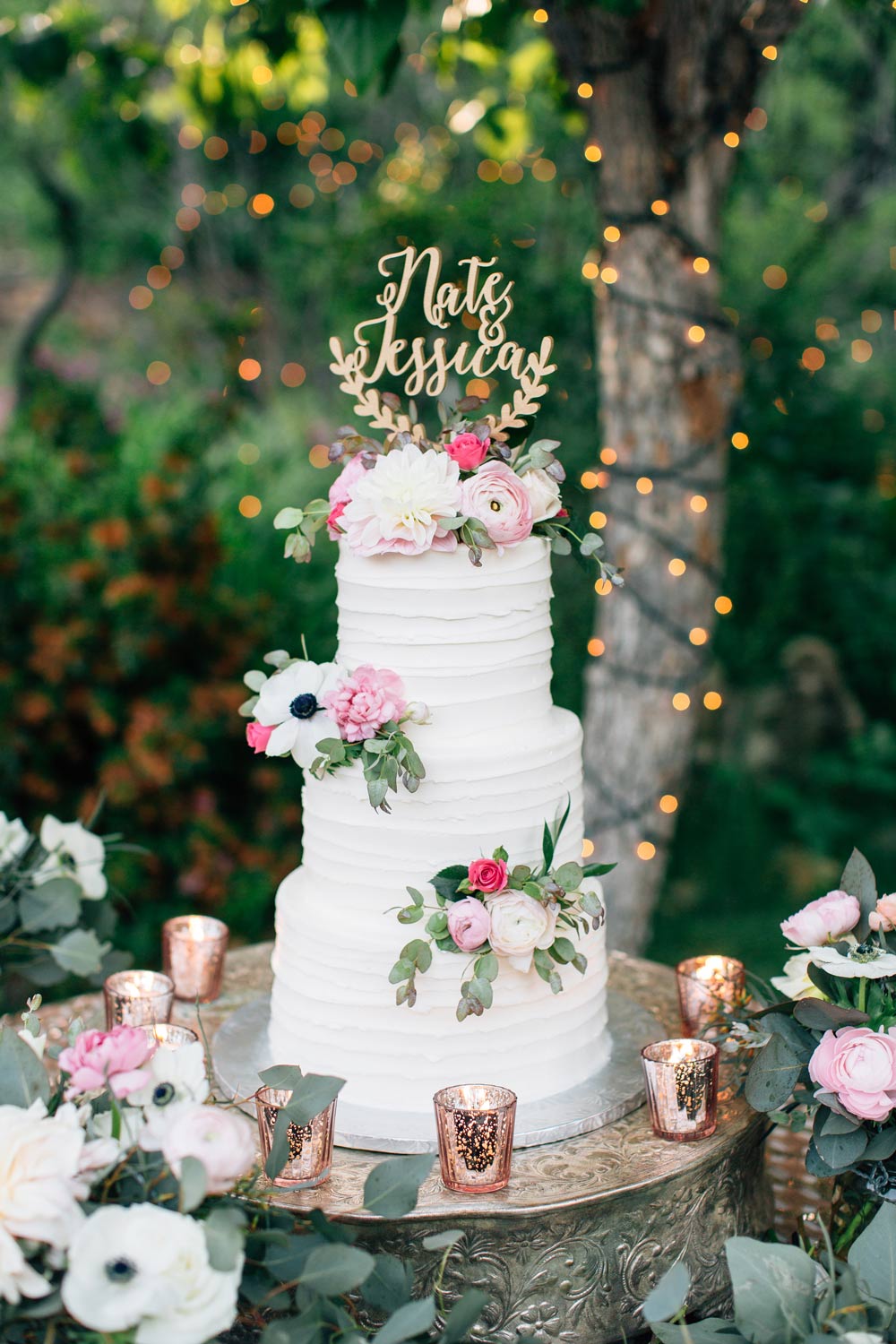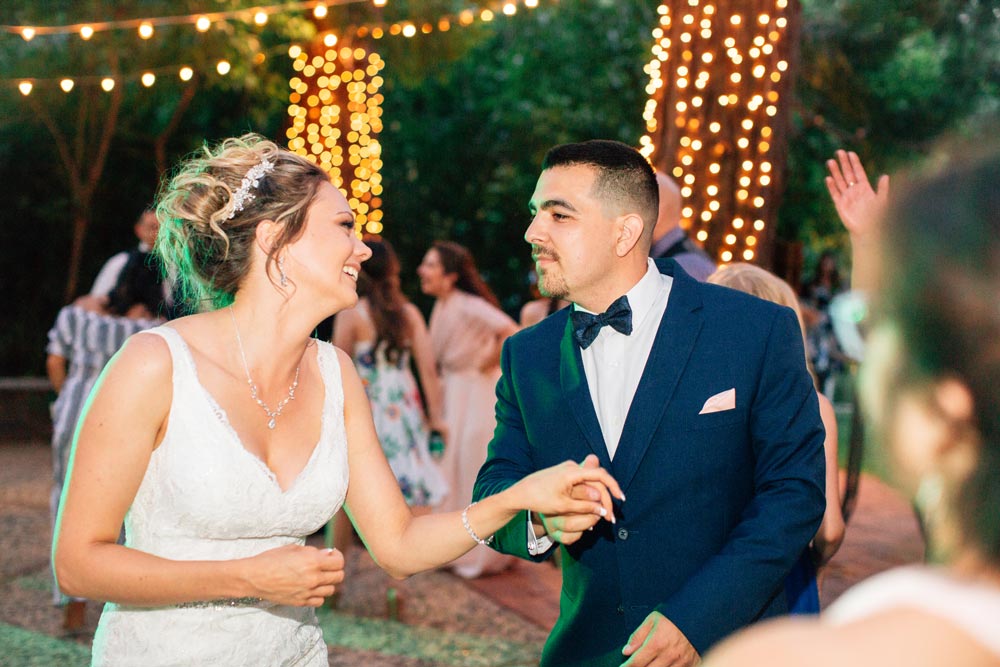 The festivities closed with dancing the night away to family-friendly pop music from all genres. Then, off to Auburn where they spent their first night as husband and wife in a lovely B&B in Old Town. Breakfast the next morning overlooked Old Auburn while the sun came up. So perfect.
Looking back, Jessica and Nate say, "As much as you can, try to be present in the moment and not worry about too many things. The day is going to go by so incredibly fast! Make sure you leave plenty of time for family and friends. Add buffer time in the timeline and consider a first look to get photos done early in the day."
And on the subject of hiring vendors, "Hire vendors not just for the service but for the way that they make you feel. Even if a vendor has work that you love, you don't want to have anxiety about uncertainty related to the vendor's products and services. Work with people that you connect with, that you like as people, and who are genuinely interested in answering all of your questions and making your day perfect. You deserve it."
VENUE/CATERING: Monte Verde Inn
[PHOTOS] Anna Pervertaylo [VIDEO] Forever Forward Productions [FLOWERS] Auburn Blooms [CAKE] Divine Desserts by Aguirre [DJ] Extreme Productions [GOWN] David's Bridal [TUX] Men's Wearhouse [INVITES] PapernPeonies [ACCOMMODATIONS] Park Victorian