Serendipity strikes, sometimes in a series of moments. Derek and Lindsey had a date with destiny, and destiny revisited them time and again. It was this notion of being in the right place at the right time which inspired their courtship, engagement, and eventually their wedding. They chose this idea as the theme for their wedding, celebrating moment to moment.
Looking back, even their first meeting was a stroke of luck. Derek, now the Assistant General Manager at Lucca Restaurant and Bar in Sacramento, first met Lindsey when she interviewed for a position at a different restaurant he was managing. Her magnetic personality called to him from the start. Likewise, Lindsey recalls being smitten by his enchanting smile immediately.
When they started dating, Derek was struck by Lindsey's sentimentality. "She tears up when a dog is in pain, but can be tough as nails when needed. She is kind, generous, and not once has she had the last beer in the fridge". Of course, never taking the last beer was huge! She was impressed by his drive; while working full time, he also completed his Master's Degree from UC Davis and juggled a girlfriend. He was, "the most genuine, loyal, and caring person I had ever met," recalled Lindsey.
Growing closer by the day, Derek and Lindsey enjoyed many day trips and diversions together. On one such outing, Derek recounts, "I thought it would be fun to get a caricature done, but hadn't seen an artist all weekend. On our way back to the hotel at the end of the day, one appeared out of nowhere. It made my weekend! The best part was that the artist explained that he usually sits on the pier to work, but something told him to park it there for the day! We were, as always, in the right place at the right time." It seems that here was yet another moment proclaiming their destiny.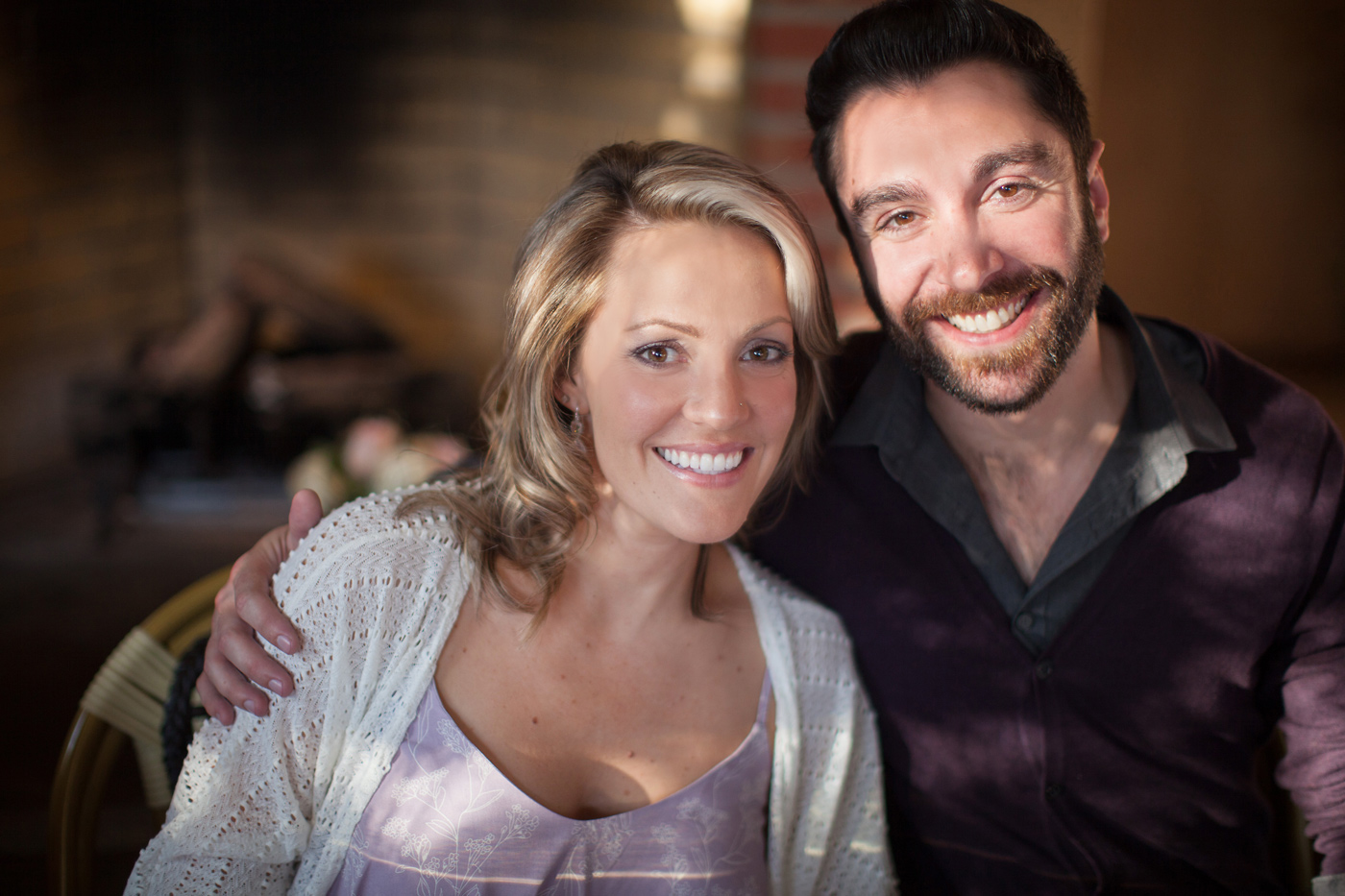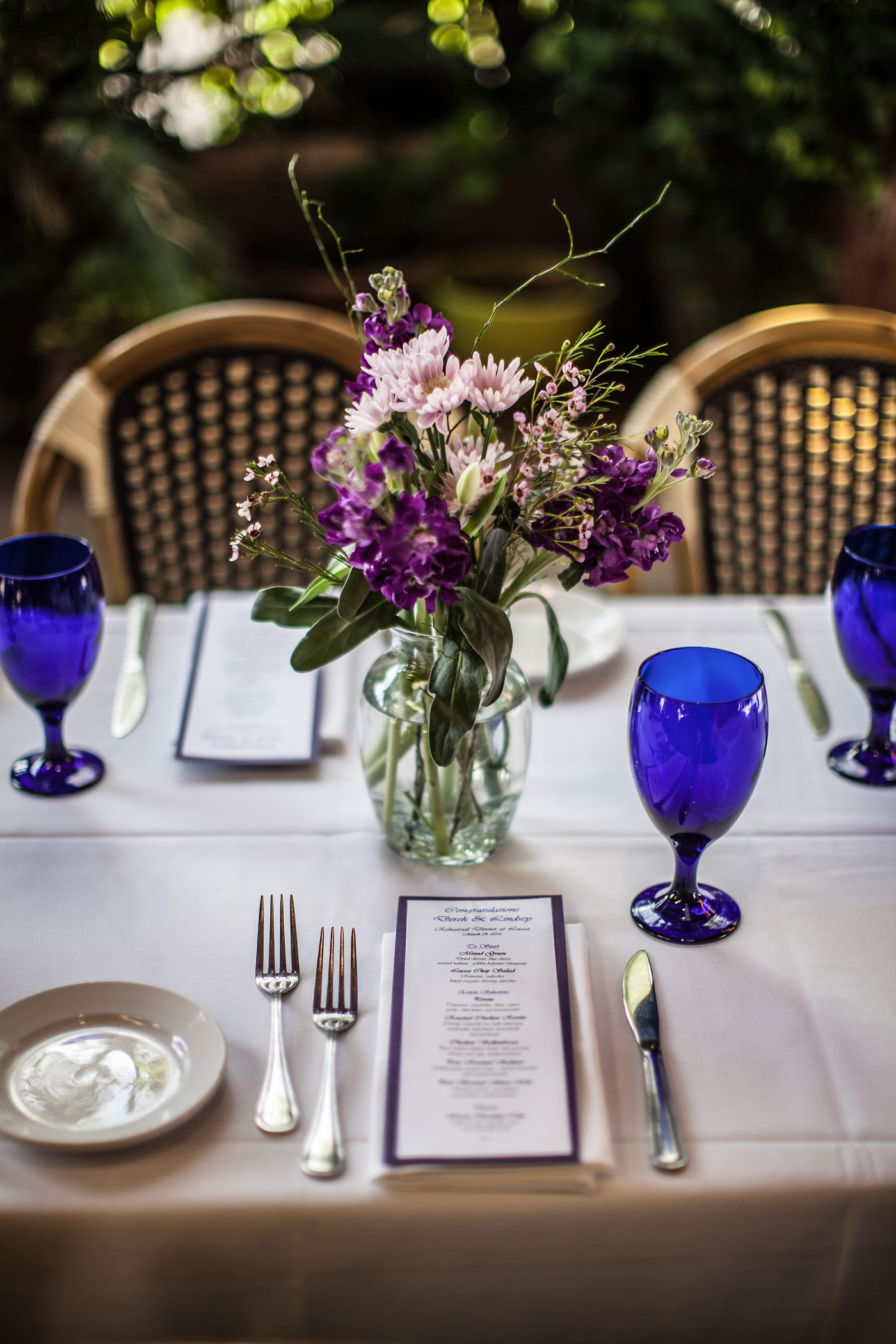 Derek decided to propose using the scoreboard at AT&T Park during a San Fransisco Giants game. He hoped that Lindsey, now a Correctional Officer, would never suspect that something was up when he suggested going to a game with her parents on Law Enforcement Appreciation Day. As they headed to the ballpark with Lindsey's mother Carol driving and keeping Lindsey occupied, Derek nervously wondered whether she knew what was coming. Carol had it under control but Mike, Lindsey's dad, was not as discreet, flashing an occasional grin at Derek in the back seat.
Derek was thinking to himself that Lindsey must have known he was going to propose. All the signs are there, he thought: "I'm extremely quiet, we're going to the Giants game with her parents, there is an obvious protrusion of a ring box in my pocket, and she is in law enforcement – her observation skills are the keenest I've ever seen." But he steeled his nerves with the thought that "This is the woman I am going to spend the rest of my life with. She truly makes me a better person. Pull it together!"
The third inning was when when the scoreboard would announce his proposal. As Derek retells it, "I'm trying to act normal, but all I do is make nervous small talk and count down the outs until the third inning is over." Finally, the third inning ended and, "Although I am looking into her eyes, out of my peripheral vision I am simultaneously looking at the scoreboard, waiting to see when my message will appear. It's taking forever. I'm running out of things to say while I see, "Happy 4th Birthday Abigayle," "Happy Retirement Jim," and, "Congratulations Boy Scout Troop 286." Finally, the scoreboard message reads, "Lindsey, my one and only Beb; will you marry me?" People nearby start to clap, and her folks are recording video on their phones. Soon the whole section was giving us a standing ovation, with a group of bachelor party gents shouting Yes! Yes !Yes!"
Turning to find her man on his knee, Lindsey said yes. The cameramen caught the commotion and plastered them on the big screen with the announcer shouting, "She said Yes!" Derek remembers, "Who would have thought the rapid chain of events within a minute of our proposal would lead to thousands of people cheering for us? We were in the right place at the right time."
Fast forward to the day before the wedding: following the rehearsal at Sacramento's posh Arden Hills Resort Club & Spa, it was off to downtown for an exquisitely prepared rehearsal dinner at Lucca Restaurant & Bar. After that, it was out to a club, but Lindsey and her girls were careful to duck out before midnight so the groom wouldn't see his bride before the wedding.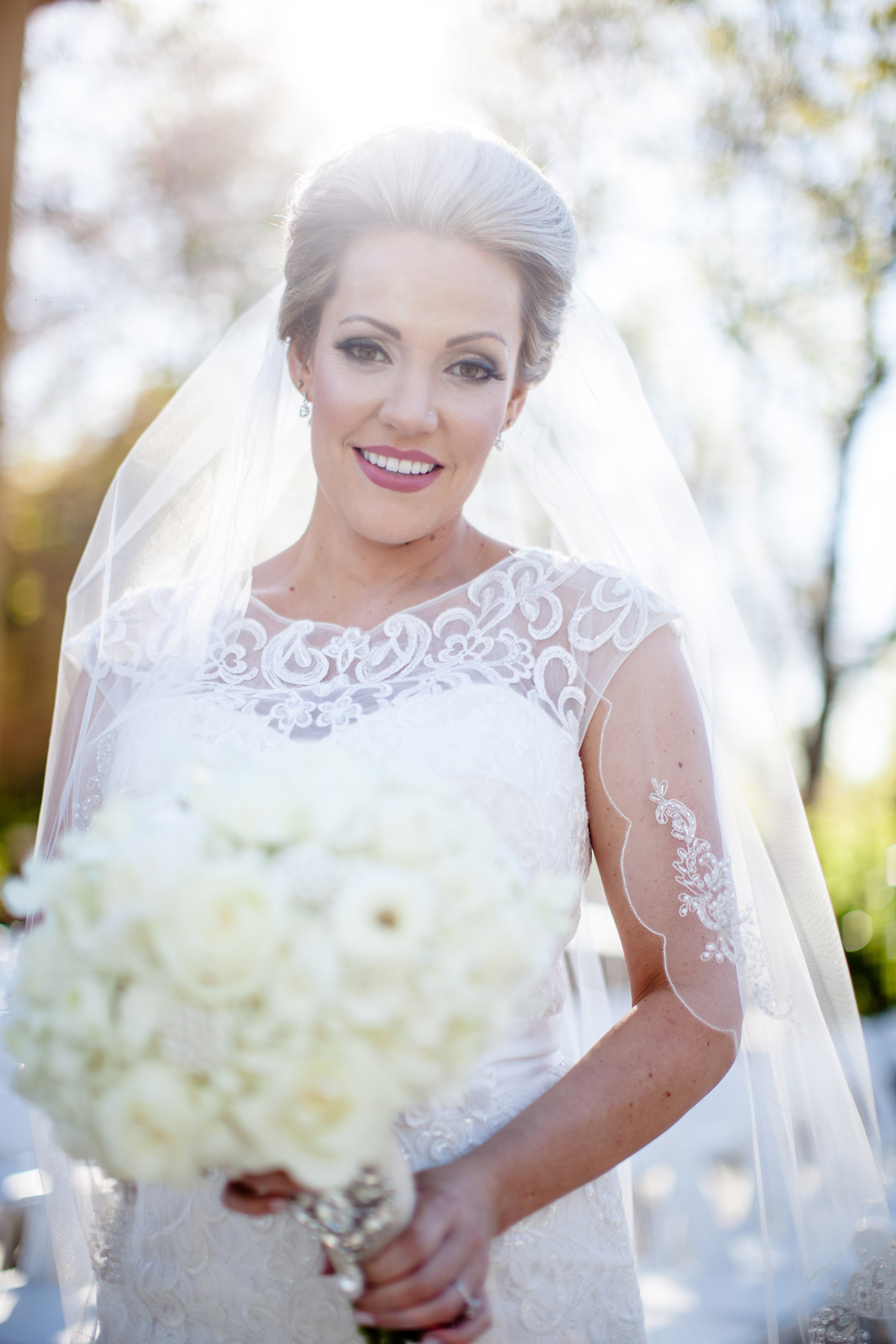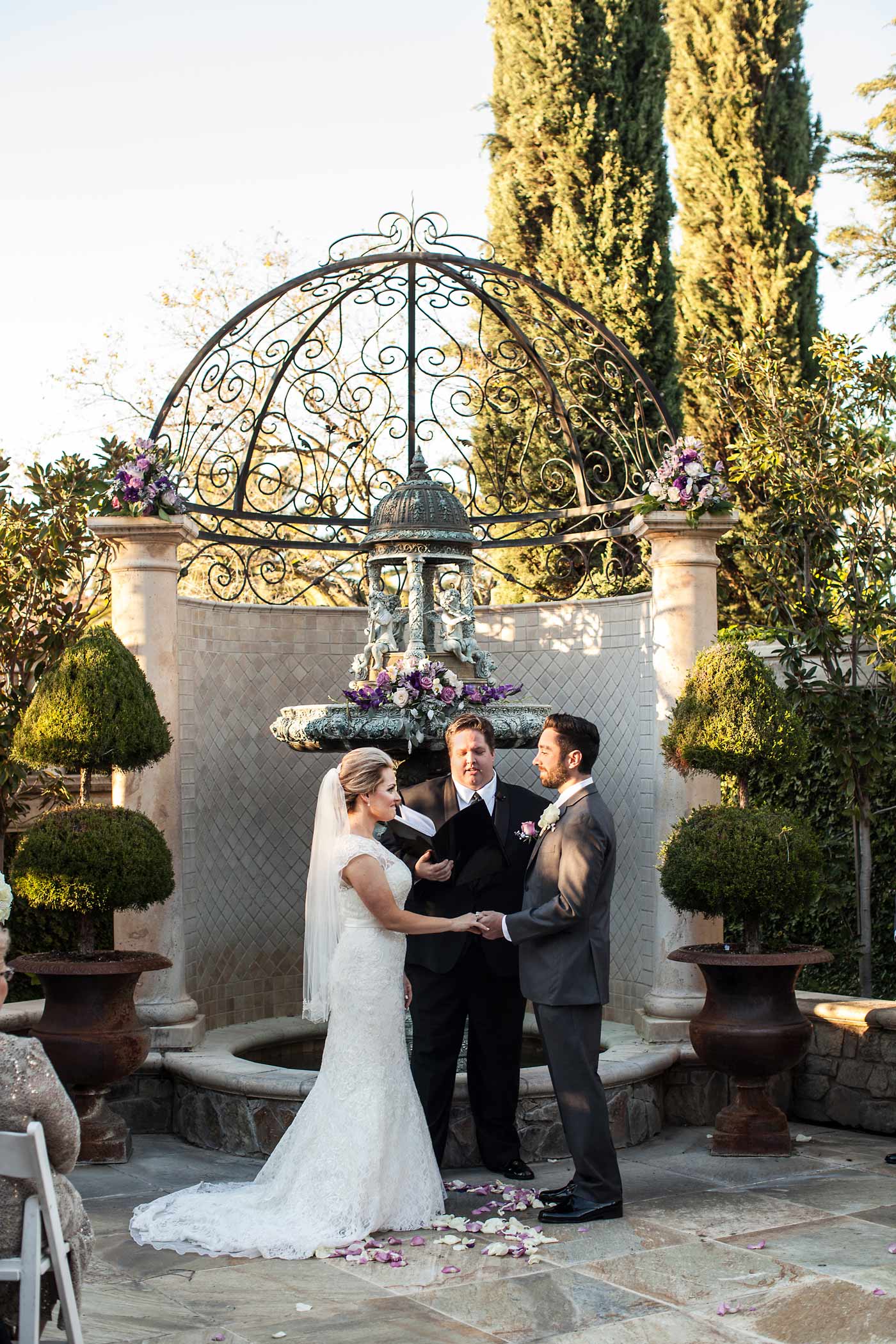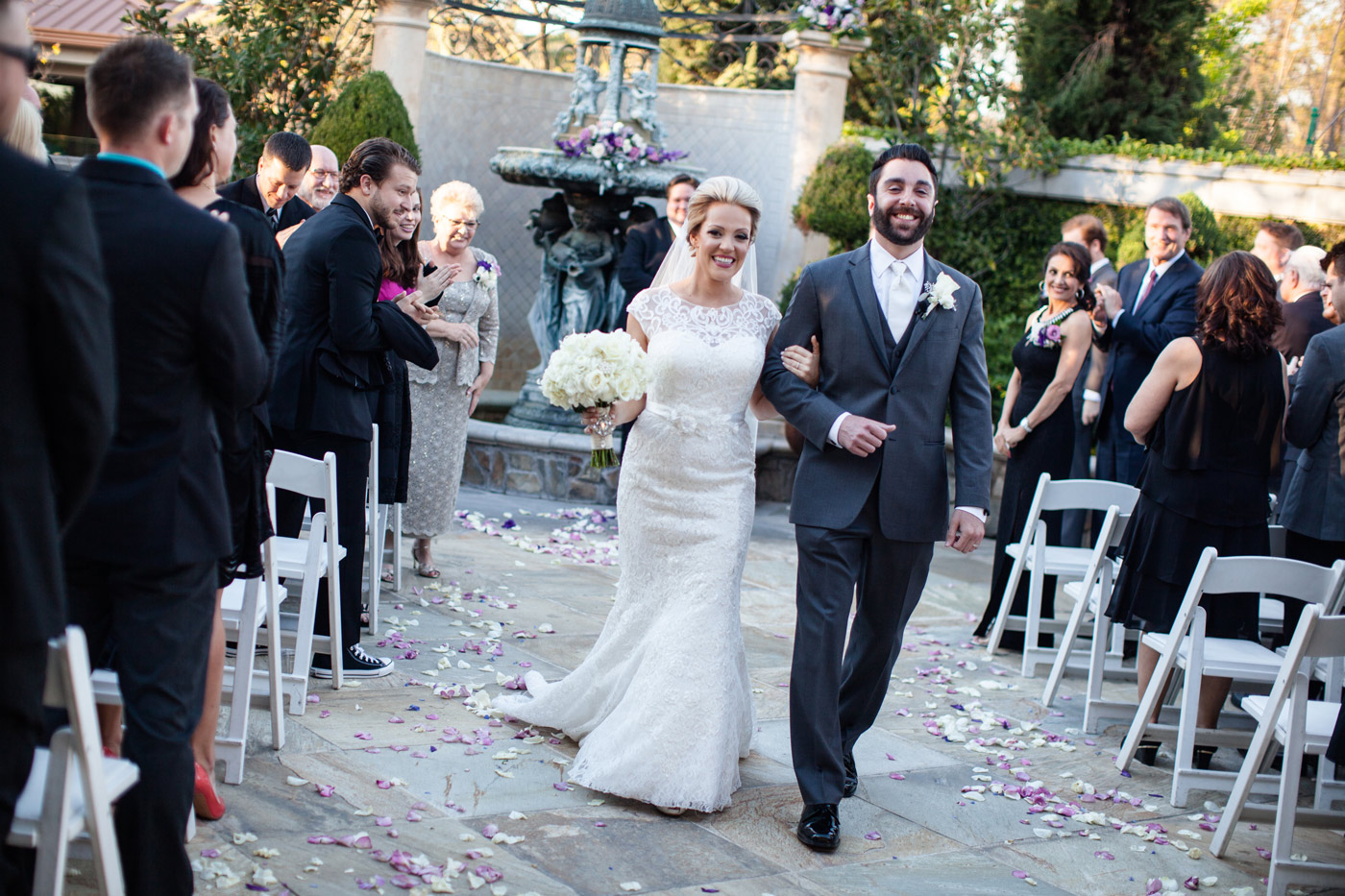 Finally, the big day arrived. Their officiant and friend Brian Bassett began their favorite part of the day. "Derek and I each wrote our own vows and we both barely got through them without crying! I had custom vow books made for us, so after we returned from the honeymoon we were able to reread each other's again."
Guests headed into Arden Hills' reception room, awash in hues of lavender, plum, and gray. The room was filled with artfully designed orchids, roses, peonies, hydrangea, ranunculus, dahlias, and lilies. Keeping with the theme of "in the right place at the right time", there was a clock to be used for guests to sign, and that theme was incorporated throughout the tablescapes.
Arden Hills designed a savory menu of sirloin with a whiskey peppercorn demi-glaze, fresh salmon filet with lemon and dill sauce, and fresh veggie penne pasta ratatouille. The exceptional service and fine cuisine was enjoyed throughout the evening. The three tiered wedding cake with two flavors (chocolate cake with oreo mousse and a white cake with chocolate ganache and raspberry filling) was served after the traditional cutting. It tasted as delightful as it looked!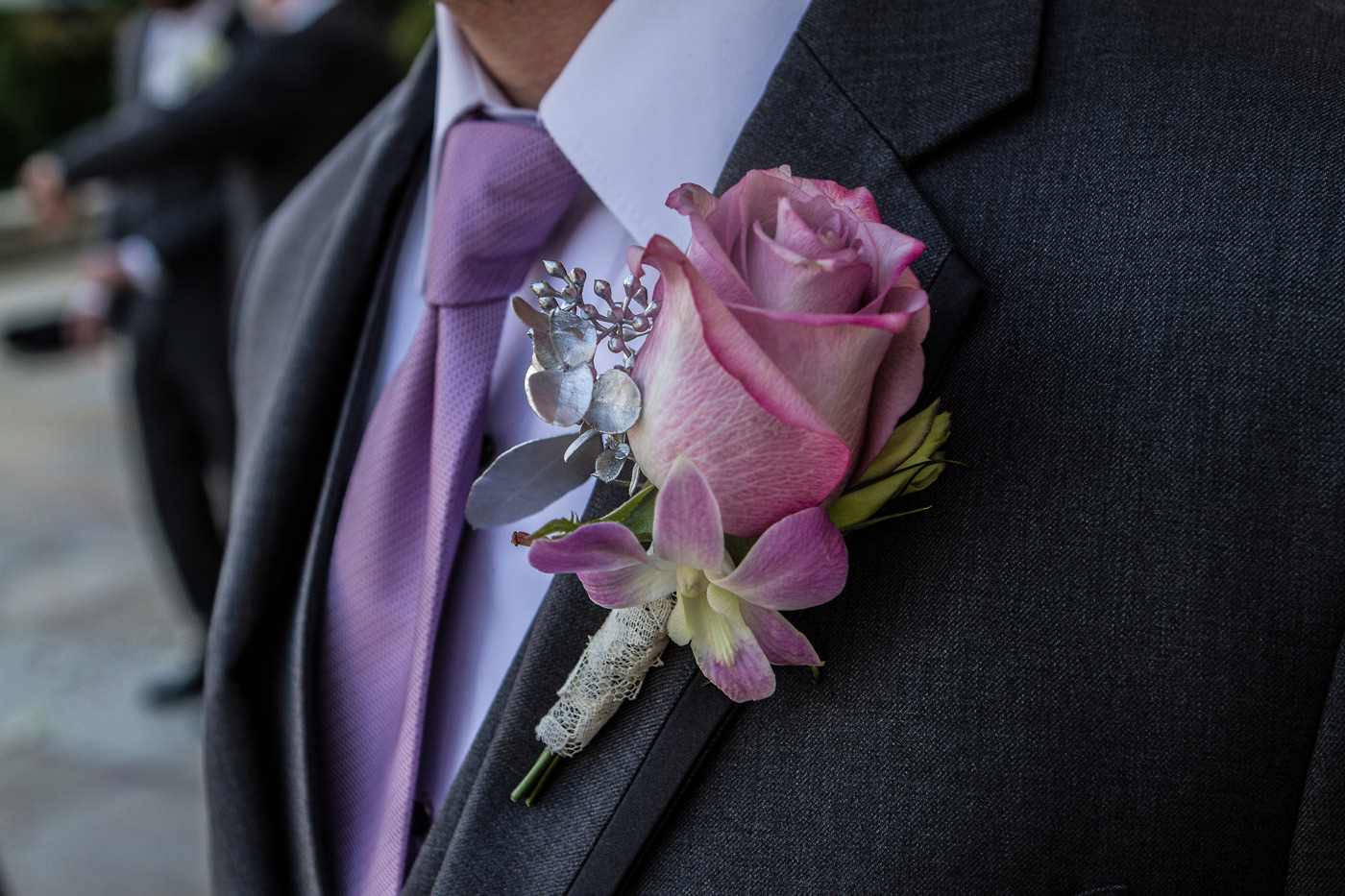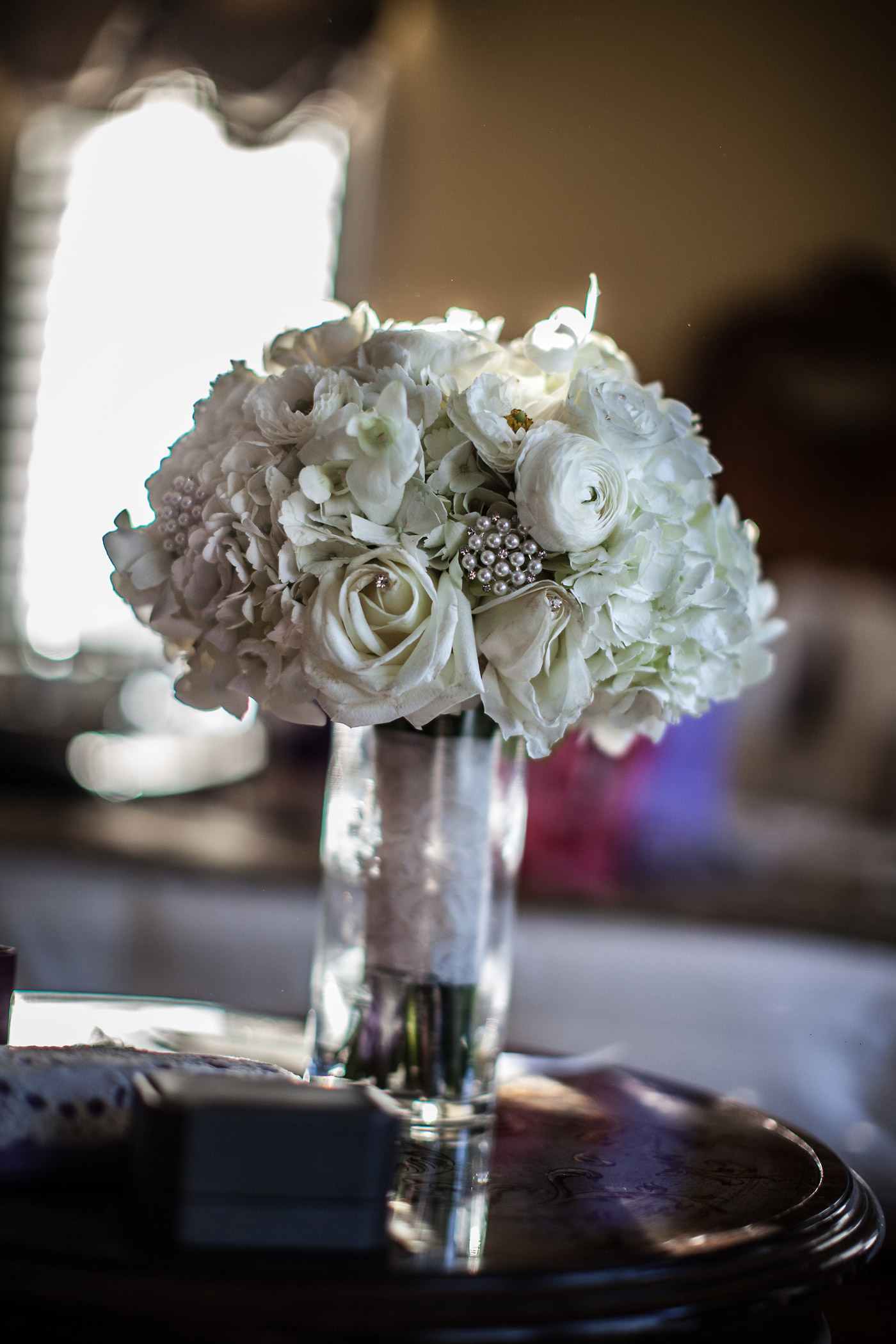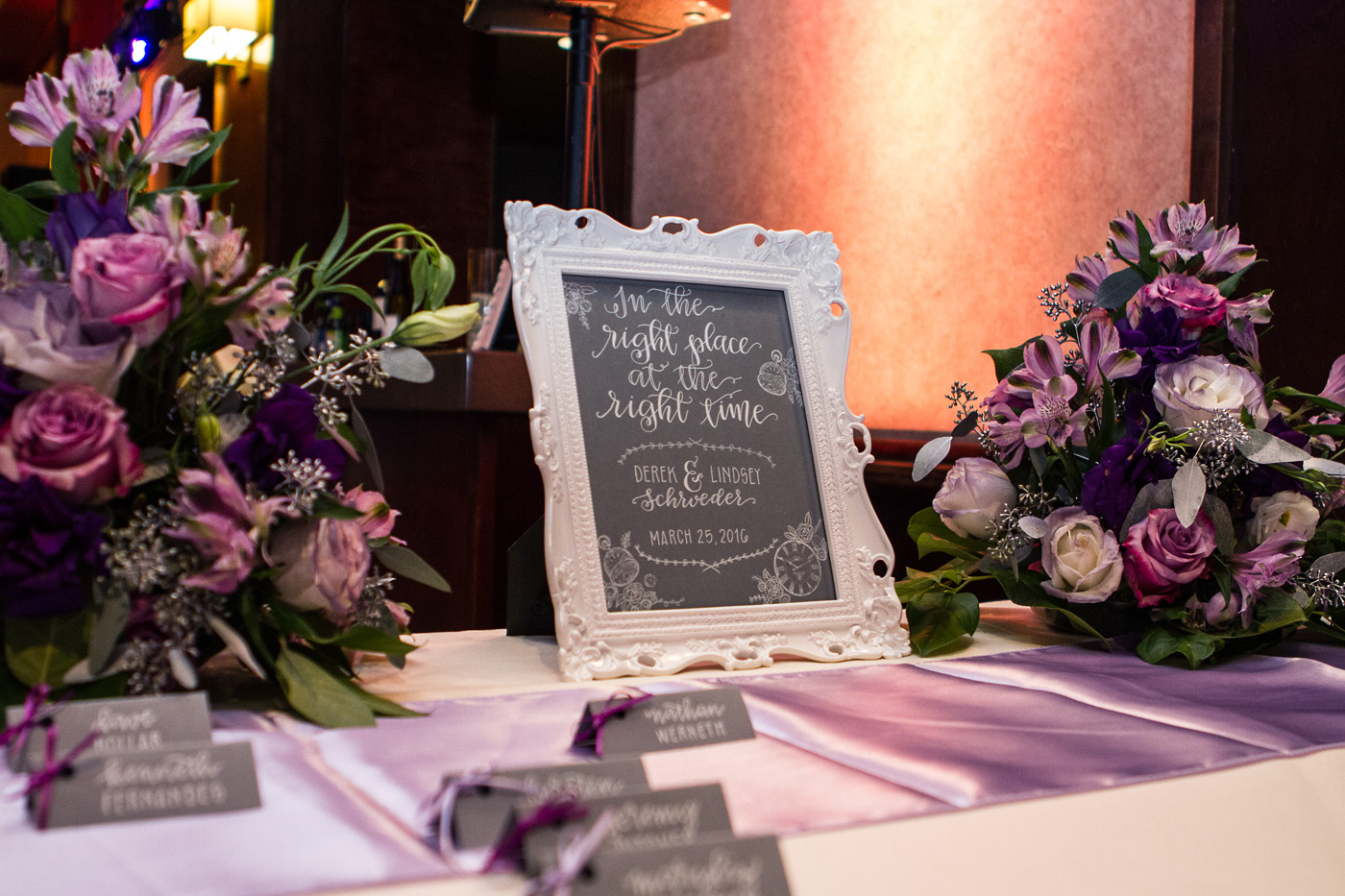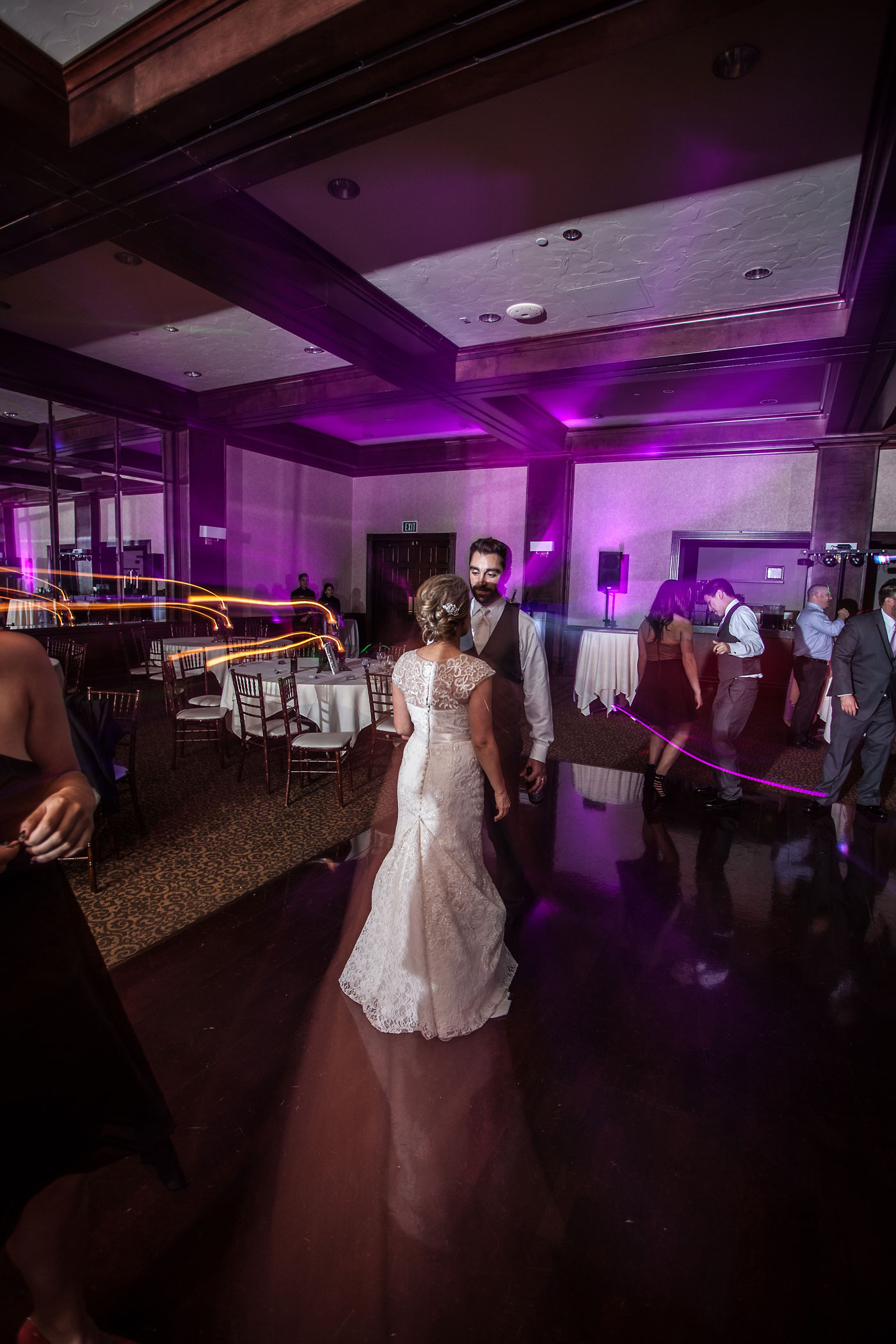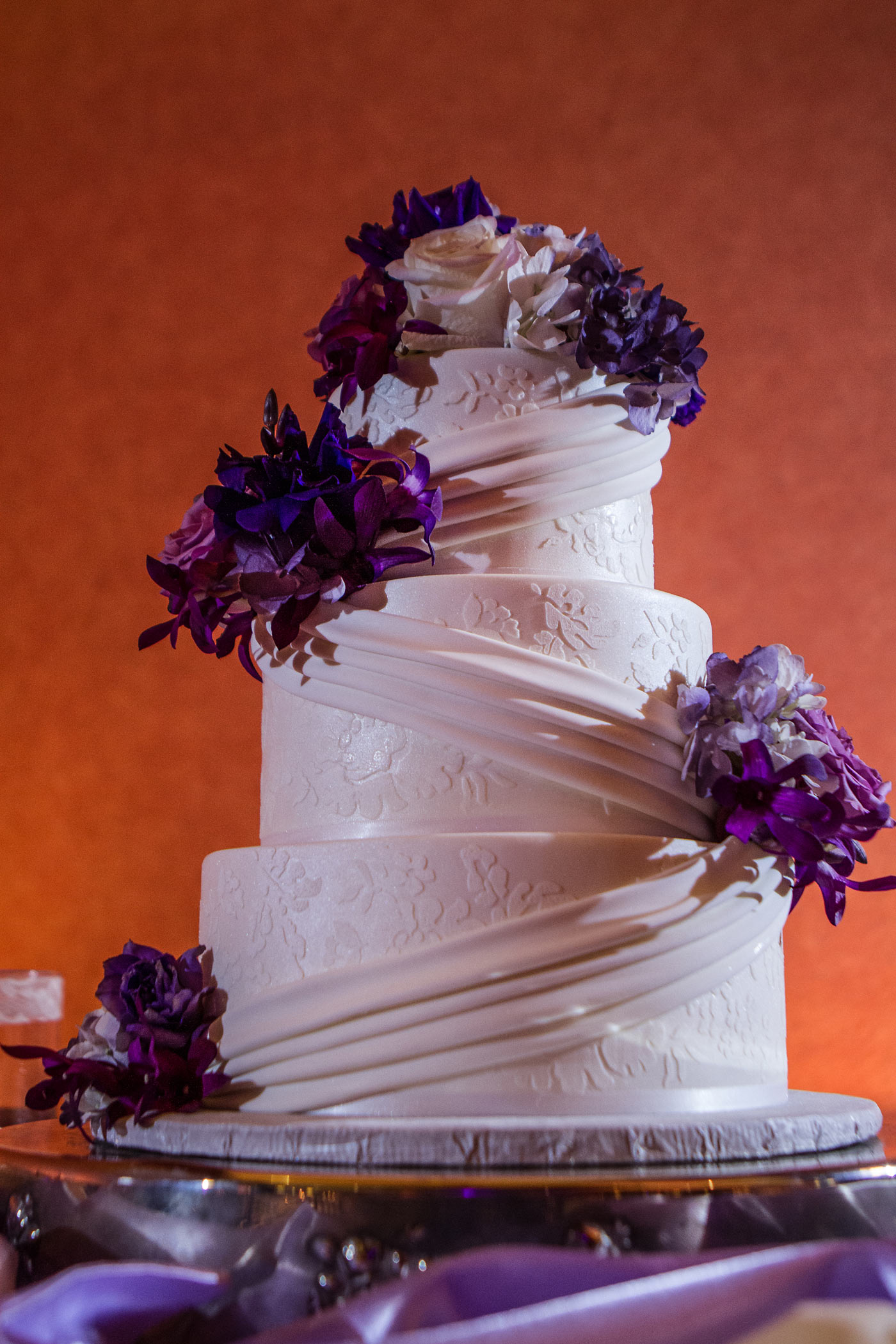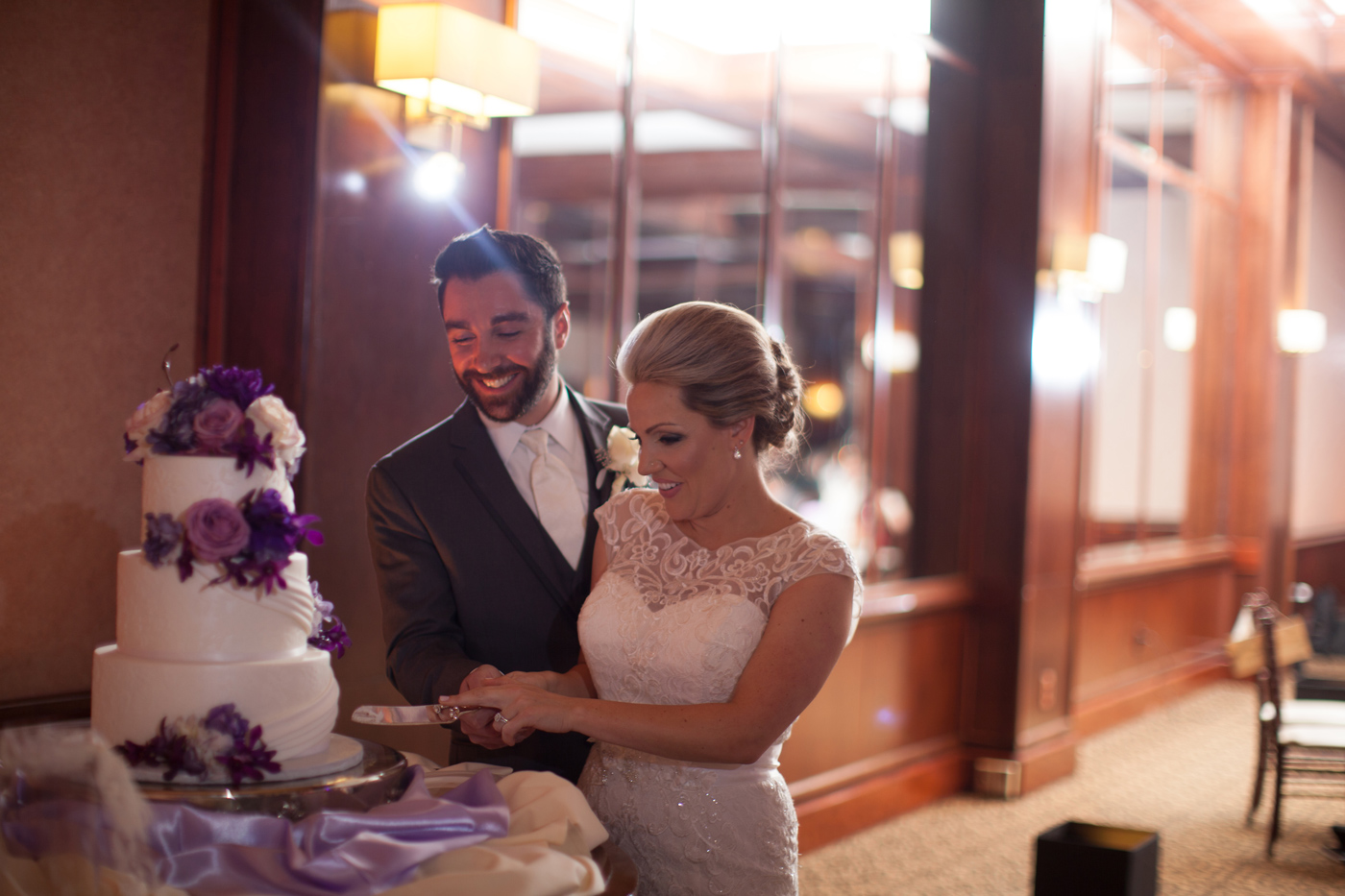 Derek and Lindsey surprised everyone with the elegance of their first dance to "I Only Have Eyes For You" by the Flamingos. The dance lessons they took in preparation for this was very worthwhile! "It was awesome to go out on the dance floor with a choreographed routine and wow all of our guests," recounts Lindsey. Celebrating well into the night, the newlyweds finally retired to the Valencia Suite at The Villas at Arden Hills.
Reflecting, Derek advises grooms, "Many people will be giving you advice all night long (which might lead to more stress). Just relax and enjoy the party with your friends and family and remember they are all here for you, not the other way around." Keeping time with Derek, Lindsey suggests letting go of the little stuff and some not so little stuff, "I had a bridesmaid drop out when it was too late to find a replacement and order their dress in time. At the end, the girls standing next to me were the ones that should have been there. The day of I relaxed and enjoyed it — no wedding is going to be perfect ladies, so don't let anything (or anyone) ruin YOUR day!
VENUE, CATERING, BAR: Arden Hills
REHEARSAL DINNER: Lucca Restaurant and Bar
FLOWERS: Beautiful by Nature
CAKE: Above and Beyond Cakes
[GOWN] David's Bridal [TUX] Men's Wearhouse [RINGS] Shane Co. [MAKEUP / HAIR] Colette English / Trish Valdez [OFFICIANT] Brian Bassett [MUSIC / ENTERTAINMENT] Creative Memories Entertainment [INVITES] David's Bridal [ACCOMMODATIONS] Larkspur Landing Hotel [ACCESSORIES] Etsy/The Apothecary Bee