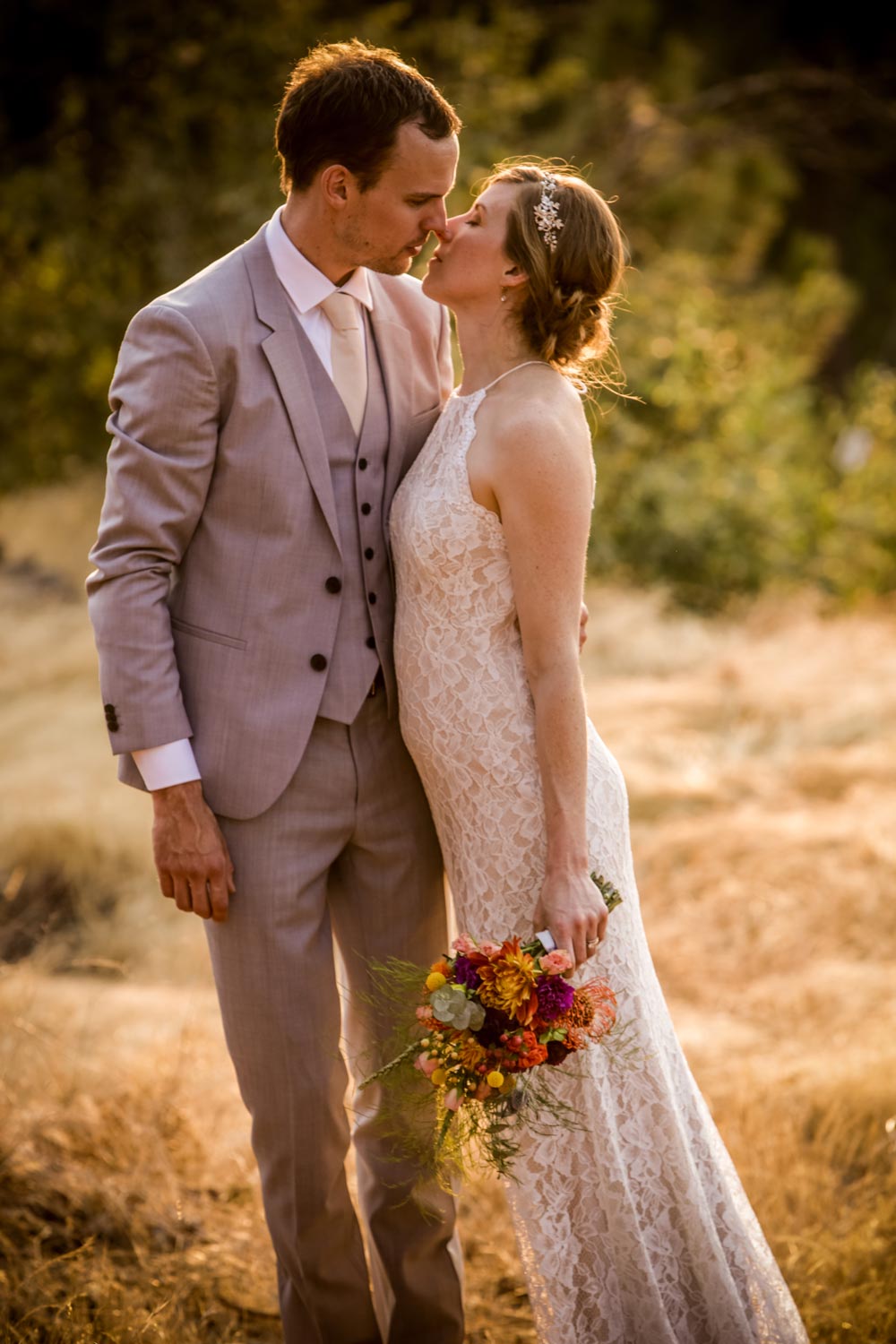 Extraordinary experiences often arise from everyday circumstance like shopping, banking, or stopping for gas. In this tale, A gas station just outside of Yosemite National Park was the setting for a chance meeting that lead to an intervention of serendipity. Actually, this stop is not actually as mundane as it may sound. It's home to the Whoa Nellie Deli, a popular spot for rock climbers on their way to or from the park. Jessica, an avid rock climber and environmentalist, was there standing in line, waiting to check out. Behind her in the line was tall, dark and handsome Ysbrand, also a rock climber. Small talk followed, mostly about "reducing my consumption of single-use disposable plastics," recalled Jessica.
That simple chance meeting led to dinner at the Deli, dating and climbing together and reaching even greater heights as a couple.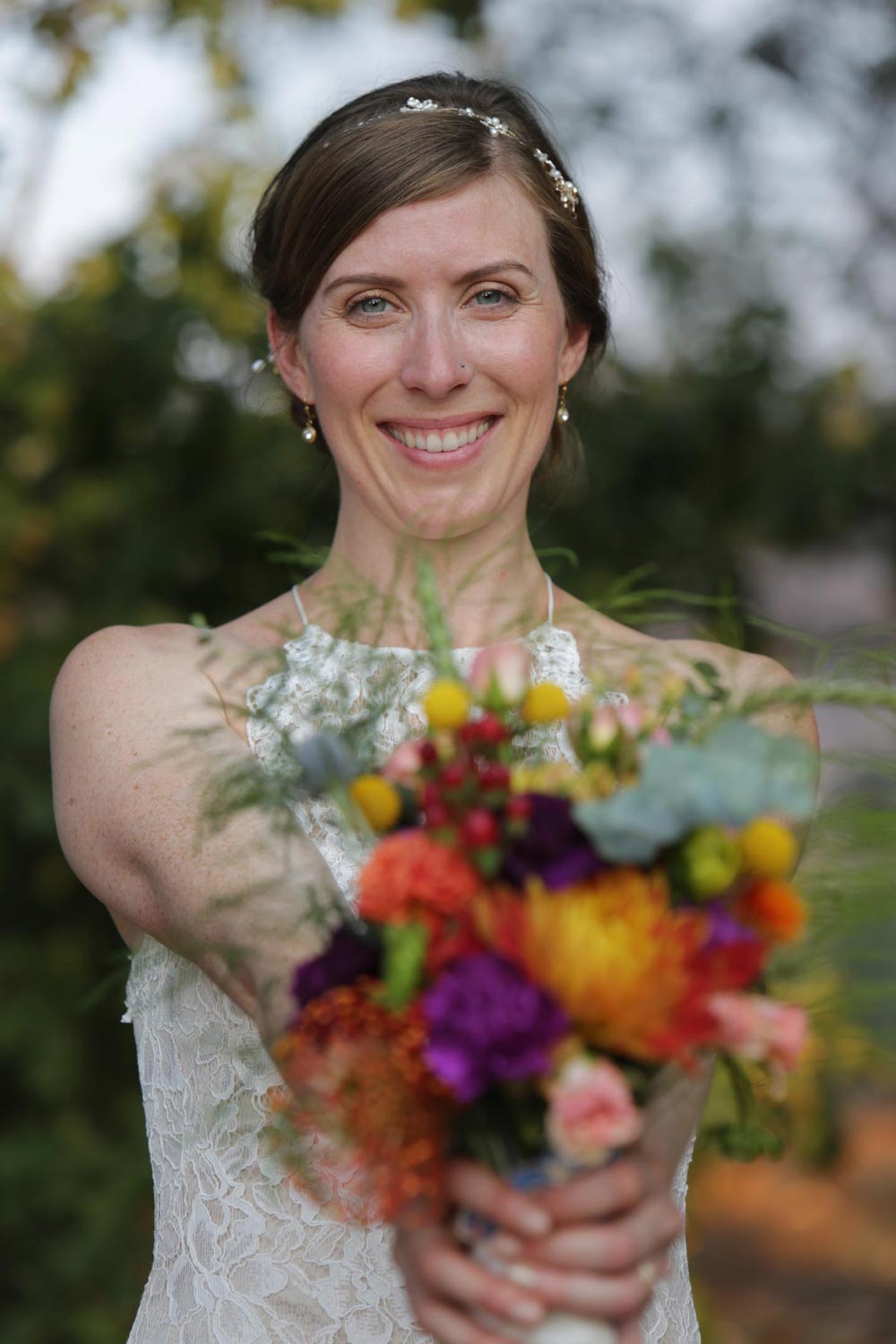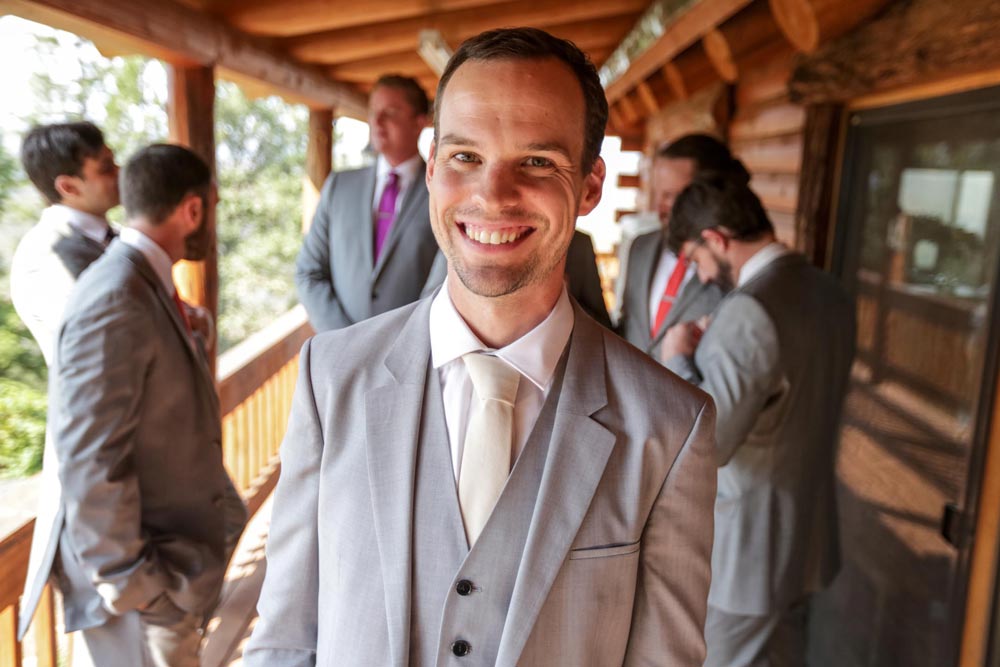 One of their adventures took them on a hiking and climbing trip near Bishop, Ca. The first day they climbed Sad Boulders. Perhaps fittingly, given the name, it didn't go very smoothly. The next day, the pair headed out for another climb, this time to the more promising sounding Happy Boulders. They ran into some friends, and the group decided to spend the day together. "Happy Boulders is in a canyon with an expansive mesa overlooking the valley," Jessica explains.
The mood was light and the weather fine. After parting ways with the other couple, Ysbrand suggested they go up to the mesa to enjoy the sunset.
Trying to get Jessica to stand up so he can surprise her, Ysbrand said, "Let's take a picture." "Once I did," Jessica recalls, "he got down on his knee and asked me to marry him"!
It was important to Jessica and Ysbrand to have a wedding that reflected the lifestyle that is important to them. They wanted, "a colorful, Zero Waste, DIY outdoor wedding," Jessica explains. And so they set to work, being careful about every choice. Jessica really enjoys bargain hunting and repurposing, which helped her stick to a modest budget. Instead of stressing about money, she had fun creating her wedding in a meaningful and zero waste style. Jessica explains, "Don't be afraid to plan your own wedding, but definitely use the help and expertise of a wedding coordinator/planner; our planner had a TON of great connections and vendor recommendations". Friends and family helped make it happen, with one friend officiating the wedding, another baking gluten-free cupcakes, and the family making all of the décor (aside from what mother nature provided).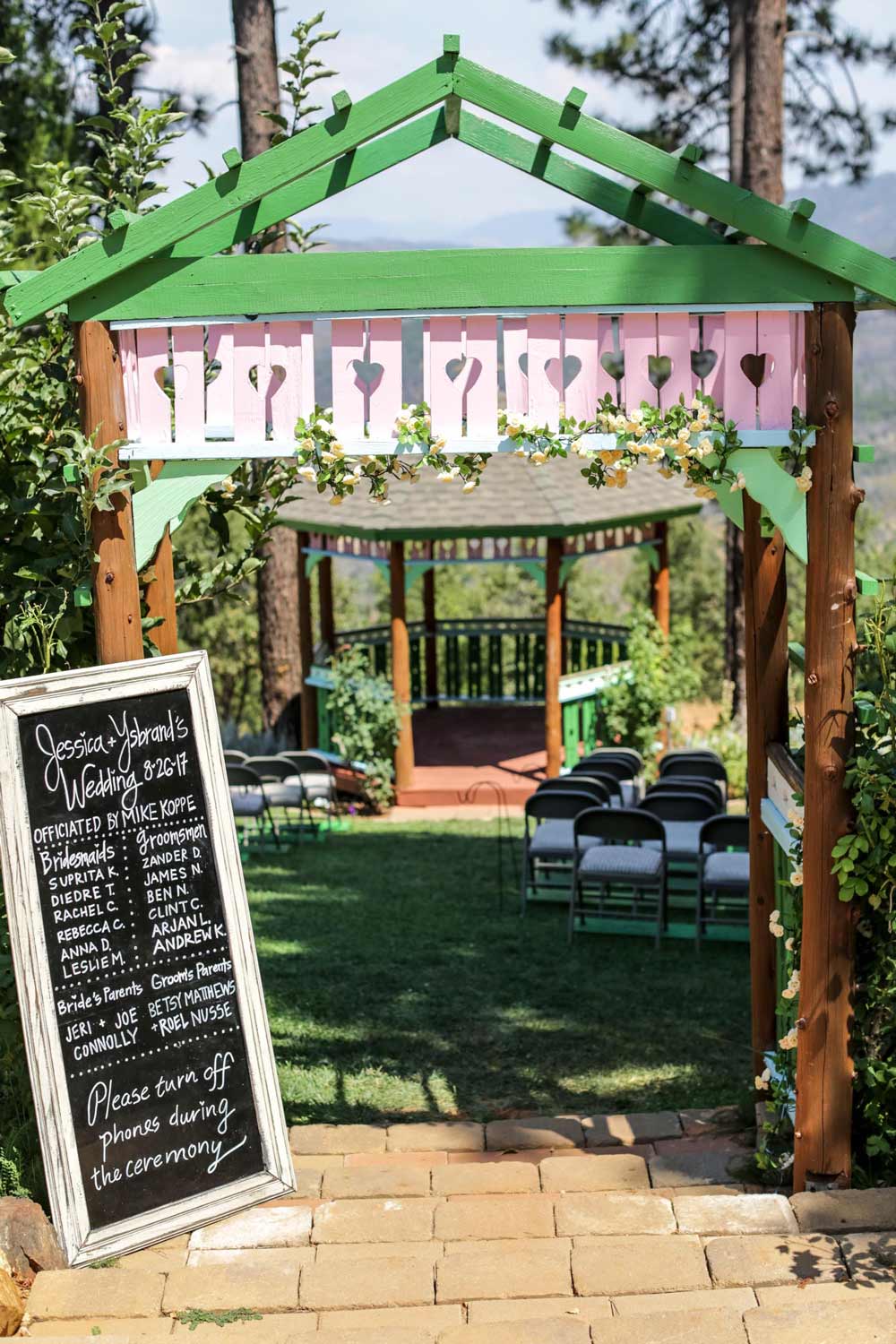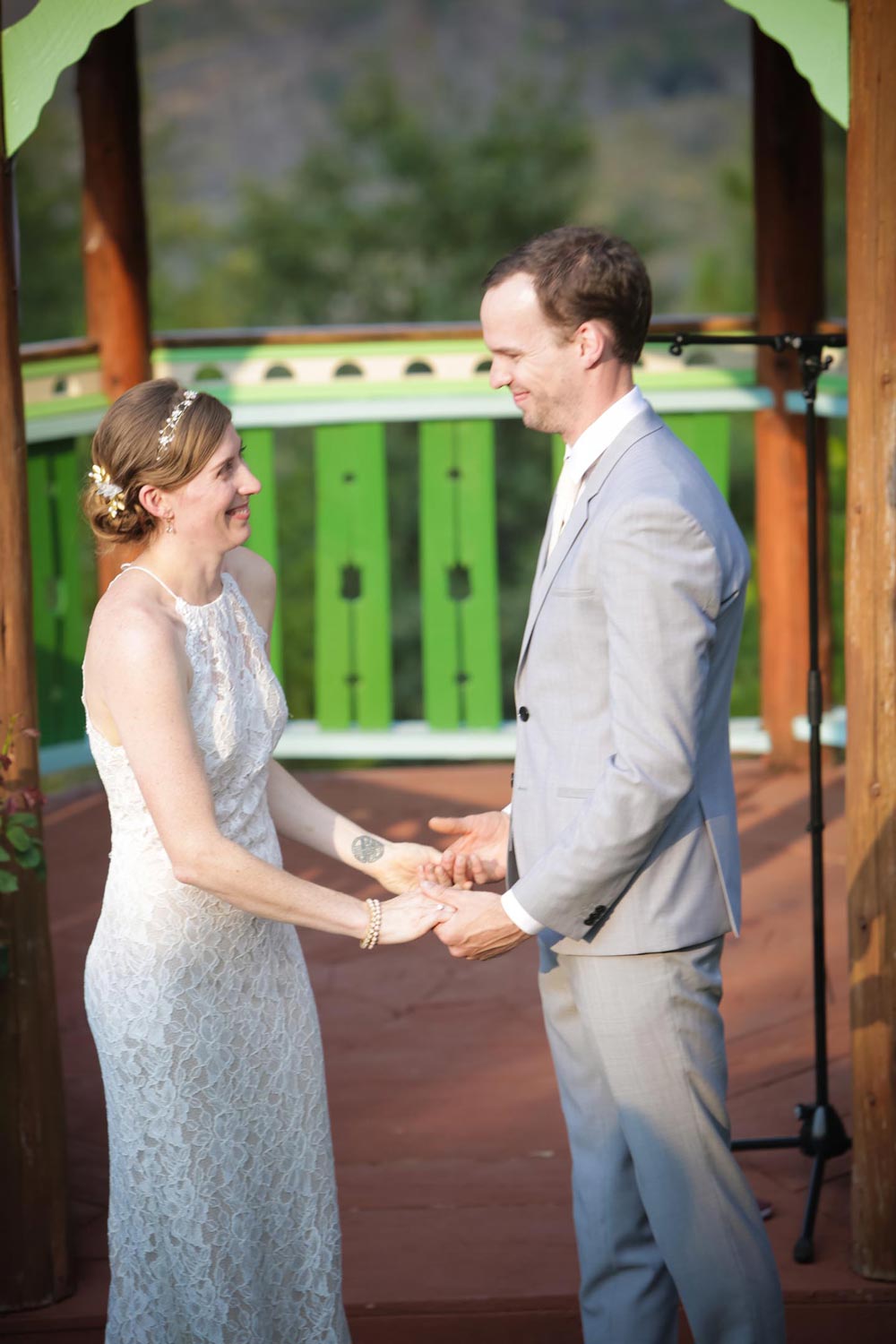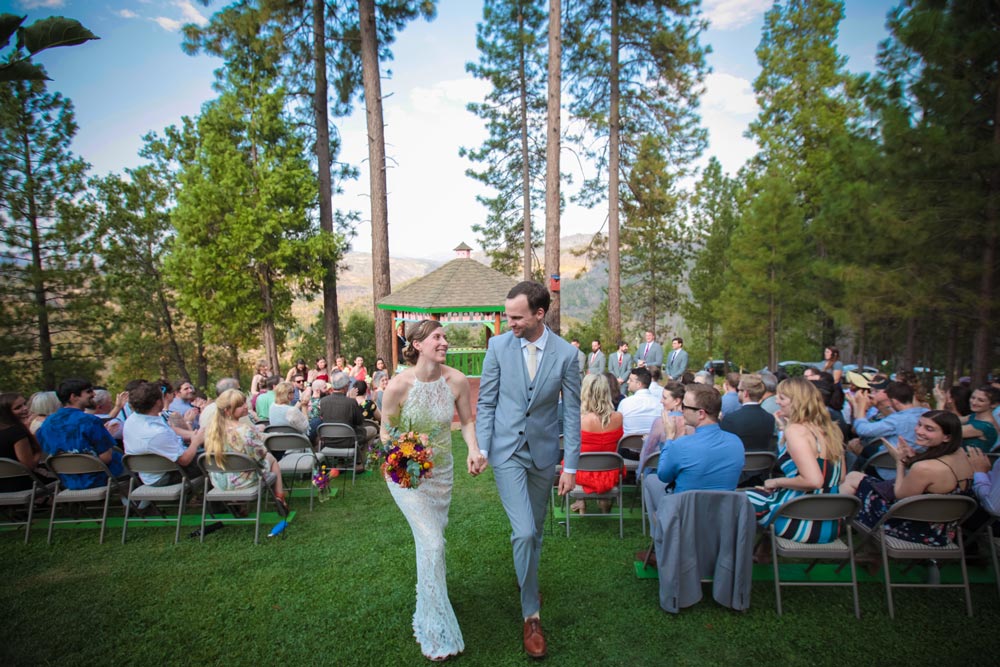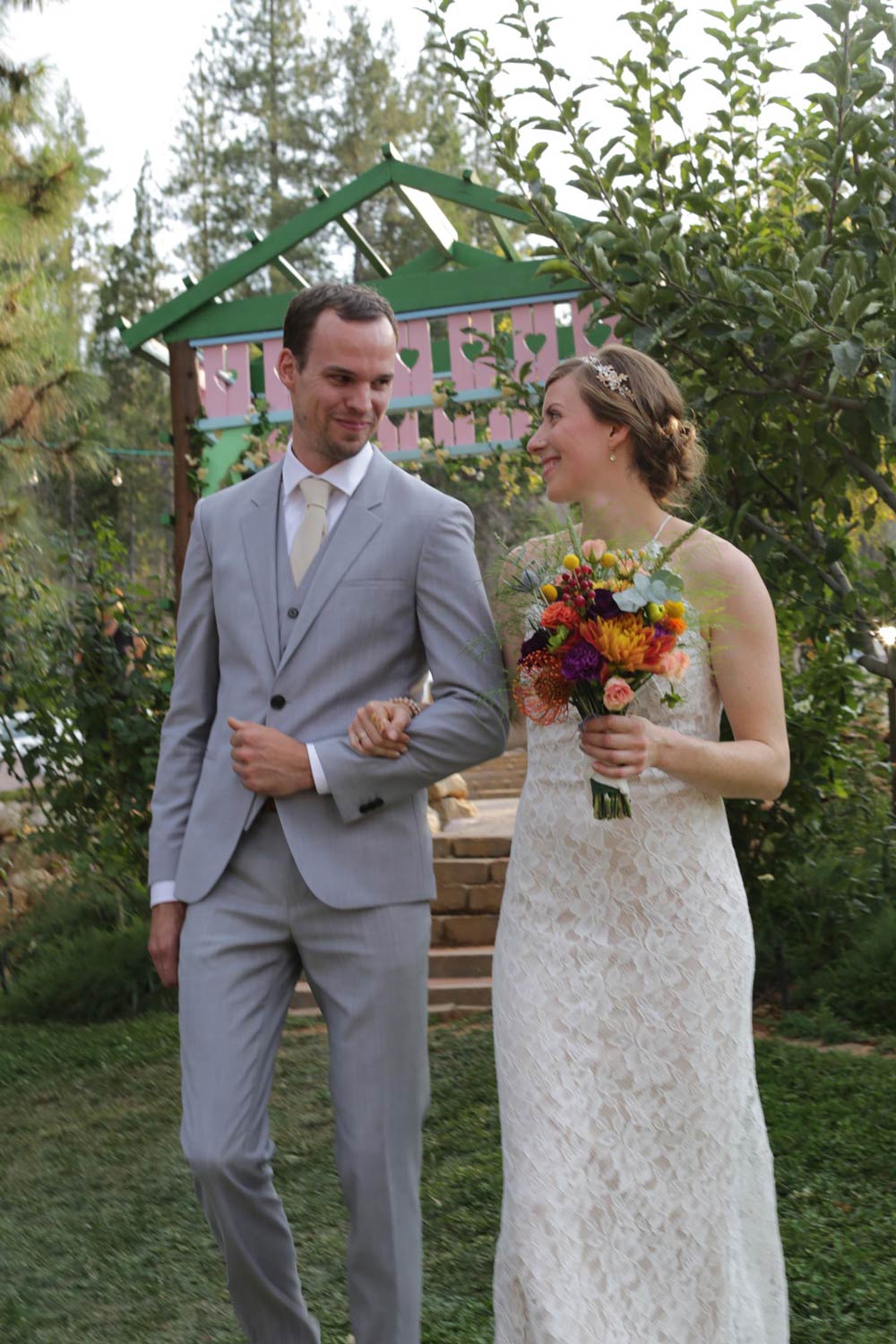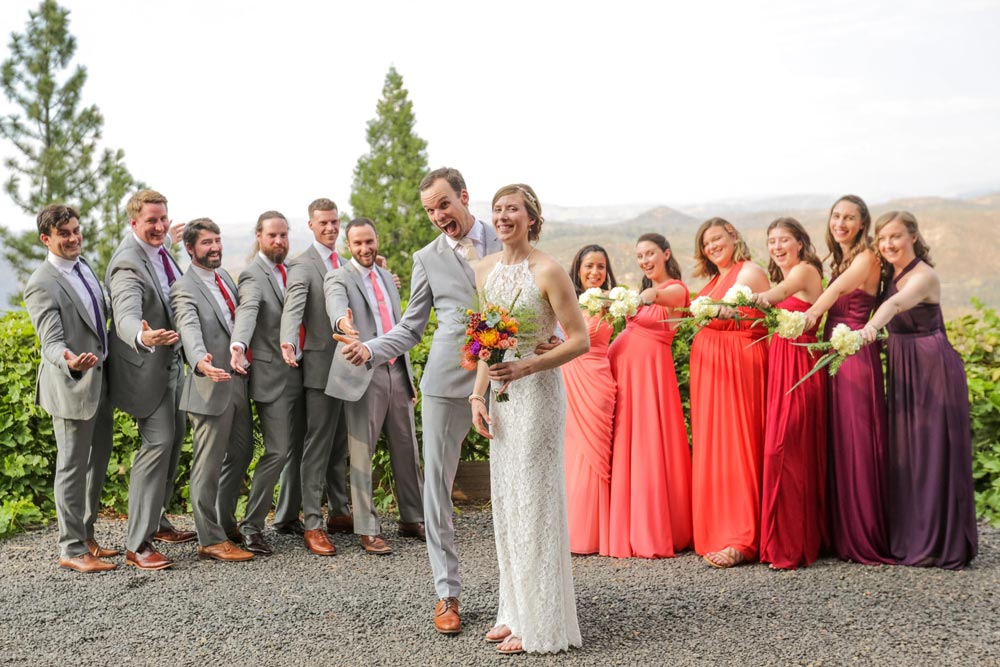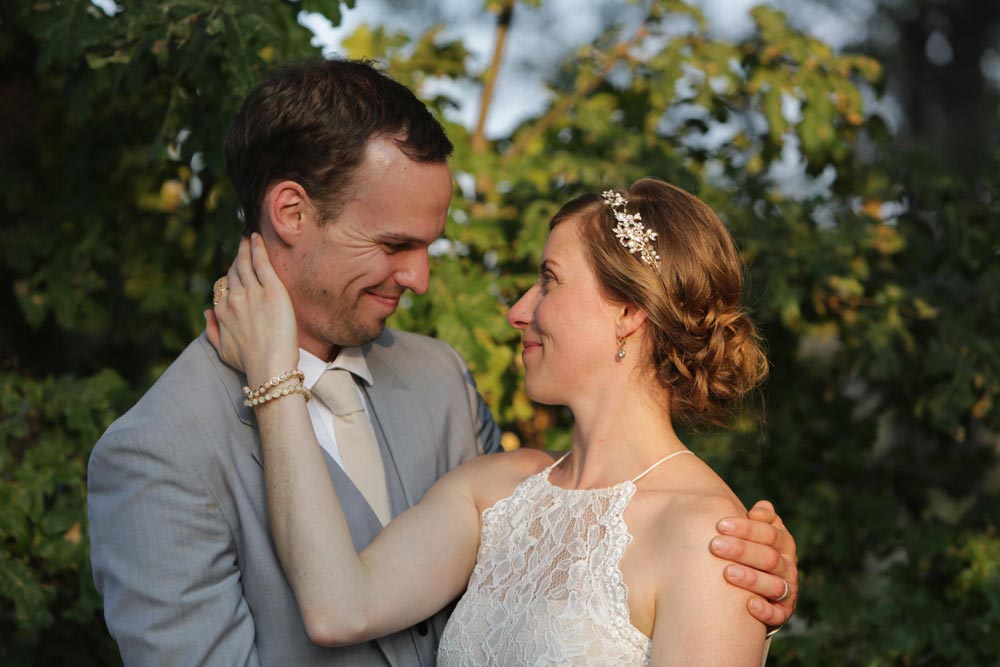 Making their vows at a rustic lodge in Groveland, Ca, the spirit of the rock climbing couple was evident in the setting itself. "All of our flowers were DIY – bouquets, table decor, and ceremony decor. We bought them at the San Francisco Flower Market," Jessica explains. "Since living a zero waste lifestyle is important to us, we didn't just give favors to our guests. Instead, we had an awesome photo booth. Guests could print out copies of their photos and take those home!"
The couple got a reduced-cost package from High Sierra Photos because they didn't need engagement photos. "Our photographer was great," said Jessica. "She ended up staying and dancing with us, taking pictures the whole time," she remembered.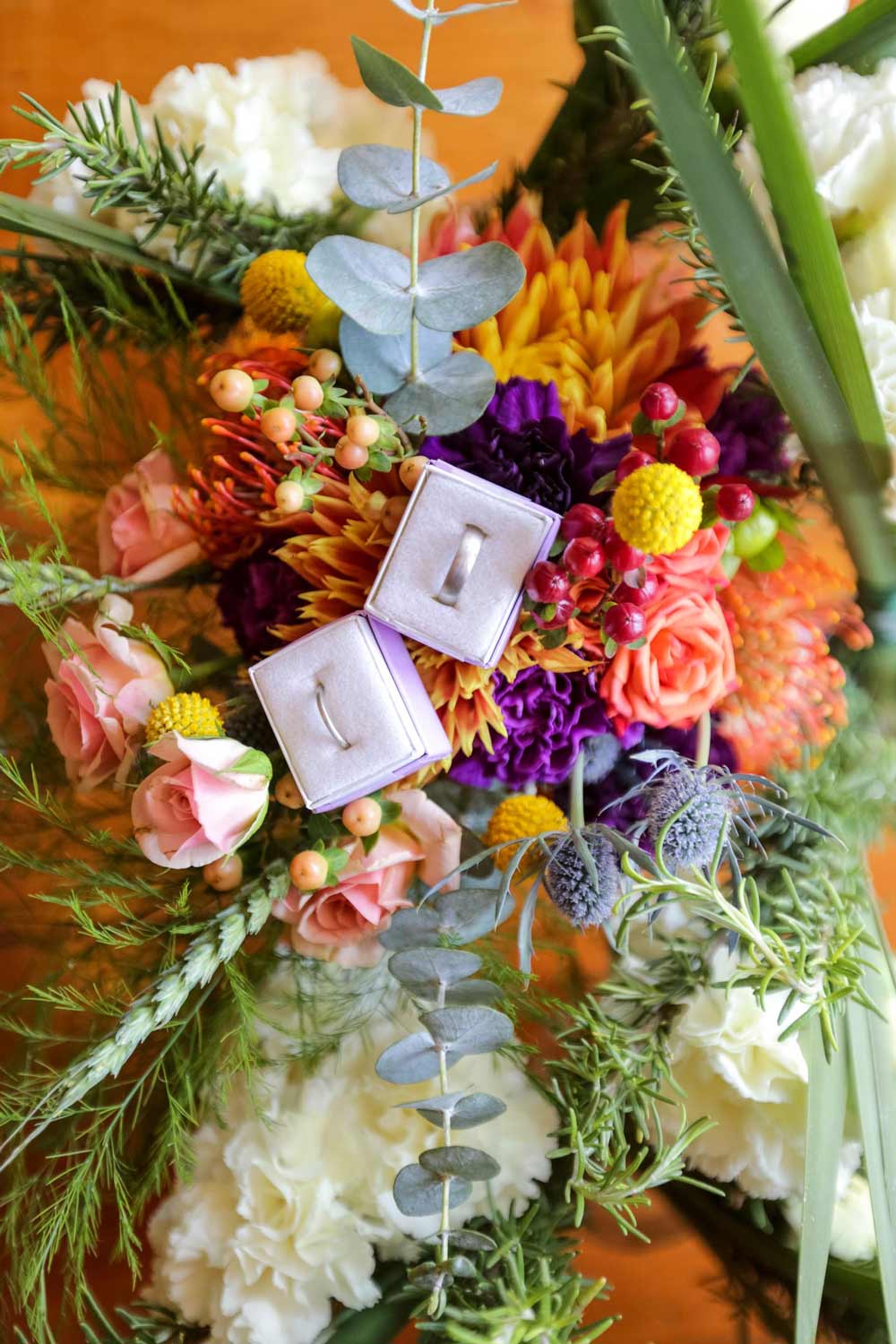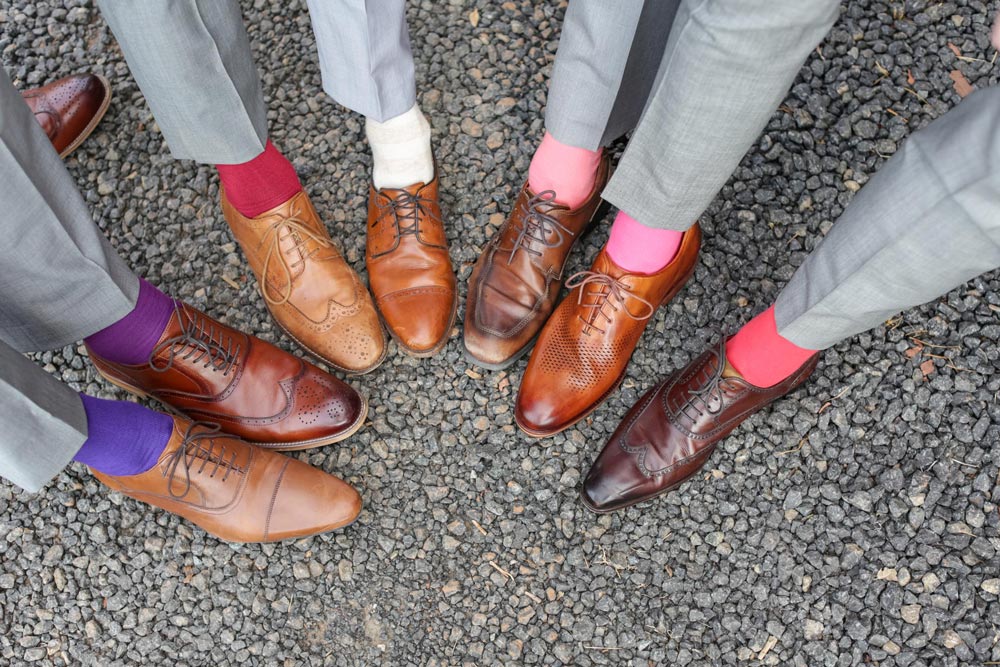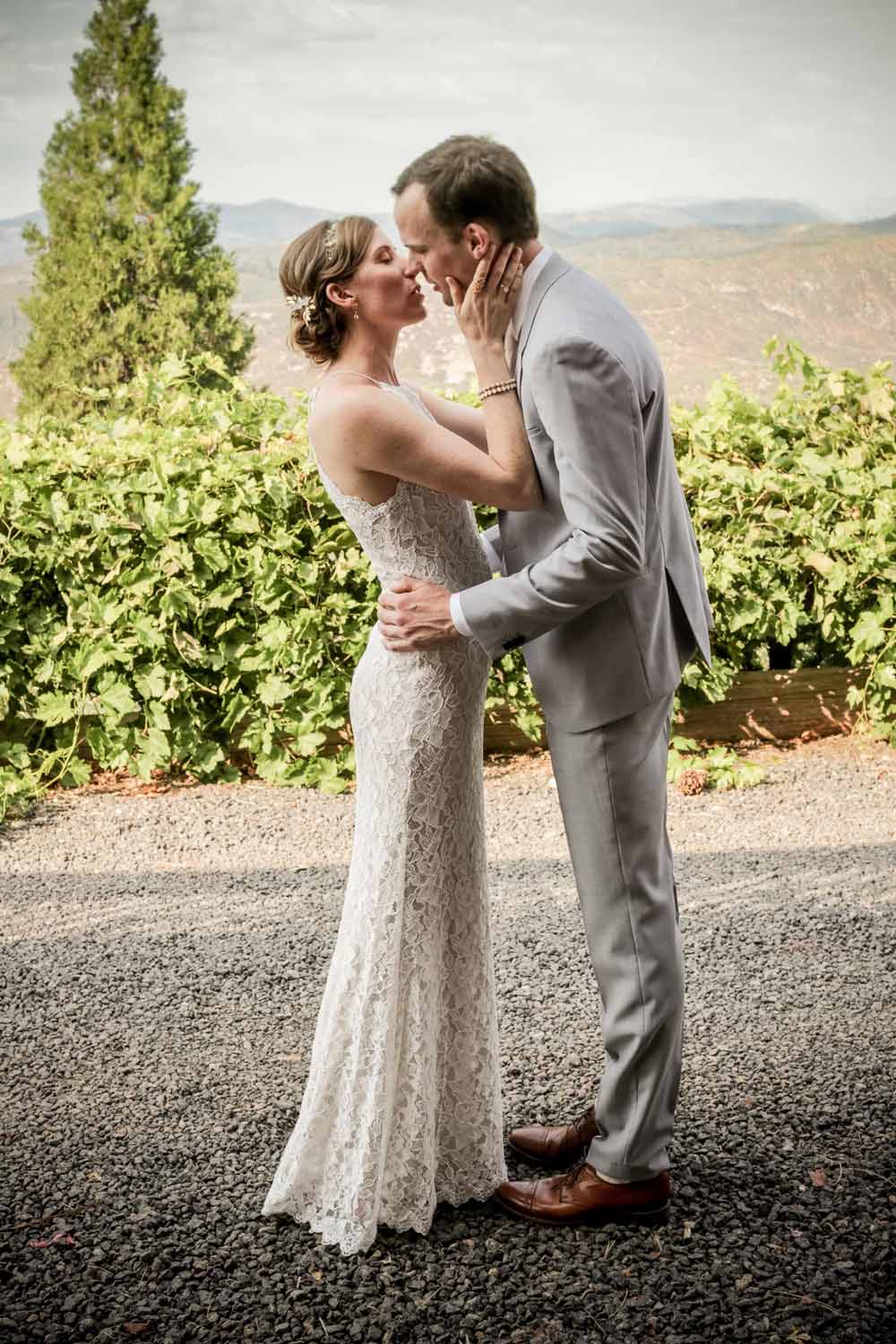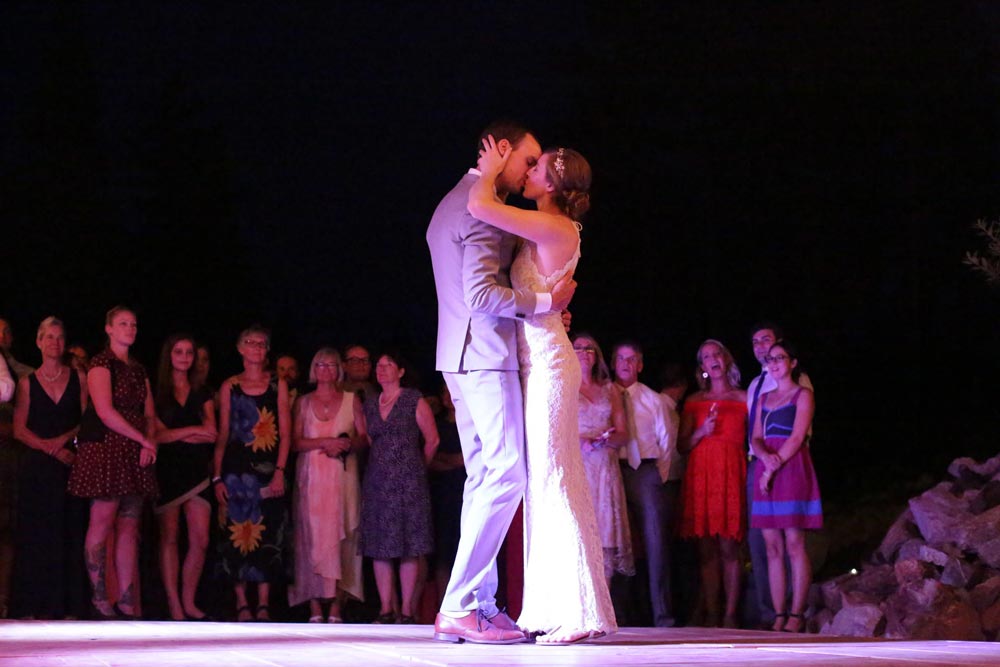 Jessica and Ysbrand happily made their zero waste/DIY dreams come true with the creative talents of their friends and family. "Many people in your life are talented, and truly want to help make your day special," says Jessica. Their contributions made it "more personal and meaningful".
Ysbrand suggests that grooms "be an active participant in the planning process! Express your opinion about what's important to you at/for your wedding; it's your day too." He explained, "You will learn more about your partner and yourself, and you'll have a better understanding as to why elements of your wedding are there."
The couple honeymooned in Tulum, Mexico. "It was fun, and very relaxing," they said. "We snorkeled in several Cenotes, ate delicious food, and swam in the sea as much as possible." Jessica and Ysbrand successfully planned, produced, and most importantly savored their DIY wedding adventures.
PHOTOS: High Sierra Photos
[VENUE] Lillaskog Lodge [PLANNER] An Occasion [RENTALS] Porter Rents [CATERING] Lunch Lady Catering [CAKE] Auzeen Mendoza [CUPCAKES] Tangled Hearts Bakery [GOWN] BHLDN [GROOM'S WEAR] Hugo Boss [DJ] Pendulum Pro