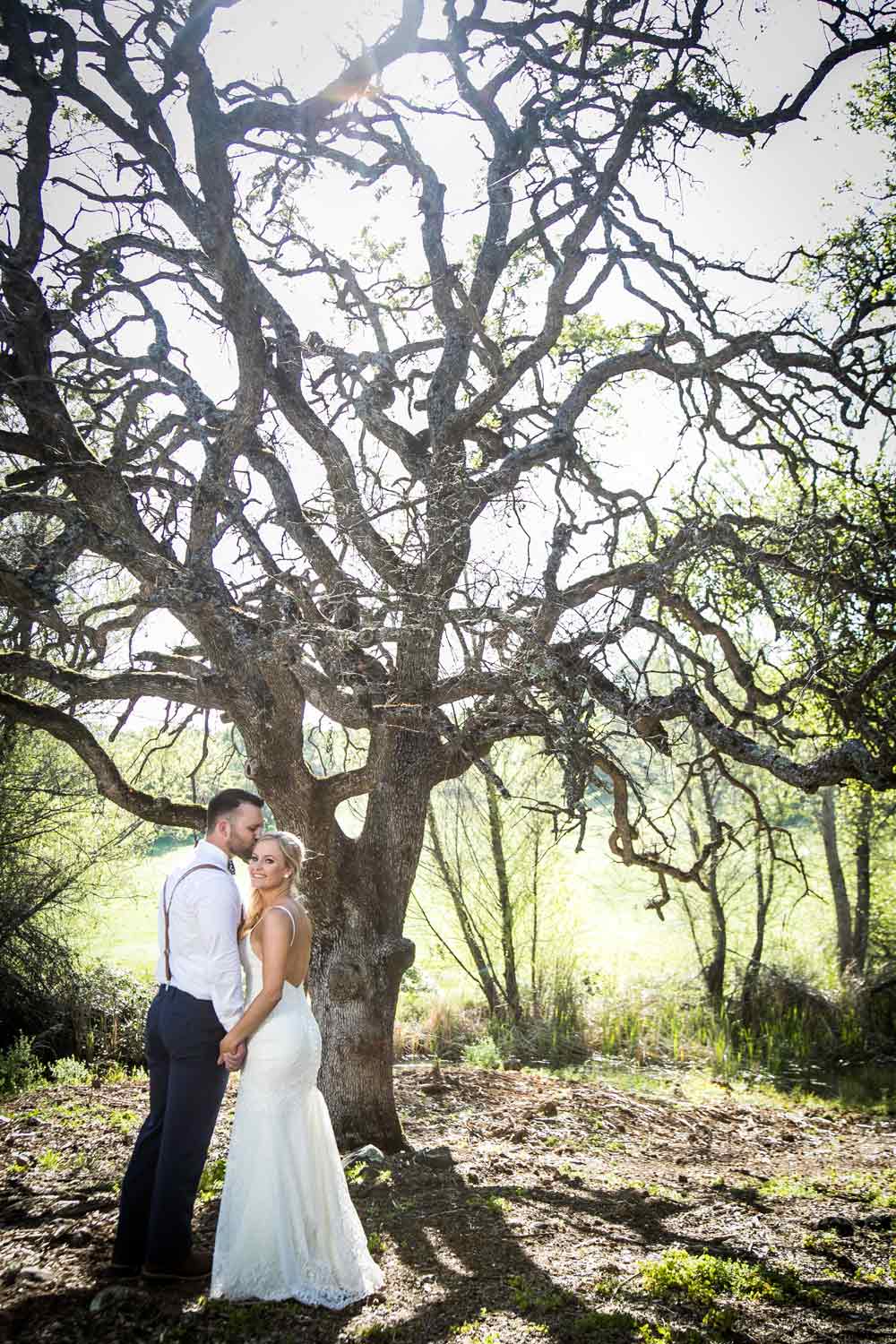 Pete first caught Jenna's eye way back in 2011, when she happened to stop in at a watering hole where he was tending bar. She was attracted to the handsome man behind the bar, but he didn't seem to notice. He definitely remembers the second time she came around, though.
Knowing that he would be behind the bar, Jenna and her friends stopped in after a night of dancing. And when she asked for her tab, because her roommate let on to Pete that she liked him, he suggested that she leave him seven numbers.
Not picking up on the hint, and thinking he was asking for a big tip, Jenna shot him down. Again he tried, and again she misunderstood. Finally, Pete explained, "I'm asking for your phone number." And that was that. As it turned out, they had a lot in common. In fact, he wanted to be a nurse and she already was one!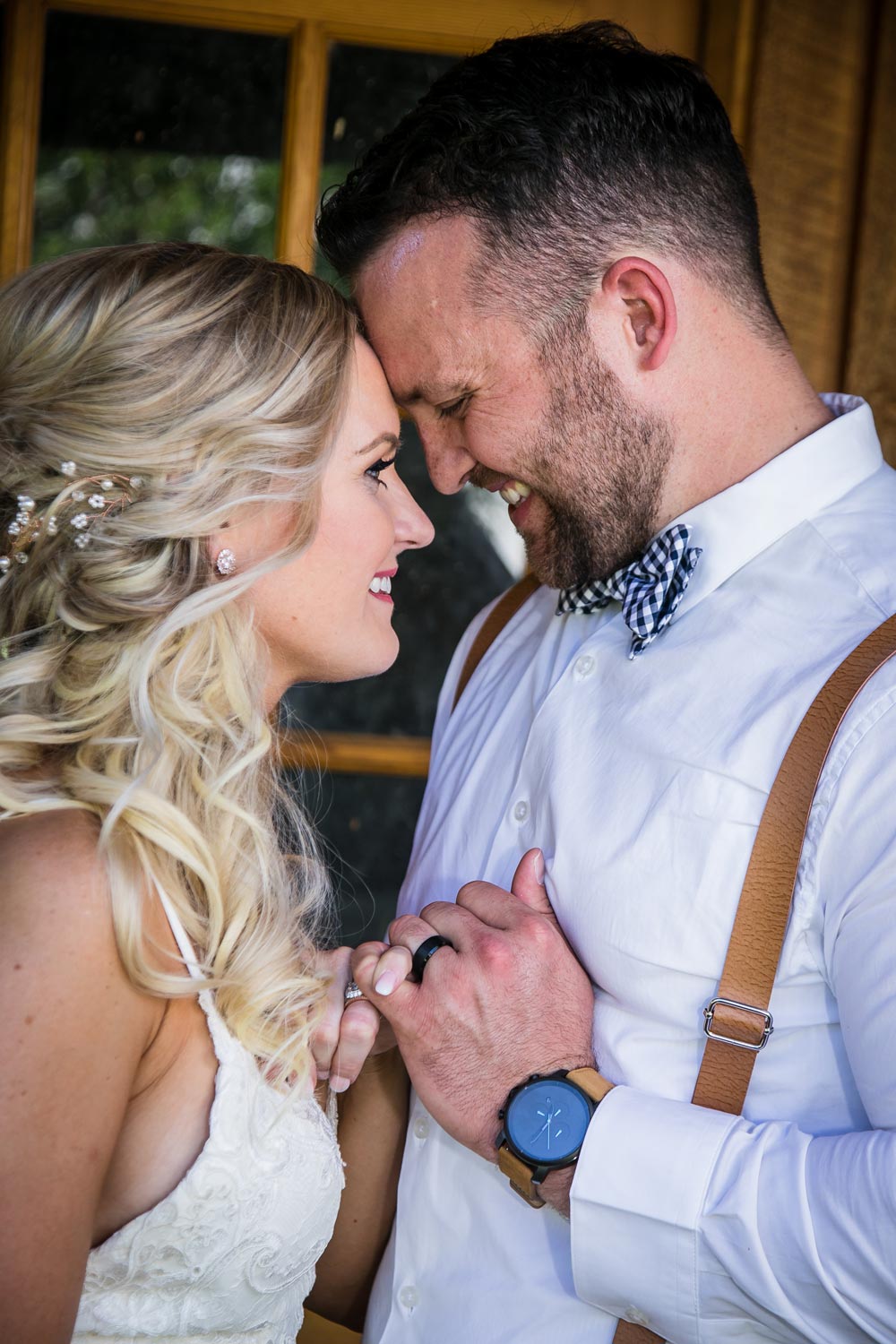 When he was ready to propose, Pete rented a cabin in Tahoe for her entire family, letting Jenna think it was weekend trip planned by her sister. The couple got there before the others, and Jenna noticed that Pete wasn't his usual self. Even when the whole family got there, he was unusually quiet, just sitting on the deck overlooking the lake, not engaging much in conversation.
Eventually, the couple found themselves alone. Everyone else had gone inside, all watching what was about to happen. Pete pulled Jenna close and started and saying sweet things. Always quick to catch on, Jenna told him "to stop breathing like a water buffalo in my ear! But the next thing I knew, he was down on one knee asking me to marry him! I said 'yes!' of course!"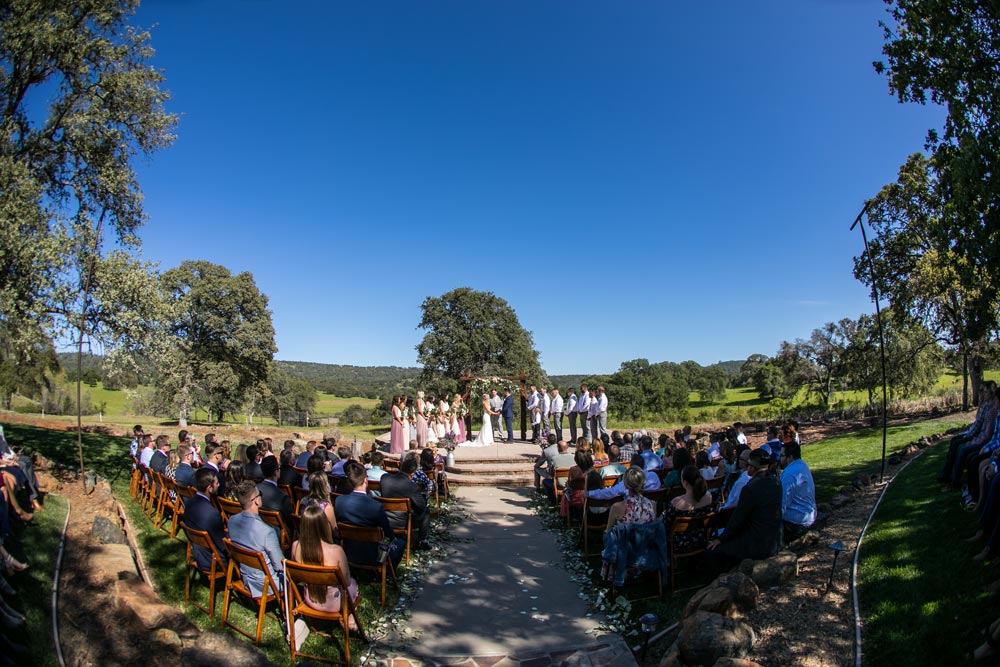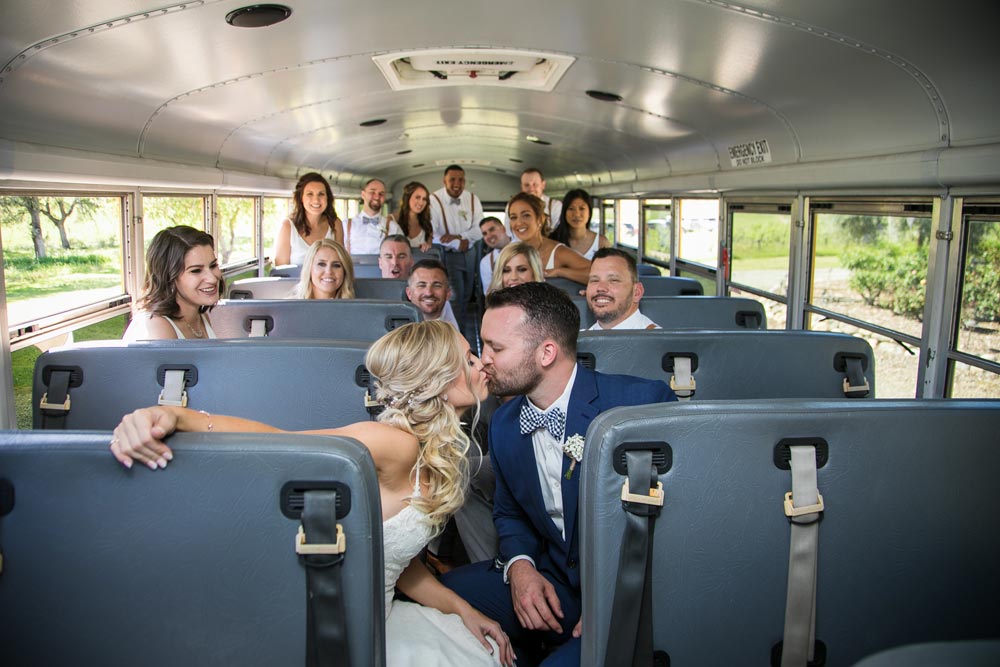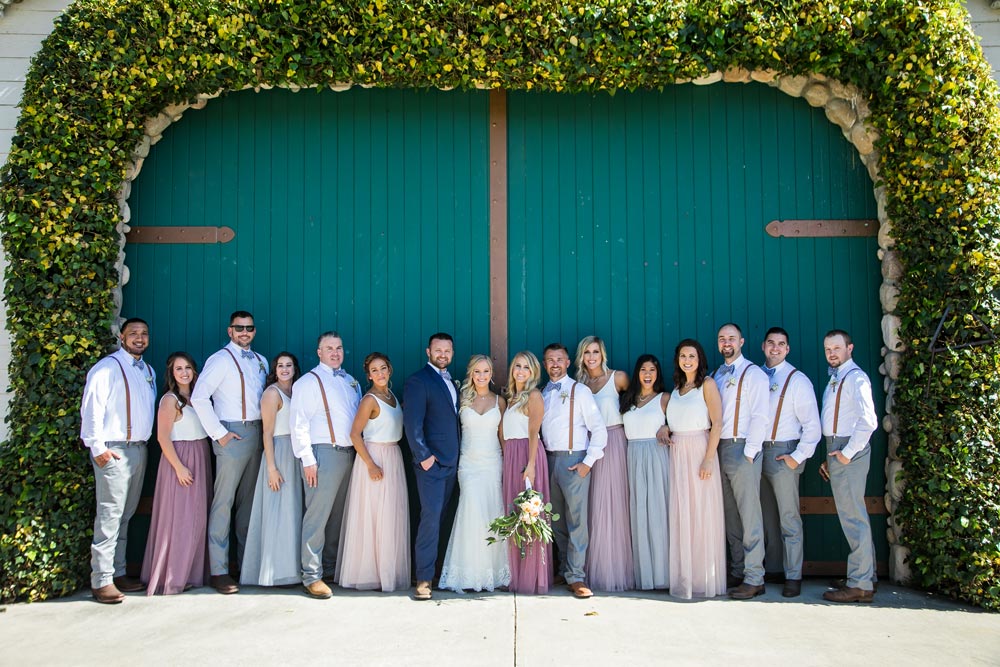 A laid back wedding was in the plans from the beginning. The couple found their venue – one that was just right for a wedding where the bride, groom and the whole bridal party including bride and groom showed up in cowboy boots. Wide open country surroundings, wildflowers, a fabulous barn, farm tables, it was a perfect fit.
Styling choices emphasized copper, silver, and rustic gold, softened by white, pink and purple flowers in short milk jars and small vases, along with succulents, grown by Jenna's brother, in small painted mason jars. Sandi, a good family friend, put together all of the vases and decor items with flowers, and Jenna's sister Jessica and her bridesmaid Alecia created bouquets using light pink and peach roses, eucalyptus, bay leaves, and baby's breath.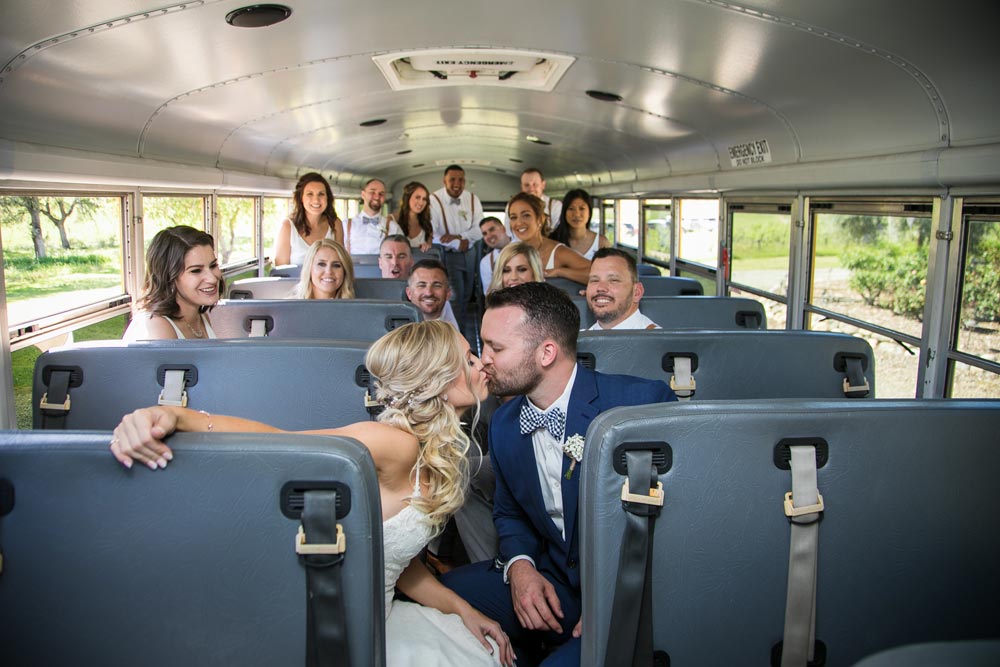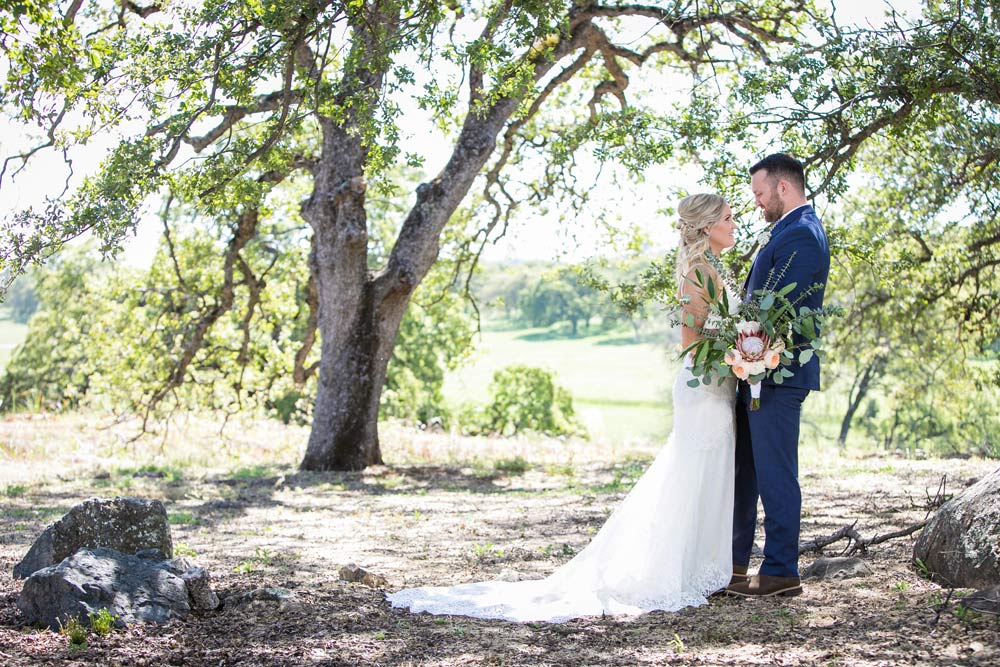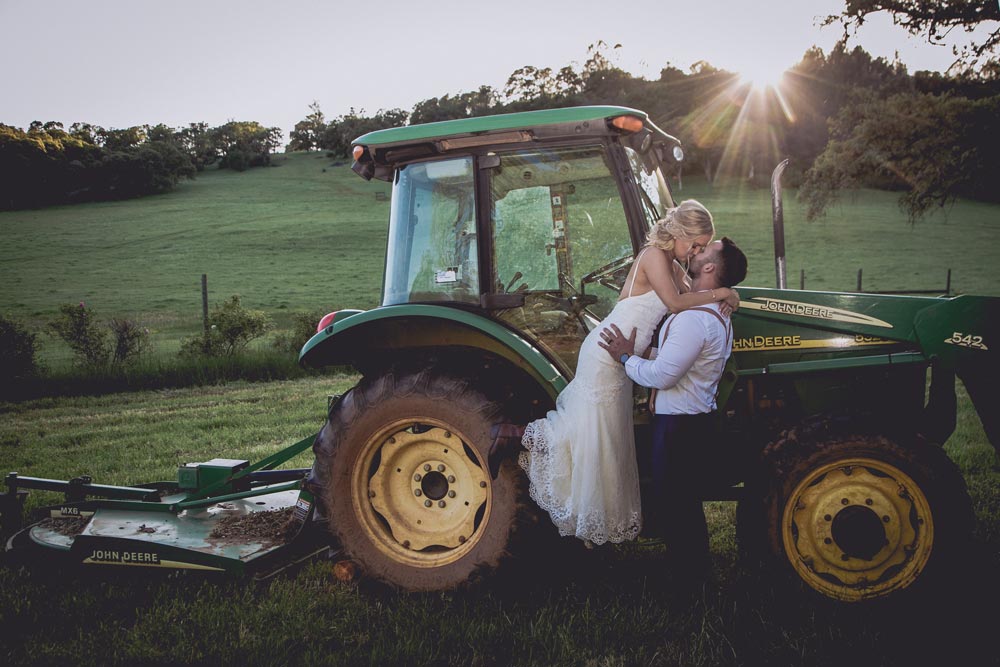 Jenna's cousin Hayley took care of invitations, and friends Drew and Mike captured drone and GoPro video. Another friend, Kayla, who owns a salon in Vacaville, pitched into do Jenna's hair.
The bride looked radiant in her gown, a form-fitting, backless design in ivory featuring small straps, two different patterns of lace and beautiful details. Jenna reports that the gown, by Essence of Australia, "was beautiful and comfortable. And being jersey lined, it was perfect and I could move freely all night!"
A picture-perfect sunset provided the ideal backdrop for the couple's first photos as man and wife, captured by photographer Andrea Bucheli.
"Working with Andrea was amazing. When I met her the first time, I knew she was the right person for the job. She was great at communicating with us and she made sure she understood what photos were an absolute must. Our photos exceeded our expectations and I am sooo happy we went with her. So far, the people who have seen them are very impressed, and I can't wait to share them with others!"
Meanwhile, guests mingled at the cocktail hour, waiting for the newlyweds to return. When they did, there was a hungry crowd to feed. BBQ was on the menu, and everyone got their fill of barbecued tri-tip, chicken and ribs, along with fresh garden salad, potato/veggie medley, macaroni and cheese and freshly baked dinner rolls. Everyone agreed, the food was amazing, and nobody went away hungry.
Dessert was something fun and different – guests got to pick donuts off the donut board, or have donut holes, or try out the s'mores bar located outside at the big fire pit.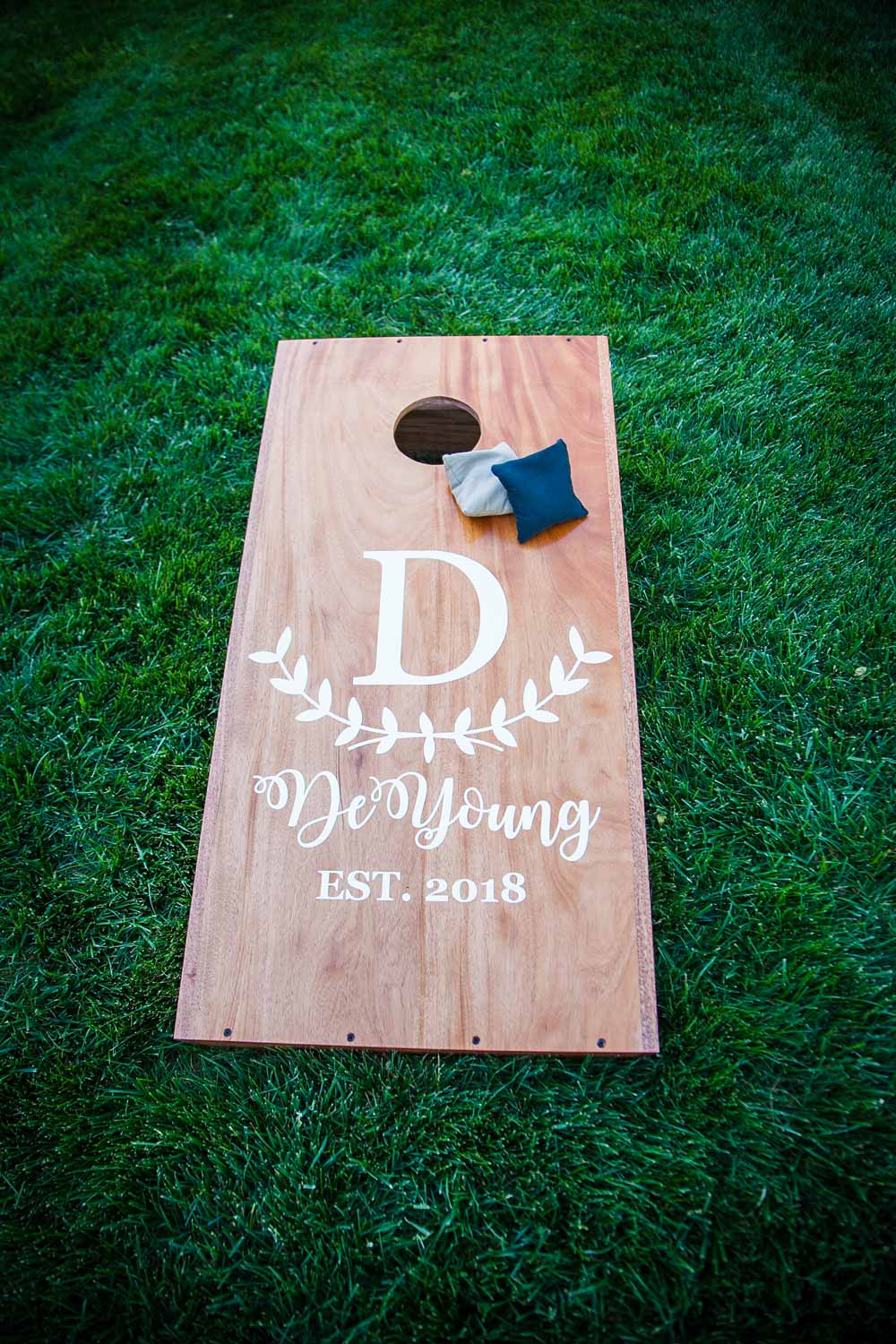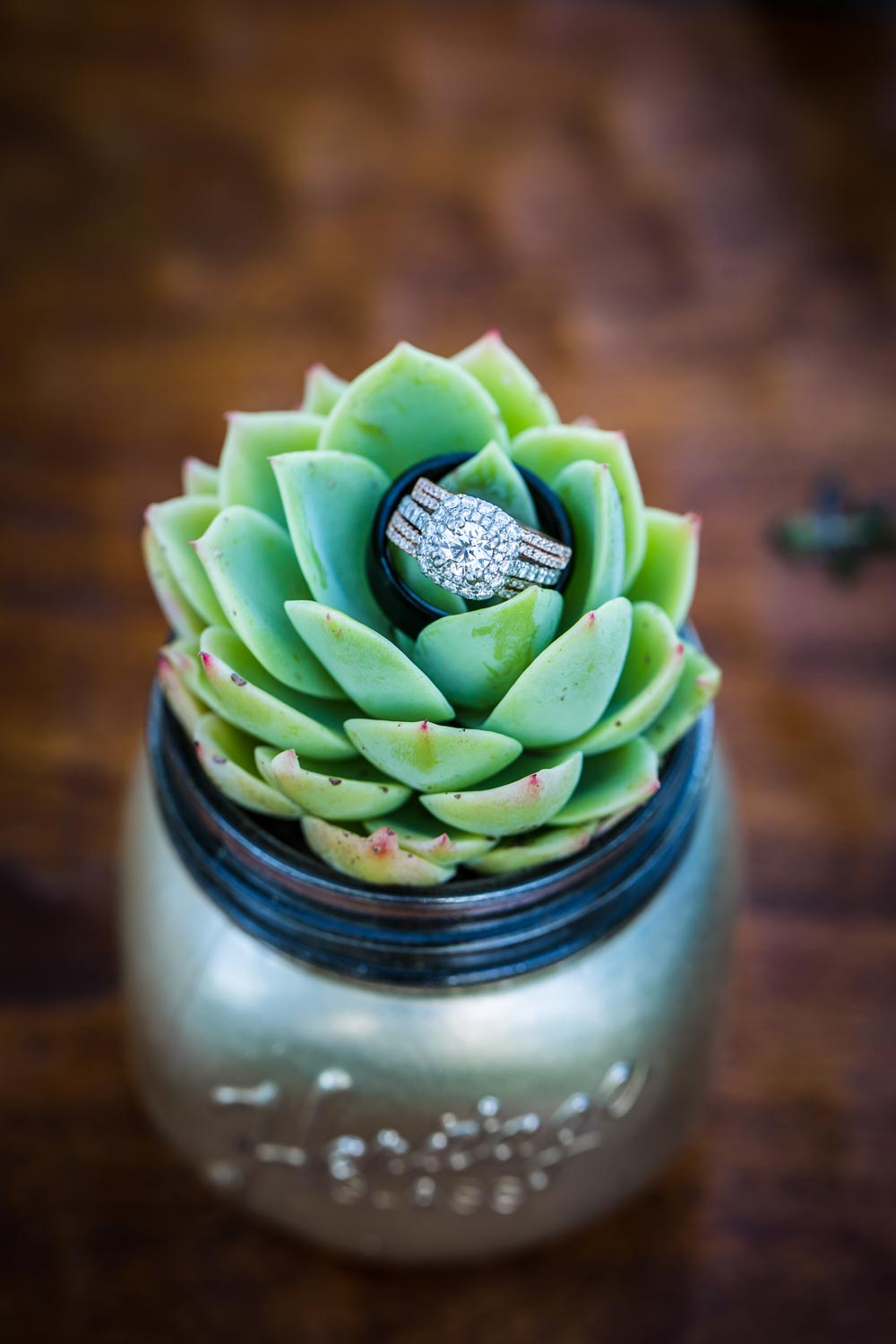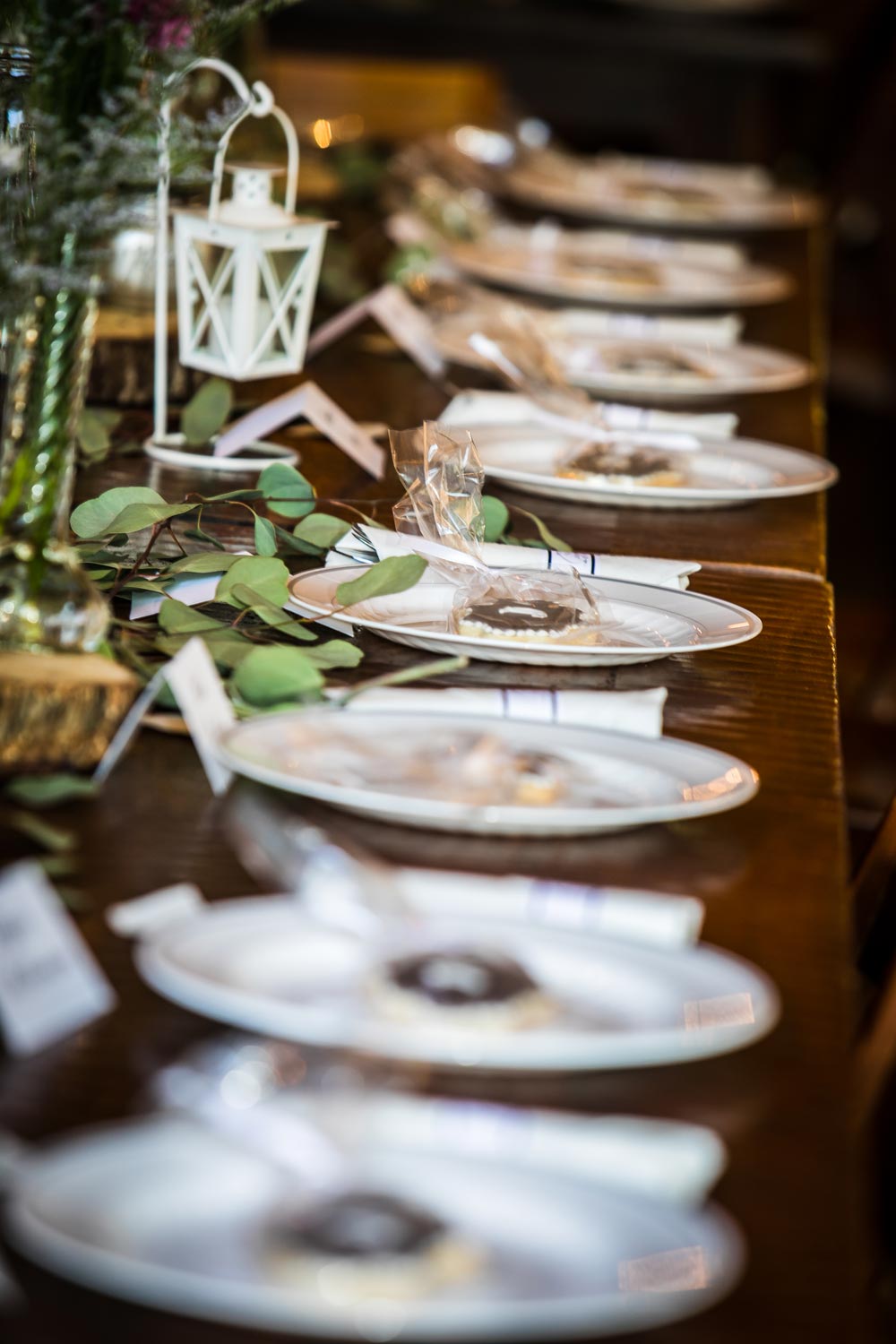 Jenna & Pete, meanwhile, had an ice cream cake to cut. The ice cream cake was Pete's idea, but he didn't think to make sure it would be thawed enough to cut! No problem – they ended up picking the whole cake up and each taking a big bite, then kissing. That made for an unusual first taste!
The dancing started with "Yours" by Russell Dickerson, which the couple felt captured their relationship, followed by a special mix created for the father-daughter dance.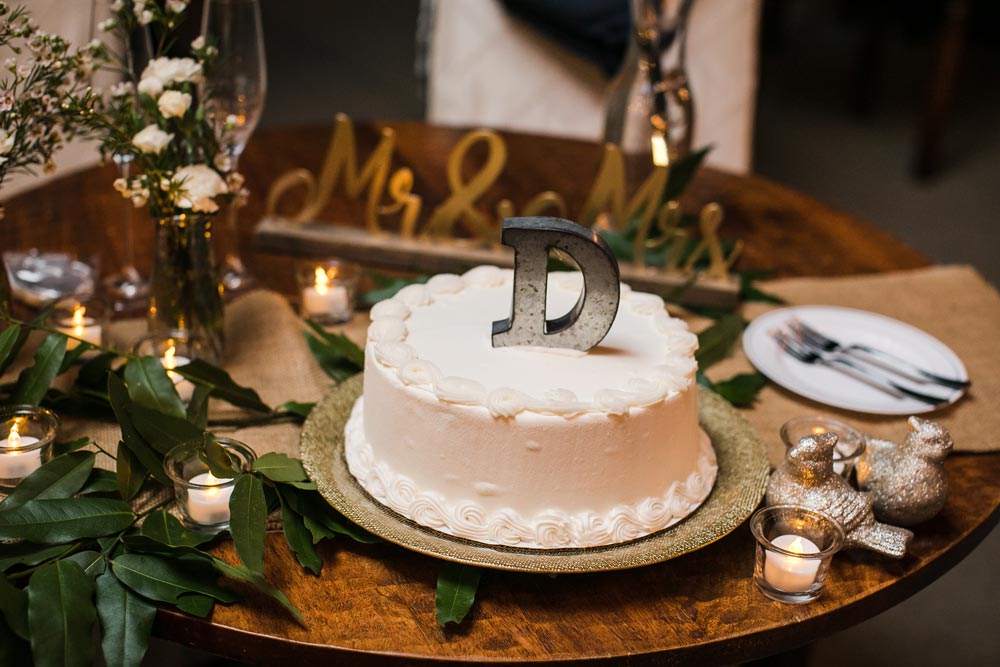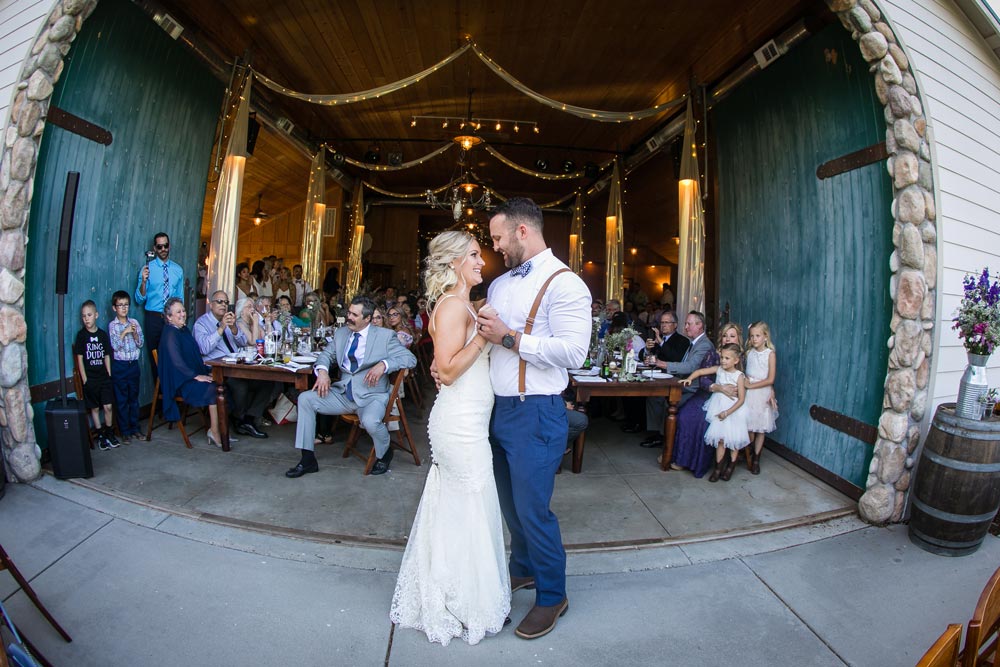 Here's a tip for you ladies: the unexpected moment of the day happened when it was time for the garter toss. Pete was surprised to find a baby bottle of tequila tucked into the garter!
For the rest of the evening, music was a mixture of country, 80's, and modern hip-hop. The DJ kept the dance floor moving all night long, winding up the festivities and surprising everyone by playing Thomas Rhett's song "Die a Happy Man" edited with sound clips from the day's ceremony, toasts, and speeches, creating an everlasting memory which Jenna and Pete now have as a keepsake. Then it was time for the school busses hired for the event arrived to take everyone back to Grass Valley, where one more surprise awaited. Pete had Main Street in Grass Valley lined with our guests holding sparklers upon returning back from the wedding. Jenna didn't have a lot of requests for the big day, but she always knew she wanted sparklers. Since they weren't allowed at the venue, Pete got creative and made it happen. What a romantic guy!
Jenna and Pete tell us, "We couldn't have done this without both of our families. Everyone contributed in some sense and we greatly appreciate it!" And Jenna has this bit of wisdom to pass along: "Truly, the small stuff doesn't matter. As long as you and the guests have a good time, that's all that matters."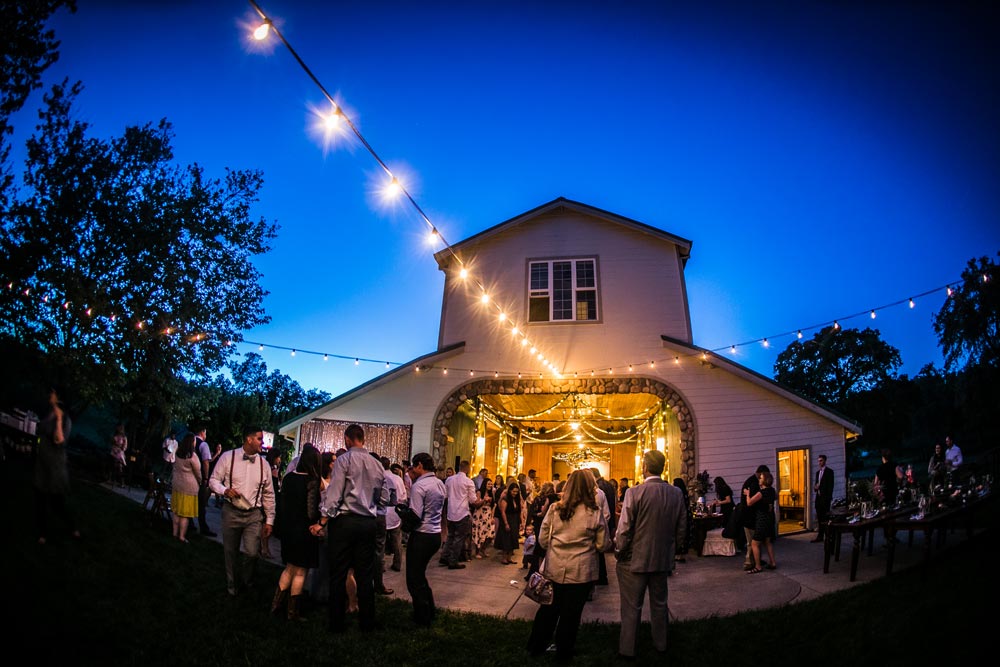 PHOTOS: Bucheli Photography
[VENUE] River Highlands Ranch [REHEARSAL] Maria's [PLANNER] Wild & Lovely Events [CATERING] Ring of Fire BBQ [DESSERTS] Baskin Robbins / The Daily Donut / Pretty Sweet Bakery [GOWN] Bride-To-Be Couture [SUIT] Macy's [MAKEUP/HAIR] Amanda's Aesthetics / Klé salon [ENTERTAINMENT] Creative Memories Entertainment [TRANSPORTATION] Durham Bus Services [ACCOMMODATIONS] Gold Miner's Inn / Grass Valley Courtyard Suites