What could be a better love story than one that starts with good friends and great beer, and ends with a honeymoon on the beach in Jamaica? This one starts with bonding over brews, and Mike and Jeanine have been together together from that day forward.
This modern romance began with Mike's friend Erin who needed a wingman (or more accurately, a wing-woman) at Sacramento Beer Week. Erin put out a call to Jeanine, asking her to "Come downtown for a drink because I'm going out with some guys and I need backup!" Of course, Jeanine couldn't say no, and she showed up.
Mike, a hospital Administrative Services Coordinator was immediately intrigued by Jeanine's firm handshake and her, "unapologetic confidence in herself." Captivated by his stories, Jeanine, an Analyst for the State of California found Mike to be smart and funny. Appreciation of a wry sense of humor was the cornerstone of their attraction. There was plenty of chemistry – Mike says, "Her sense of humor was dark and sarcastic and she made me belly laugh. And it also doesn't hurt that she is drop dead gorgeous." "I loved the light color of his eyes because the sun hit them just right, along with his dark hair" says Jeanine.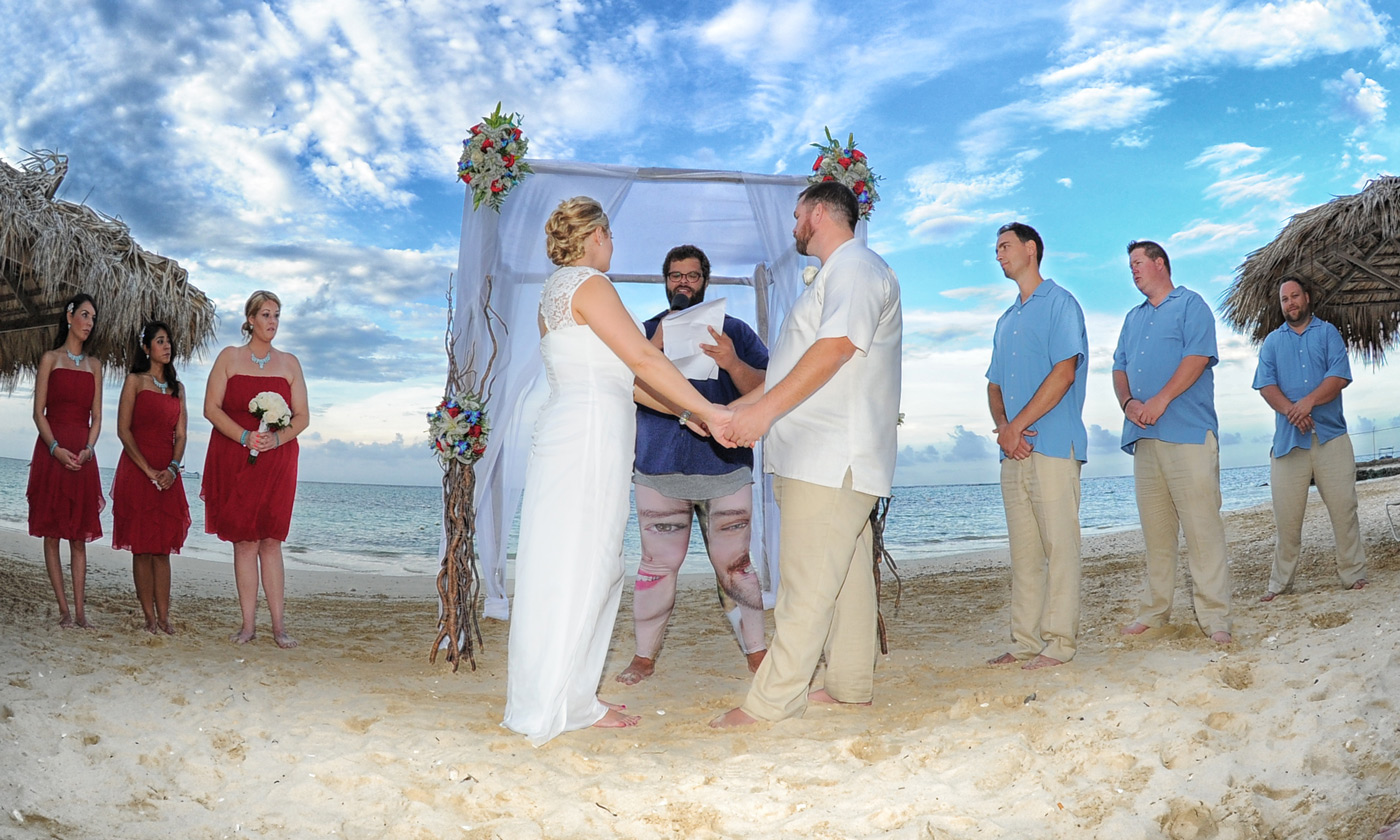 It wasn't long before Mike and Jeanine were inseparable. On an unforgettable trip to Sonoma to celebrate their one year anniversary, Mike decided it was time to plan a memorable and romantic proposal that would be just perfect for Jeanine.
San Francisco in their sights, the lovebirds headed out for a day of diversion. After wandering from the Exploratorium to the Embarcadero, Jeanine wanted to head back to the hotel prior to heading out to what she expected to be a comedy club. But Mike insisted, "just a little bit further." He convinced her to have a bite and a beer at a little restaurant by the water. Out the back of that little restaurant was a small pier which went out into the Bay, and he invited her out to the pier for a picture.
"Anyone that knows Jeanine knows that she has no problem asking questions and saying whatever she is thinking," explains Mike, and just as he had anticipated, Jeanine was asking question after question. He stopped her, paused, and said, "Now, can I ask you a question?" and then knelt on one knee and asked, "Will you be my wife?". Enthusiastically, she said "Yes!" The rest of the day was spent sharing the news and celebrating with their friends.
Planning the wedding brought them to the tough decision: a destination wedding or a wedding close to home? There were lots of considerations in chosing between the fun of a reception close to family and friends and the extravagant intimacy of a beach wedding. They decided on both: a tropical wedding and honeymoon followed by a post-wedding reception when they returned home.
Jeanine mined Pinterest for a wedding dress with an "easy beachy" look, and Mike found the perfect white shirt and linen pants at Sacramento's Tuxedo Den. Travel and accommodation plans were simplified by the couple's decision to book at one of Jamaica's all-inclusive resorts.
One of the great advantages of a destination wedding at a beach resort is that everything is taken care of by the venue: ceremony site, flowers, catering, cake, and accommodations. It also combines the wedding and honeymoon seamlessly.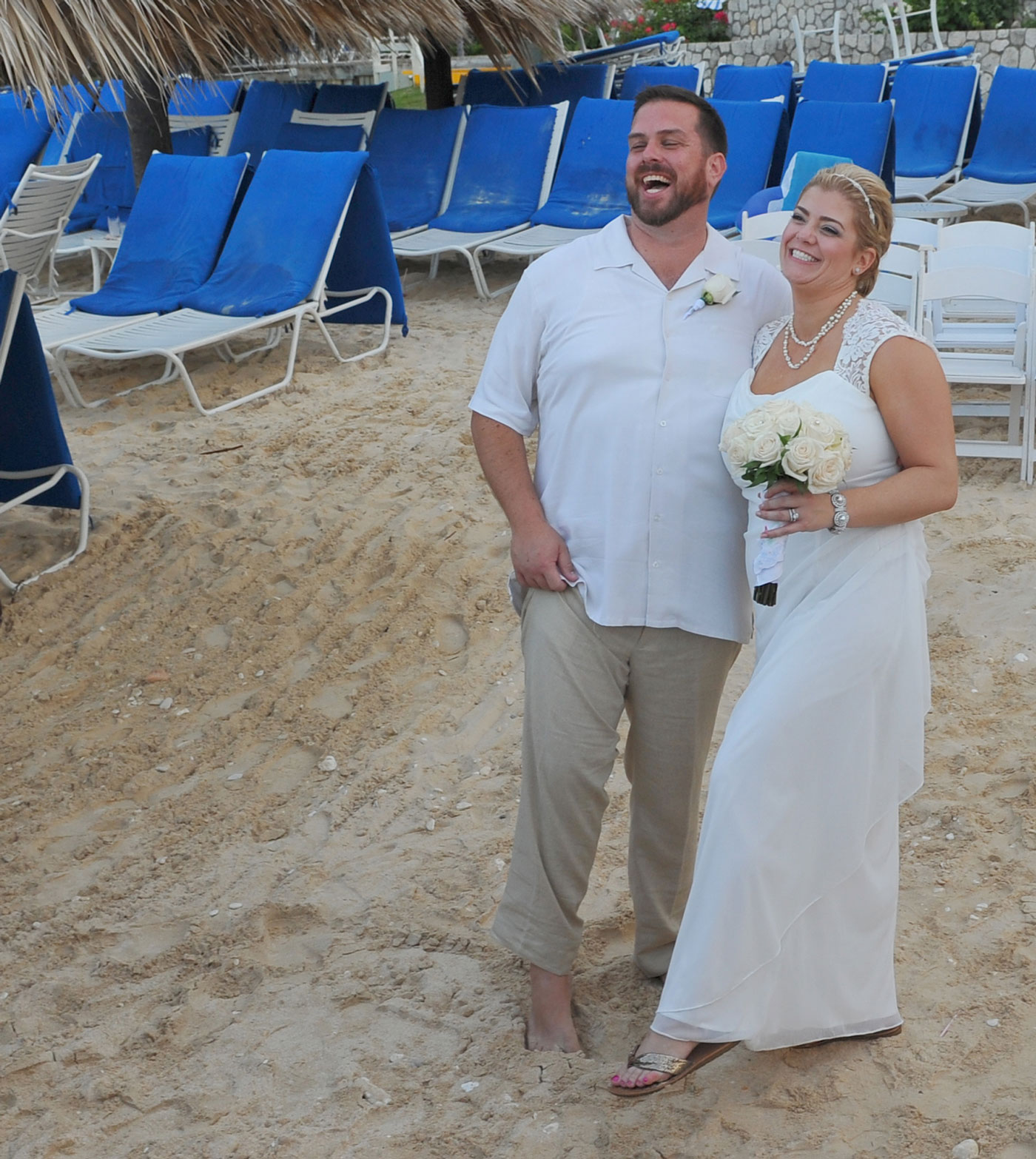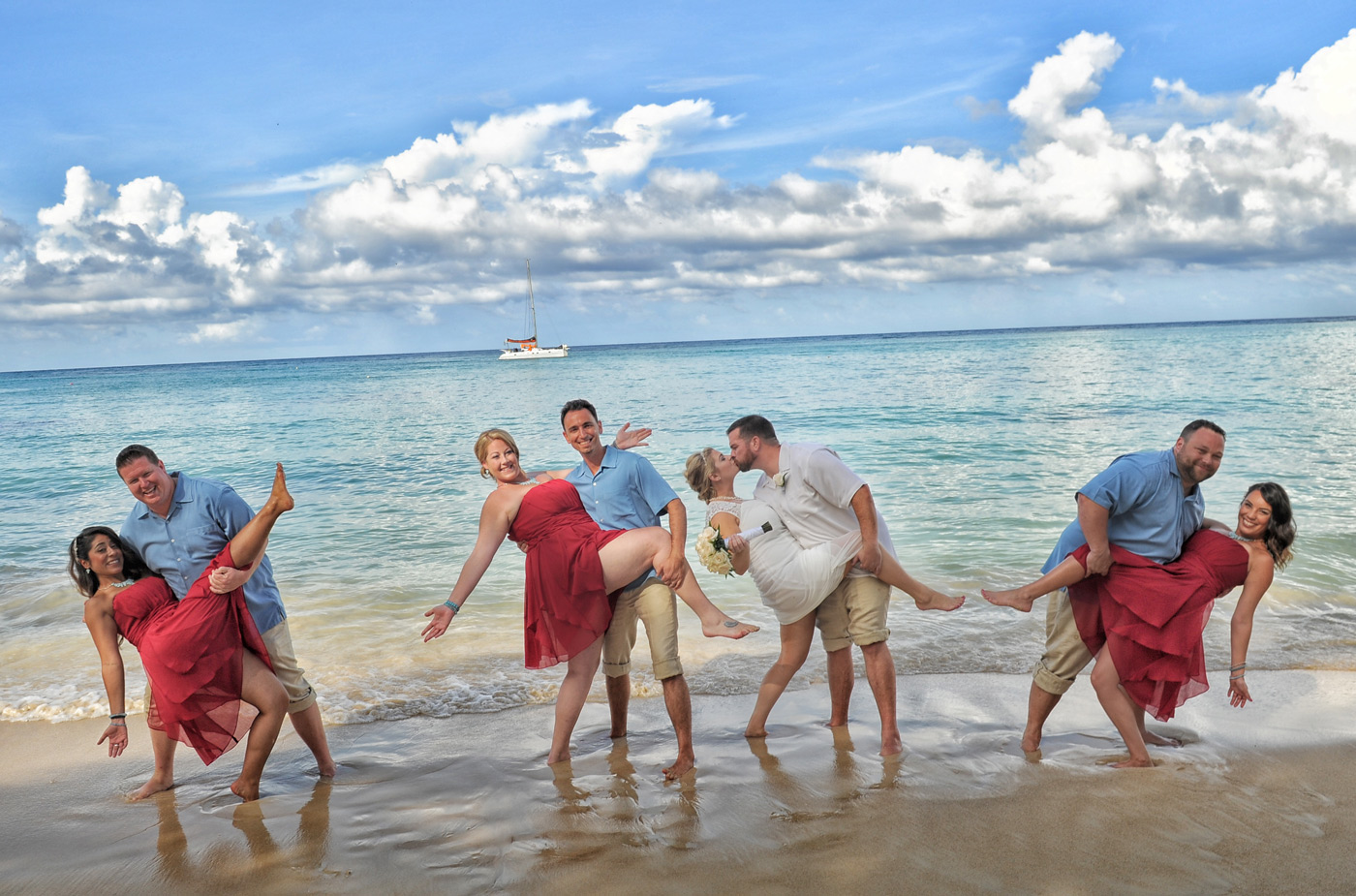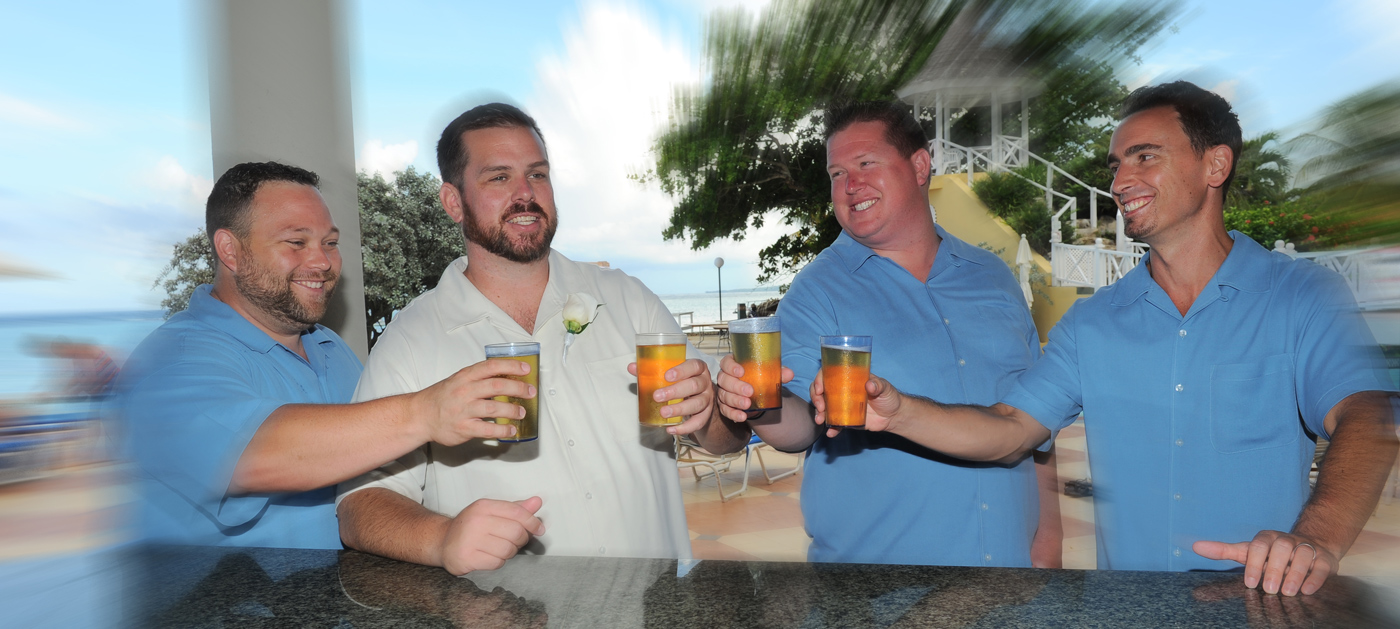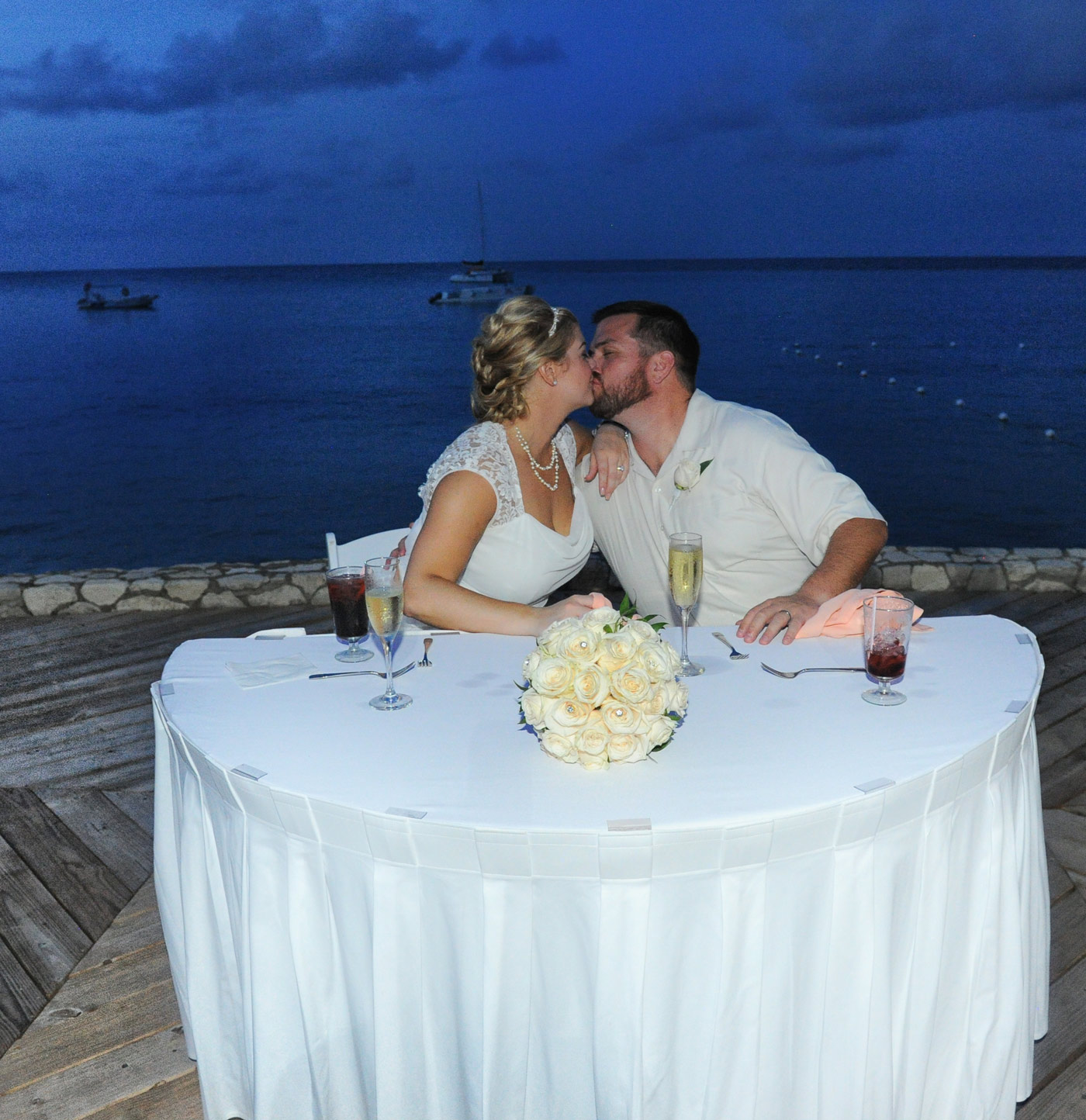 Plans in place, the time for pre-wedding festivities arrived. Mike and his boys headed for "the only city that is worthy of a party this momentous": Las Vegas. The motto was "Hammer's Final Swing" and they were determined to go out in style. The groom solemnly swears that he spent his days there poolside, and his nights crying himself to sleep because he missed Jeanine so much. Not to be outdone by Mike's epic bachelor excursion, Jeanine had two bridal showers with friends and family. And she and her girls headed to Reno for her bachelorette party. Themed "J9's Last Ride", they had a blast dancing, gambling, and hitting the local breweries in the biggest little city in the world.
Then it was on to Jamaica! Mike and Jeanine "set sail" with their friends, family, and to commemorate this once in a lifetime event, Sacramento photographer Amore Fine Art Photography.
Not surprisingly, vowing their love, commitment, and fidelity beachside was done in a light and fun way: Mike's childhood friend Brannon Green, officiating the ceremony, surprised the couple when he began by ripping off his pants! He had created a pair of leggings with each of our faces on each leg, and when he started the ceremony "he ripped away his dress pants to reveal to the entire wedding our beautiful faces!" laughs Jeanine. Now that's a touch that you don't see at every wedding ceremony!
Surprises often make the best moments in a reception. When the party moved to the dining room at the resort, they decided they didn't want to wait for dinner. Instead, Mike and Jeanine returned to their butler suite room and ordered room service. Their butler arrived with housemade pizza and drinks for the couple. They say that it turned out to be the most romantic part of their day, saying, "We were able to reflect on the day, talk about our hopes and dreams, and spend some time with just the two of us. It was perfect." They spent the next few days honeymooning at the resort and headed back home for–what else?– yet another party!
Hosting a reception at in Roseville on a Saturday afternoon, the couple gave those that were unable to come to Jamaica an opportunity to celebrate and wish them well. Jeanine recalls, "Our true reception was a feast, with Pulled Pork & Chicken, Macaroni and Cheese, Potato Salad, Beer, Wine and too many laughs!"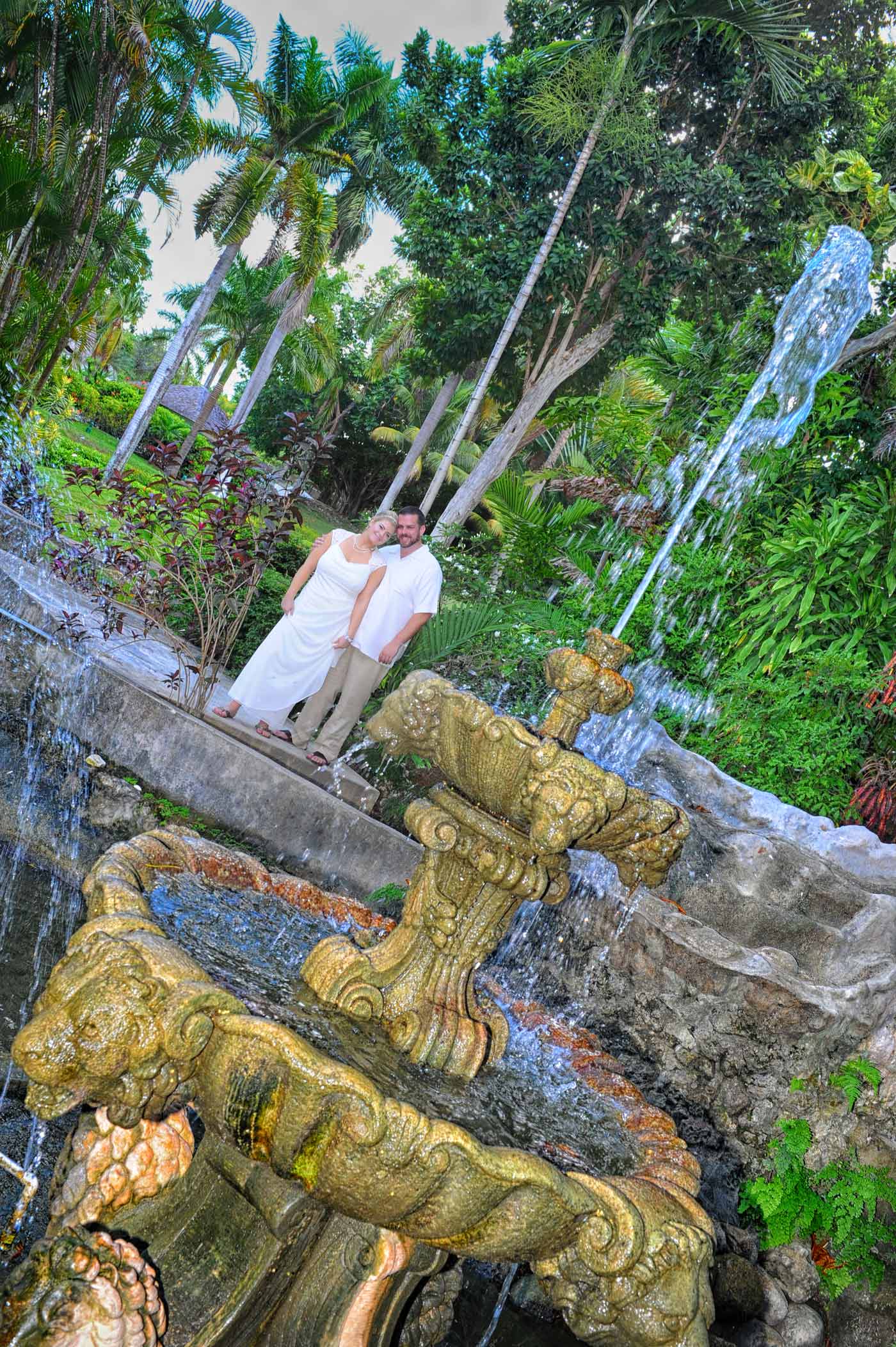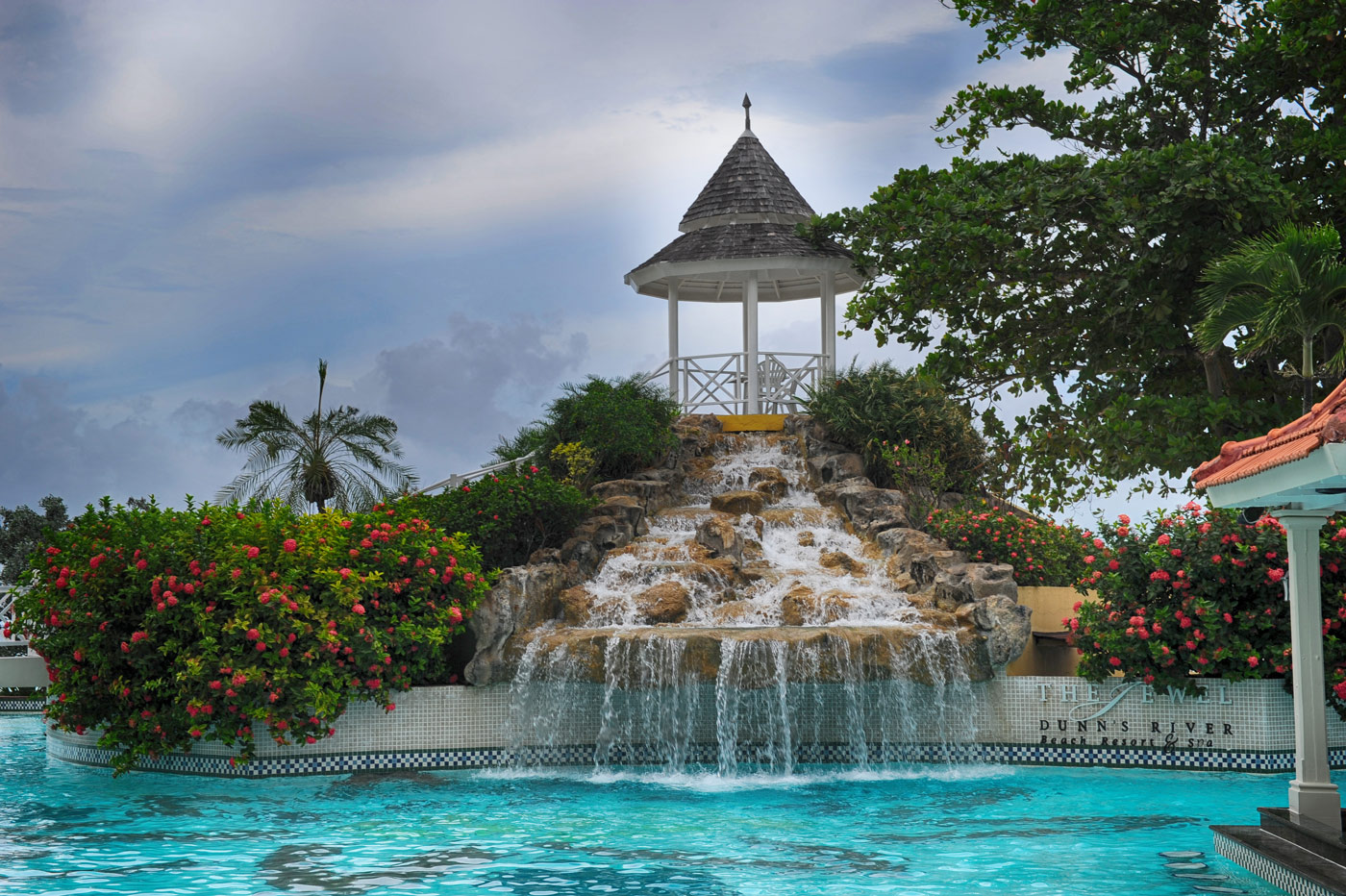 Reflecting, Mike advises grooms-to-be to, "Make sure to have a quiet, cool place where you and the groomsmen can spend some quality time. And don't forget to eat. Make sure to enjoy the ride. You are not going to get a redo of all the fantastic moments." Jeanine also suggests really enjoying the ride. "One piece of advice that truly resonated with me was to take a moment to yourself during the reception, step back and just soak it all in. Look at all the people that have come together to celebrate you, your love, and your wedding and really appreciate it all."
PHOTOS: Amore Fine Art Photography
[GOWN] David's Bridal [TUX] Tuxedo Den [WEDDING VENUE, FLOWERS, CATERING, CAKE, ACCOMMODATIONS] Jewel Dunn River Beach Resort & Spa, Jamaica [CALIFORNIA RECEPTION] Maidu Center Roseville [CATERING] Patrick Stiltner Catering