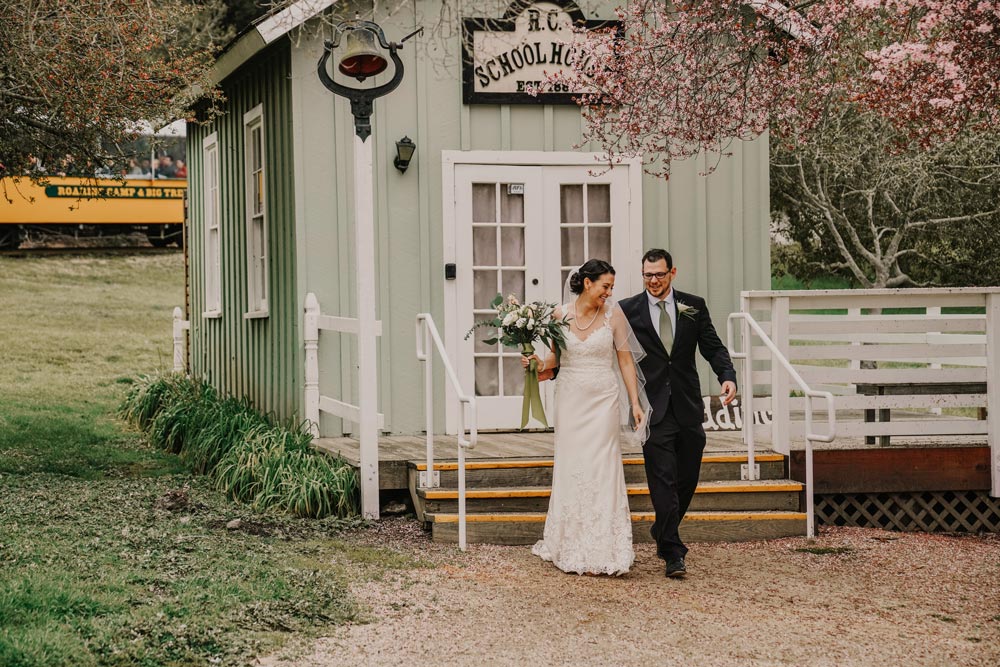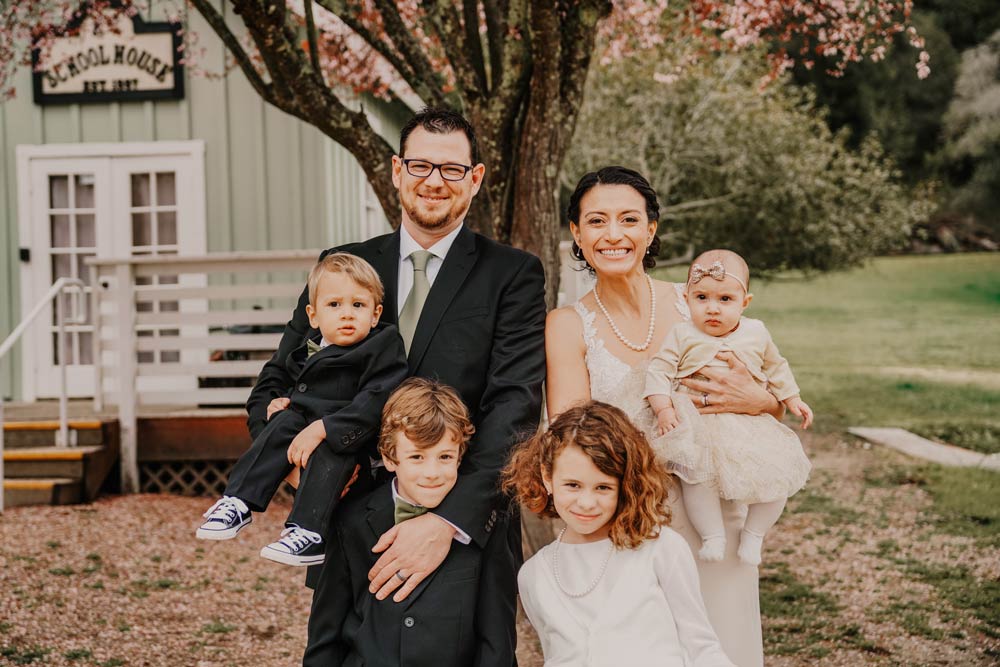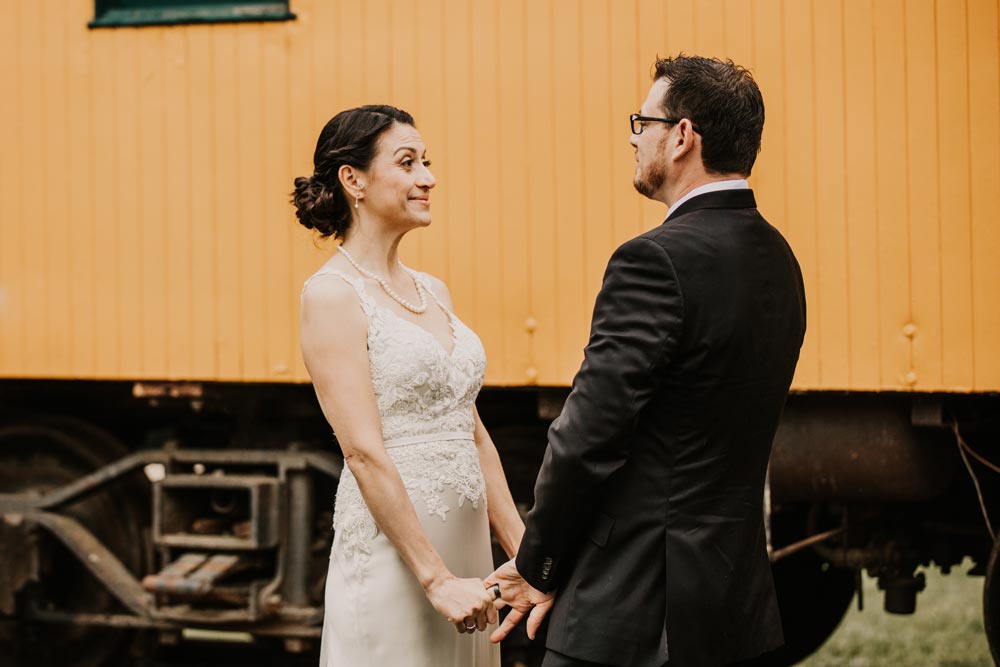 Hackathon. Doesn't sound very romantic, does it? Well, for Facebook employees Jackie and Gabe, this exercise where employees get to work on coding projects outside of their everyday job led to a beautiful story.
It was late and Jackie was ready to call it a night, but the sound of music and laughter drew her upstairs where she met a friendly guy named Thang, whose team was putting the finishing touches on a makeshift bar. He offered Jackie the bar's first official drink, and the post-hackathon party was on! Along the way, Thang introduced her to his friend Gabe.
Jackie and Gabe hit it off, and in the weeks that followed, their friendship bloomed. Brief conversations turned into morning hellos and check-ins through Facebook messenger, and then one day, a hug. Not just a "friends saying hi" hug, but a hug filled with emotional hunger and a need to connect.
Gabe knew they fit. Perfectly. But Jackie wasn't convinced. Gabe was a single dad, and starting a relationship that came with with two kids scared her.
Time went on, and one day a few months later, Gabe invited Jackie to join him for a sunset bike ride, which led to dinner and dancing. At the end of the evening, Gabe asked Jackie if he could go back to her place with her and she agreed reluctantly. She recalls racing her bike through the streets of San Francisco, hoping Gabe would fall behind. But Gabe, a capable cyclist, kept up easily.
They spent the rest of the night and the next morning cuddling and talking about life, pain, hopes, and dreams. Gabe even got his first kiss from his new sweetheart. Dating followed, and it wasn't long before Jackie was ready to meet Gabe's kids, Dani and Matthew.
The occasion was Matthew's third birthday. Jackie brought bubbles for the birthday boy and they all enjoyed the day at the park. Now, to this point Gabe and Jackie hadn't talked much about their future as a couple. Starting a family in this way was never in her plans, but then something happened that gave her second thoughts. While Gabe was off getting food, little Dani laid her head on Jackie's lap and said that she 
loved her.
Despite all of her her reservations, the barrier around Jackie's heart crumbled a little bit in this precious moment. But as much as she enjoyed her time with Gabe and the kids, Jackie still resisted getting more involved, even breaking off the romance twice. Her friends urged her to keep it going, while Thang encouraged Gabe to be patient. Eventually, about a year after they first met, she took the big step and decided to move in with Gabe, and somehow, it was only then that she realized he was everything she had been asking the universe for.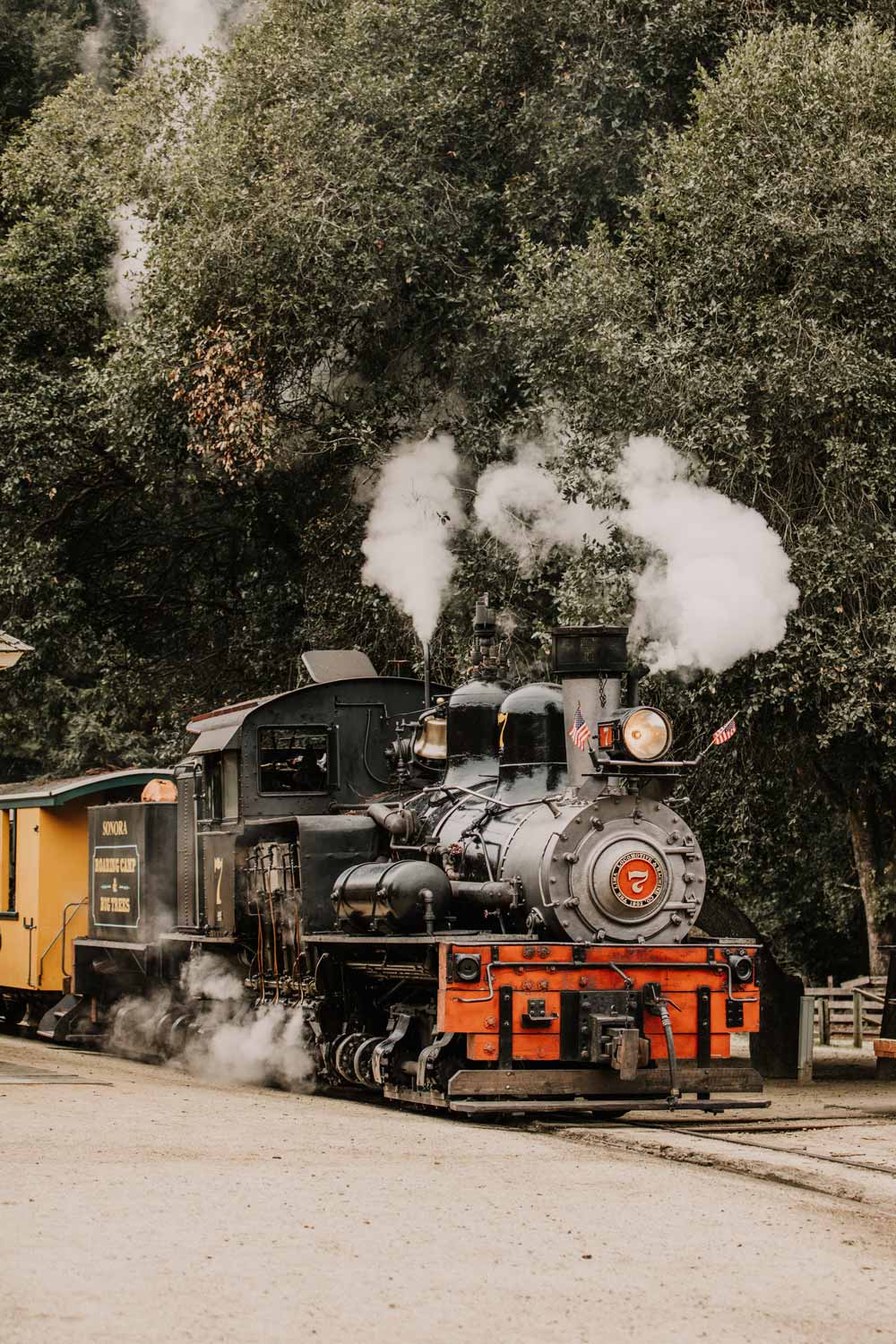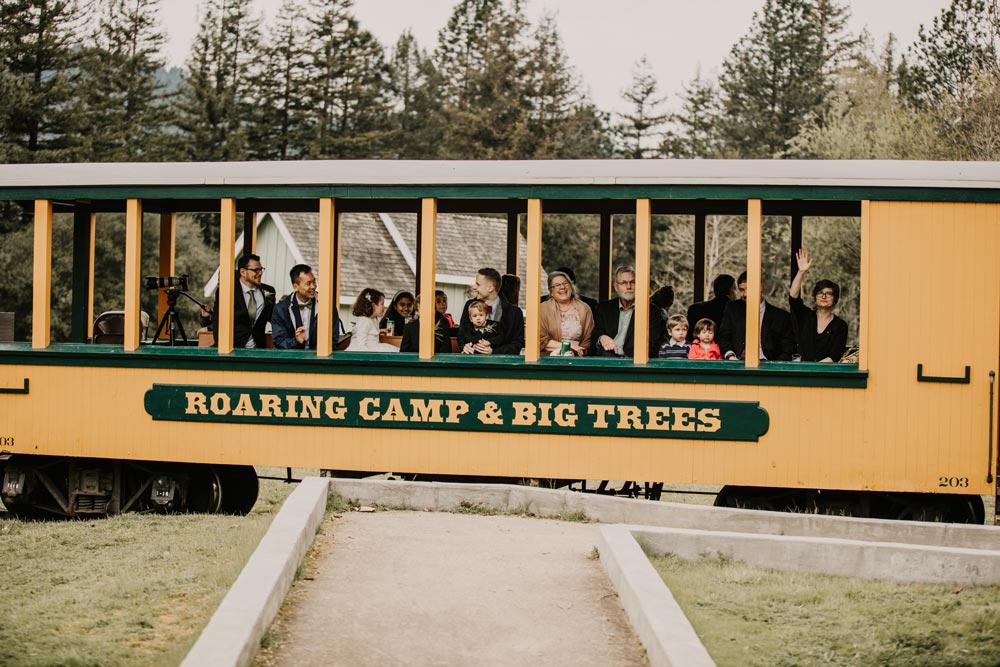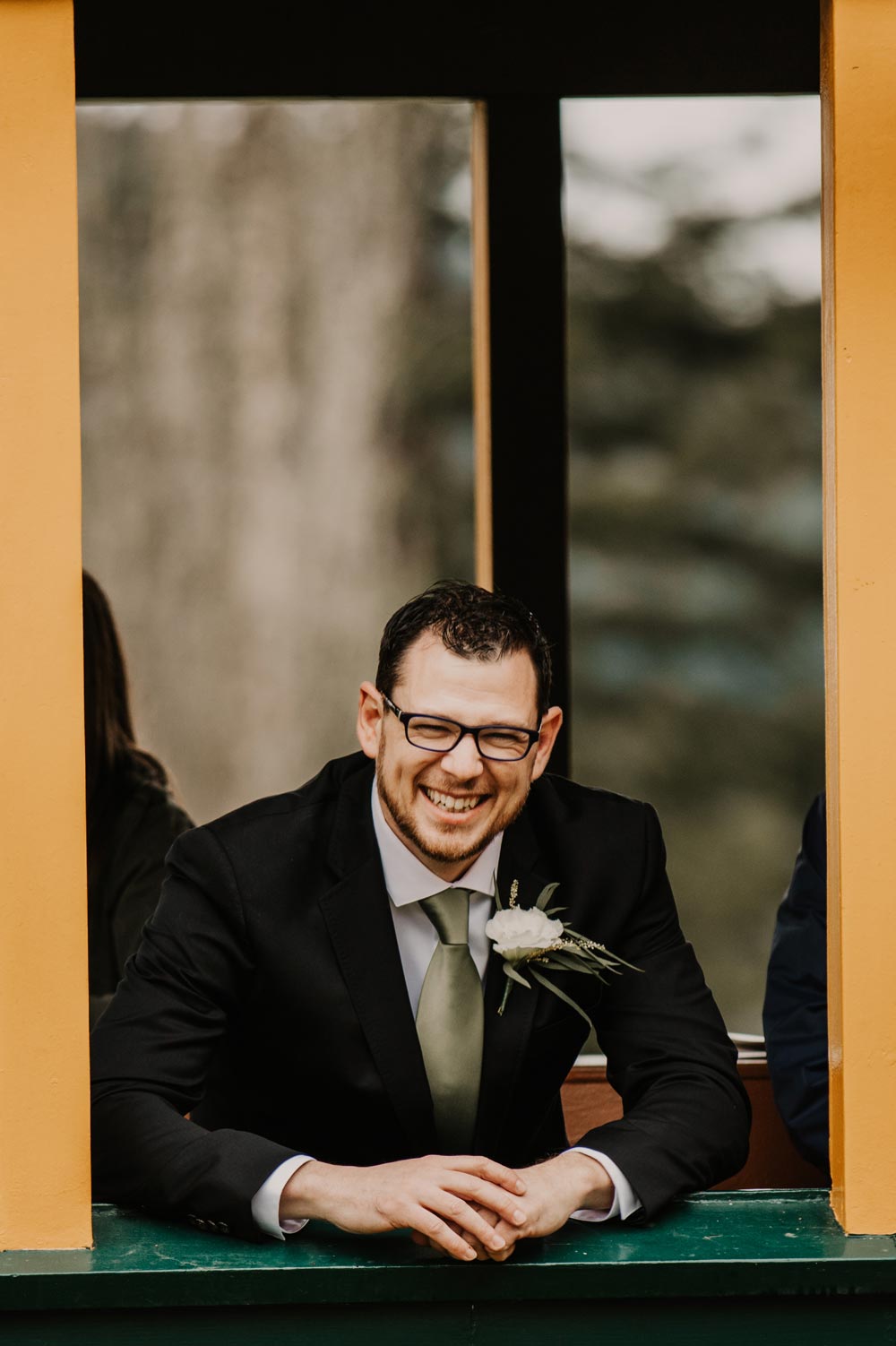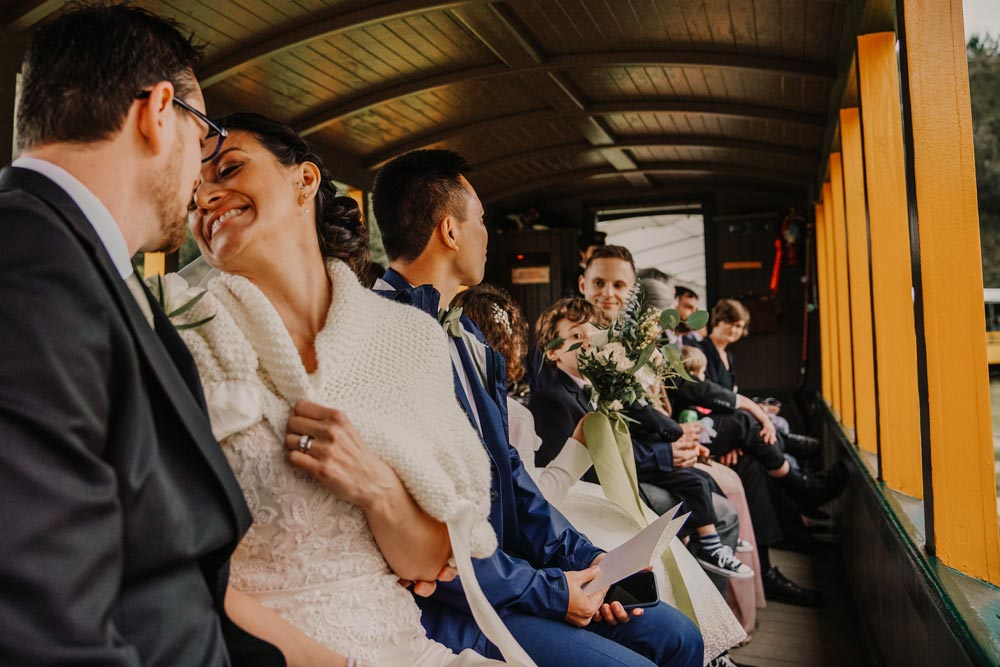 Gabe had taken to calling Jackie by the nickname "J" because he saw her as a wild spirit, just like a wild bluejay. Beautiful, with an "I own this room" presence, and willing to take flight in a second if things didn't feel right.
On the day he was ready to propose, he took his unsuspecting girl for a walk through the redwoods. As the walked along the trail hand in hand, they came to a spot where they found a bench placed for admiring the scenic view, amidst bushes full of noisy bluejays. Gabe knew immediately that this was the spot, and the bluejays were a sure sign that it was time!
He suggested that they sit for a minute, and had just started in on his prepared (but not quite memorized) speech when Jackie stood up and started off down the trail. His "J" was taking flight! He couldn't let this moment pass!
Jackie's Facebook post from the next day finishes the story: "Gabe grabbed my arm, said my name and got down on one knee. I looked back and instantly said "You're kidding!" but he pulled out a ring and asked me to marry him. I instantly said yes and stood there hugging him, happy and grateful that this amazing man wanted to spend the rest of his life with me and we had found each other."
"A little later, we came back to the same bench and sat down. I laid my head on his shoulder and imagined us sitting like that years from now, when our children are grown and we still have each other."
A return to the redwoods to exchange vows surrounded by Mother Nature was the couple's plan.
Gabe recalls, "The part I love re-living is picking Jackie up from the schoolhouse for the train for the ride to The Cathedral in the Redwoods. Our train left the station with our guests seated in the forward cars and the wedding party in the last car with me. The train pulled around to the front of the schoolhouse grounds and came to a complete stop. The tracks curved around the grounds so guests had a perfect view. I hopped off and started towards the schoolhouse where Jackie was waiting. Everyone on board started to realize what was happening. I knocked on the door, and when it opened my immediate thought was, 'She's the most beautiful and amazing woman I've ever seen in my life.' She was crying as she jumped into my arms. We embraced tightly for a moment. Then I started to lead her to the train and she took my arm. It was such an incredible feeling, walking to the train together as our family and friends cheered us on. The train ride to The Cathedral in the Redwoods that followed was just pure bliss."
It was important to Jackie that her wedding gown would be comfortable and that it would match her natural style. "There were so many things I loved about it. The top had these beautiful flowers and leaves that flowed down below the waist. It was perfect for a ceremony held out in nature." She and her handsome groom had their day captured by Jeff Hall Photography, whom Jackie and Gabe can't recommend highly enough, saying "We use him for everything now!"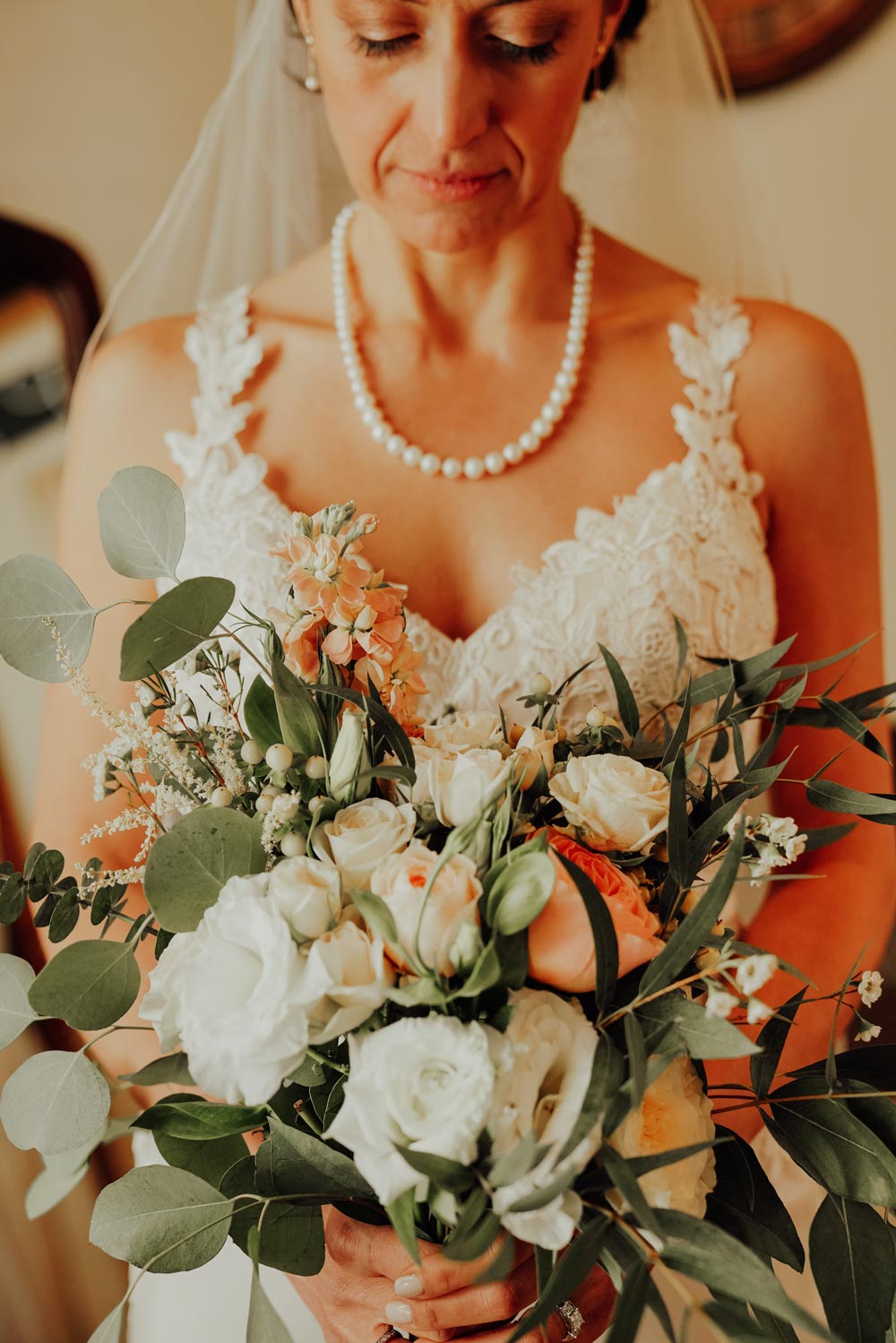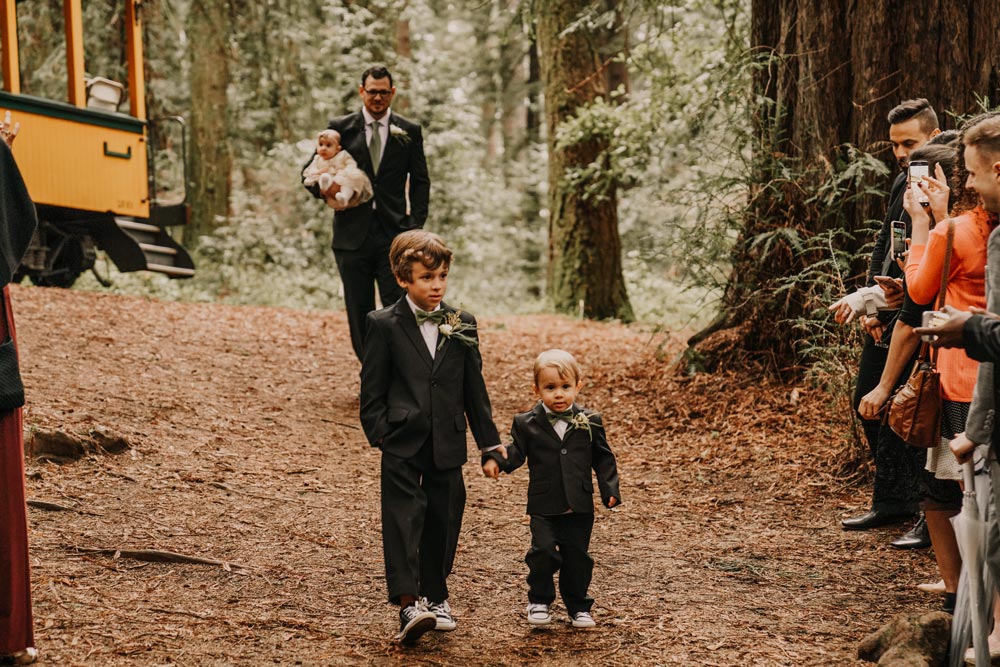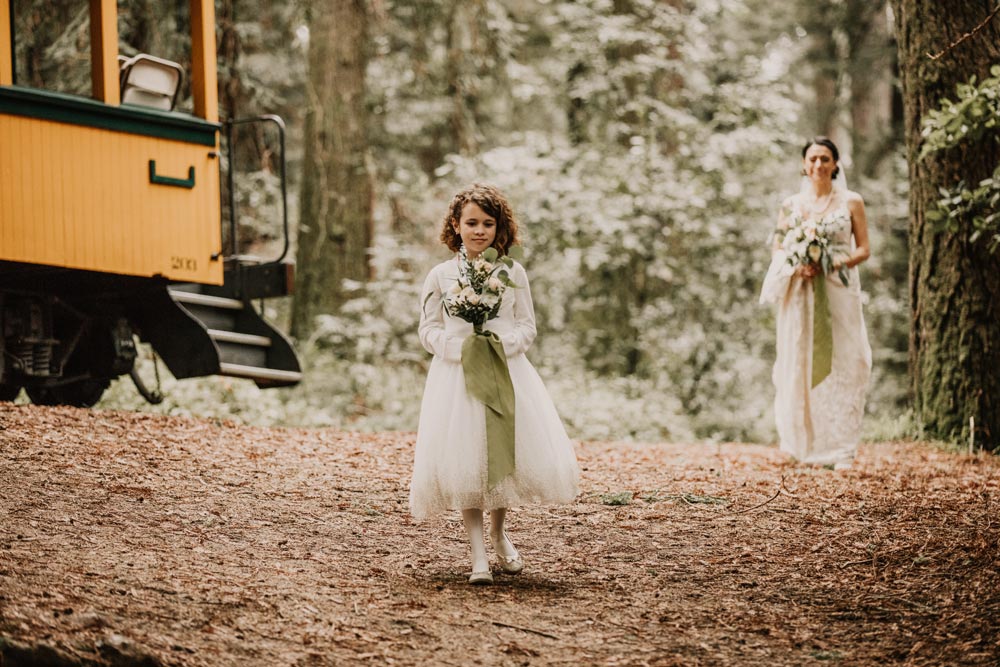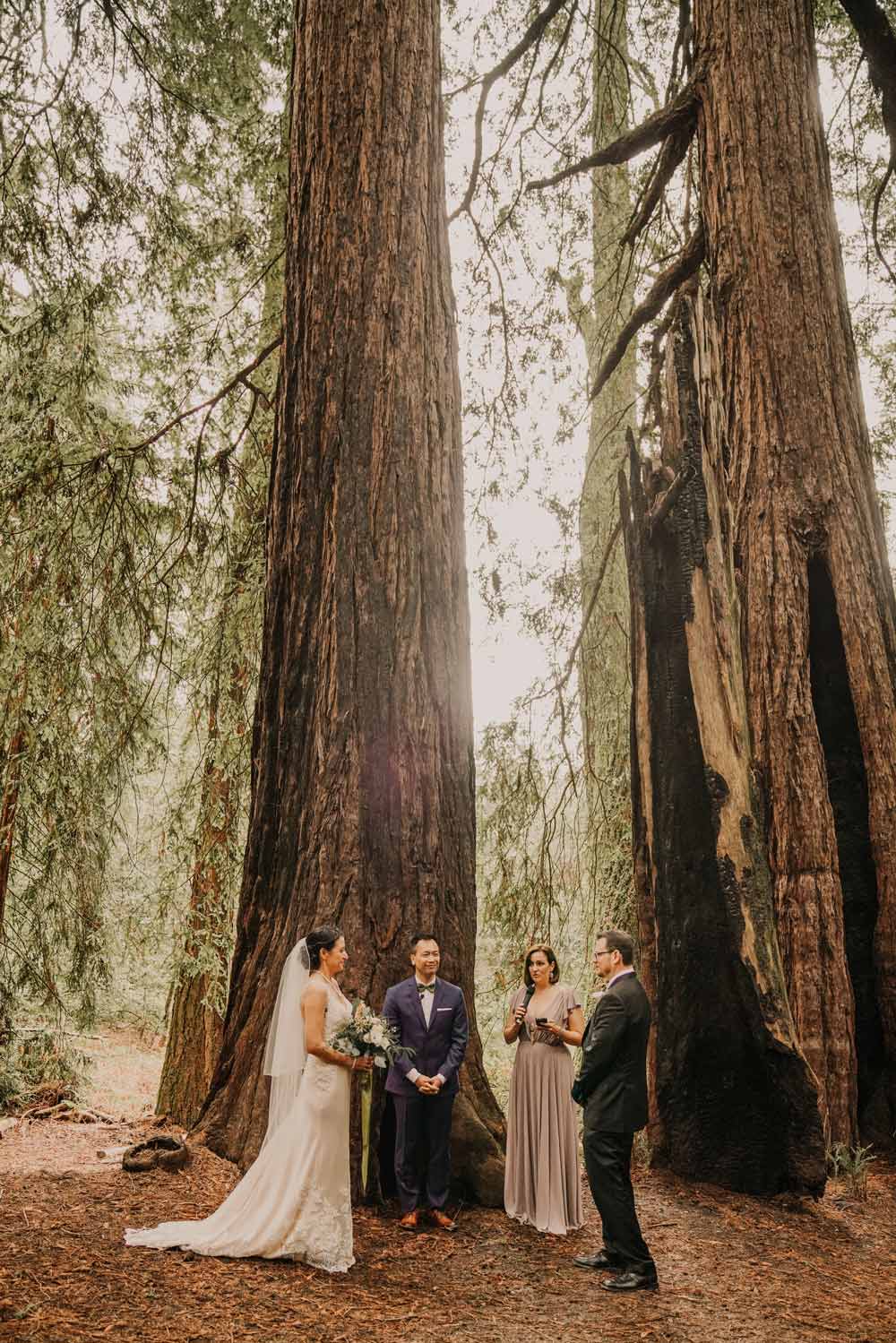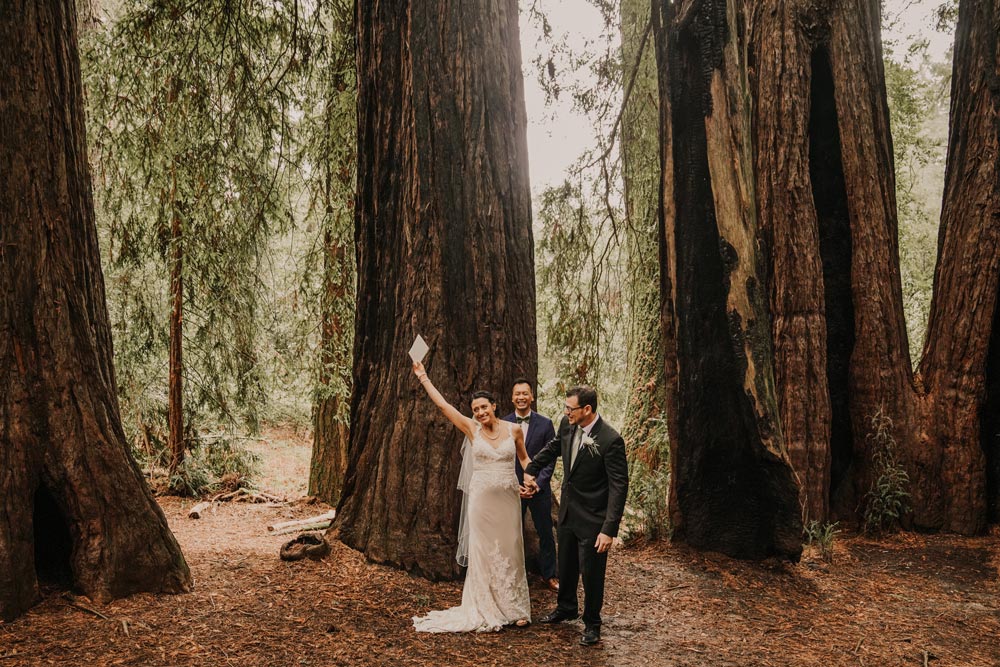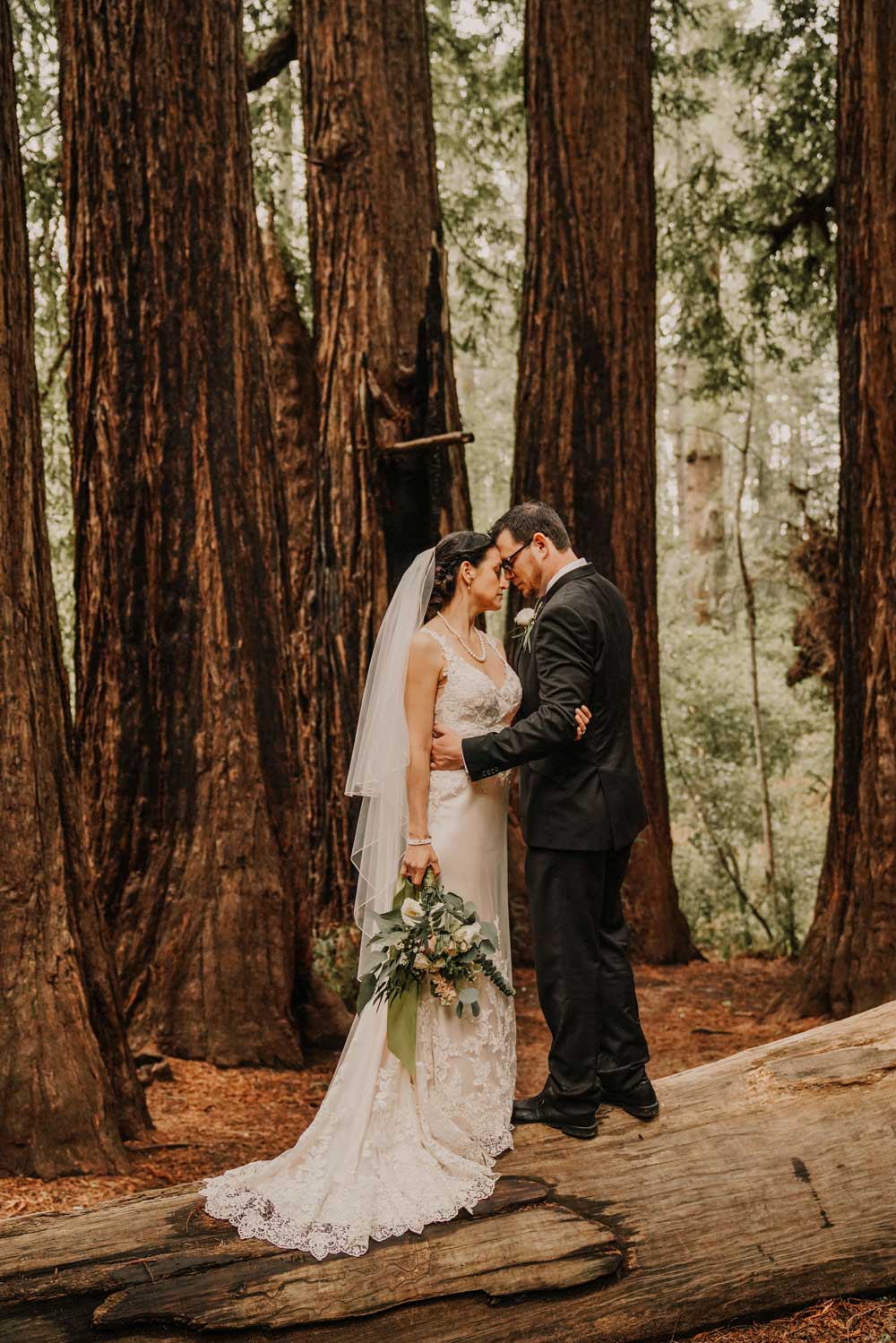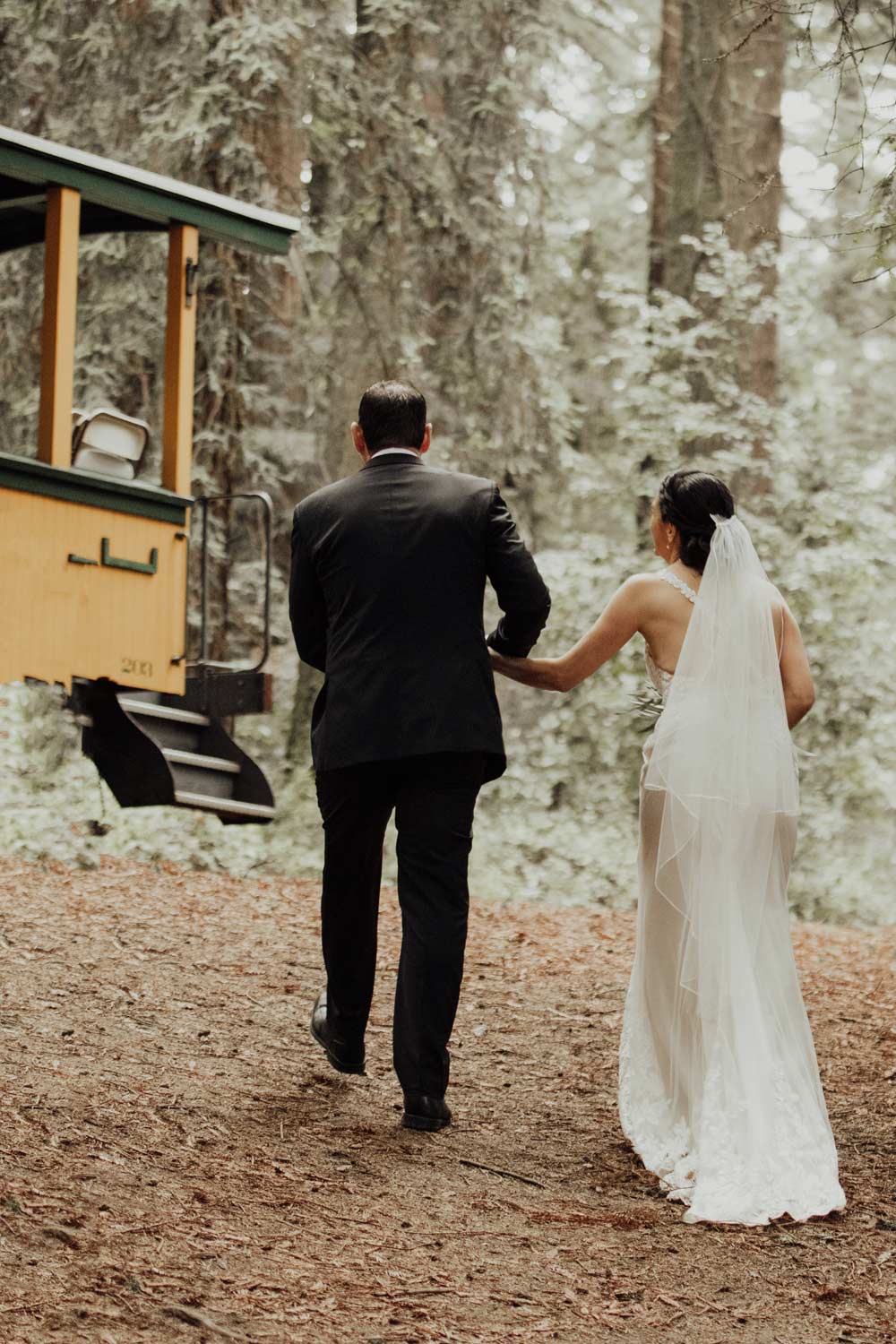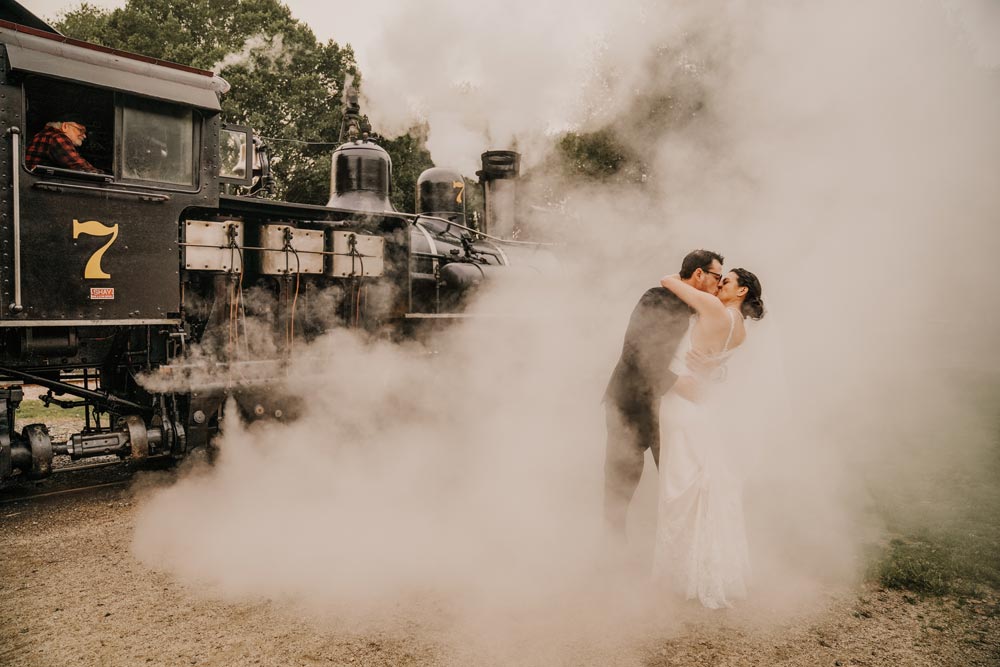 For a guest book, they had a polaroid camera and gold sharpies. "People could take polaroid photos and leave us a message next to their picture. It is so fun now to look through the guestbook!"
When it was time to exchange vows, "No one else in the world existed during that time. It was just the two of us with our hearts ripped open and exposed to the very core under a beautiful canopy of Redwood trees."
"After the ceremony, we just wanted people to eat, dance and have fun. We love to party, so we wanted our wedding to be a big party without the formality of most weddings. We wanted people to eat whenever they felt hungry, especially during and after dancing. We had a table with appetizers and a taco truck offering chicken, steak and veggie options, killer guacamole, and sides of rice and beans. People LOVED the taco truck! And for dessert, six flavors of cupcakes in a beautiful display."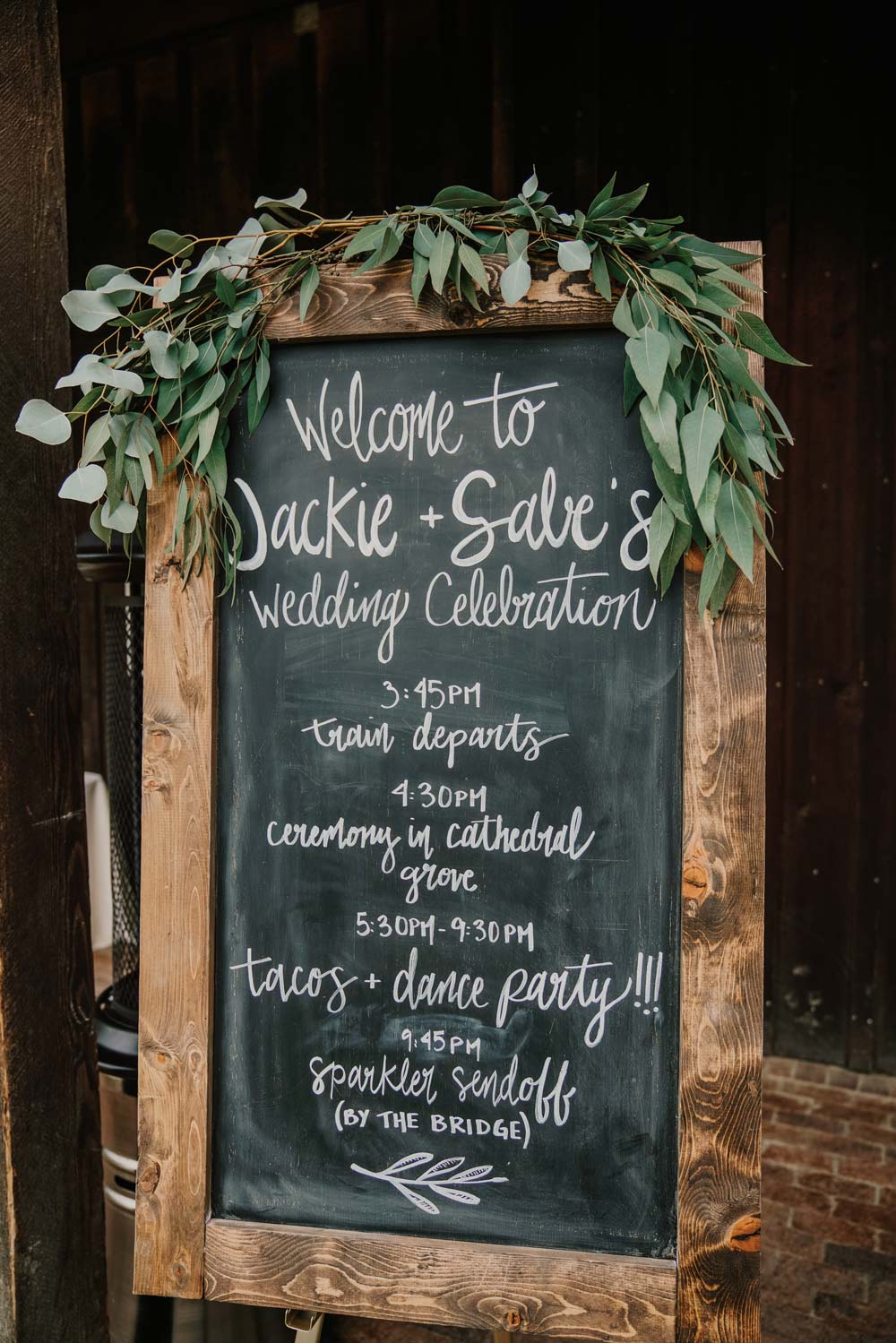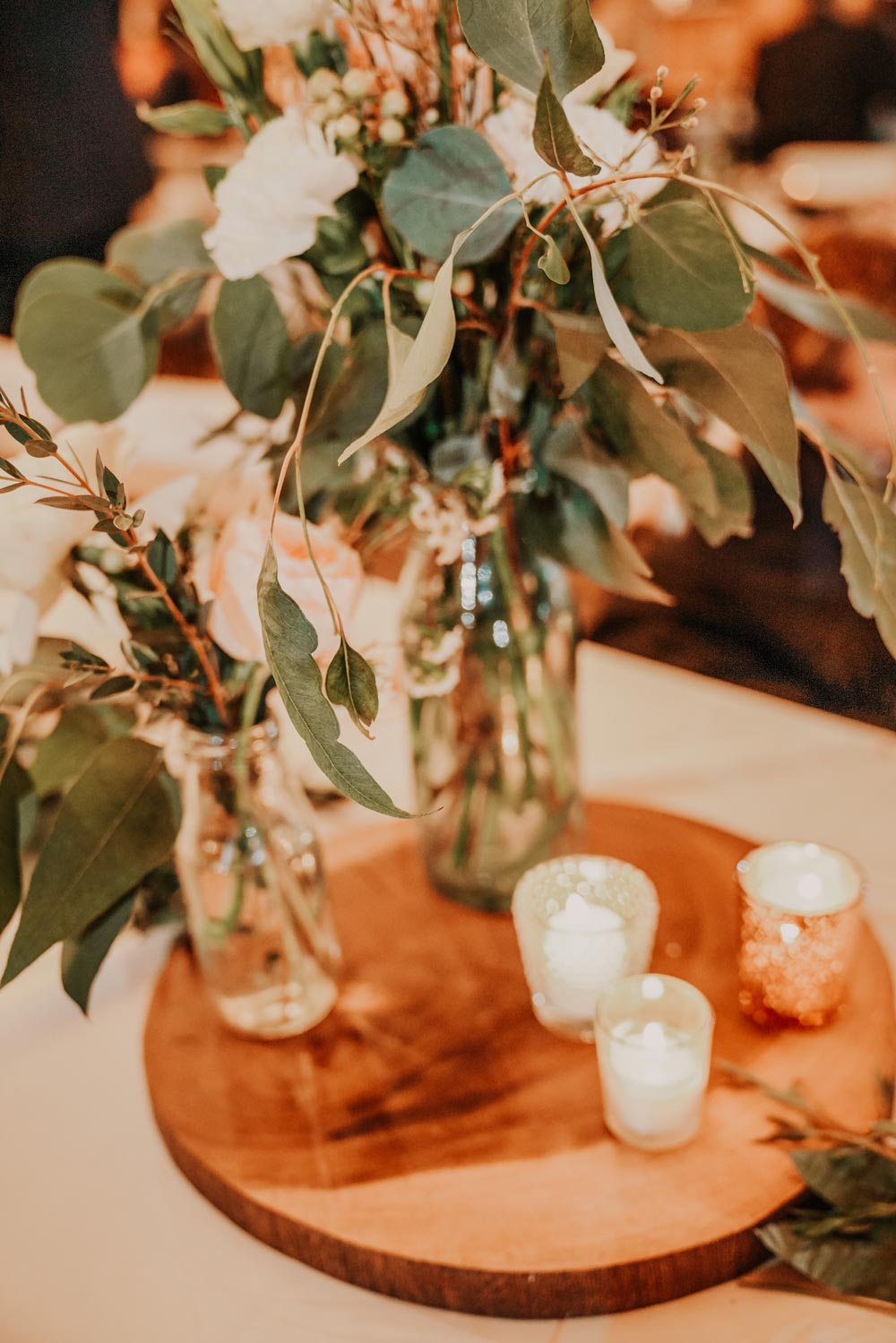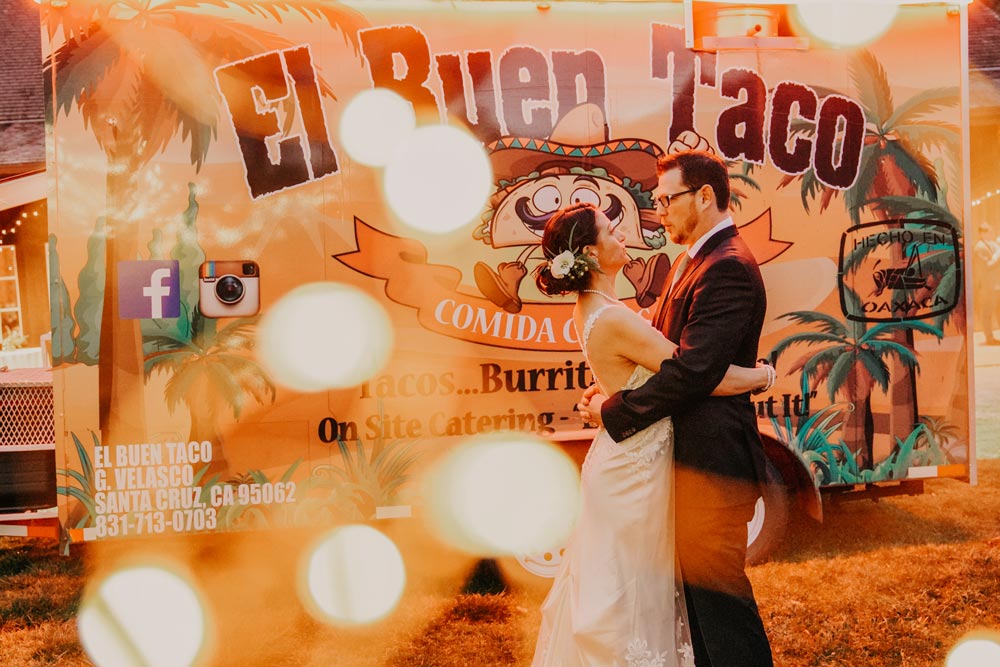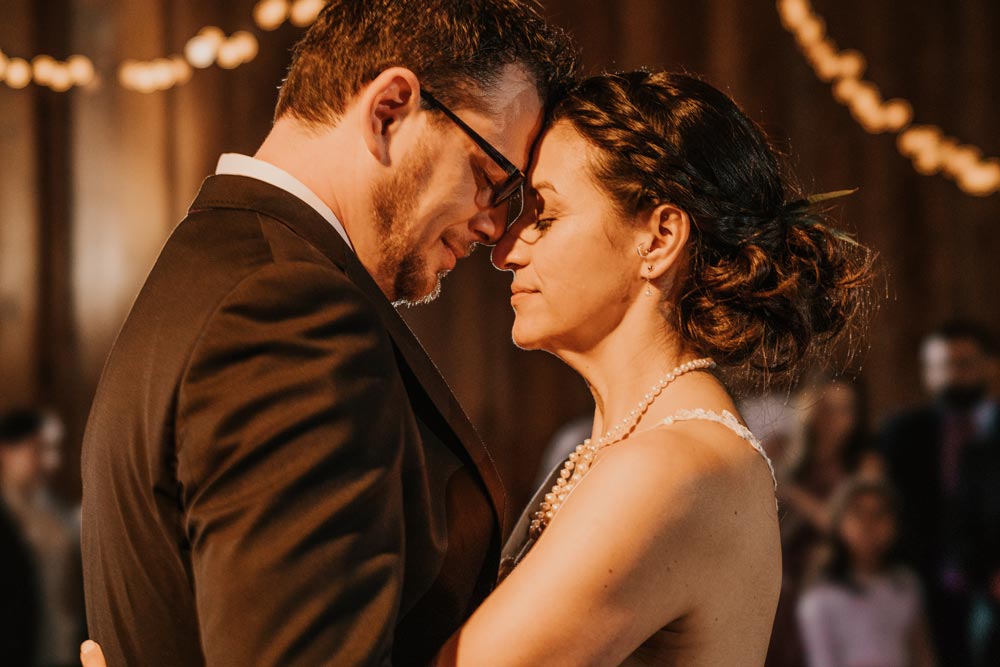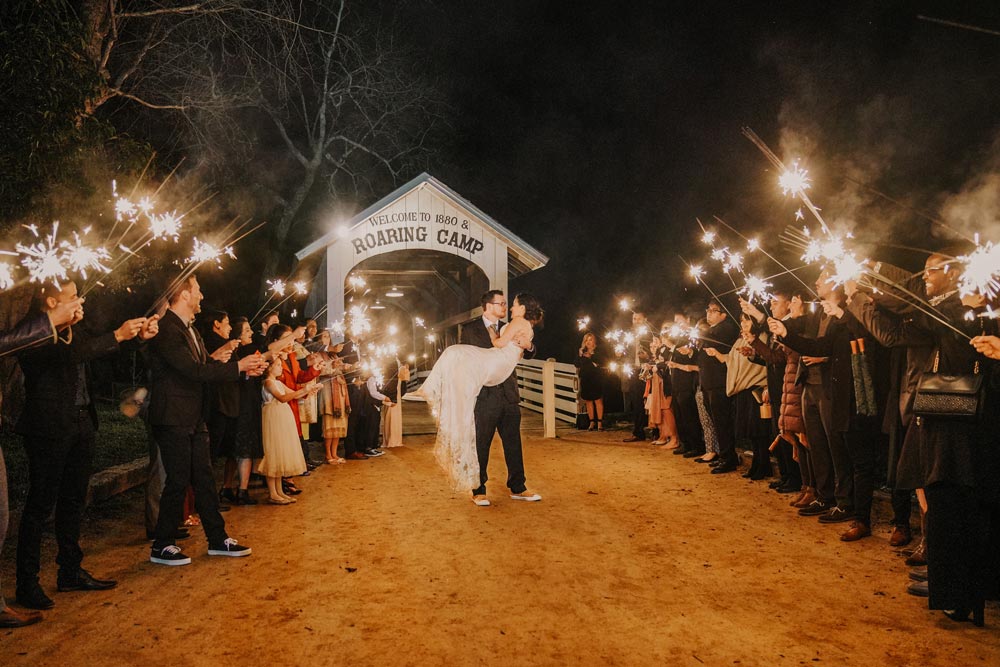 Of course, the first dance is always a special moment at any wedding. The song for Jackie and Gabe's first dance was "Live in this Moment" by Kakou, followed by "Blended Family (What you do for love)" by Alicia Keys and A$AP Rocky, celebrating the new family that this marriage created. The rest of the song list was a collaboration of the couple and their guests.
After it was all over, Jackie and Gabe enjoyed a honeymoon spent "hanging out at the hotel pool with our kids, basking in their happiness and our love."
PHOTOS: Jeff Hall Photography
[VENUE] Roaring Camp Railroad [PLANNER/FLOWERS/CAKE] Jenni Grubba Events [VIDEO] Wheel Up Productions [RENTALS] Alexis Party Rentals [CATERING] El Buen Taco, Kiss Catering [CUPCAKES] Dessert First Bakery [GOWN] Rin's Bridal [HAIR/MAKEUP] Stylebee [SUIT] Nordstrom [DJ] Sound in Motion [TRANSPORTATION] The Santa Cruz Experience [ACCOMMODATIONS] Dream Inn Santa Cruz