For one longtime couple tying the knot, there was no place like home…
Sarah and Brian don't mind marching to the beat of their own drum. Vibrant and confident, the newlyweds share a passion for animals, movies, family, and one another. So, when it came time to turn their eight-year love into a lifelong gig, there was no doubt the wedding would be as charming and unique as the couple themselves. "We really wanted to make it our own," says the groom. "It was important to us that the day wasn't like anyone else's and that it completely reflected us as a couple."
It was a wedding over a decade in the making. Brian and Sarah first met as high school students. Even though Brian was dating someone else at the time, the spark was instant. "I remember the moment she walked in," Brian recalls. "I can remember exactly what she was wearing…Sarah struck me right away."
Sarah also felt an instant connection, but was disappointed to learn that Brian was in a relationship. Eventually, Sarah completed college and moved back to Woodland. When Brian came home for a visit, he took the first step. "He tempted me with concert tickets – front row – to come down and visit him in LA," laughs Sarah.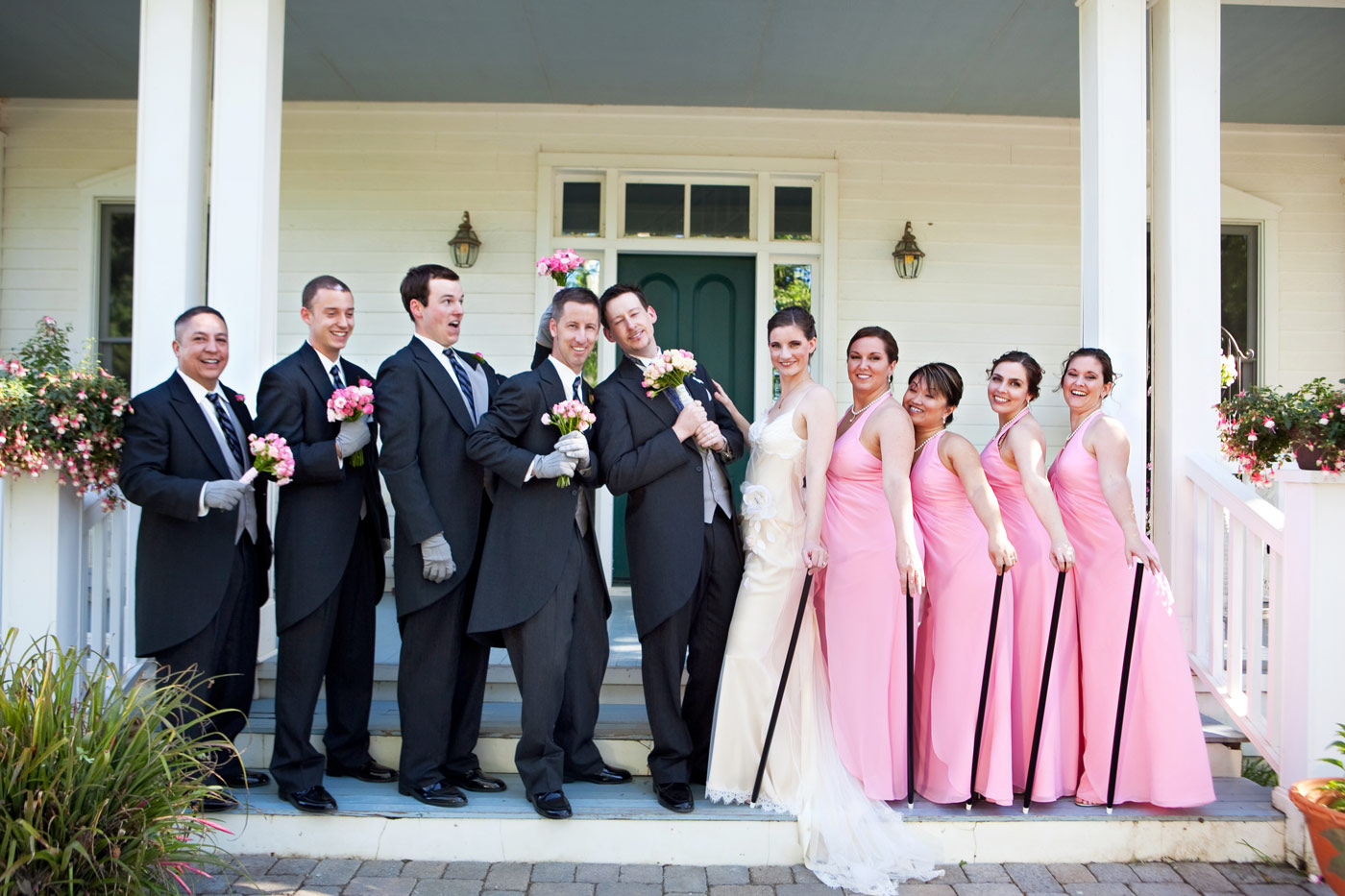 "It's true," Brian adds. "The funny part was I didn't have the tickets yet. So when she said yes, I had to go out and make good!"
Afterwards, the couple were more than friends. The two found they had many shared interests, such as a passion for the performing arts, as well as common values, goals, and family backgrounds. Two years passed before Brian moved back to Woodland. Finally back in the same city again, things began to move quickly for the pair. They moved in together and were soon inseparable. "We've hardly been apart since," says Sarah.
Brian decided to pop the question at a family gathering. He arranged a dinner under the guise of celebrating both his grandmother and Sarah's birthdays, which were in September. When dessert came, Brian convinced the waiter to place the ring on Sarah's plate, behind a birthday candle. Sarah's mom, who spied the diamond ring, began shouting with excitement. The family quickly caught on to the moment and everyone began laughing, crying, and celebrating. "It was chaotic, but wonderful," Sarah remembers.
With the proposal accepted and the ring on her finger, the bride-to-be started her planning right away. After selecting a date of May 1st, Brian and Sarah began exploring venue options. Sarah wanted to find a romantic place to hold their wedding, and nearly settled on a winery. Still, she felt a tugging to plan her big day at a location dearer to her heart – her parents' Woodland home.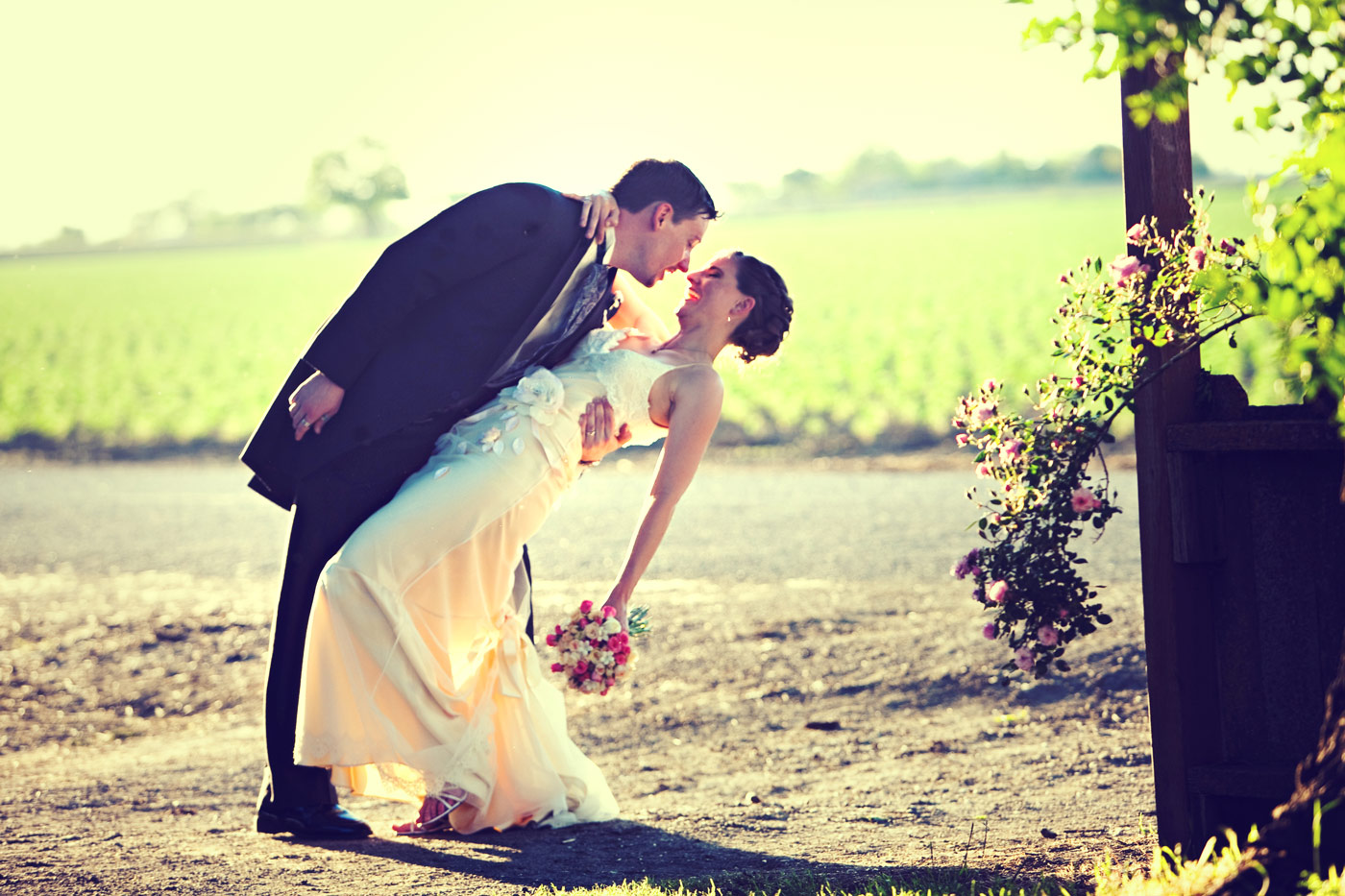 "My parents have a beautiful piece of property in Woodland and my Mom had always pictured me getting married there," the bride says. "My maid of honor pointed out that it would be more work, but if I was willing to plan a home wedding, we could create something truly amazing. She was right."
So, the pair took the leap and decided to go for a home wedding. To begin their decision process, Sarah took inspiration from the property itself. Nestled on a beautiful, expansive piece of property, the residence was a turn-of-the-century farmhouse. Sarah's mom had filled the home with beautiful antique furniture, giving it an authentic and romantic charm. To compliment its aesthetic, Sarah selected a vintage theme, taking inspiration from both country and Victorian styles. To keep the look from being overly starched, she included casual and quirky elements into the day. "We didn't want it to be stuffy," says Sarah. "So if it wasn't fun, we weren't doing it!"
With the location decided, the bride moved to finalizing a color scheme. Sarah took inspiration from her wedding gown, a slinky, vintage-lingerie inspired dress in shades of cream and blush. To compliment her stunning dress and play off of the spring greenery on the property, Sarah selected shades of bright pink and blush.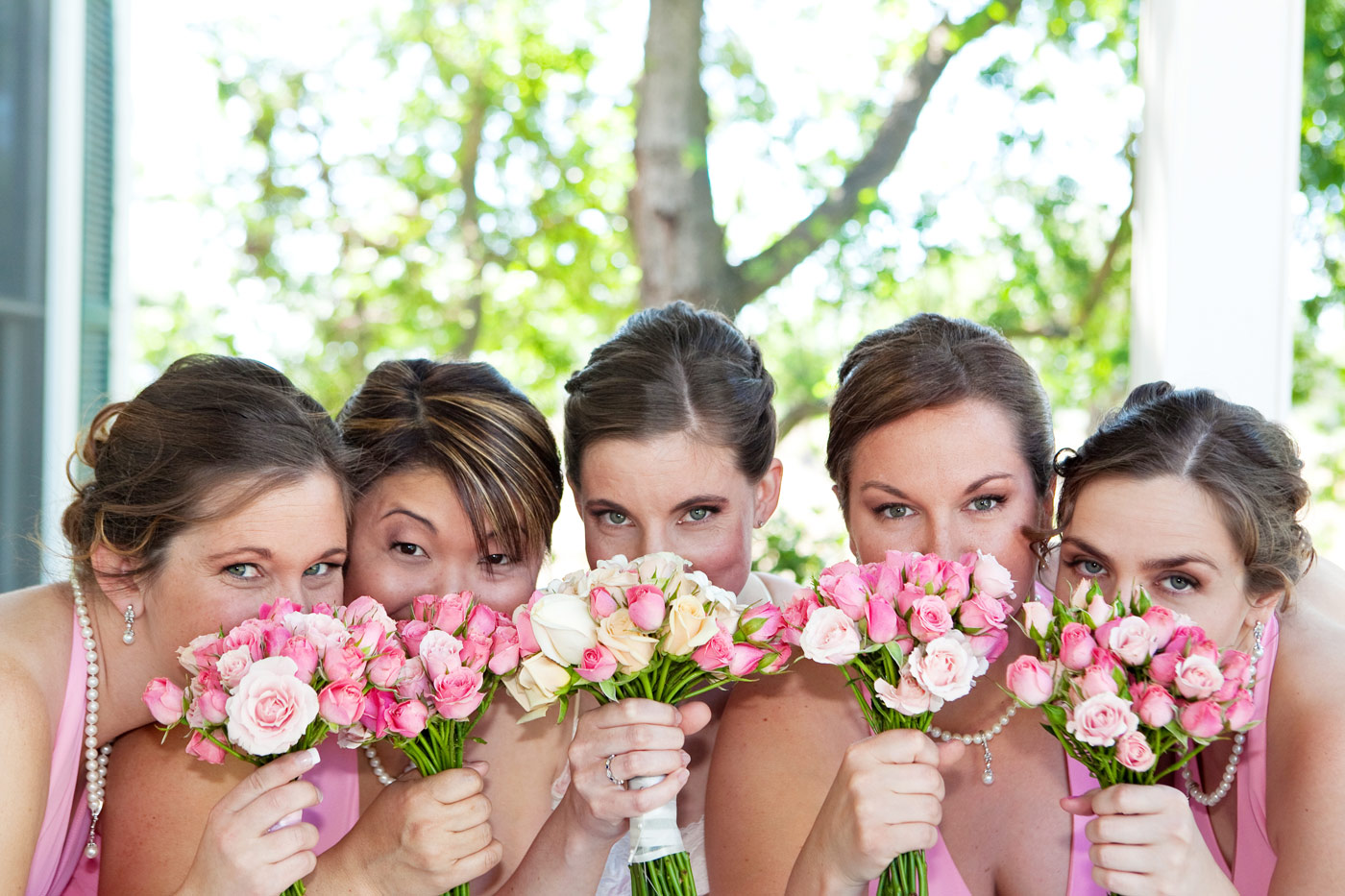 Next, she began working on the logistics of her wedding design. Because the wedding would be outdoors in spring, she and Brian knew they'd need a tent. They selected a beautiful white tent with a solid floor and windowed walls to protect from any weather elements. The tent, which featured 10-foot dramatic peaked ceilings, would be housing the reception dinner and dancing, so Sarah wanted it to have a fantasy feel. To add sparkle and light, she hung Christmas lights along each ceiling pole and then wrapped them in pink tulle for a soft, magical effect. Three crystal chandeliers were also hung from the ceiling, which cast a dazzling glow around the space.
Sarah envisioned a stunning vintage ambience for the reception, and designed her guest tables to evoke the vibe. The look began with ivory linens topped by simple, elegant white china. Vintage glasses with bees on them were added to give the table a touch of country glamour. Inside, Sarah's florist amassed pink roses for a romantic look that was both natural and old-fashioned. Tiny flowerpots were used as votive candles and cast a sweet glow across the table. The guests' escort cards provided the final touch – miniature glass vases with tiny pink roses.
For their own seating, Sarah and Brian selected a sweetheart table. A bright pink tablecloth was softened by a vintage lace overlay. Carved wooden chairs were added to seat the bride and groom, and a loose bundle of romantic pink roses finished the breathtaking look.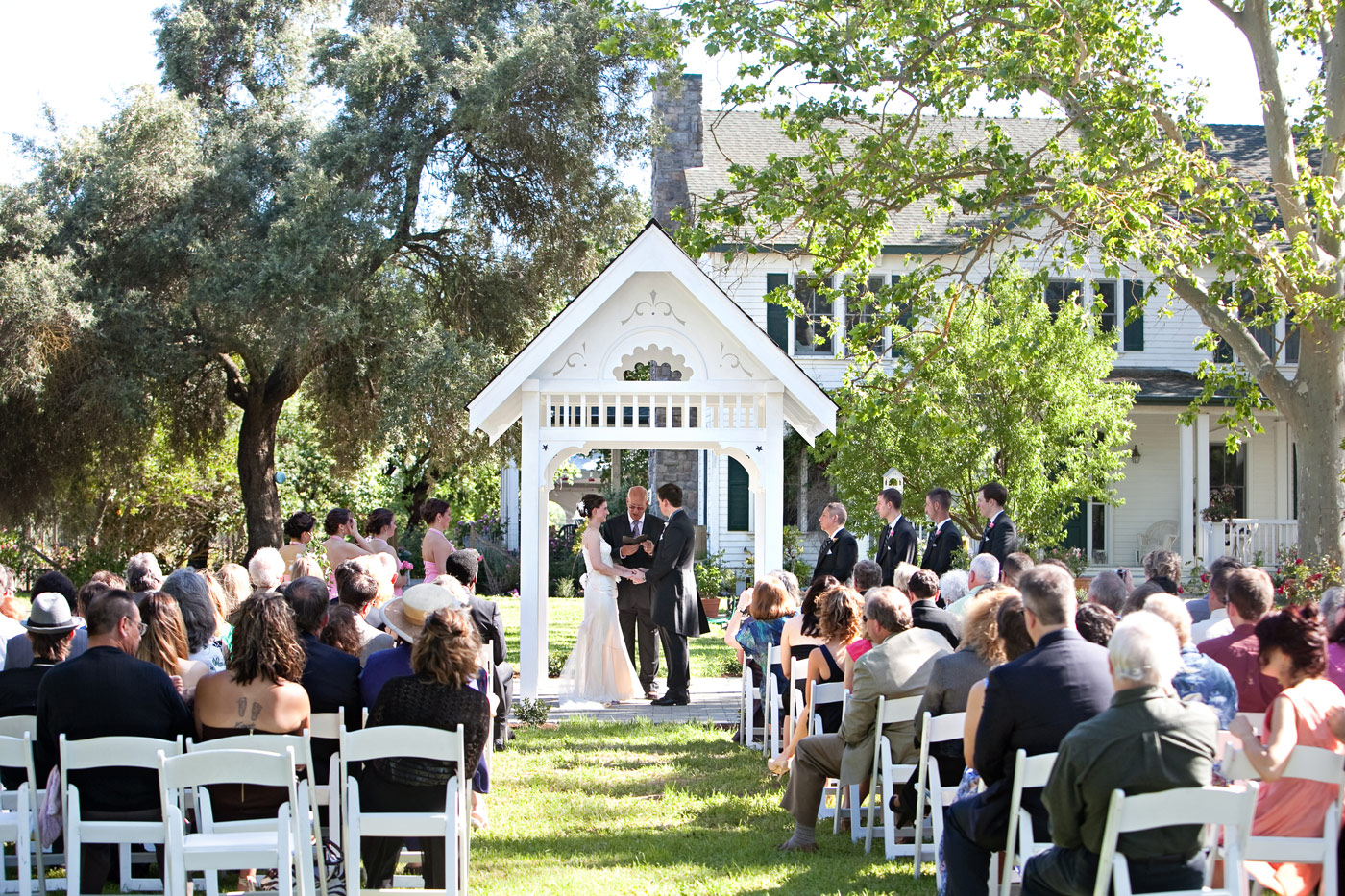 But ambience wasn't the only thing on the couple's wedding wish list. It was also important to Sarah and Brian that their guests had excellent food to enjoy. Working with Cracchiolo's Market Deli Catering, the couple designed a mouthwatering menu of parmesan chicken, tri tip, fresh vegetable medley and salad. Cracchiolo's set up the buffet along the porch of the home, which added to the intimate feel of the wedding.
When wedding day arrived on May 1st, Mother Nature didn't disappoint. Sunshine, a gentle breeze, and comfortable temperatures combined to create a beautiful day for the home nuptials.
The bride got ready along with her four bridesmaids inside of her parent's home. True to tradition, Sarah wore items to go along with the famous "Something Old, Something New" poem. An amazing antique necklace from her great aunt, which highlighted her dress perfectly, served as both something old and borrowed. For a touch of blue, Sarah wore a sapphire ring that Brian had gifted her. Her dress was the new item. To finalize the look, Sarah even had a six pence to place in her shoe for good luck.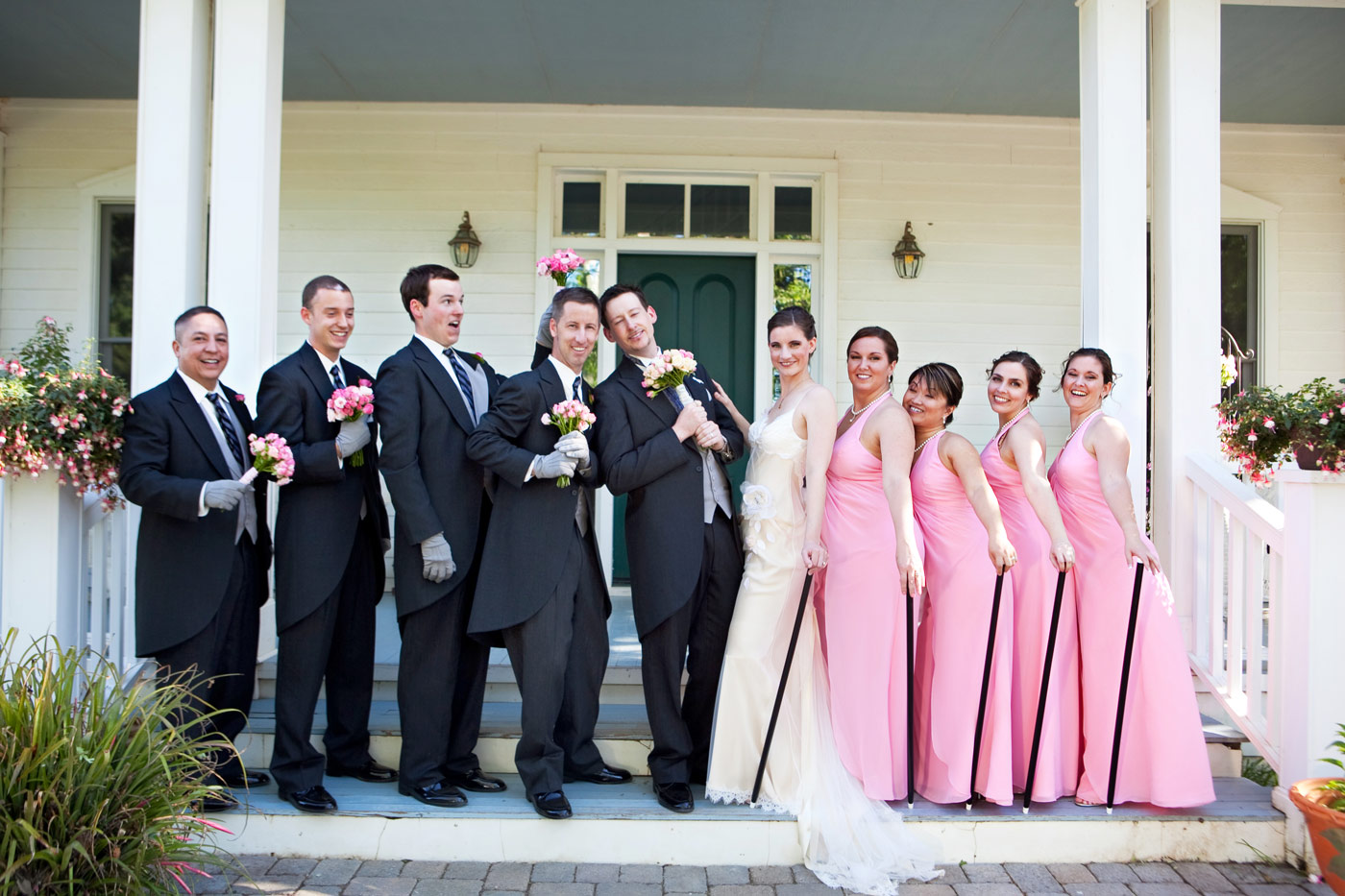 Brian wore a vintage-inspired look as well – a grey morning suit, complete with a top hat and cane. Sarah also gave him a cockatoo pin to represent the couple's bird, Beeker. "We love animals and Beeker is a part of our family," says Sarah. "I gave him a cockatoo pin to wear on his lapel so Beeker could be there with him for the big moment, even if only symbolically."
After taking pictures separately with their bridal parties, Sarah and Brian's ceremony began on the front lawn of the property. To reflect their shared love of movies and soundtracks, the couple selected special music. The groom and groomsmen entered to the love song from The Princess Bride. Next, the bridesmaids, donning bright pink gowns and carrying pink rose hand-tied bouquets, walked down the aisle to the theme from Forest Gump. Finally, the bride and her father entered to the theme song from Legend. She carried a hand-tied bouquet of pink and cream roses, accented by white stephanotis flowers – one for each year that she and Brian had been dating.
The couple exchanged vows under a white, wooden gazebo specially built for their ceremony. Into the corbels Sarah's mom had little stars carved, which represented the couple's hobby of stargazing. The stars were painted blue, the groom's favorite color, and dusted with glitter in honor of the bride's love for sparkly things. Around the gazebo were four beautiful urns that were a gift from Sarah's aunt. "The gazebo gave us a special place meant just for us, even though we were at my parents' house. It was referred to as 'Sarah and Brian's wedding chapel'," says Sarah.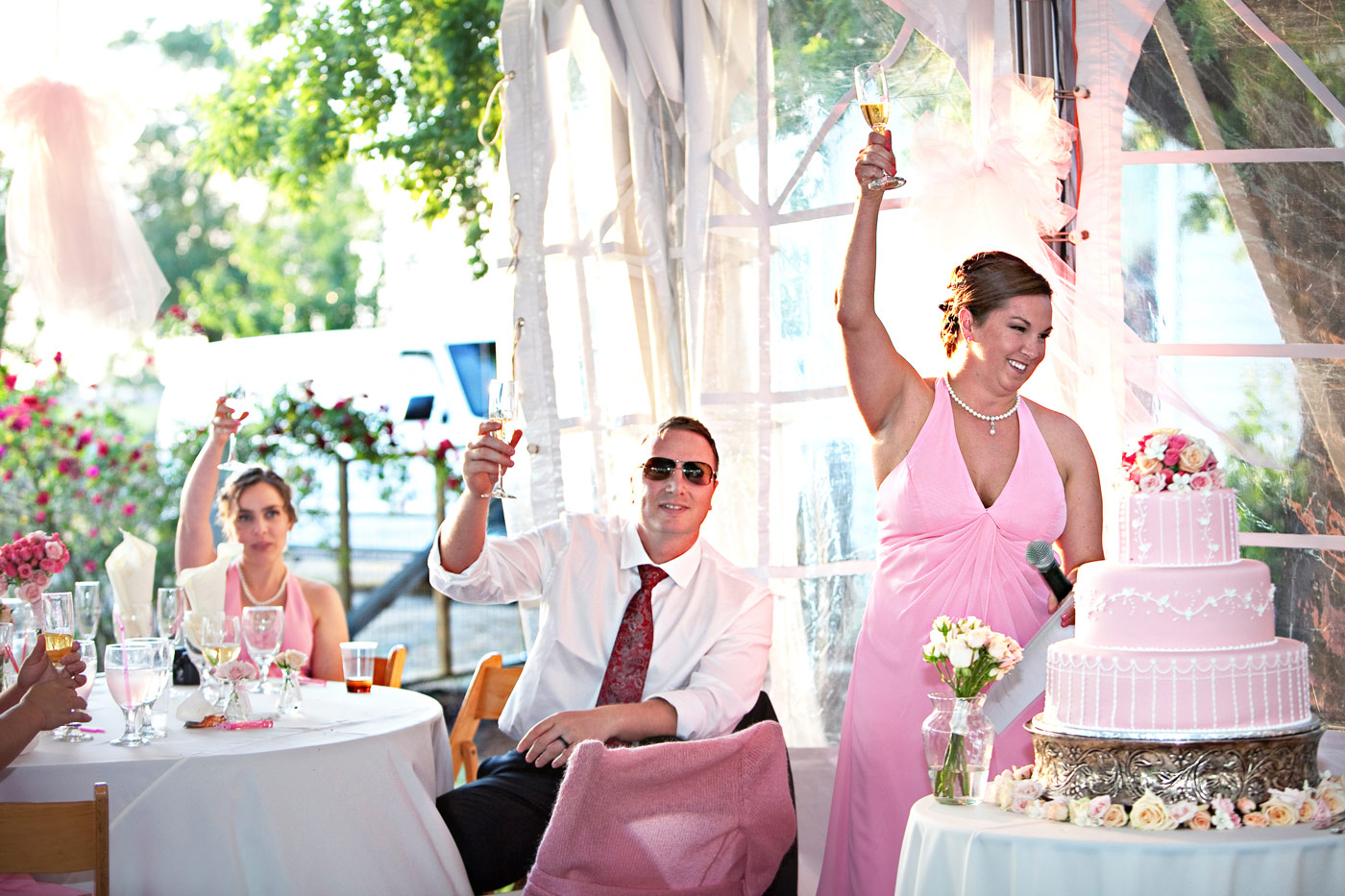 Sarah's uncle presided over the ceremony, which he wrote. It included a brief prayer, a reading of 1st Corinthians 13 (the love verse), and traditional vows. After saying "I Do", Brian and Sarah sealed their marriage with a kiss and a smile.
During the cocktail hour, guests were treated to passed appetizers and wine from Cracchiolo's Catering. In keeping with the vintage feel and Sarah's color scheme, pink lemonade also provided a special treat. While the guests celebrated, Sarah and Brian went off for photographs.
During dinner, the couple and their guests enjoyed heartfelt toasts and lighthearted music. Then, the couple cut their cake, a stunning three-tiered design decorated with fancy scrollwork and pink roses and crystals, elevated on a vintage silver stand.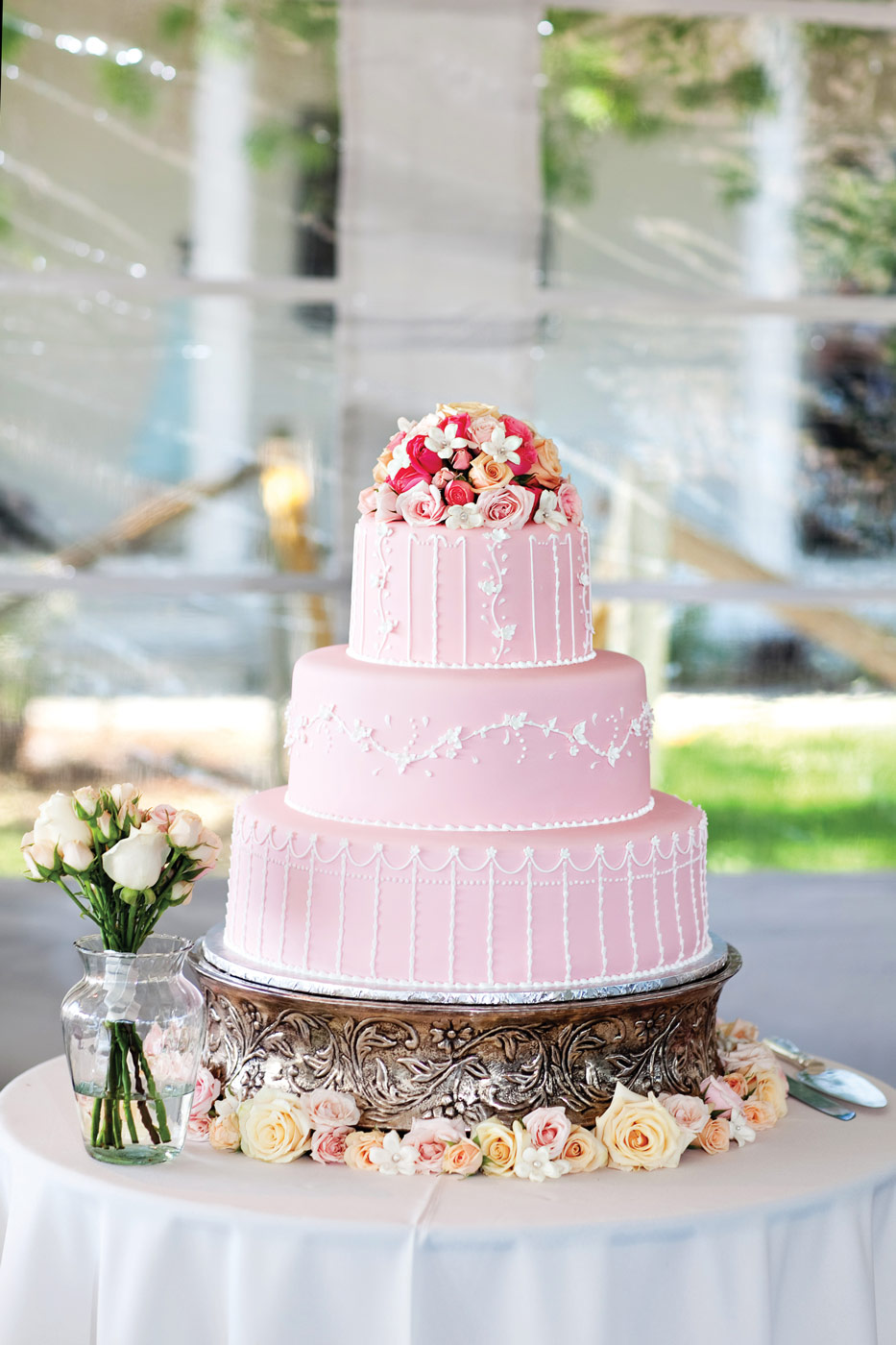 Afterwards, guests danced the night away under the twinkling tent lights. In the end, the happy newlyweds are thrilled with the day had turned out to be the personal, unique, and charming event that they hoped for . "We wanted the style of the wedding to say who we are, and it did. The wedding was a perfect reflection of us," says Brian.
Sarah agrees. "We didn't do anything that wasn't important to us. You can still have the traditional elements of a wedding, but done in your own way…It worked beautifully for us."
What's the secret to pulling off a one-of-a-kind day? "Confidence," says Sarah. "Get a clear picture of what you want and then go for it. Go with your gut; you won't be disappointed."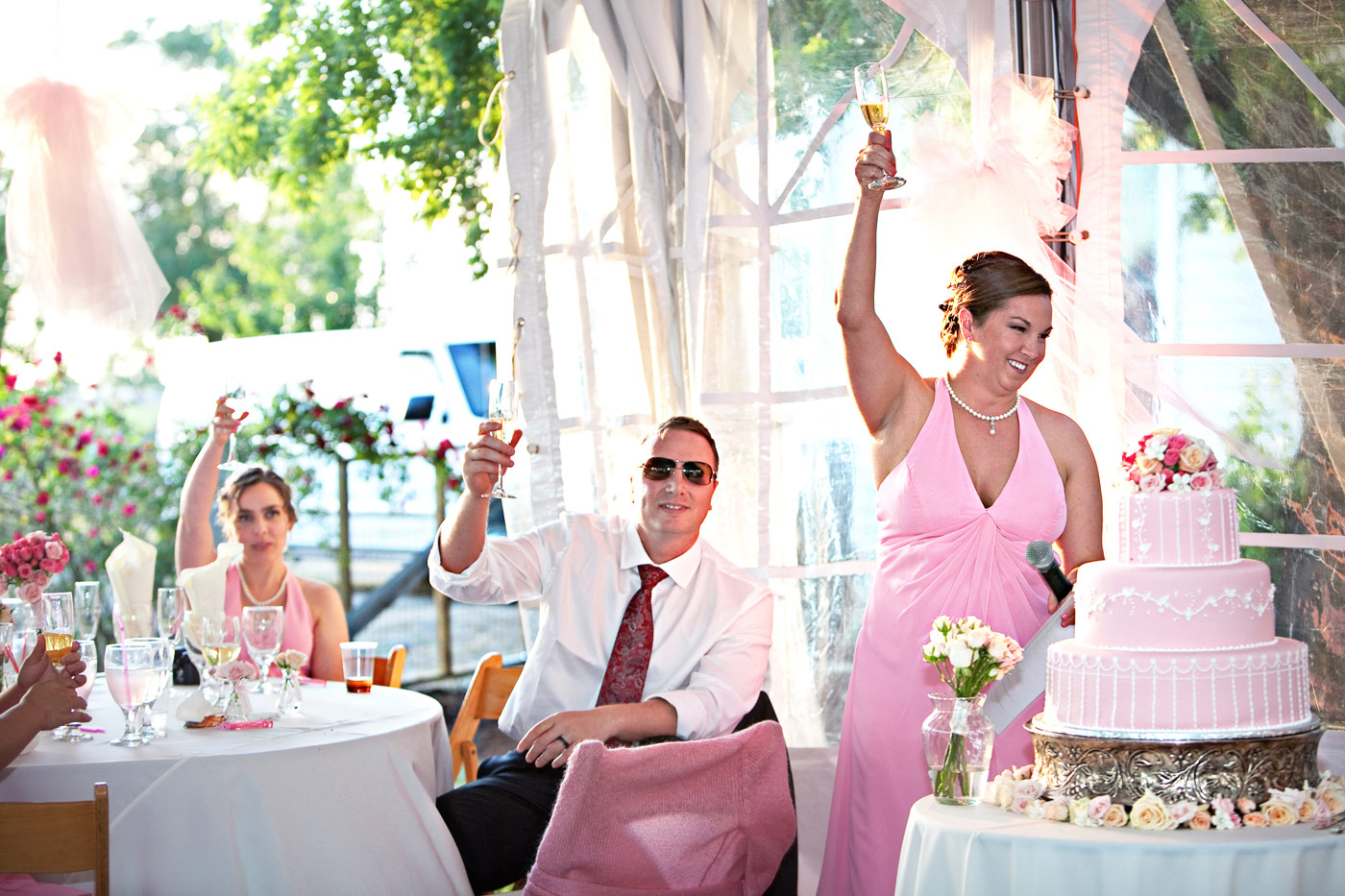 Photos by Andrea's Images