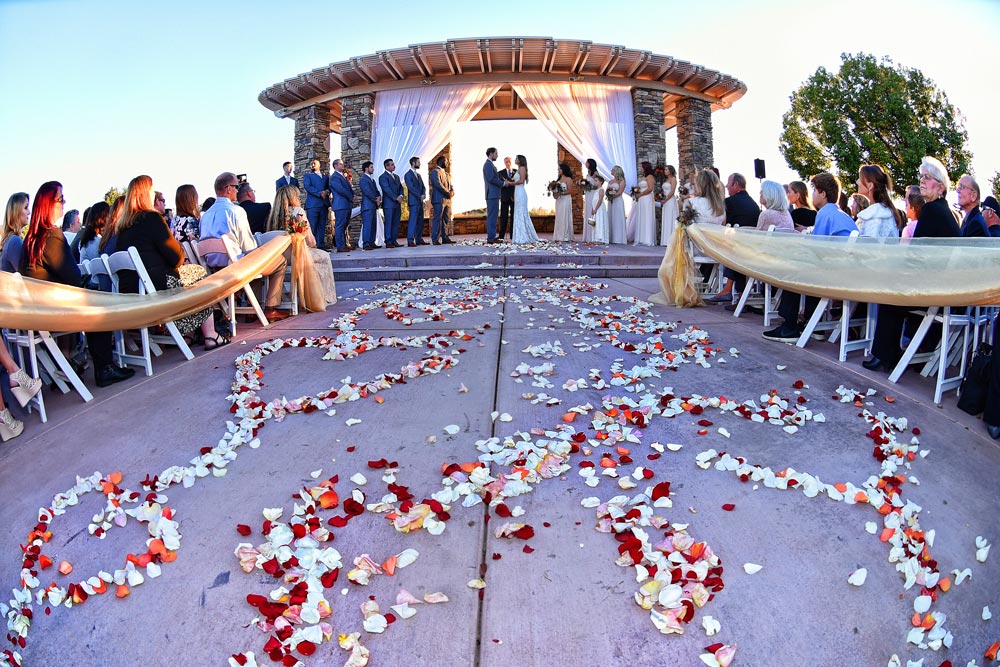 Sometimes, losing something means gaining something else even more important. In this case, a friend's going away party was to be where these two strangers named Desirae and Andrew had a chance to get together. Funny how things work out, isn't it?
As Andrew tells it, "When I first saw Desirae I thought she was beautiful. She had a great sense of humor and she was sweet and kind but was also feisty and energetic." And according to Desirae, "Andrew had this infectious smile and a sense of humor that drew me closer to him every day. I am one lucky lady!"
It was in Maui three years later that Andrew popped the question. One evening, the entire family went to the beach to enjoy the Hawaiian sunset before heading off to dinner. On the way down to the beach, he stopped Desirae, dropped to one knee and asked her to be his wife. After crying out "Yes!" she turned to the family gathered nearby and announced, "I'm gonna be a Cecchettini!" And one year later, her wish came true in a wonderful ceremony at Orchard Creek Lodge.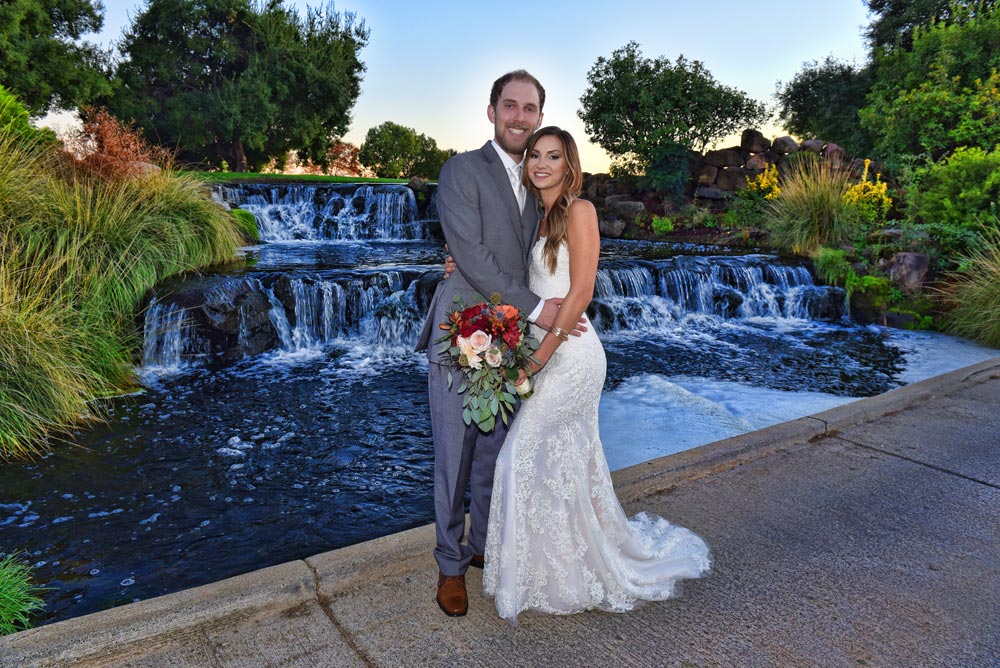 Desirae and Andrew are pretty laid back and they wanted their wedding day to reflect that, so simple elegance was the idea. Subtle lighting and candles accented their color palette of champagne and ivory, letting the florals really pop. They gave their florist, Beautiful by Nature, free rein to create magical masterpieces, and Desirae says, "She did not disappoint us! I got the flowers I'd dreamed of for the wedding."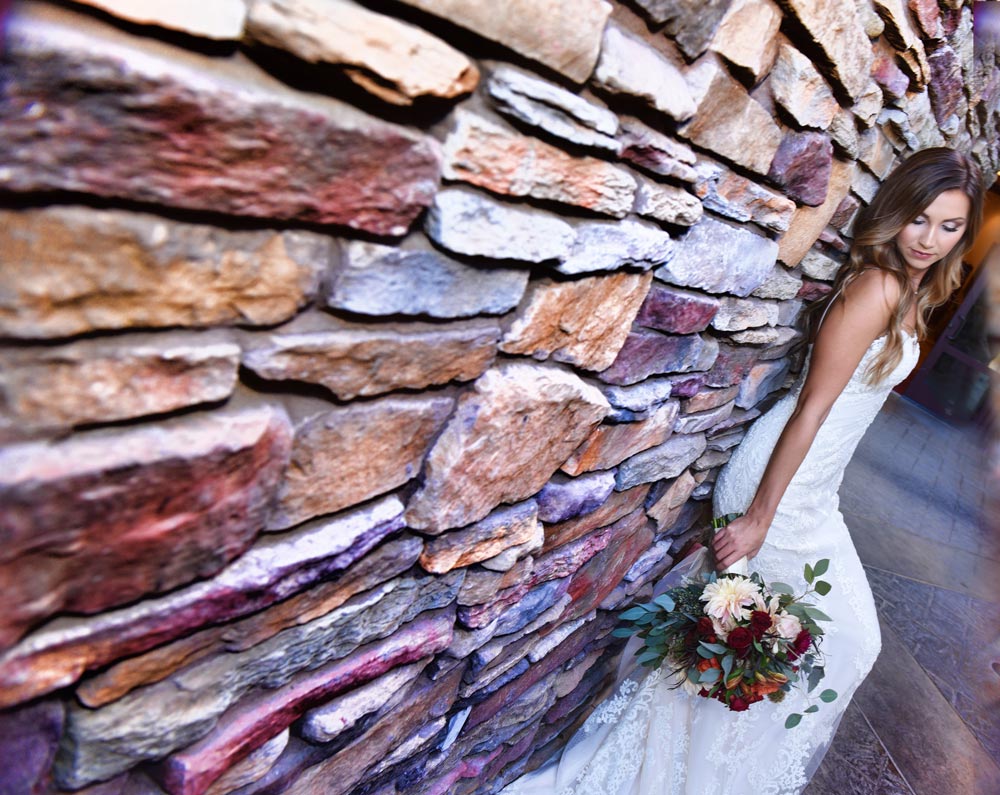 Desirae arrived at the venue looking absolutely fabulous in her Maggie Sottero gown, which was an all lace design, slim fitting and opening up towards the bottom, with small straps and pearl buttons down the back. She recalls of gown shopping, "I truly did not want a full lace dress at all, but when I kept trying on the same dress and then end up not wanting to take it off, I came to realize it's the one!" She must have felt like a princess when she emerged from the limousine.
Hiring a limo from The Mix Master was a bit of a splurge, but well worth it to Desirae. "You should be spoiled on your special day. No worries, no hiccups, and it gave us a way to start the party early! And anyone who stayed at the hotel had the option of going back in the limo at the end of the night which was a HUGE convenience!"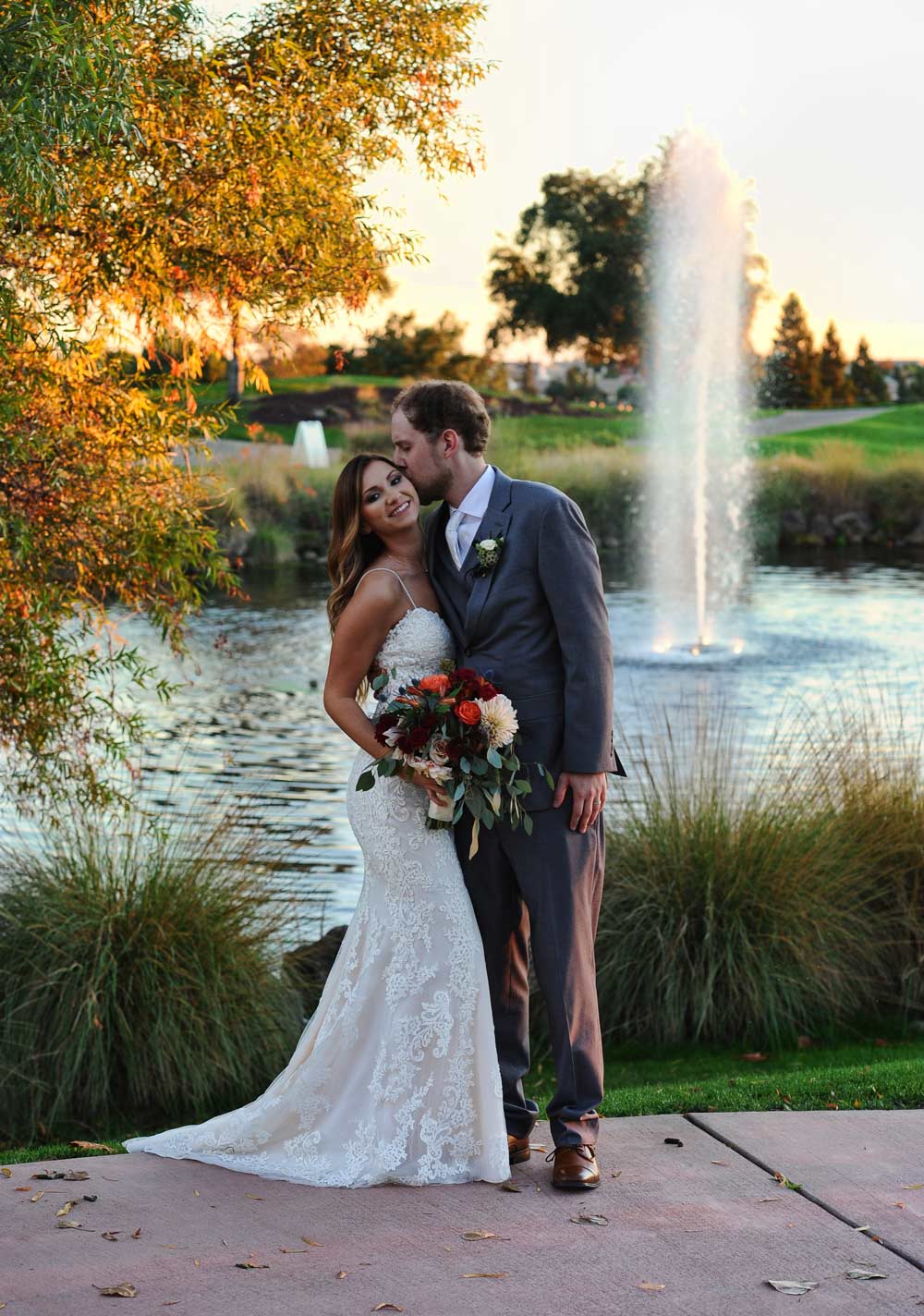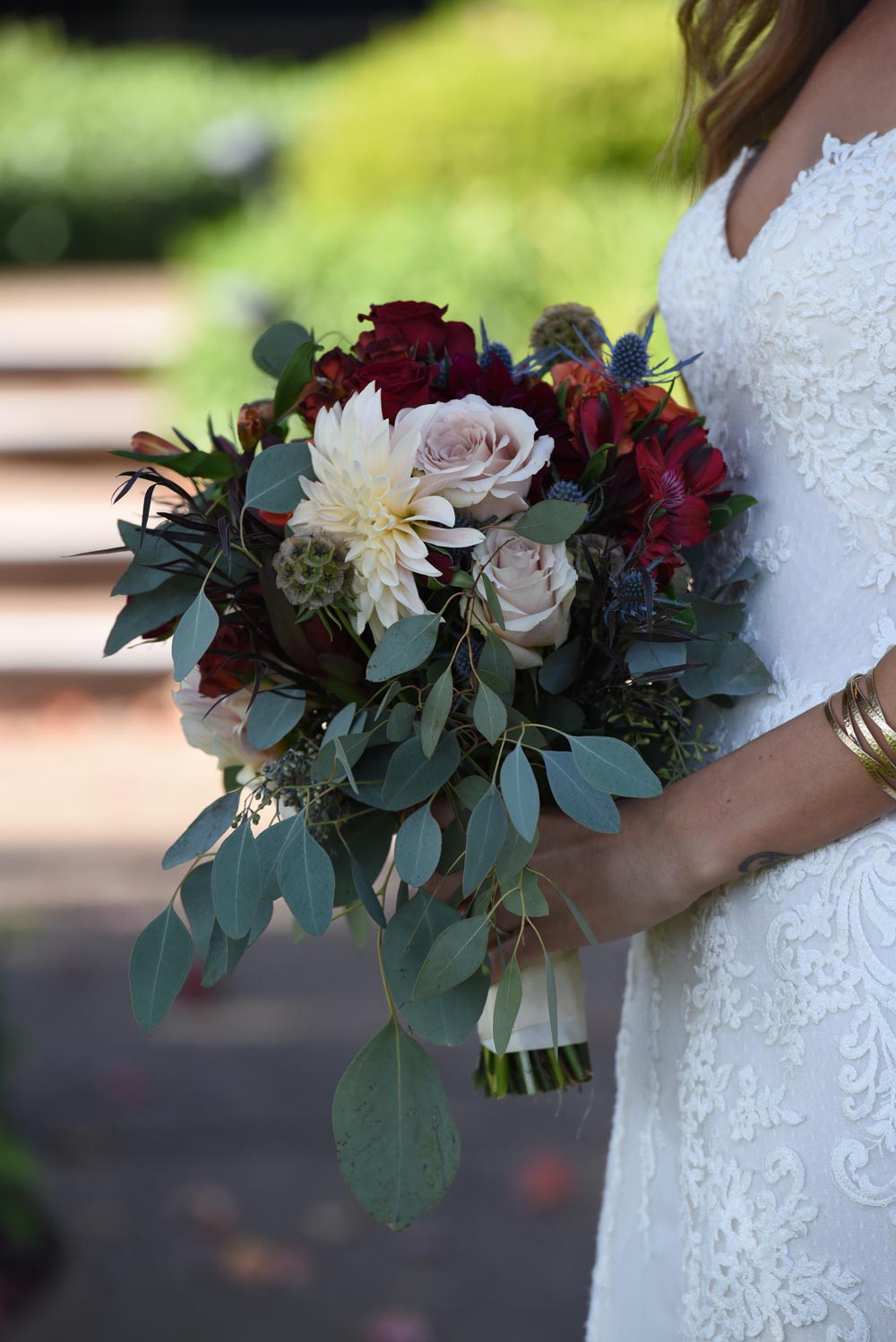 At this point, the team from Amore Fine Art Photography went to work. Photographers ViAnna and Jim had been involved with the couple starting with engagement photos, to a special boudoir session for Desirae and on to the wedding day. In the end, Desirae says, "We couldn't be more thrilled with how they preserved our memories!"
A wonderful ceremony officiated by Andrew's Uncle Doug followed, taking place at Orchard Creek's beautiful waterfront ceremony site, and made more spectacular with draping provided by Sacramento's Sound Image Entertainment and installed by Desirae's parents, Doug and Dara, who also installed back draping at the reception. Hats off to them — that's not an easy task!
As the bride was beginning her walk down the aisle, escorted by her father, she looked down into the amphitheater where she saw her groom patiently waiting in the distance, focused only on her. Spontaneously, she raised her bouquet and pointed down towards him and Andrew, who returned the gesture without hesitation. After a whole day of final preparation and mild anxiety, this simple, yet special, moment connected them and they knew that they were completely ready.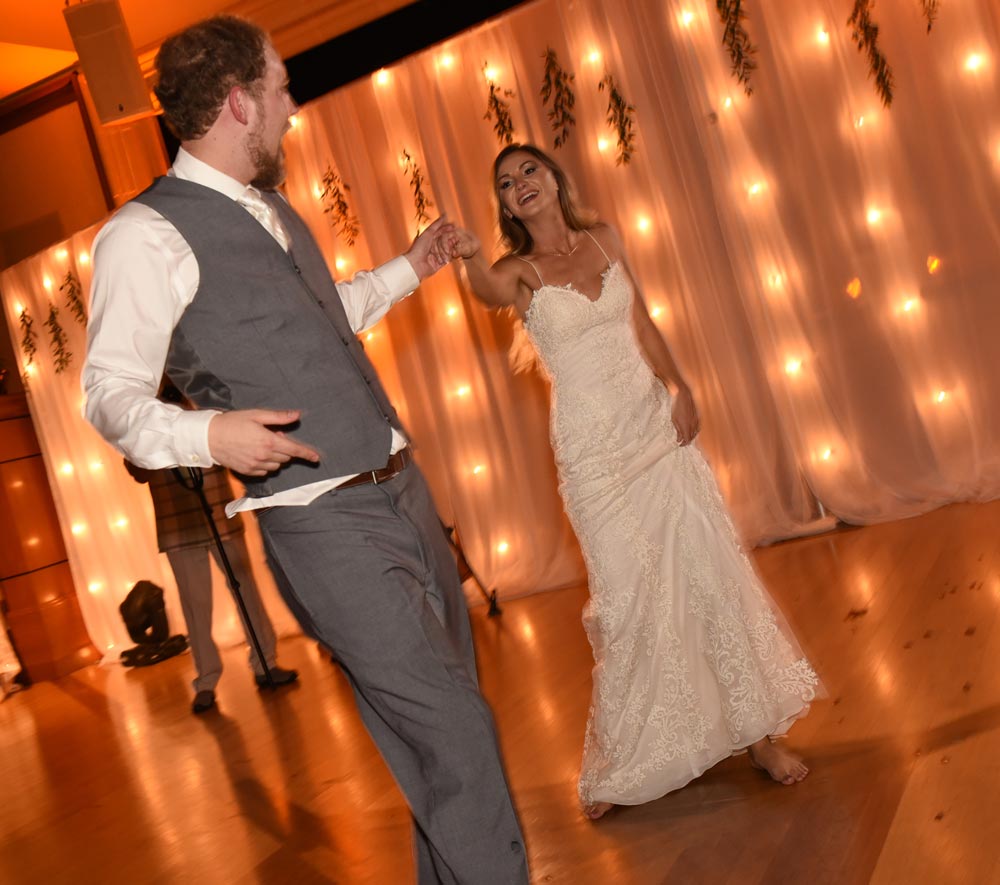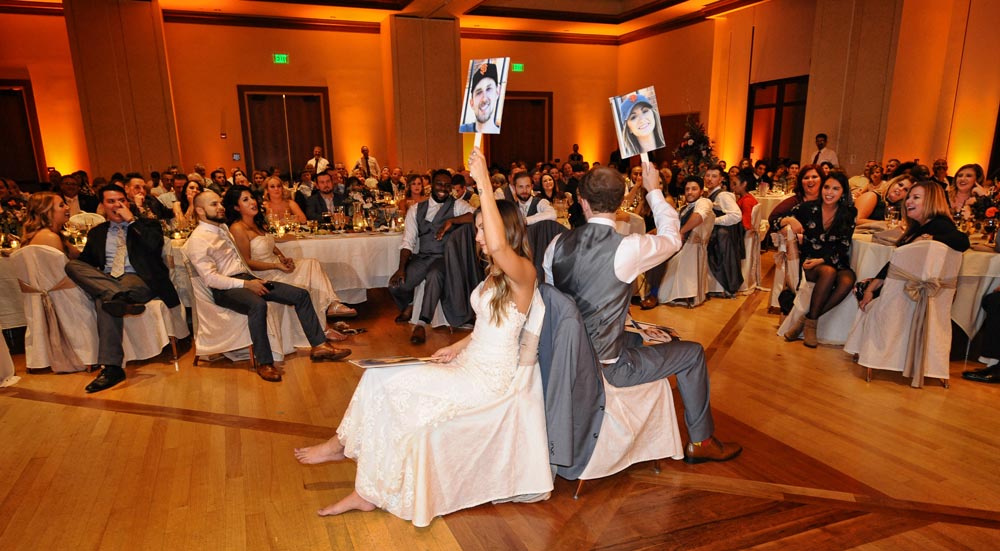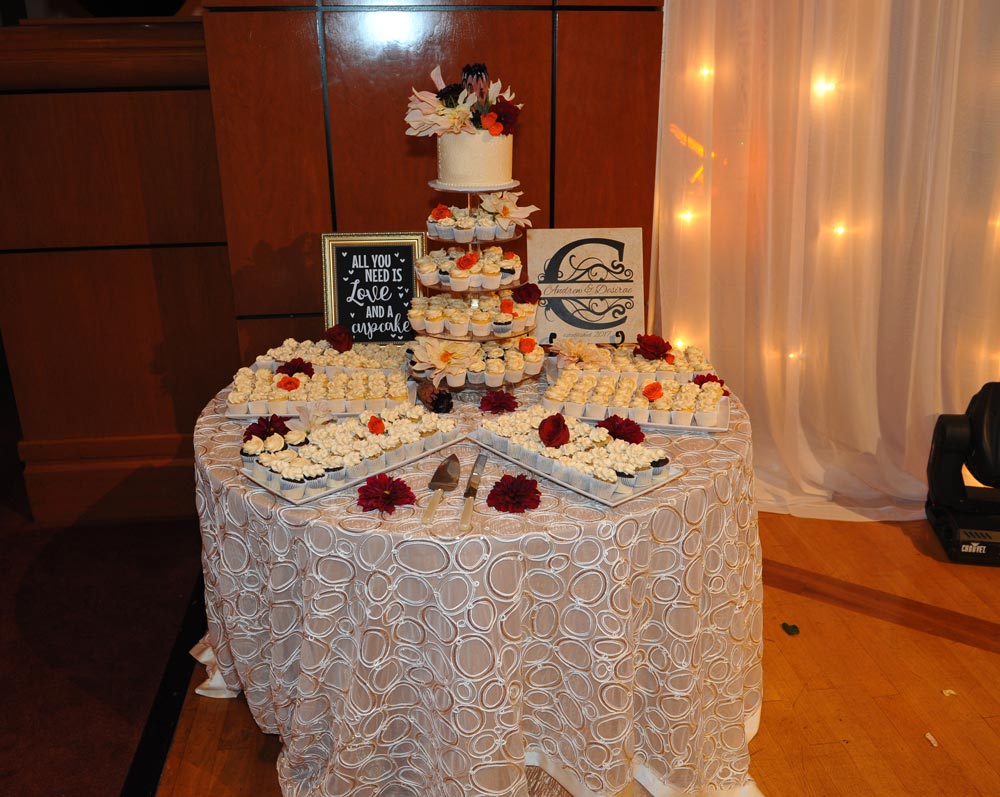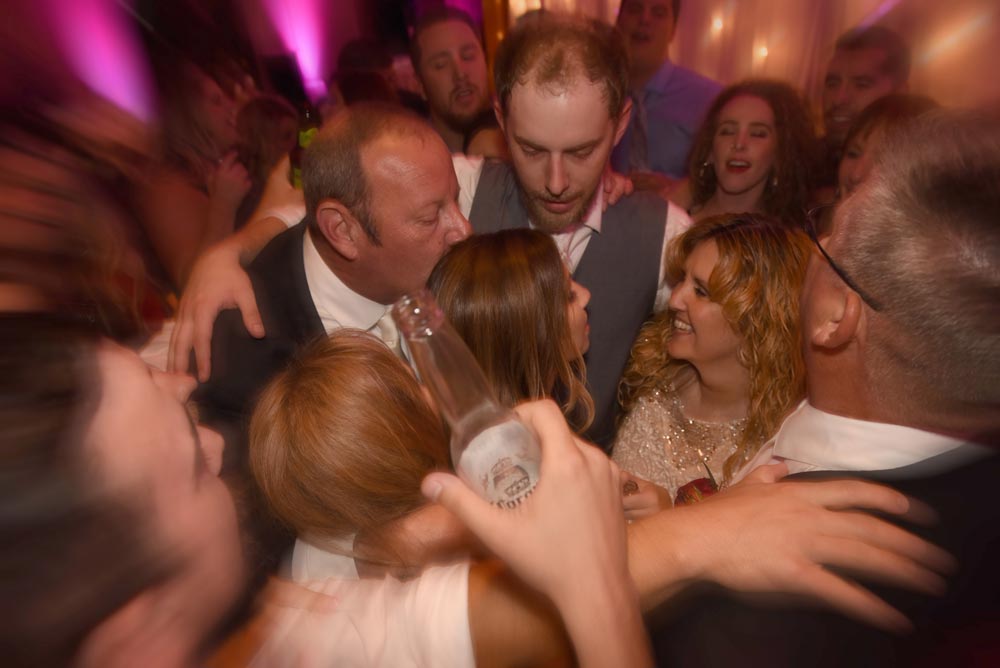 After a lovely ceremony the newlyweds slipped away for a sunset photo session. Desirae remembers, "It was just the two of us now, time to take a deep breath and soak in our first moments as husband and wife. In that short time we had before our grand entrance into the reception, we just enjoyed in the present moment. We were married!"
Soon enough, it was time to eat and party! Guests were treated to a delicious feast, starting with Fuji Apple Walnut and Caesar Salads, Tri-color Roasted Baby Potatoes, Mac and Cheese (a special request, executed superbly by the chef), a delicious Roasted Vegetable Medley based on selections by the chef of what was in season, and Champagne Chicken, plus Prime Rib served at a carving station, of which, Desirae says, "if you have the option, always do it!" The prime rib, we're told, was delicious all on its own, but was "a serious game changer" when served with a drizzle of Whiskey Peppercorn Sauce.
And for dessert, Above and Beyond Cupcakes provided mini cupcakes which, Desirae says, can only be described as "heaven in bite-size form". Flavors included Cookies 'n' Crème, Strawberry Champagne, Peach Fuzzy Navel and Banana/Chocolate Marble. And that wasn't it for the Cookies 'n' Crème: the cake that the newlyweds cut into and fed each other was Cookies 'n' Crème with a Cookies 'n' Crème Mousse and buttercream frosting. Apparently you can never have too much Cookies 'n' Crème anything!
Soon, it was time for the first dance to Al Green's "Let's Stay Together," after which, the dance floor was never empty, thanks in part to the great DJ and MC Doug LaVine of Music on the Move. Desirae advises: "You may not realize how a good DJ sets the tone throughout the day. He's not just playing music and emceeing, he controls the timeline, and makes sure everyone with a part to play knows what's coming up. It's so good to know that you don't have to worry about anything. That is how your day should be spent, enjoying what everyone is working so hard to put together!" And, Desirae tells us, "the dance floor was SHMACKIN' all night long!"
The unexpected moment of the day came with a surprise edit in our last dance. The song was "All of Me" by John Legend with vows from the ceremony edited into the song. Desirae recalls, "Our family and friends surrounded us in a circle and sang along while we danced slow and sang to each other. It was so awesome to hear our shared words to each other and be able to re-live that moment so soon after it happened."
Looking back, the couple offers this advice: "Stay in close contact with your vendors. Things can change so often you would be surprised. Take note of all of the ideas and suggestions offered, but remember that the day is about you two, and will be something you will remember forever. Everything you put into it goes into creating a memory that will last a lifetime!" Desirae adds, "Ladies, just enjoy the journey in its entirety, remember what the day is truly about, and know that it will all work out exactly how it is supposed to!" And Andrew shares this bit of wisdom: "Offer help where you can, get out of the way when you should, and make sure you support the bride-to-be with whatever she requires. Remember what they say, 'Happy Wife, Happy Life!' It's never too early to start!"
VENUE / CATERING: Orchard Creek Lodge
DJ: The Wedding Suite / Music on the Move DJs & MCs
FLOWERS: Beautiful by Nature Florist
DESSERT: Above & Beyond Cakes
TRANSPORTION: The Mix Master Limo
PLANNER: A Dazzling Day by Darcie
[VIDEO] Premier Entertainment [TUX] Men's Wearhouse [REHEARSAL DINNER] Skipolini's [RINGS] Shane & Co. [MAKEUP/HAIR] Made Up by Mimi