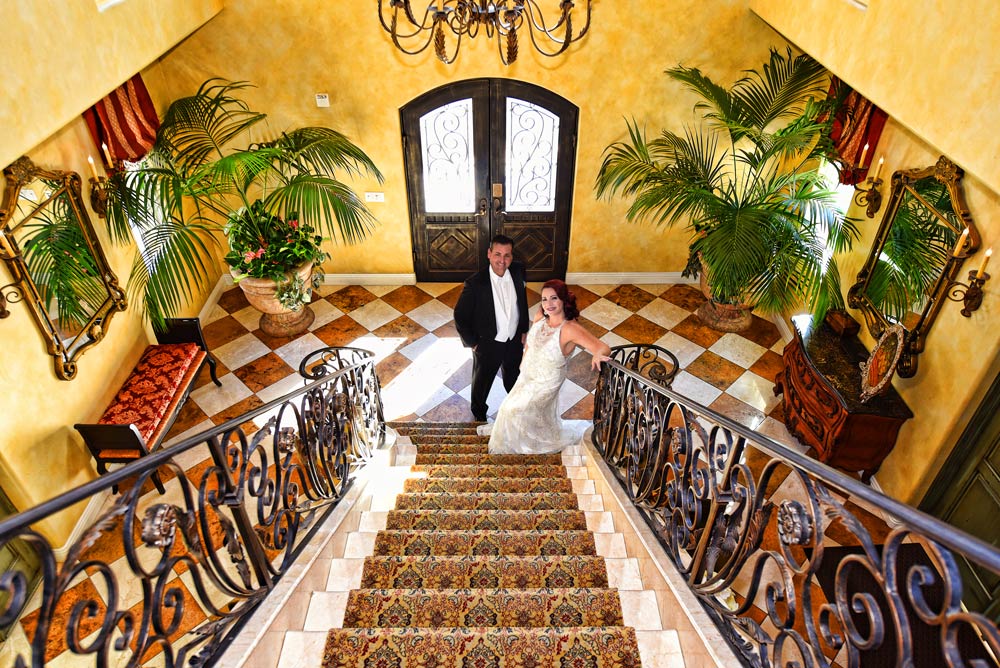 "Did David Van Gerpen just walk into the room?" Lynette asked her friend Jill, who had brought her along for company to her 30th high school reunion. Jill shot Lynette a quizzical look, then looked over her shoulder toward the door. There he was. "How did you know that?" she asked, and Lynette's answer was, "Because I can feel him!"
Lynette could feel David's presence right to her core. Without even looking, she had known somehow that he was there. Her mind went back to her junior year in high school, when they first met.
Lynette had been invited to sing in a band, and as soon as she saw David, the keyboard player, she fell for him. She joined the band and after band practice one night they went for a walk together. Along the way, he asked if he could kiss her and something amazing happened. The moment they kissed, she felt a bolt of lightning shoot through her from head to toes. David looked at her in amazement and said "Did you feel that?" And she had.
But a romance never developed because when she found out what was happening, David's mother put an end to it. A singer in a rock band was not the right kind of girl for her boy David, it seems. Lynette was devastated. Years went by, but she never forgot the high school romance that was cut short. Years later, the story of her lost love David was the one she shared with her teenage girls when talk turned to about boys and heartbreak, and she had always wistfully remembered her all-time favorite kiss.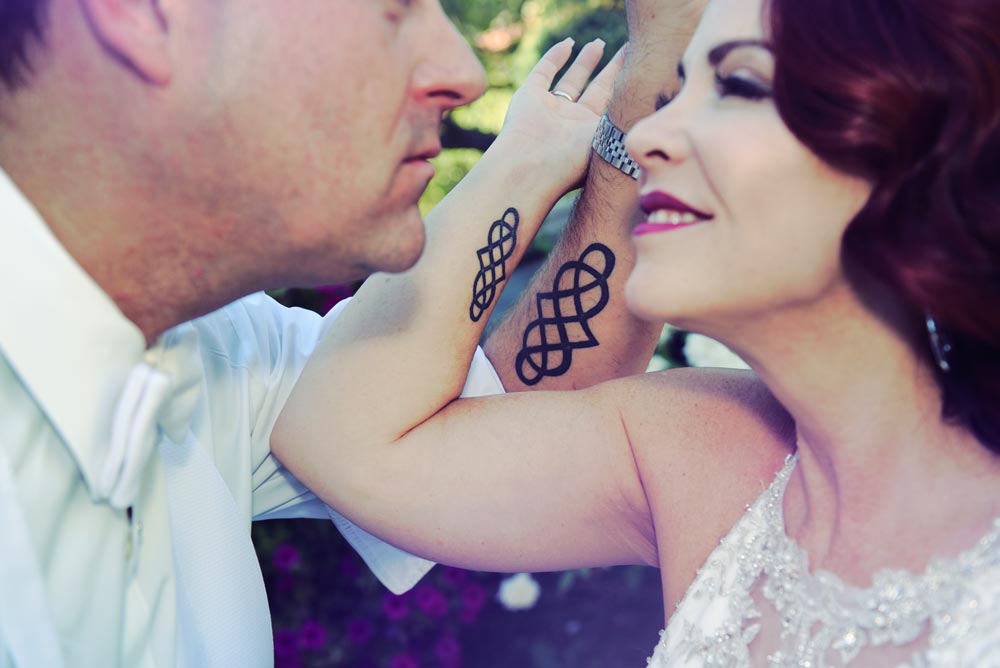 And now, here he was again, walking into the room.
Lynette refused to even allow herself to look at David until dinner was long over, because she that knew once she did, there would be no turning back. Finally, when dessert was served, she could hold off no longer.
As soon as their eyes met, he came straight over. "Those same feelings I had years ago came flooding back, but I just didn't want this to be that 'reunion fling and regret' that a lot of people do. I forced myself to mostly avoid him for the rest of the evening, and waited three weeks before inviting him to dinner."
When they finally got together, they both saw instantly that their feelings for one another had never changed. A bit older and wiser, however, they took their time getting reacquainted, each learning about the other's lives, loves, children, work, ups and downs.
"It was funny how similar we were," says Lynette, "and how easy it was to be in each other's company. We truly enjoyed being around each other. Even though there is a piece in each of us that feels robbed of what could have been, we both agree that by getting together at this age, we are getting the best of each other."
And so, after David proposed while the couple was vacationing in Mexico, Lynette and David made plans for a wedding at Sacramento's prestigious Arden Hills Resort Club. Arden Hills' Gold Room was the perfect venue for the elegant, modern 1920s themed celebration that Lynette and David had in mind. Arden Hills' reputation as a premiere wedding spot was enhanced by their preferred vendors, a group that displayed tremendous synergy, according to Lynette. "They had all worked together before and the day flowed beautifully" she recalls.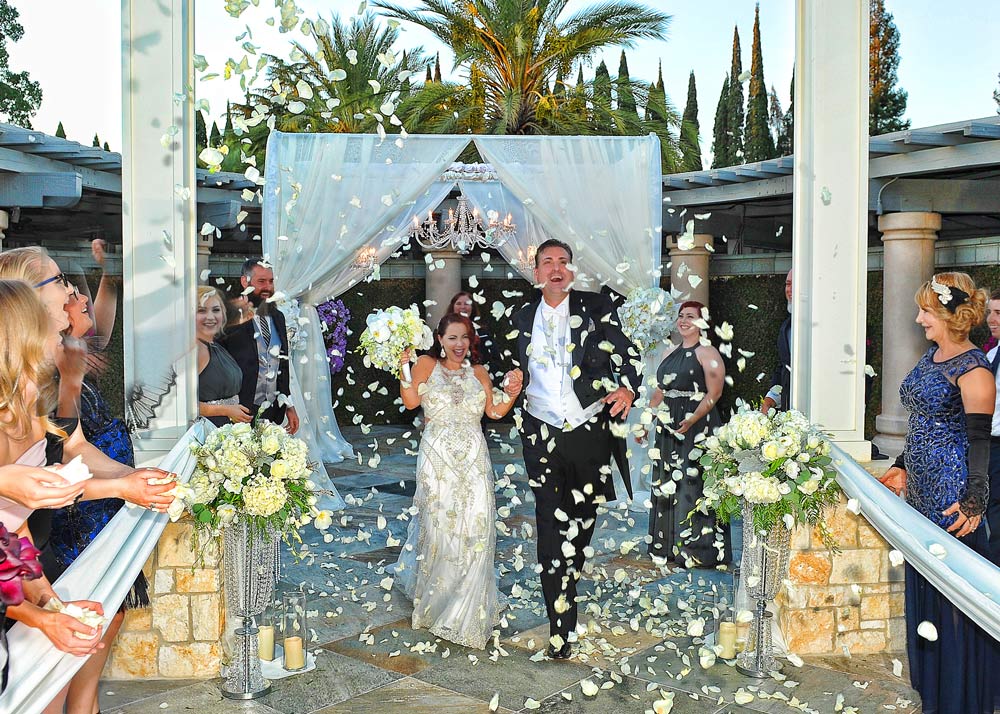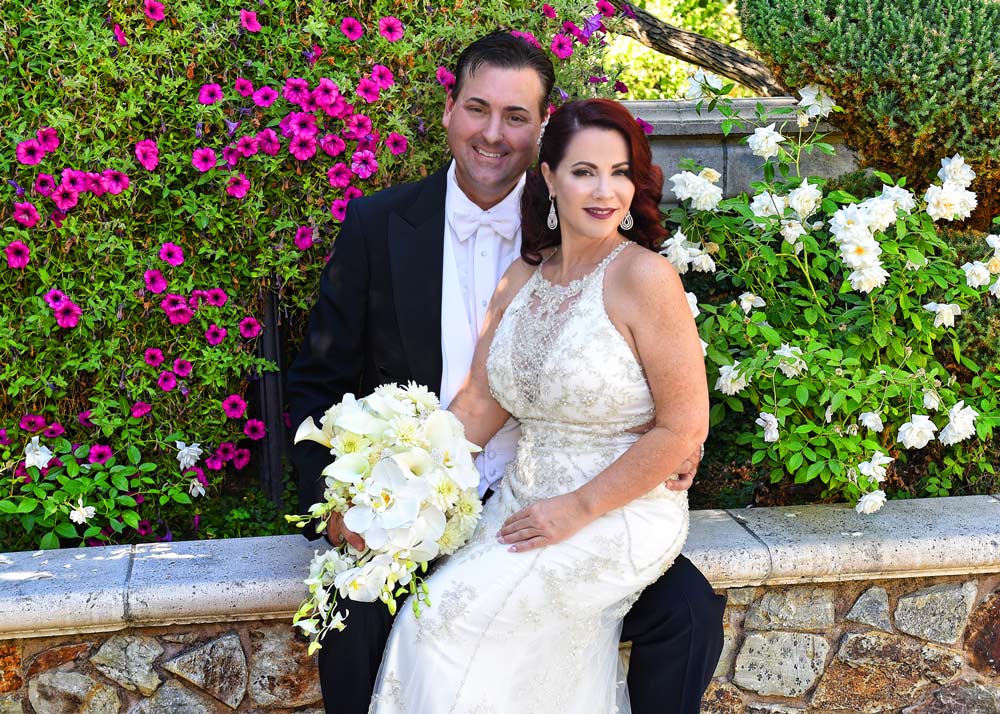 The couple took advantage of the Villas at Arden Hills, on-site accommodations to make the entire event easier. As soon as things got started on the day of the wedding, Amore Fine Art Photography's Vianna Van Brundt got busy capturing the day's moments, both the big ones and the small. Lynette and David are glad to have captured their first look before the ceremony, a beautiful private moment in the courtyard, which Lynette now remembers as the most romantic moment of the day.
Lynette's youngest daughter had a surprise in store for her before the ceremony, presenting her with a box containing something old, something new, something borrowed and something blue. New was a locket with an image of her mother laser etched onto it, and the inscription "I love you Nettie" on the other side. Lynette pinned the locket to her bouquet so that her mom and dad could both walk her down the aisle. "My mother died when she was only 58. She was amazing to say the very least. She meant the world to me and it was truly very special to have her pinned to my bouquet." Lynette still tears up when she retells this story. In addition, her oldest daughter wrote her a beautiful letter expressing "…how happy she was for me to have found this amazing person. She expressed her love for me — for both of us. It was really very touching and beautiful."
"Our wedding was just the way I always dreamed it would be. David and I wrote our vows — well, almost the entire ceremony together, and our officiant put everything together beautifully. And she called David's mom out during the ceremony for breaking us up as teenagers. Everyone got a chuckle out of that! Time spent before the wedding with my girls and my sister in law was special, as was seeing David for the first time. Hearing the words Mr. and Mrs. David Van Gerpen, the father/daughter dance, and seeing so many friends and family together made the whole thing wonderful."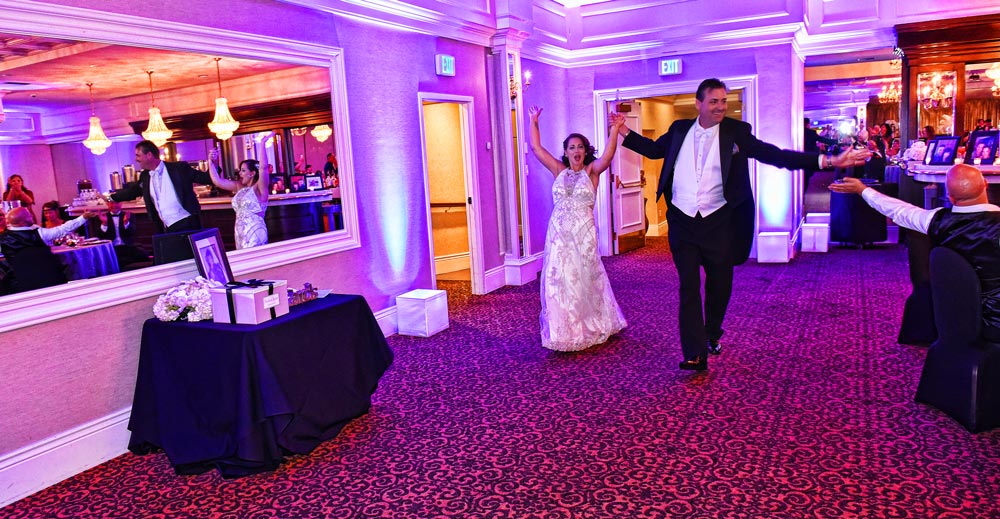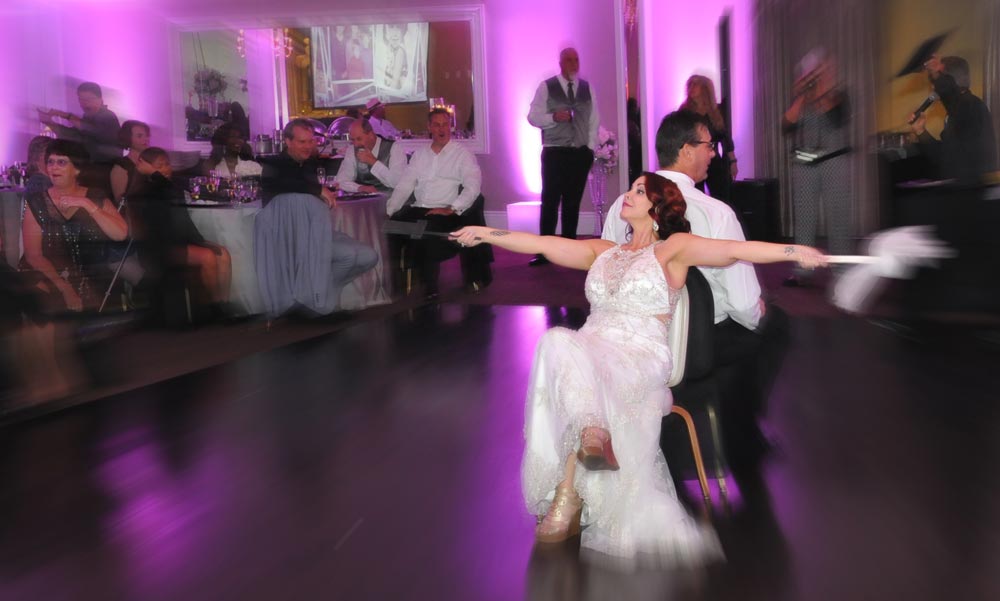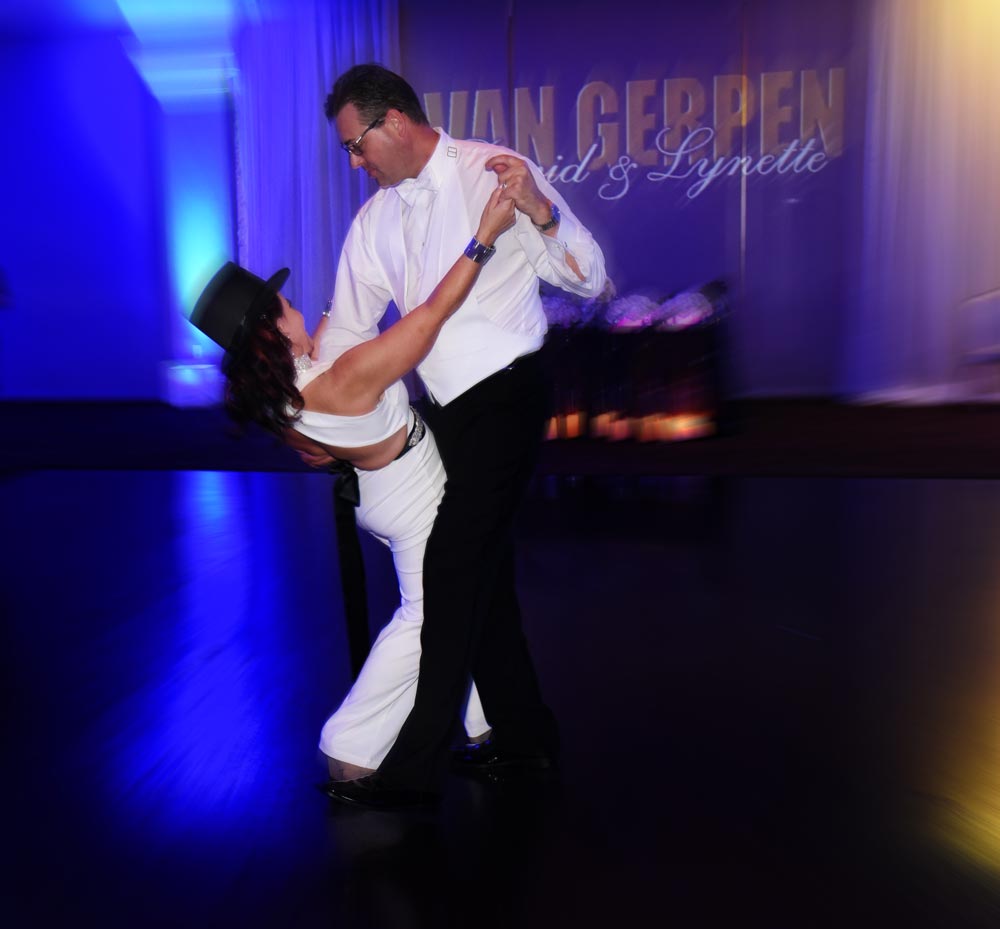 Florist Cheryl Sage of Accents by Sage had worked her usual magic to make the patio where the ceremony took place and the ballroom even more spectacular, creating floral designs with white hydrangeas, peonies, garden roses, and orchids, and contrasting black lily bouquets for the bridesmaids.
Afterwards, Lynette changed into a ringmaster's outfit consisting of a black top hat, a white tuxedo pantsuit and a black ribbon and crystal belt. "When I came out they played Circus by Brittany Spears — It was hilarious!" she says.
Filet Mignon and Chicken Cordon Bleu were served along with Apple Gorgonzola or Caesar Salad, Pasta Salad, Garlic Mashed Potatoes, Mixed Veggies, and Bread, accompanied by big band music in the background. Then everyone enjoyed a full dessert bar, and cake from expert baker Daniel Jimenez of Above and Beyond Cakes.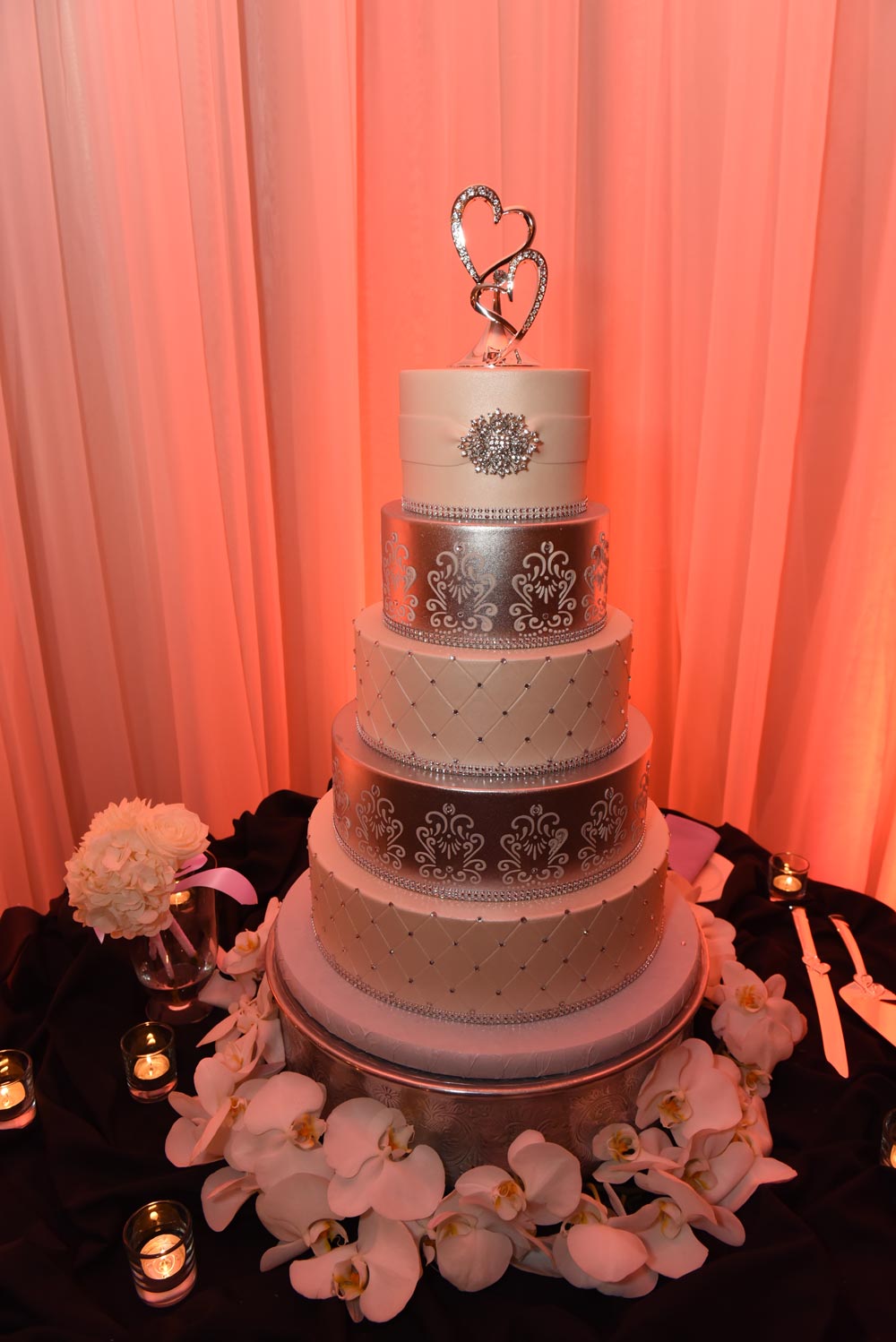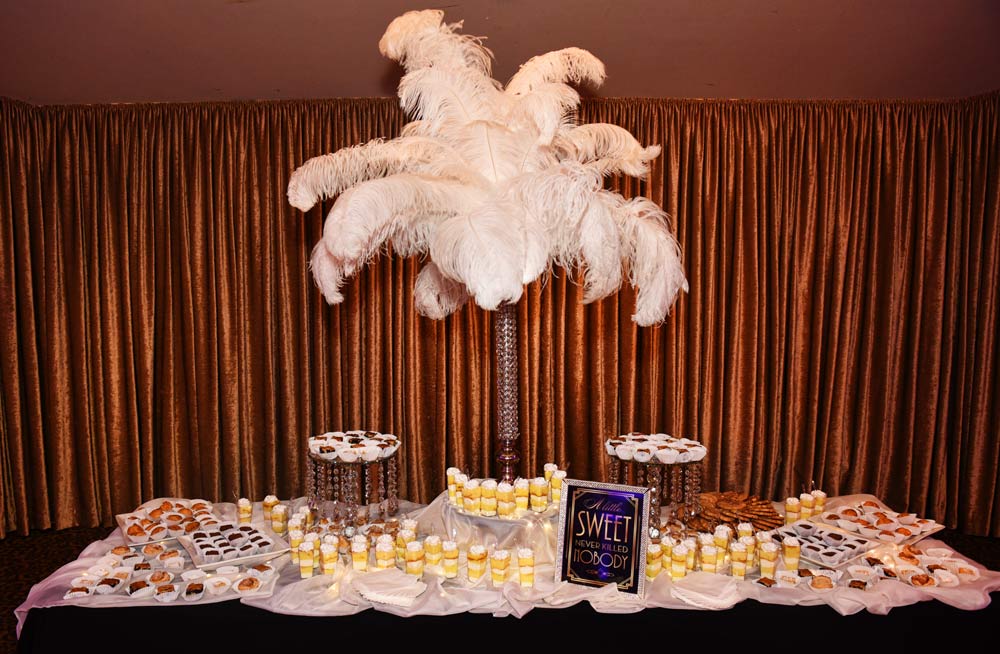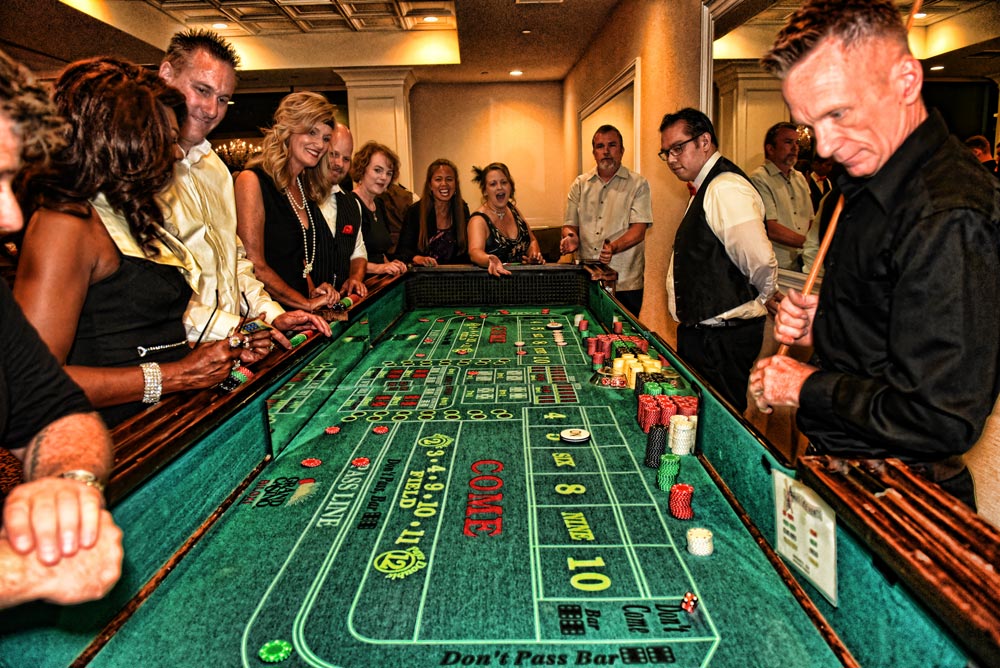 Then the party really started —­ the Gold Room had been converted into a speakeasy with a full casino, and the gambling money had the newlyweds' faces on it. The crowd danced, gambled and partied the night away, enjoying the special time that brought them all together.
Afterwards, it was off to a Hawaiian honeymoon for seven days of sun, snorkeling and island fun. Lynette says, "Listen I know I sound corny but I am 51 years old. I have NEVER had a love like this in my life. I really did not think it was possible. I thought it was a faery tale but I found my unicorn. I think if people wait, don't settle, realize that they are worth being loved —correctly, that they too can find it. I found it. We found it!"
[VENUE] Arden Hills Resort Club
[PHOTOS] Amore Fine Art Photography
[FLOWERS] Accents by Sage Floral Design
[CAKE] Above & Beyond Cakes
[DJ] Music on the Move
[GOWN] Miosa Bridal [TUX] Men's Wearhouse [HAIR / MAKEUP] Tina Romo / Shanna Beals [OFFICIANT] Rev. Jeri Murphy