Amy was ready to meet the right guy. "I'm going to find myself a husband tonight!" she told her friend on their way to a club in downtown Sac that night. And when that friend introduced her to Ryan, it was that positive energy that drew him to Amy. "Her kindness and humor sealed the deal. I love a woman who can make me laugh" he says, "and her nice legs are a bonus."
Sometimes it's a guy's smile that catches a girl's eye. Other times, it's his eyes. For Amy, it was Ryan's heart. Which made them a perfect match, because, as she says, "He is a very easy going person with an optimistic outlook on life. Once you get to know Ryan he can definitely be your best friend, he's such a thoughtful and loving individual." And dating a guy with a beard was new for her, and she decided she really liked it.
San Francisco was where Ryan asked Amy to be his girlfriend when the two started dating. So a return to the City by the Bay on Valentine's Day seemed like the right way to propose. Originally he planned to pop the question over dinner, but when the time came, they found themselves seated in the middle of the restaurant. Not wanting to be the center of attention, he changed his mind at the last minute.
Instead, he suggested a walk after dinner. Now, if there is anything in this world you can count on, it's being cold in San Francisco at night. Surely, someone as thoughtful as Ryan would gladly give up his warm jacket, right?
Nope. He didn't even let Amy put her hands in his pockets! She was wondering why he was acting so weird, but he couldn't just hand over his jacket with an engagement ring in the pocket. So they stood there, looking out over the ocean, Ryan whispering sweet nothings in Amy's ear while she was thinking, "What a sweet guy, but really, can I have that jacket now?" But this was his moment.
He knelt and offered his ring to Amy, and suddenly, she wasn't feeling cold anymore. "I felt a rush of excitement and shock, I didn't give him an answer. I giggled and blurted out, "Oh are you serious?!" A cop riding past on his motorcycle had stopped and saw the whole proposal. He congratulated us and let Ryan and me take photos on his bike!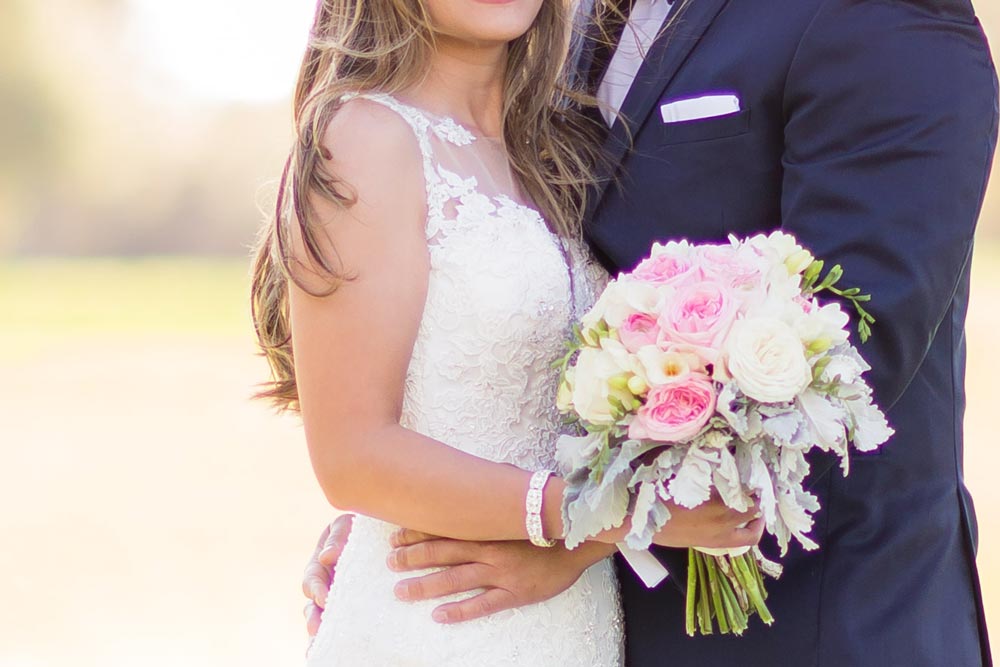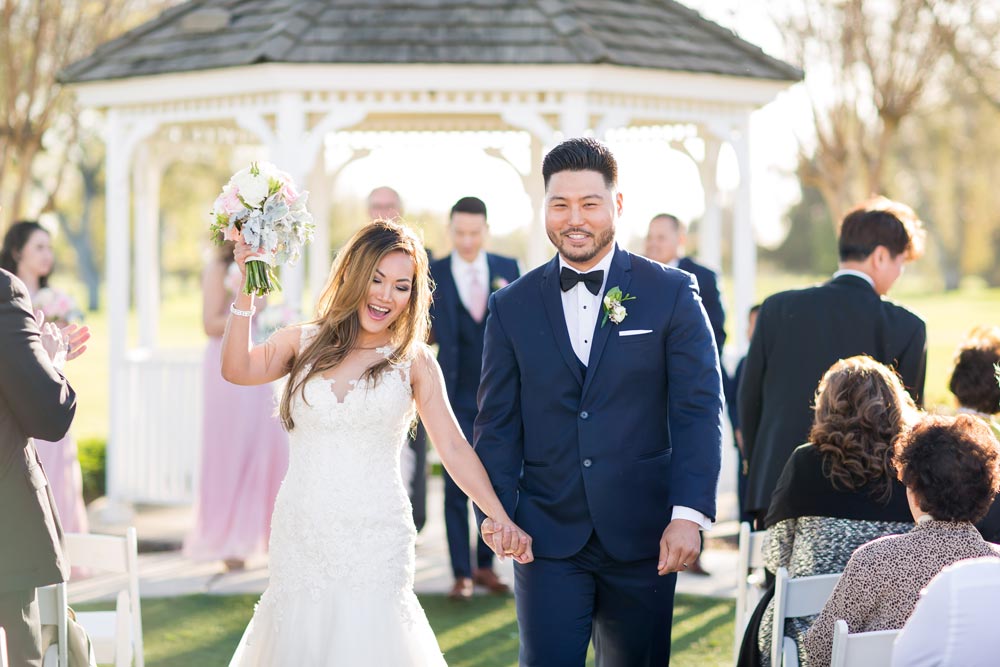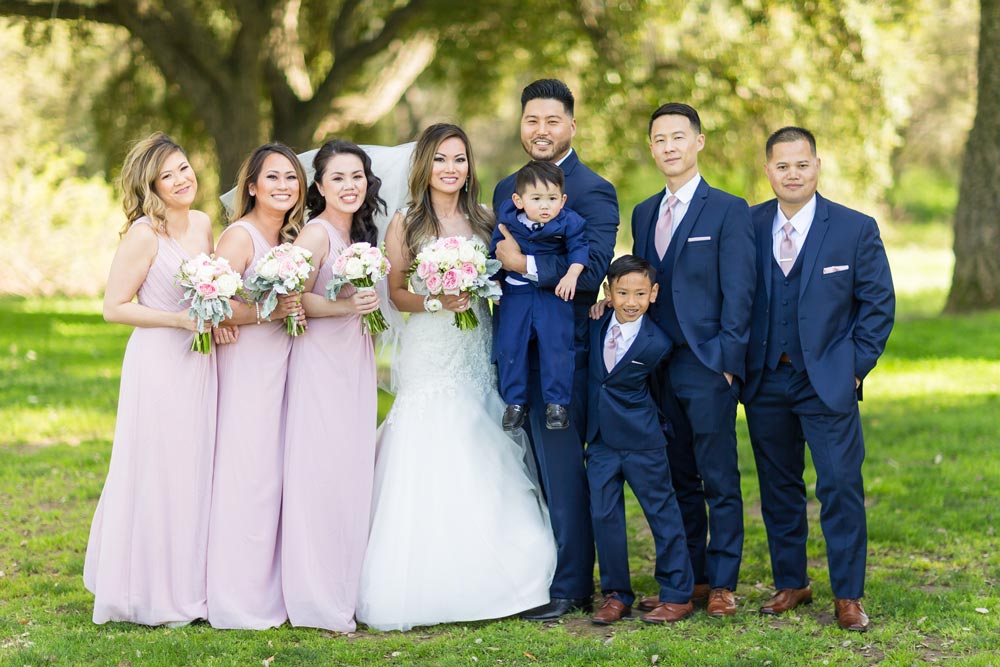 The affordable elegance of Sacramento's Haggin Oaks Pavilion was perfect for their wedding celebration. The pavilion was decked out in shades of navy, blush and gold for a look that was classic, romantic, and timeless, and light pink garden roses, white and pink spray roses, white ranunculus and hydrangeas adorned centerpieces and the wedding cake.
While the professional team at Haggin Oaks made sure the wedding ran smoothly, other elements of the wedding brought surprises, like Amy's wedding dress. "I had bought a size 2 before I had the baby. I thought I would fit back into that size afterwards. I thought wrong! They couldn't let out my dress enough so they had to cut the back into a V shape. And I decided I didn't like the cap sleeves so I had them trimmed off. The dress alteration turned out to be the most stressful part of the wedding process — I took it to three different places and it still wasn't right! So I just dealt with what they had done. It was finished just two days before the wedding!
Mother Nature had a hand in making things interesting too. It was so windy that day, Amy's veil blew away while she was reading her vows!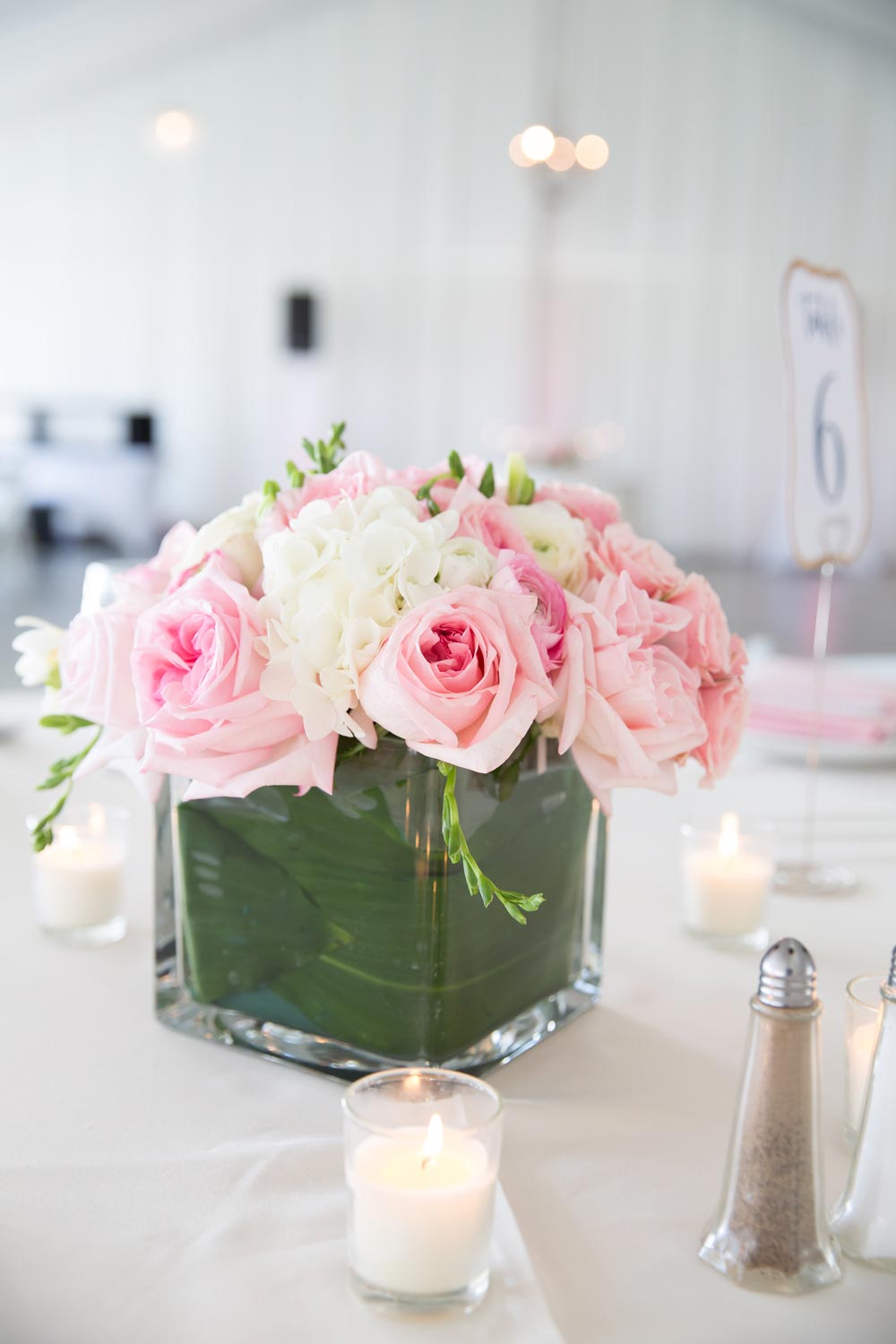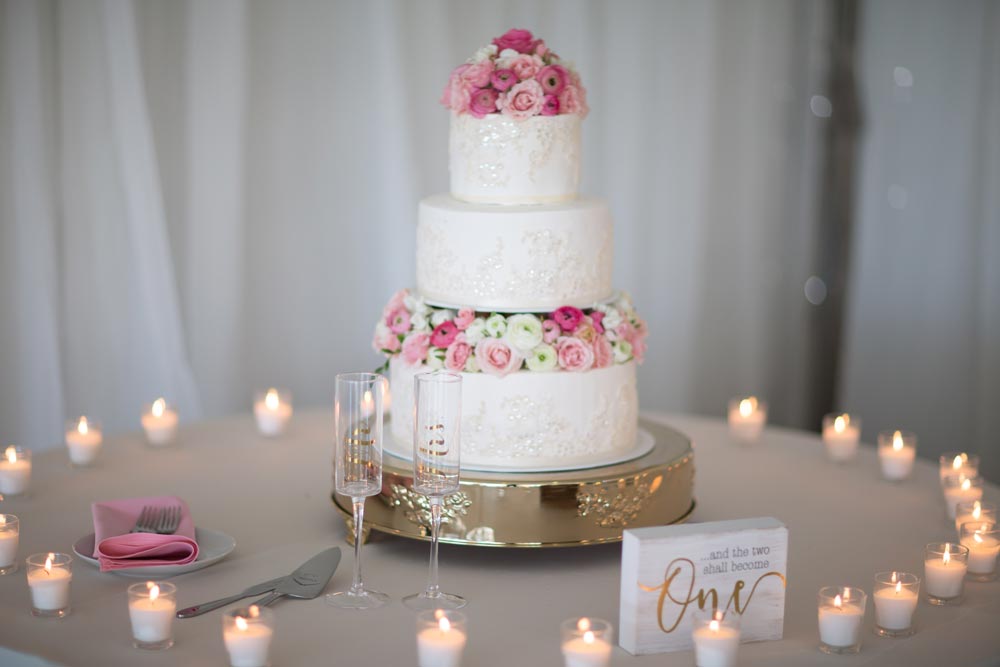 The Haggin Oaks catering staff delighted guests with a menu of: Mixed Greens with Pears, Red Onions, Blue Cheese and Candied Walnuts served with Vinaigrette. Appetizers: Chicken and Chorizo Empanada, Kale and Spinach Dip Bites, Sausage Filled Mushroom Caps. Main Course: Herb Beef Tips with Burgundy-Garlic Demi Glaze, Sriracha and Honey Salmon, Garlic Mashed Potatoes & Vegetable Medley. And for dessert, what else? Wedding cake!
Another taste of the unexpected came when it was time for the first dance. Amy recalls, "Originally I chose Ryann Darling's 'I Choose You' but later on, Ryan and I agreed we liked "Better Today" by Coffey Anderson better. Somehow that change got lost, though, so when we heard the other song we kept on dancing. But I will remember that for the rest of my life!"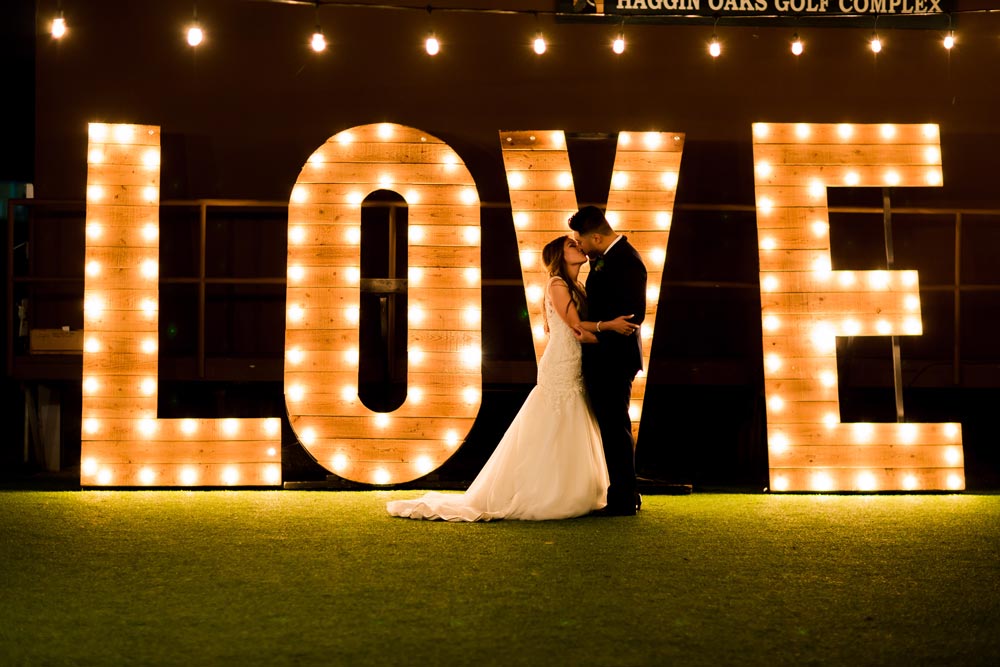 Now a bit wiser, Amy offers some excellent advice:
• Plan your budget before setting appointments to see vendors. Everything adds up quickly. Communication is the key. Make sure vendors know exactly what you want or don't want and put all of the details in writing.
• Plan ahead on everything. You may think a task can wait, but you won't have time later on. The week leading up to your wedding day is really chaotic.
• If your dress needs alterations, don't pay until you examine the work.
• We regret not hiring a videographer! We wish we had video to show our children our special day.
• And one last thing: Don't expect a two year old to cooperate on a walk down the aisle!
PHOTOS: Mike Phan Photography
VENUE/CATERING: The Pavilion at Haggin Oaks
[DESSERT/TUX] The Wedding Center [GOWN] Miosa Bride [RINGS] Shane Co. [ENTERTAINMENT] Stereo Fusion Entertainment