Their personalities flow seamlessly together and they radiate a peaceful, cheerful demeanor. Any room seems warmer with their inviting smiles and genuine affection for the other, which becomes exceptionally apparent by the way they enthusiastically recall their fond memories of their blossoming relationship.
Kevin heard about Nicole through mutual friends from their days in high school in the small town of Orangevale, and he decided to strike up a conversation with her on myspace.com, then a fairly new social networking phenomenon. Before long the two agreed to meet to go kayaking on the American River. Anyone familiar with kayaking will tell you that it doesn't lend itself to easy conversation, but Kevin and Nicole found a way to talk non-stop the entire time. They couldn't have asked or a more adventurous and unusual date.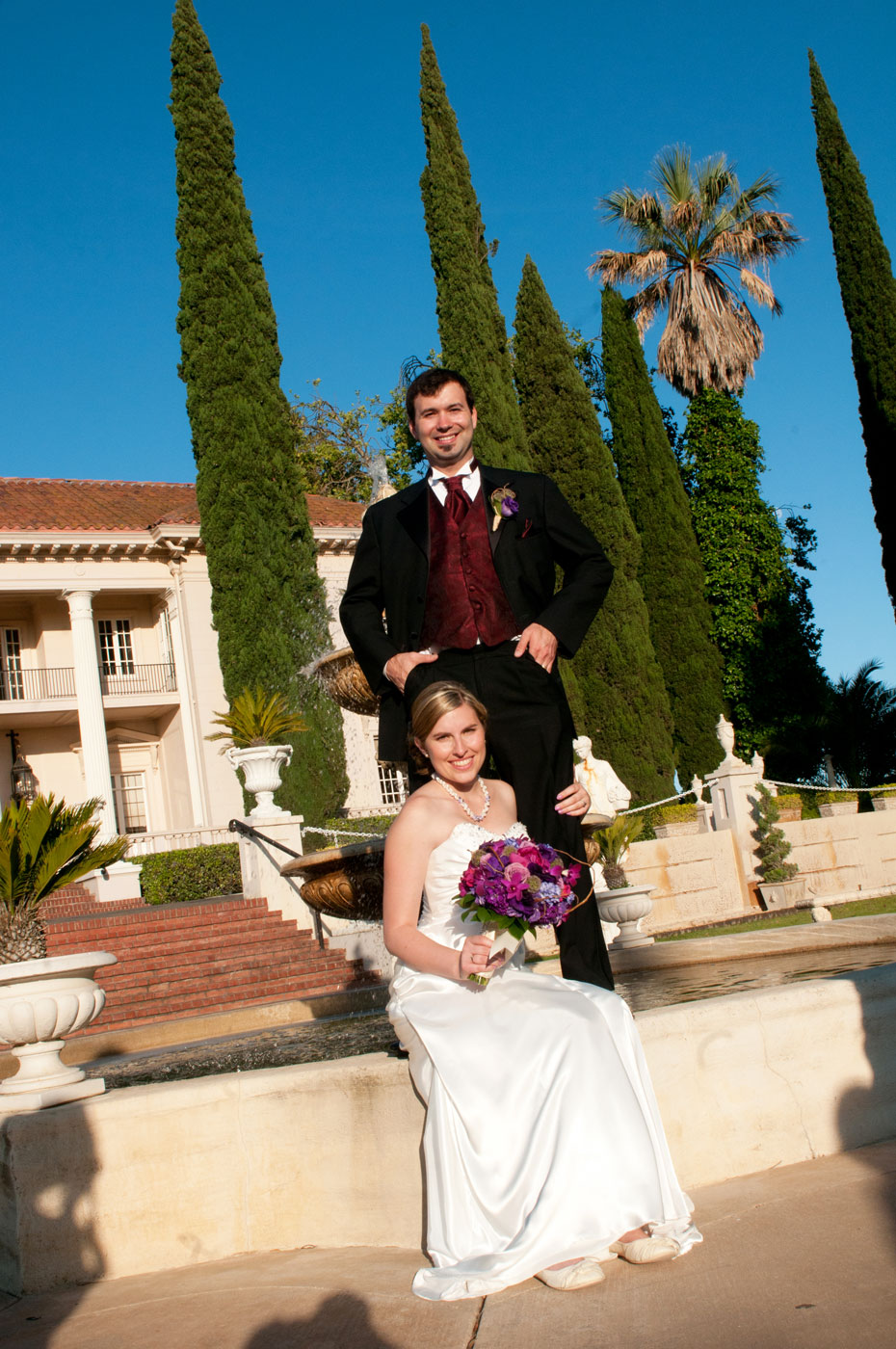 Eager to see each other again, a week later Kevin and Nicole made a date to go to the movies, but Kevin canceled their date at the last minute. Nicole recalls with a smile how alarmed she was at the time, "I thought he flaked on me and it was over then and there. He said he had strep throat but I didn't believe him." As Nicole would later learn, Kevin was actually ill, and they rescheduled their movie date.
It was their third date, though, that solidified Kevin and Nicole's relationship permanently. Kevin took Nicole to see a band called Rock Kills Kid at The Boardwalk, a music venue in Orangevale. Nicole recalls that she felt rather out of her element that night, but she had a great time being with Kevin. Later that night Kevin and Nicole shared their first kiss, and secured their new relationship. This night would prove to be especially memorable and special for the young couple, as they chose the song "Beside Me" by Rock Kills Kid, as the song for their first dance at their wedding six years later.
Nicole thinks back to the beginning of their relationship with fond memories. "We got along so well, we just loved being around each other. We didn't have to work too hard to make time for each other, it was just natural." While it was apparently natural to the two of them that they should be together, many of their friends and family wondered how they would make their relationship last past college because they lead such vastly different lives. Nicole was trying to balance attending UC Davis as a full time student, working a full time job, and making time for Kevin. A 90-mile daily commute to attend school in Davis left little time for a blossoming romance. However Nicole reflects that despite school and work, "We always made special time for each other no matter how busy we were. We still got to see each other often. Slowly over time we began to increase the amount of time we spent together when we could manage it, until we wanted to do everything together."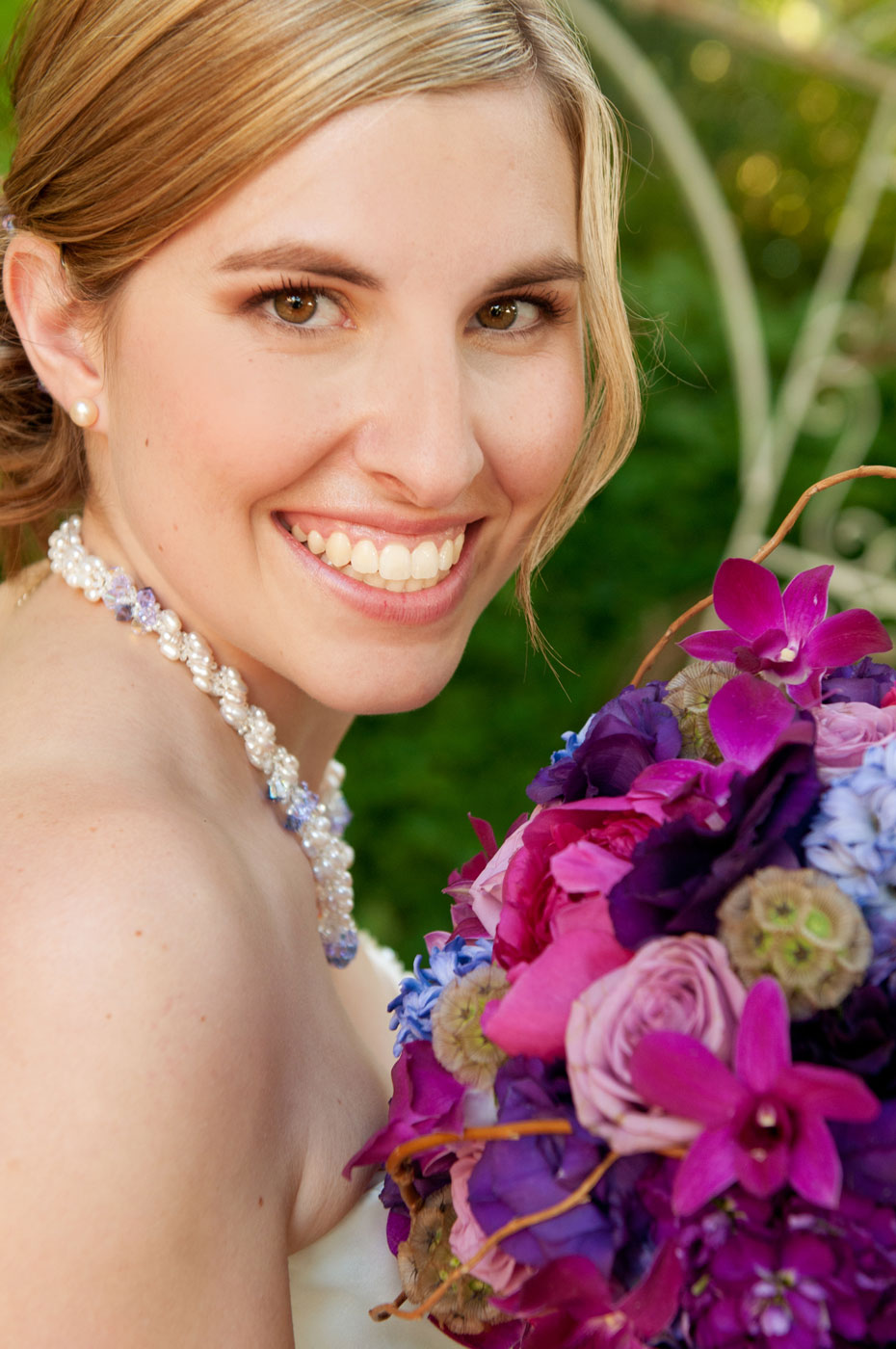 Kevin's roommates at the time noticed subtle changes in his demeanor as he continued dating Nicole. "One day, seeing me dressed up for a date, they said with laughter 'Dude, what did she do to you?!'" It was becoming obvious that Kevin and Nicole's relationship was becoming more than just casual.
One evening, when he had Nicole over for dinner, Kevin surprised her with bottle of wine and from that point on, wine tasting became an activity enjoyed by them and their friends. As a result, the theme of their wedding was wine and vineyards, including miniature bottles of wine with personalized labels as their favors.
After almost five years of dating, Kevin and Nicole had reached a point in their separate lives where they felt it was time to move in together. Nicole had graduated from UC Davis, and with her education completed and both of them ready to move into a new phase in their lives, the couple moved into a small studio apartment in downtown Sacramento. They managed to share the small space with ease and comfort for an entire year, and Kevin recalls how it was a smooth transition in their relationship because "We have a way of really settling and making compromises on things." Such understanding and compatibility stems from the couple's thorough appreciation for the personality and attributes of the other, such as Nicole's endearing description of her husband, "Kevin is adaptable, unpredictable, and honest. He can adapt in any situation and is comfortable anywhere, you can take him anywhere and he makes it work. He's unpredictable because every day is something different, he's constantly changing and moving. He's honest about everything, with other people and even with himself. He doesn't try and falsely justify things, or try and let himself or other people get away with things."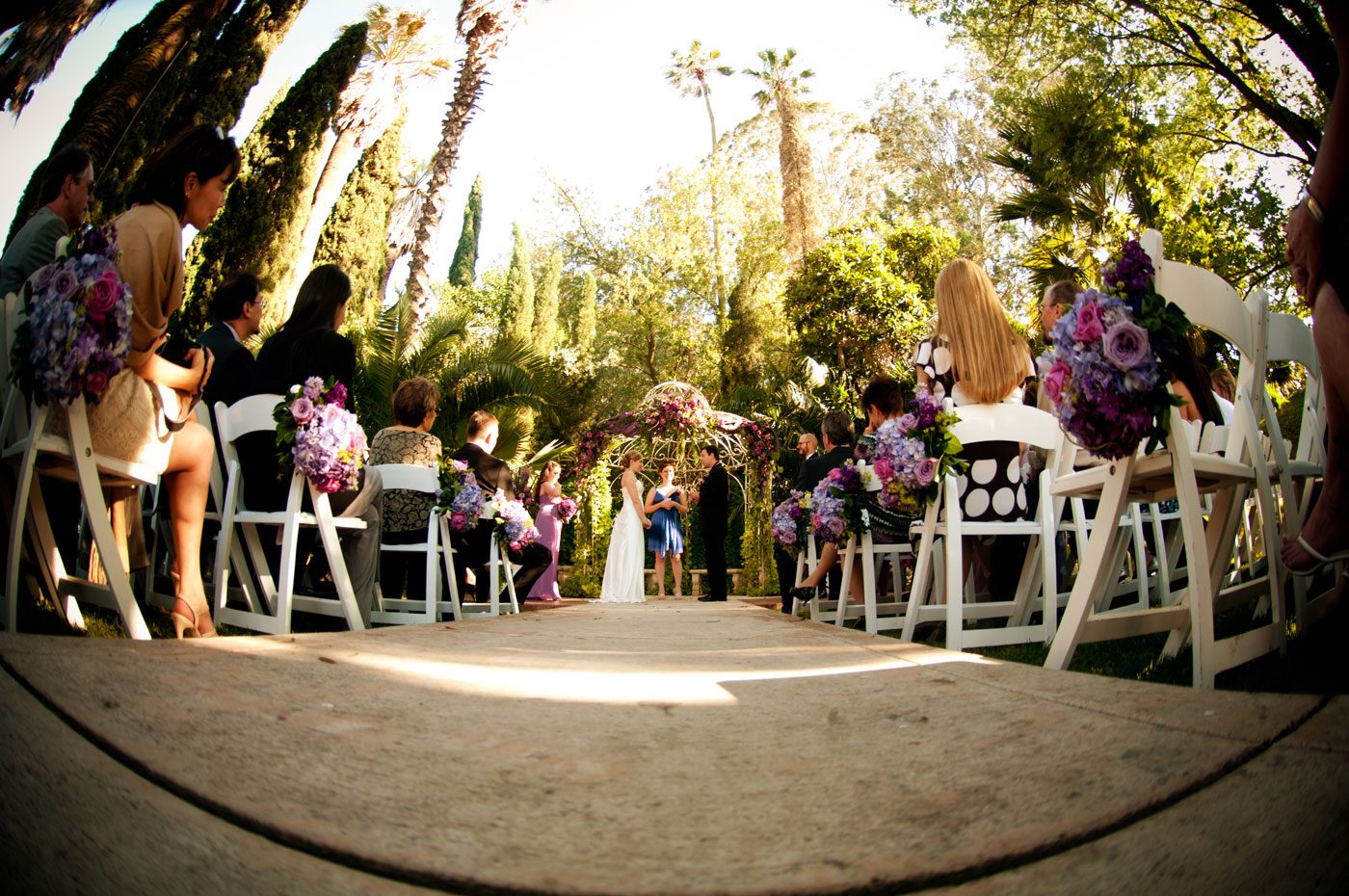 Kevin describes Nicole with three powerful adjectives, "Fun-loving, perseverant, and noble. She has dreams and she follows them. She wants to be a teacher and she's not out to help herself, she knows what she's doing is a good thing. She wants to help other people and she works very hard to make it happen…That part of her drips into everything else she does. She knows when the right thing needs to happen and she puts it out there."
At this point in their relationship, with stability and their own apartment, the couple knew they were ready to commit to spending the rest of their lives together. However, Kevin also knew that he didn't want to propose to Nicole in a clichéd manner. For their fifth anniversary together, Kevin and Nicole took a trip to Long Beach, California. Kevin knew that he was going to propose to Nicole at some point during the weekend, but he didn't plan anything out, or even purchase an engagement ring. Instead, Kevin repaired a necklace that he had given to Nicole for their first Christmas together. Nicole felt that that necklace was especially meaningful, and was disappointed that the gold chain of the necklace had broken frequently over the years.
Kevin had purchased a new and stronger chain for the necklace and brought it along on their trip to Long Beach. On their anniversary, the couple planned to go out to dinner and have a fun, intimate evening. However, as they were leaving for dinner Nicole couldn't find any of her jewelry, as she had accidentally left all of it at home while she was packing.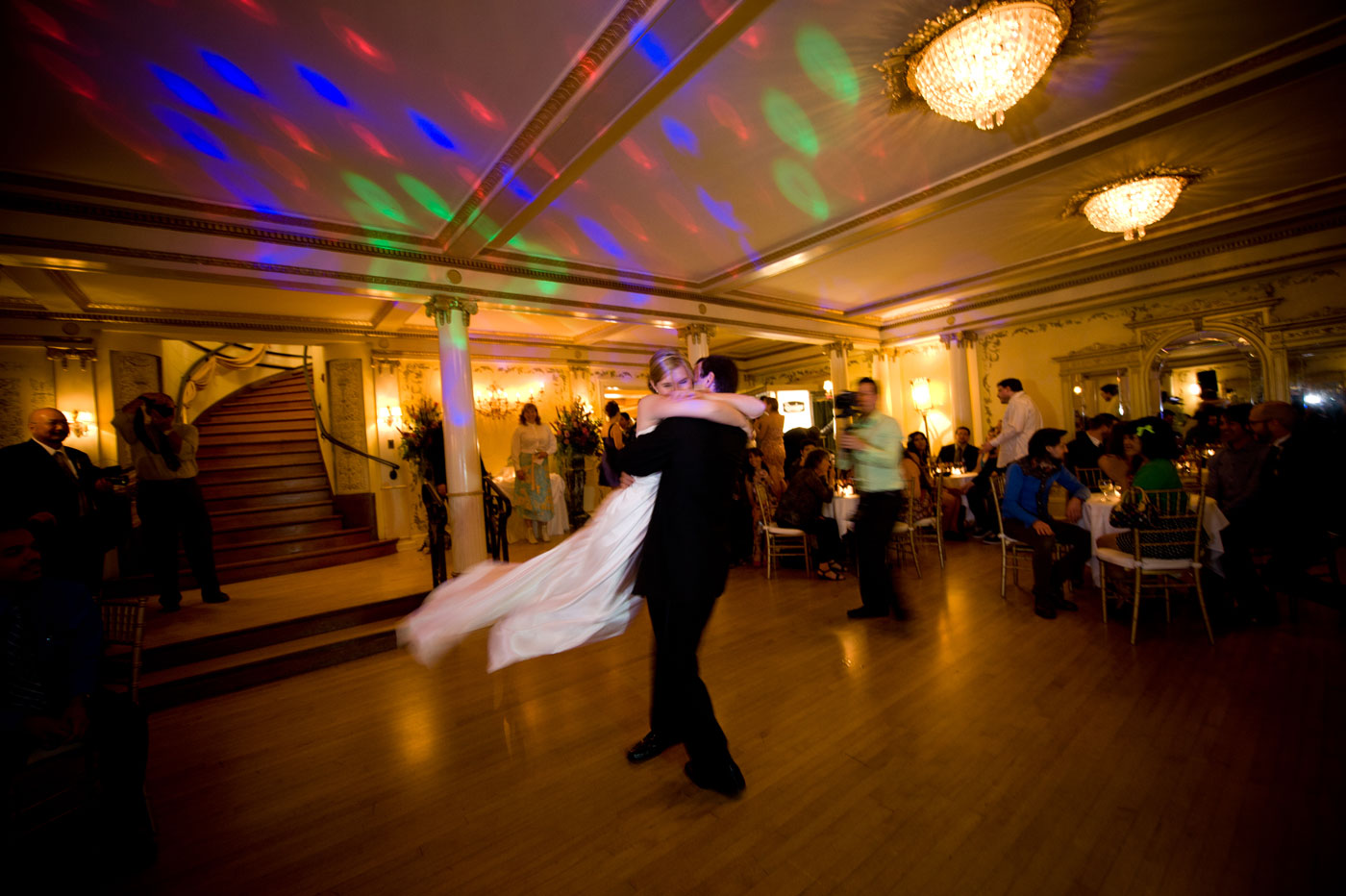 In the spur of the moment, Kevin asked Nicole to marry him with the repaired necklace. With a tear or two in her eyes, Nicole said yes.
Kevin and Nicole were married on June 12, 2011, less than a year after their engagement. In keeping with the thought that their relationship would not follow clichéd and hackneyed customs, Nicole asked Kevin to play the traditional Wedding March on his guitar as she walked up the aisle. This kind of originality gives Kevin and Nicole's relationship an infallible and profound quality, which is instantly apparent with every smile, every laugh, and every gesture. Every non-verbal contact seems to communicate volumes between the two of them.
Their commitment and passion for each other and the life they have created together has aged well over the seven years Kevin and Nicole have spent together, like a great bottle of wine.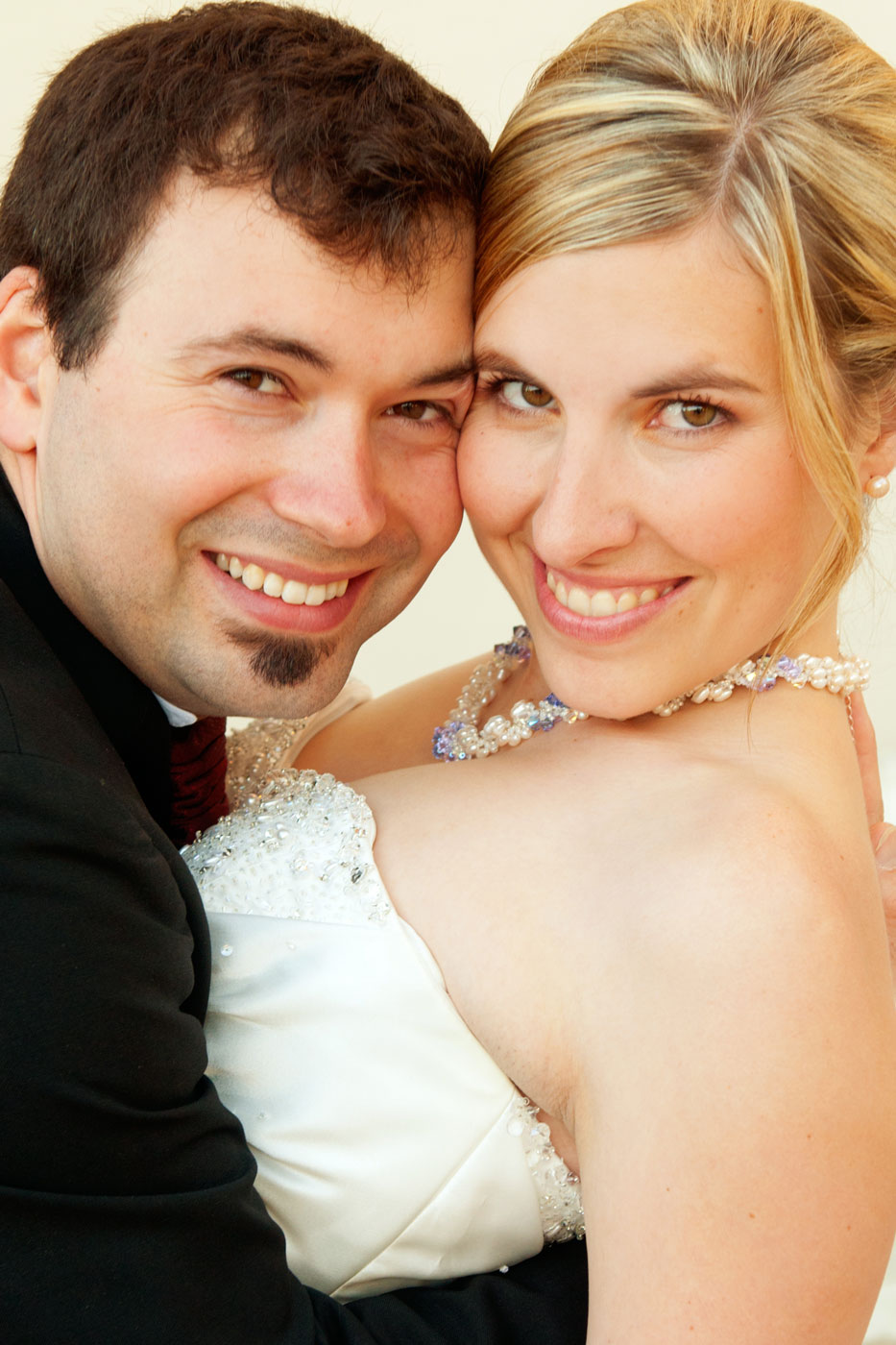 Photos: Rachelle Photography