What do you get when you combine a cross-continental romance, a French castle, and a dreamy set of "I Do's"? Happily Ever After…
To say Nick and Axelle met by chance is to put it lightly. He was a Sacramento film student and she was a professional cabaret dancer born and raised in France. Yet, as fate would have it, their paths managed to cross across a hotel balcony in Southern California.
"I was working in Marina Del Rey and she was there with her cabaret troupe performing," Nick explains. "Luckily enough her place and my place were across from one another and our balconies faced each other."
Axelle spotted Nick and some friends out on his balcony one evening while she was sharing a cocktail with a few of her girlfriends. Eager to practice her English, she called them over. "I honestly wasn't looking for anything more than to practice my English and meet some American people," recalls Axelle. "But Nick was great to talk to and we just kept talking."
Soon, the two were meeting nightly after her dance performances and talking into the wee hours of the night. While Nick was instantly struck by the French beauty, Axelle, who realized the impracticality of their relationship. "I was going back to France in just a few months," Axelle says. "I just told him one day, 'I really like you but I think we should just be friends'…but then, I just couldn't resist."
"I was convincing," adds Nick. "I thought she was incredibly special and I figured – let's go for it."
Once Axelle returned to her home in France, they managed to see one another every other month or so, flying between the United States and France for weekend visits. Within a year, Nick was ready to propose. He knew he wanted to ask Axelle to marry him on the beach, so he waited until the couple had planned a vacation together to the seashore in France. But, like many things in a relationship complicated by long-distance and language barriers, pulling off the proposal was far from easy.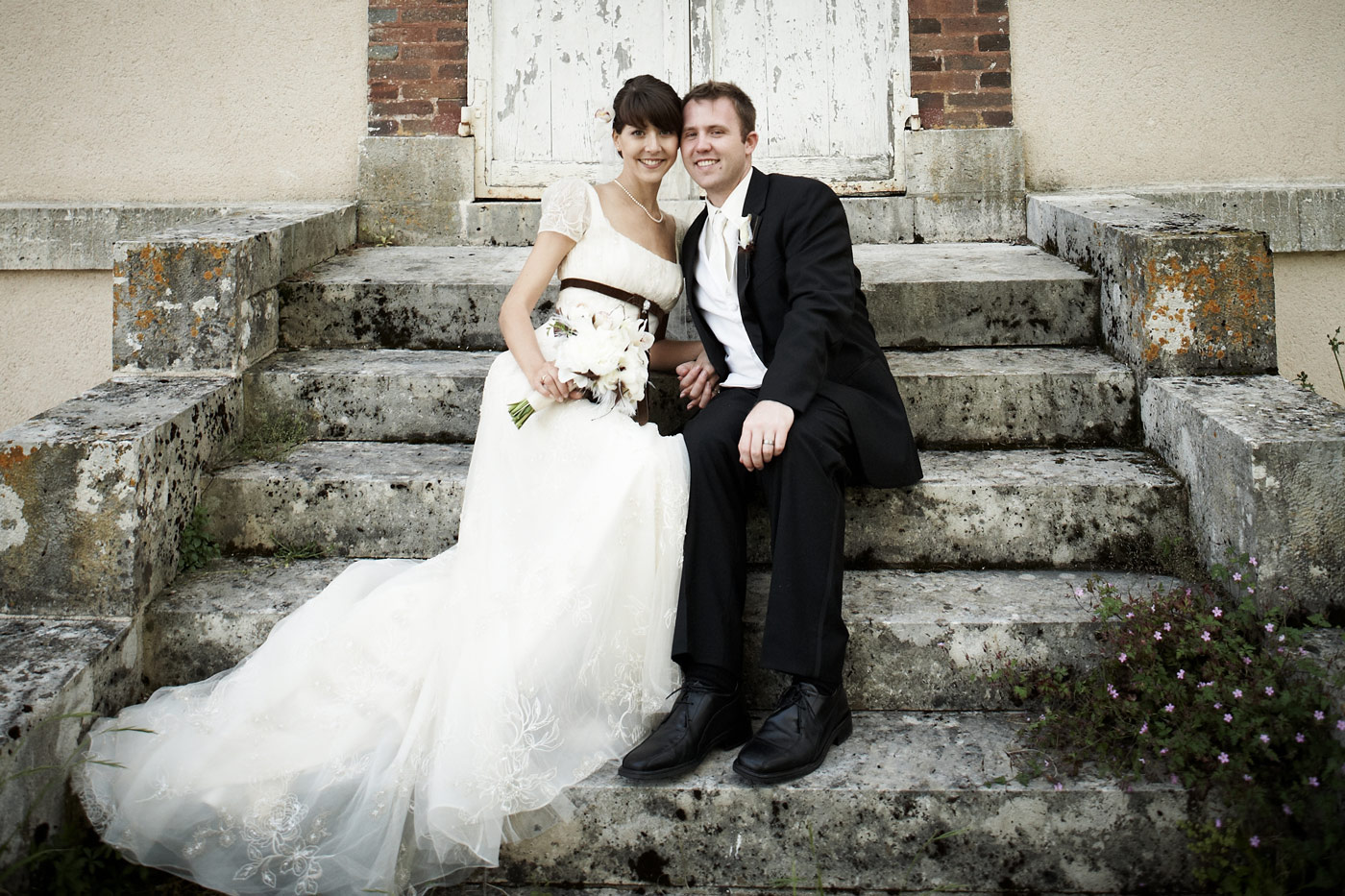 "First I had to get the ring through customs; that was nerve-racking because they wanted to search every bag and I didn't want it to be found," recalls Nick. "Then, I made sure to ask her Dad first, which was a feat in itself because he didn't speak English and I didn't speak perfect French…I was fumbling around trying to ask him for his blessing in French. But he was great. He had a huge smile on his face; he was totally shocked, but he thought it was great."
As it turned out, Axelle's father wasn't the only one who was shocked by the surprise proposal. The bride-to-be herself was caught off-guard by the seemingly sudden affair. "I was so surprised when he proposed to me." recalls Axelle. "In France, you don't get married so fast. People are together five or ten years without getting married. I wanted to see if that was where this would lead, but I never expected him to propose so soon – less than a year after we started we dating."
Axelle was so surprised, that she didn't immediately accept Nick's proposal. "I told him, 'I don't know; I'm too young. I'm just a kid.' He looked at me and said, 'then we'll just be two kids getting married' – that's when I knew," she says. "Then, later when I was alone I kept looking for a reason to say 'no' and I couldn't find one. I just knew it was right."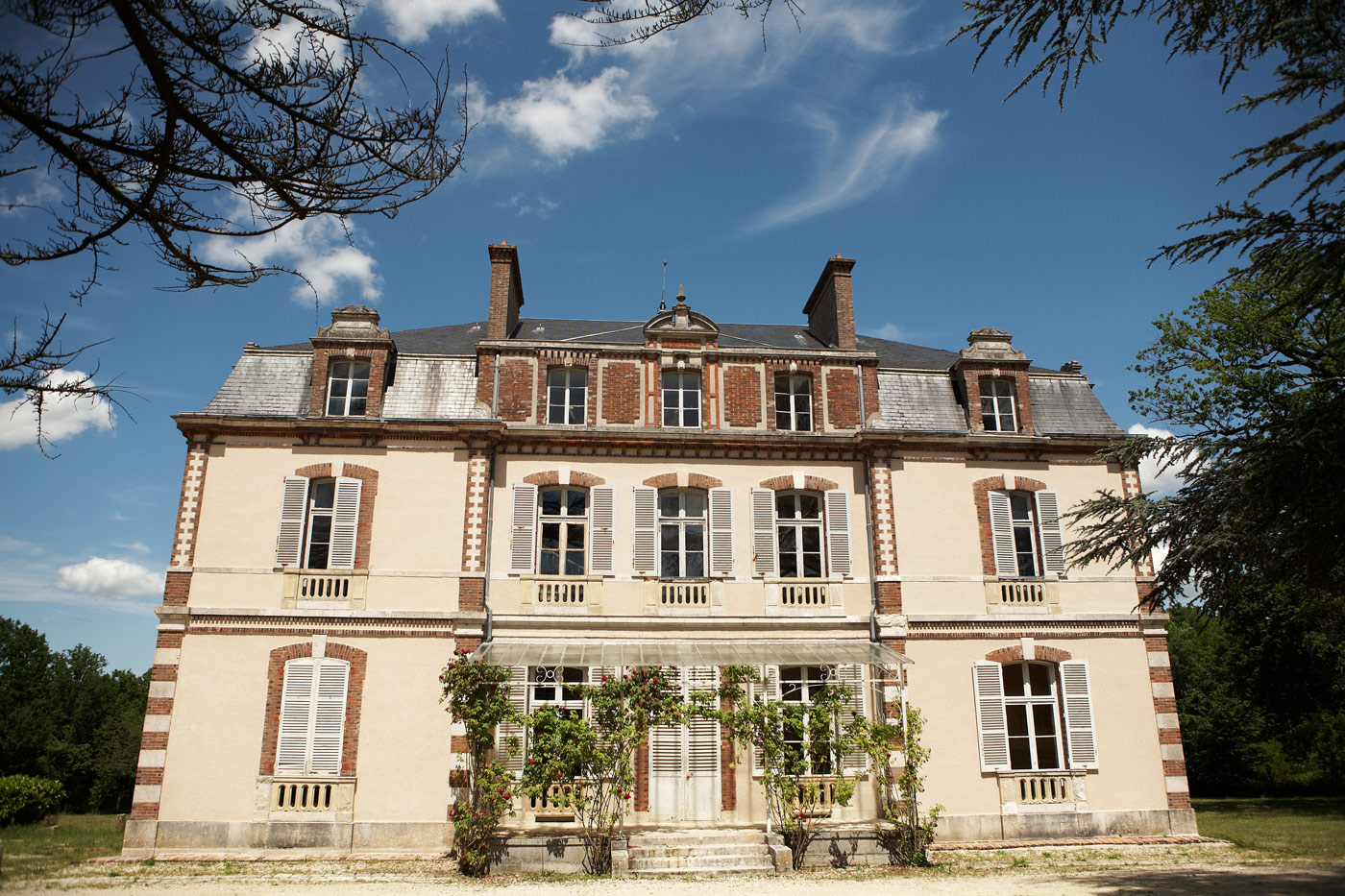 With the engagement set, the couple still didn't begin to plan their wedding right away. With Axelle relocating from France to California to be with Nick, there were plenty of other arrangements to be made, including work visas and other official documents. "Moving was a big step for me," explains the bride. "I'm a French country girl at heart."
Soon, the discussion turned to wedding plans. "We knew we wanted to marry in France," says Axelle. "But it takes a long time to plan a wedding there – you can't get married in a hurry." So, to help move things along with Axelle's visa documentation, she and Nick held a simple civil ceremony, with Nick's mom serving as a witness. "We wanted to keep all the emotion and all the celebration for later in France," says Nick. "But taking care of the legal portion before really made things less complicated."
With all of the vendors being native French speakers, the planning and coordinating fell to Axelle. And, because of the time difference, most of her phone calls and arrangements had to be done in the middle of the night. "It was a lot of work! But my mother-in-law and my sister helped a lot," says Axelle.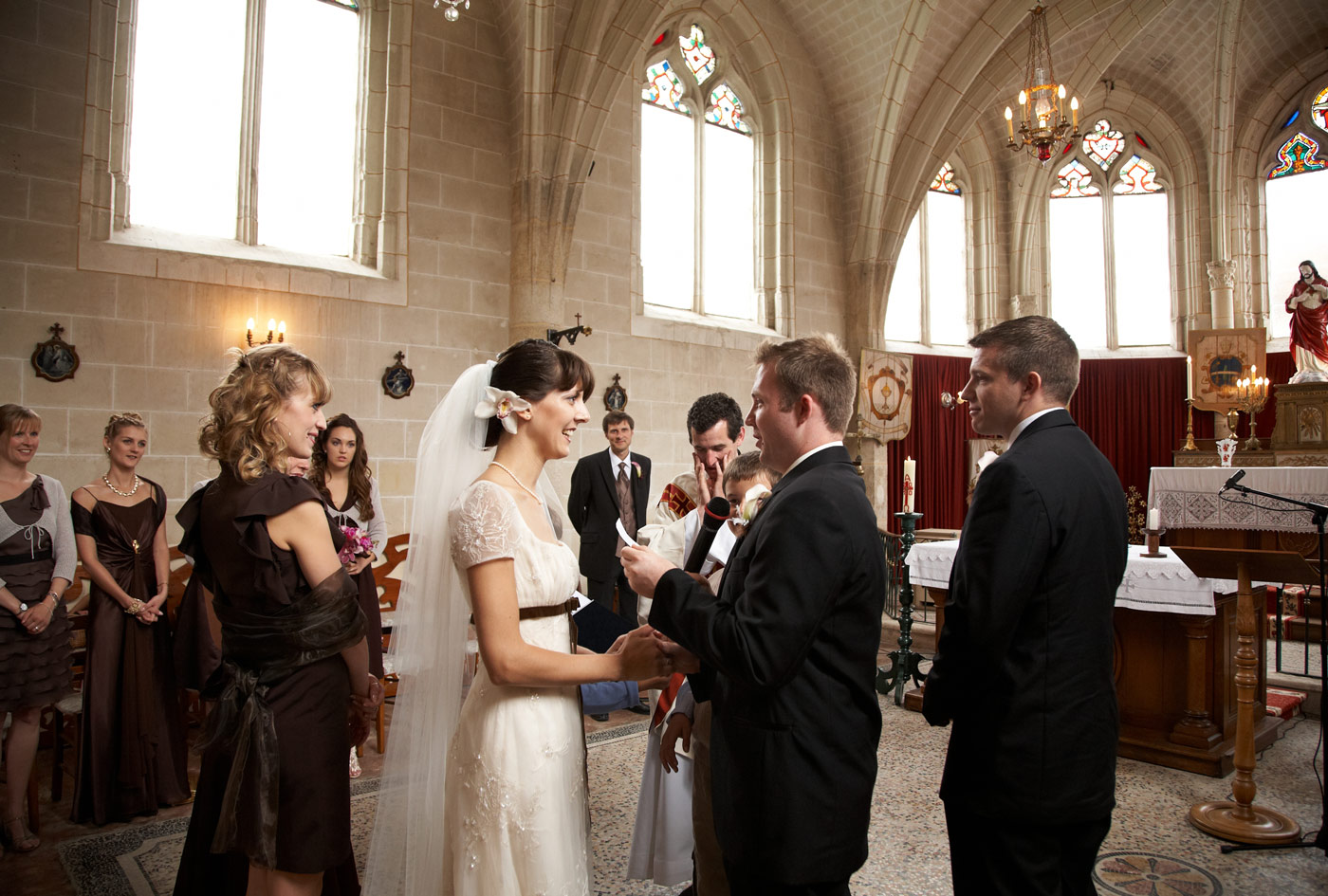 For the ceremony and reception, Axelle selected a romantic location that most American brides can only dream of – the French countryside. In the small town of Montargis, about an hour and a half away from Paris, Axelle's father had a country home. With its rolling hills, greenery, and charming chateaus, Axelle knew the village would be a perfect spot for her wedding.
"Having it near my father's house was perfect; that house is like my roots in France," says the bride. "And there is a little old church not far away where the women in my family have all been married."
For the reception, Axelle and Nick rented an amazing castle, just 20 minutes from the country church. The beautiful chateau and grounds would allow for an indoor and outdoor reception, exactly what the couple wanted. The castle itself was a beautiful stone mansion, with a charming historical ambience. Surrounded by estuaries and rolling, green hills, the country estate was oozing with French picturesque charm. "It's like a place from another time," says the bride of her venue.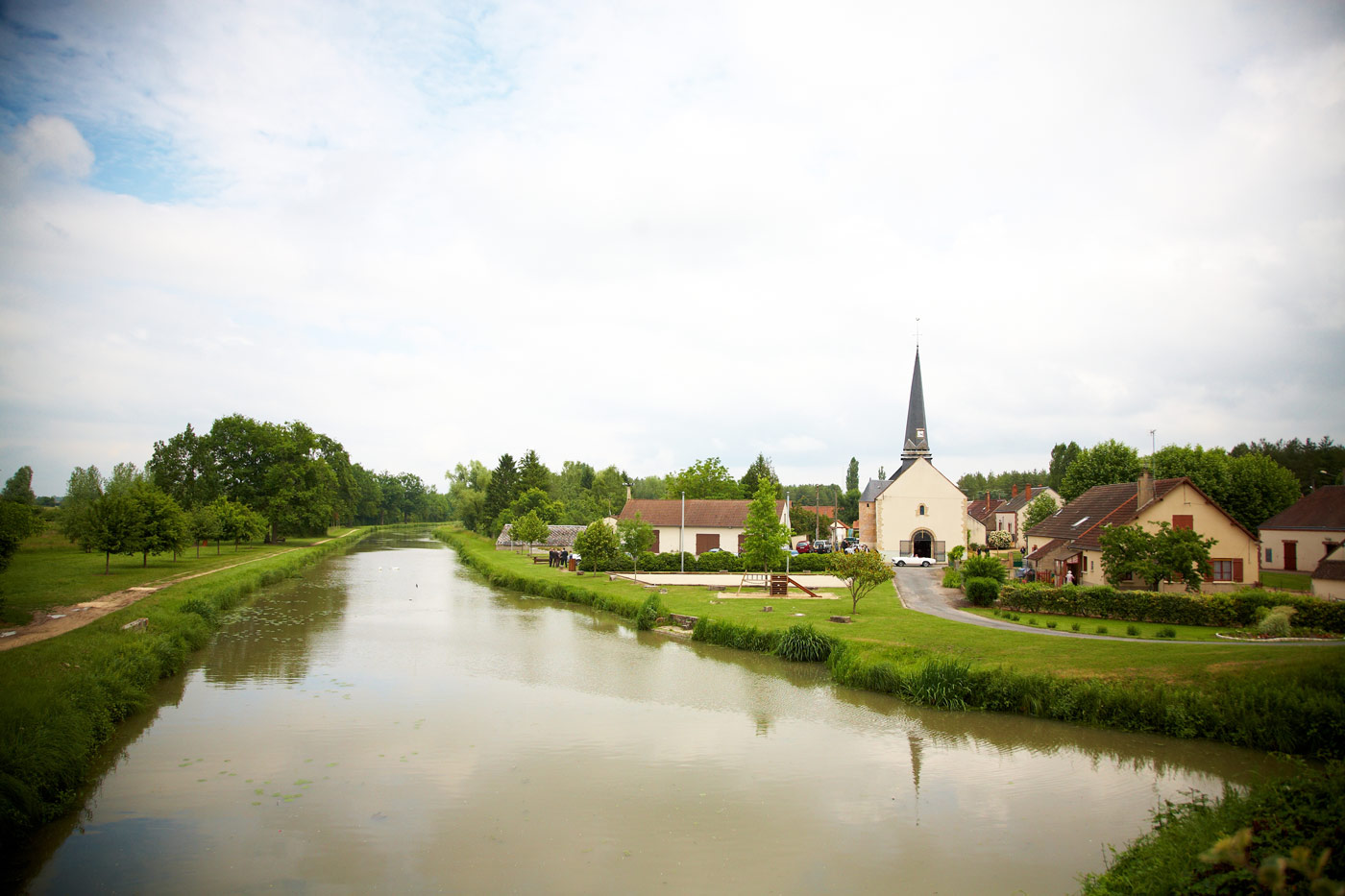 With a location so breathtaking, not much decoration was necessary. Instead, Axelle and Nick chose to let the castle's intrinsic beauty shine. They carefully selected aesthetic details that would compliment the French estate, rather than overpower its charm.
To start, Nick and Axelle selected a soft, muted color scheme of ivory and chocolate. Then, to add a layer of color, they chose a deep, raspberry pink to offset the muted neutrals.
Next, they built upon their chosen color scheme with flowers in colors that would compliment the French castle and its stunning grounds, and have the organic, natural feel that the bride wanted. Still, while they played around with various varietals, designs, and scale, choosing exact centerpieces and bouquets was next to impossible because they couldn't be sure what would be available in France.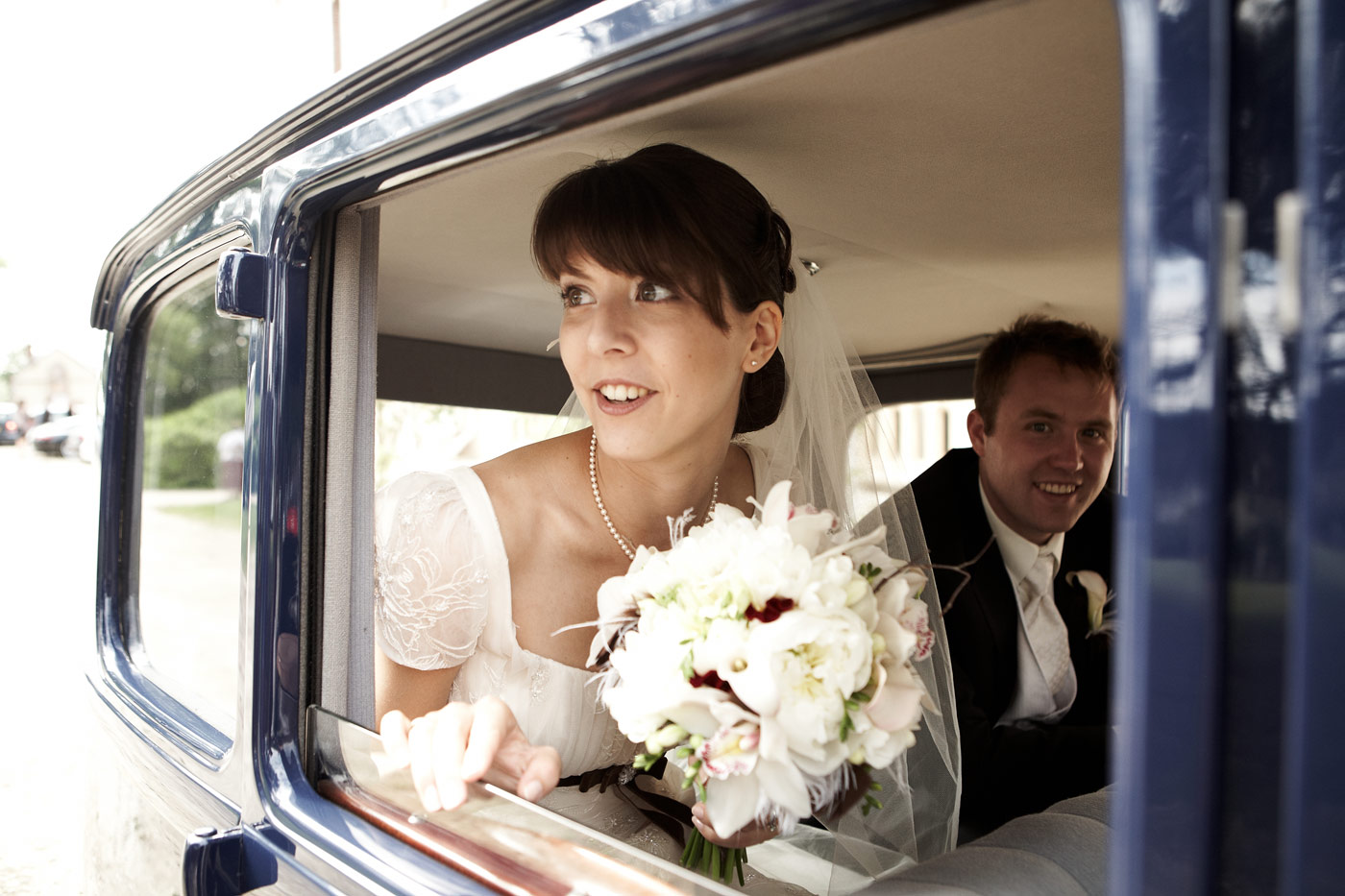 On the morning of their June wedding, a light rain misted over the French countryside. Meanwhile, the bride dressed at her father's country home. For her gown, Axelle selected a beautiful a-line lace dress, with a chocolate tie under the empire bust and cap sleeves. She topped her look with a delicate lace veil that flowed down her back, catching the breeze.
As the wedding party headed to the church for the afternoon ceremony, the sun started shining and the weather turned picture-perfect. 130 guests gathered in the little country church to witness the couple exchange rings and vows. The priest, a family friend of Axelle's, conducted the traditional blessing ceremony and pronounced the couple husband and wife.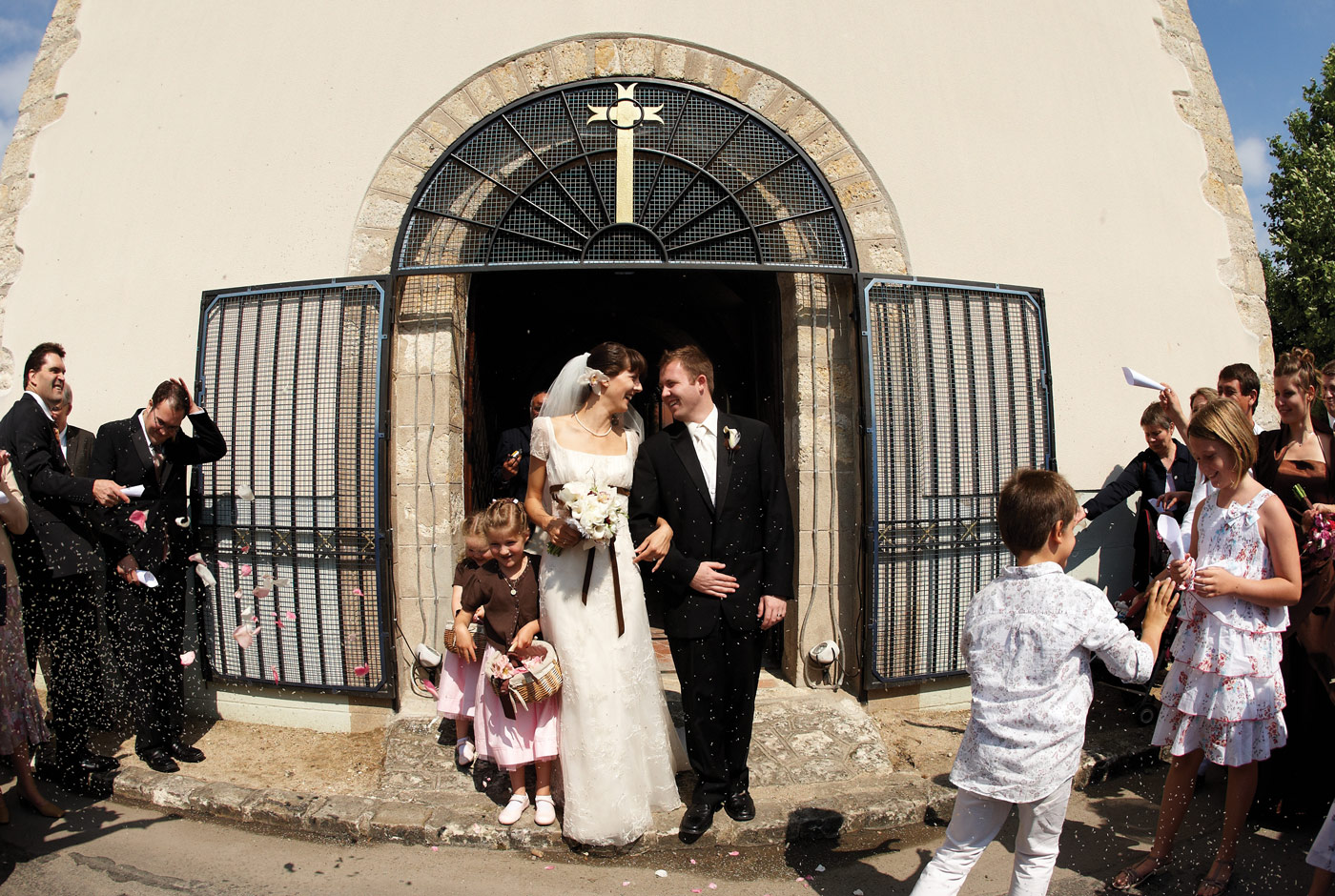 After the ceremony, the guests took part in a traditional convoy to the reception.
"It's a tradition in France to line up all the cars and guests and have a convoy through the town," explains the bride. "All of the people wave and yell congratulations to the bride – it's charming."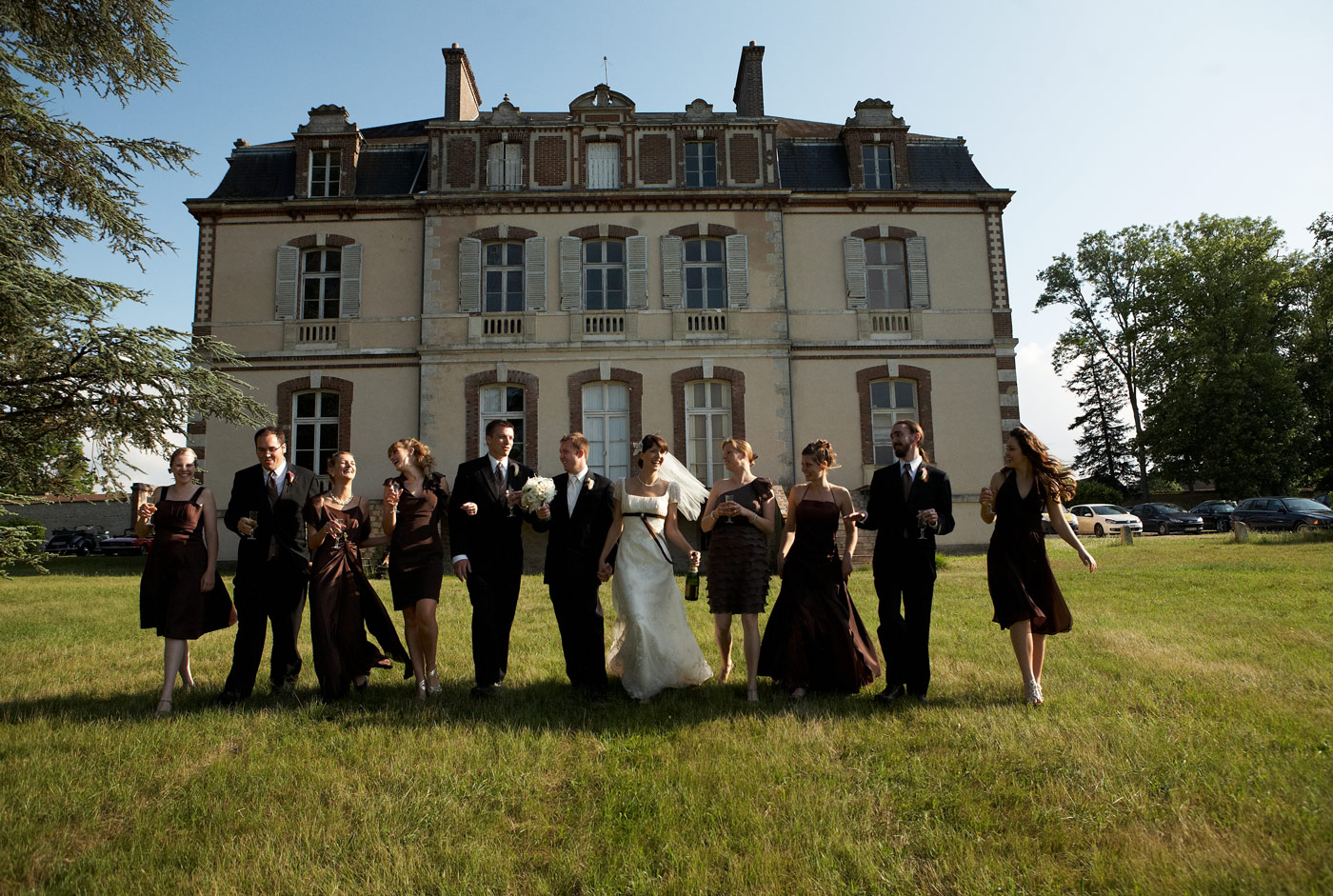 Nick and Axelle handed out American flags to the cars, which set off in a long caravan through the town and up the winding dirt road to the castle. Once they arrived, the newlyweds took formal pictures around the chateau and the estate grounds, and guests enjoyed cocktails and hors d'oeuvres outside, while music from old movies and cabaret shows played – a nod to the bride and groom's careers in the entertainment industry.
Then, the wedding feast began. The grand dining hall was lit with candles and the tables were set with the linens and beautiful floral centerpieces designed by Visual Impact. Pink and cream roses, peonies and gerbera daisies were complimented by wood, flowers, and rocks from the grounds. The centerpieces were low at each of the guest tables and tall at the head table for the bridal party. Ostrich feathers accented each as a nod to Axelle's cabaret costumes.
Also at each table, a Hollywood-style clapboard sat instead of a table number, in reference to Nick's job in film. In addition, a little Eiffel tower statue represented the bride and her French heritage. Each was labeled with a place that was important to either the bride or groom, and included a story to explain the significance.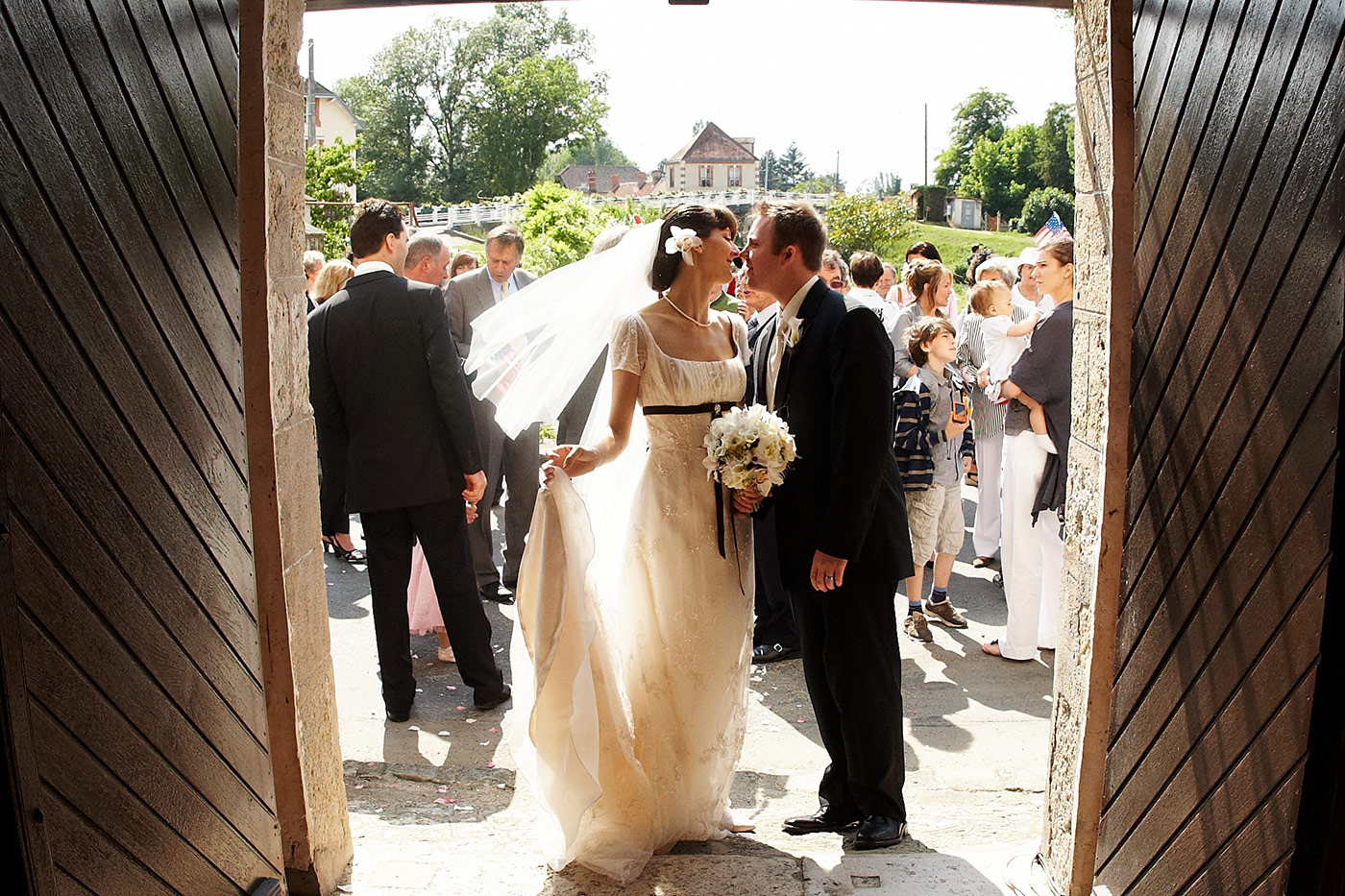 "So many of our guests didn't know both of us, so it was important for us to help them get to know us to break the ice," says Nick.
For the dinner, Axelle worked with a traditional French caterer whom she met through her cabaret troupe. He designed an impressive menu that celebrated the best of French cuisine – including a venison and quail duet, a chestnut soufflé, a cassolette, and a cheese plate. For dessert, an impressive array of French sweets and pastries awaited guests.
"At first, our caterer said absolutely no to a wedding cake," Axelle says. "That's not a French tradition and he thought it was silly and American – plus they don't usually taste very good…but, he came around and we had an amazing little French cake with layers of mousse and chocolate. It was incredible…but we forgot to cut it!"
Throughout the lengthy wedding dinner, guests were entertained by song and dance performances from Axelle's cabaret friends. In addition, family and friends gave heartfelt toasts. In fact, the toasts became a friendly competition between the two dads.
"It was quite funny because my Dad is British and doesn't speak French and her Dad is French and doesn't speak English – so they needed to come up with ways to translate their toasts," Nick recalls. "My Dad had this rig that he wore on his chest. It had a roll of toilet paper with the speech written on it and the French translation. He'd pull it out and read the French translation as he went along, it was hilarious."
"And my Dad had an easier solution," says Axelle. "He had friends serve as 'subtitles' – he stood on a chair and tapped their heads and they'd translate what he'd just said."
As the evening wore on, guests continued to enjoy the camaraderie, the wine, and the wonderful food. With all of the toasts and the fun cabaret performances, the dancing portion of the evening didn't even begin until 2 o'clock in the morning!
Finally, Nick and Axelle took their first dance as a couple on the dance floor. During their dance, their caterer arranged for a special surprise. He lit sparklers and other fireworks to go off along the dessert buffet that lined the dance floor, casting a cascade of sparkling light across the stone walls of the hall. In addition, he placed smoke machines under the dessert tables so a romantic cloud of white fog rolled around the newlyweds' feet as they danced.
Then, after tossing the garter and the bouquet – Nick and Axelle danced into the wee hours of the morning with their guests. No one wanted the night to end and the last guests didn't head to bed until the morning sun was up. Finally, with every guest asleep, Nick and Axelle stole away to bed.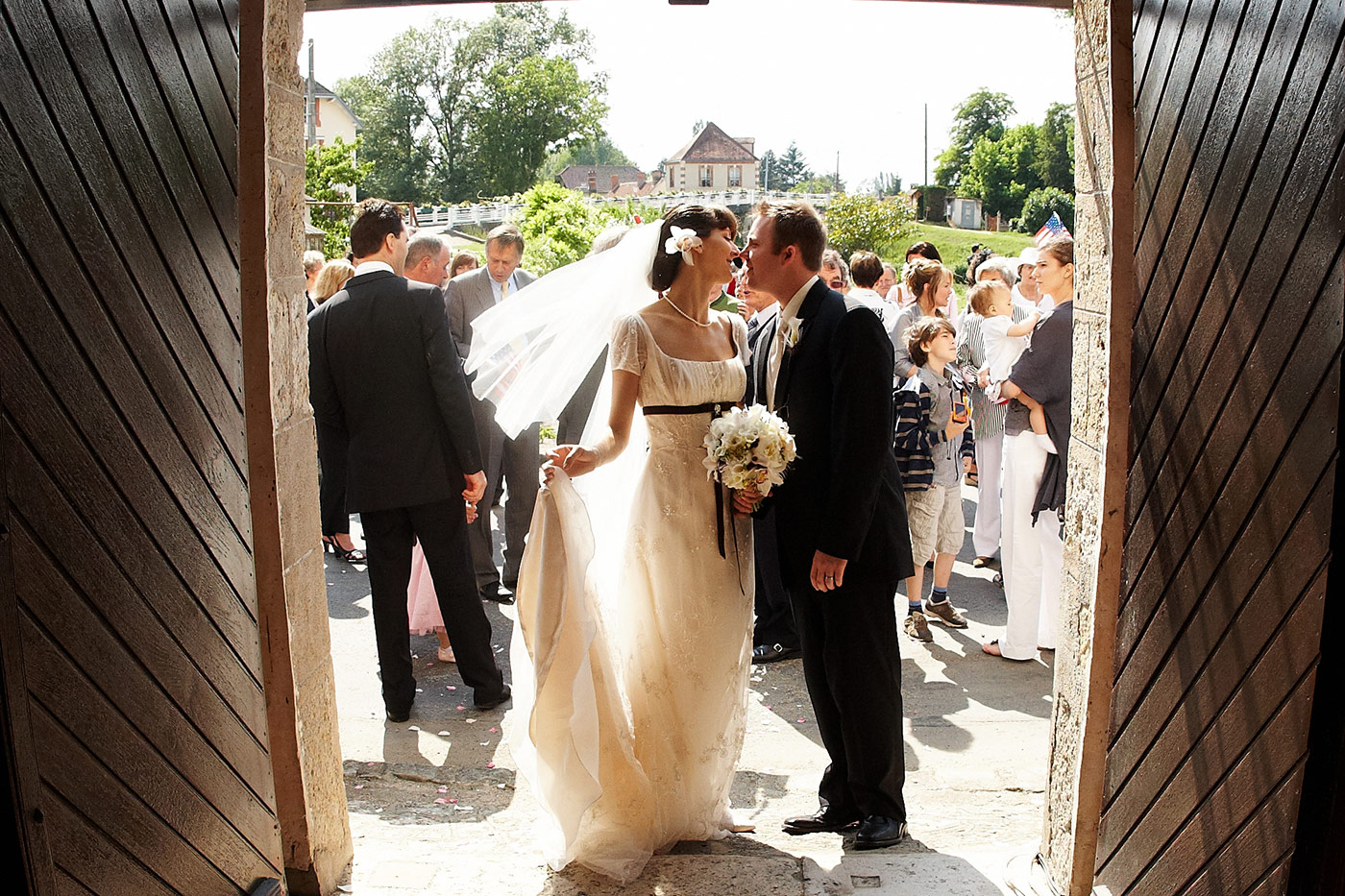 "In France, normally the couple will go off somewhere and hide so no one knows where they are on their wedding night. Otherwise people will come and disturb them with a pot and pan to make noise and wake them up and play tricks on them," says Axelle. "We just made sure we were the last ones to go to sleep and we didn't have to worry!"
The next morning, the newlyweds and their guests reassembled for a wedding brunch. The guests and family members shared memories, reflections of the day before, and spent quality time with the newlywed couple.
Everyone agreed it was a perfect day, including the bride and groom.
"The wedding turned out exactly as we wanted. The hardest part was saying goodbye to family and friends after such a wonderful time together," the bride says.
"I've been to a lot of weddings because of my Mom's work – but ours was special," Nick says. "You really couldn't have planned a more romantic day or a more amazing wedding."
Nick and Axelle's French fantasy wedding was certainly a day to be remembered by all who attended. The kind of wedding that dreams are made of, the amazing celebration was both a wonderful end to Nick and Axelle's fairytale courtship and a fitting beginning to their "happily ever after".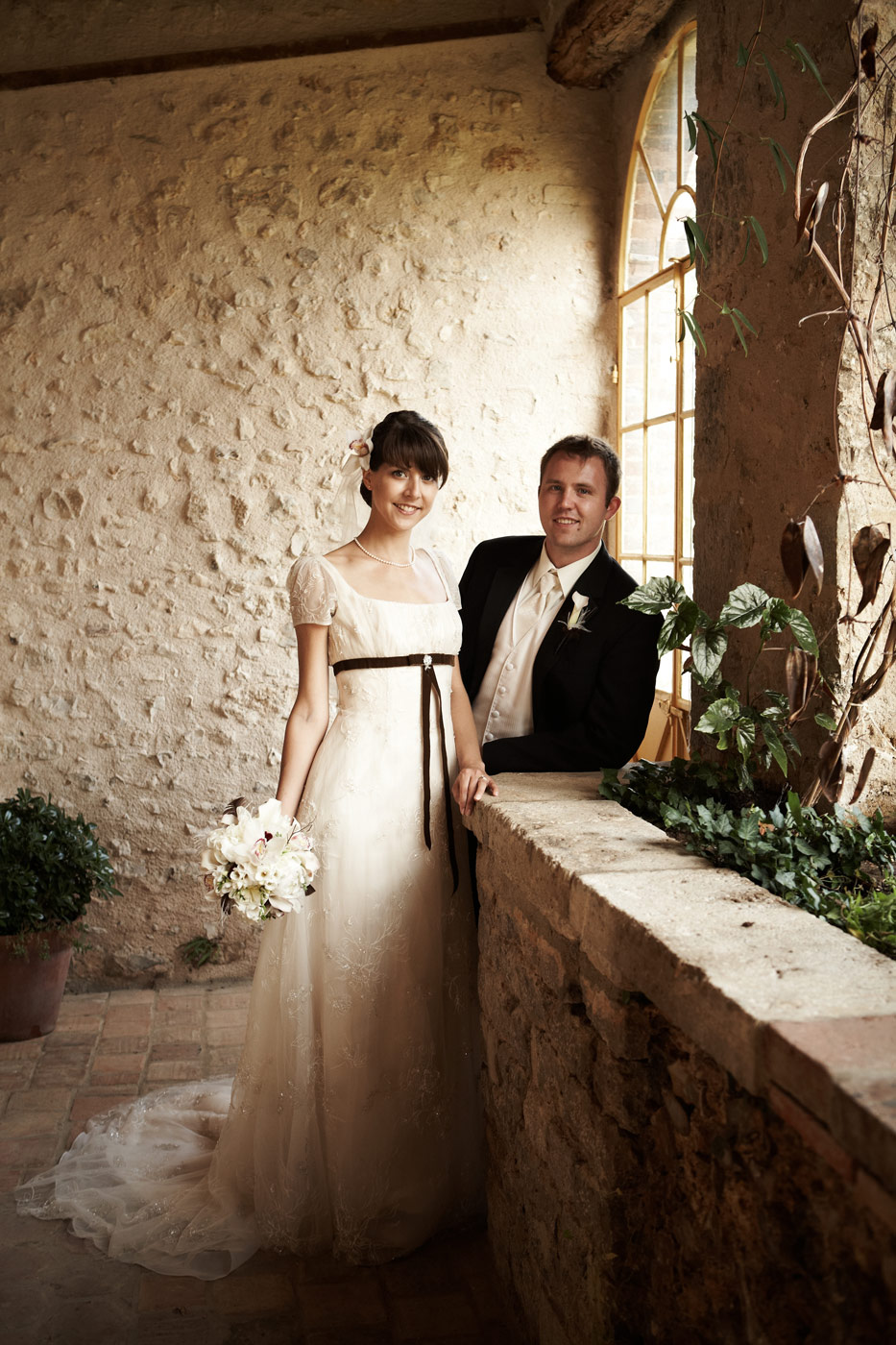 Photos by True Love Photography